Bigger Busworld at Brussels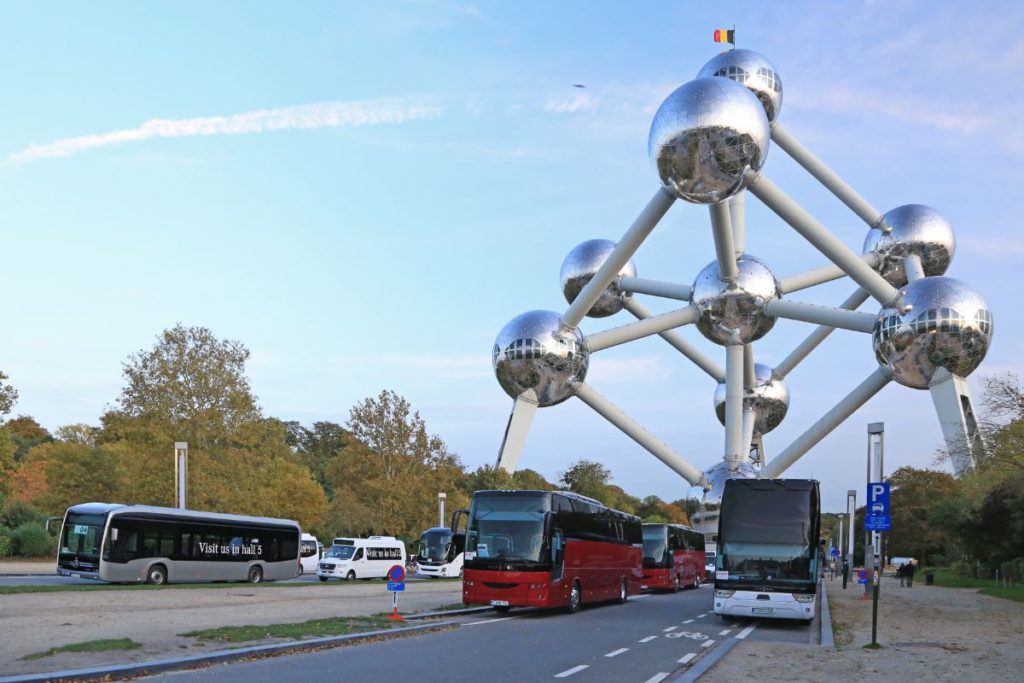 Click any image to enlarge it, or click the main picture to launch the gallery of all 260+ vehicles
Companies featured: ADL ♦ Scania ♦ Van Hool ♦ VDL ♦ Volvo ♦ Solaris ♦ Iveco ♦ Caetano ♦ Otokar ♦ Irizar ♦ Mellor ♦ MAN/Neoplan ♦ Daimler ♦ Temsa ♦ Unvi ♦ Beulas ♦ Ayats ♦ Equipmake ♦ Indcar ♦ MCV ♦ BYD ♦ Anadolu Isuzu ♦ Yutong ♦ King Long♦ Ebusco
Europe's biggest bus show has forsaken its traditional home in Kortrijk and relocated to Brussels for its 25th staging. The Brussels EXPO venue has enabled Busworld to finally accommodate many more exhibitors, without the need to resort to tented temporary structures.
Having finally conceded that the Kortrijk exhibition centre was no longer big enough to meet the demand of what has become Europe's biggest bus and coach show, Busworld's transfer to Brussels EXPO enabled the floor area occupied to increase from 40,000 to 58,000 square metres, with exhibitor numbers climbing from 376 to well over 500.
Advantages apart from the extra space included ease of access by public transport, an excellent venue on site for the Gala Dinner, and much better temperature control than had been the case in Kortrijk.
It was just as difficult to get your bearings as it always has been, some of the halls were tricky to find, and there seemed to be a lot more steps to negotiate, but much as you might miss Kortrijk, the decision to move was entirely vindicated. Was it actually too big? Well, there is certainly too much to take in within a one day.
The next Busworld, marking the 50th year of the event, will take place on 8 – 13 October, 2021.
ADL
Returning to Busworld as a subsidiary of NFI Group, ADL showed an Enviro500 double-decker
from the same order for Swiss PostAuto shown in 2017, though the specification was very different as this was a fully seat-belted Class II interurban bus whereas the previous example had been a Class 1 bus. 13m long and 4m high, it has three doors, two staircases, a stepless lower-deck, two wheelchair bays, 74 seats and space for up to 40 standees. Much was also made of the AD24 digital platform launched last year to offer customers aftermarket support, as well as ADL maintenance contracts.
With the current concern over PSVAR compliance, it was pointed out that all Plaxton coaches except the Cheetah XL are available in PSVAR compliant versions. The Leopard can have a side lift or be built as a Lothian-style interurban bus with double-leaf centre door and stairlift, while the Panther and Elite can have front stair lifts. The Leopard side lift is retrofittable.
Scania
Scania launched the first of a new range of city buses carrying the Citywide name showing a three-door battery electric version. Anna
Carmo e Silva, Head of Buses and Coaches, said: "It features lower fuel consumption, higher passenger capacity, better drivability, and vastly improved passenger and driver comfort." It has bigger windows and a completely new interior with a higher ceiling, less gaps for rubbish to accumulate, and lighter coloured finishes. With wood effect stanchion coverings and a white ceiling the look is very different. Fuel savings can be up to 18%. I think this referred to diesel though a full range of propulsion systems are to be offered.
Scania said: "The side-mounted engine placement of both the 7- and 9-litre engine, and the electric motor, on 12-metre low-floor city buses, gives three extra seats behind the rear axle. Further, the increased front axle load can give two extra seats." This may be the case on left-hand drive buses but for right-hand drive the big stack in the back corner may be an issue for double-deck chassis applications if the N series chassis with transverse unit is to be discontinued eventually. I asked someone about this and was told the N will continue for the UK until 2021/2022, "by which time we will have an alternative".
Representing the coach range was an LNG fuelled Scania Interlink on the stand, with another Interlink and a Higer Touring on demonstration duties.
Van Hool
Busworld is a big event for Van Hool, which displayed seven coaches and one bus. Three new models were unveiled, including a new 11m EX coach, the shortest in the stainless-steel EX range. Optionally equipped with Smart-Vision cameras rather than mirrors, the EX11 was a high-floor model with ZF Traxon automated transmission and Paccar NG engine. It was accompanied by three other EX variants including a UK specification EX15MS with ZF EcoLife transmission, as well as an EX16MS Traxon and an EX17HS Traxon with a lift. Also shown were a TX17 Astron Allison and a TDX27 Astromega Traxon.
Completing the coach line up was something we won't be getting yet, an electrically powered CX45E from the American range. Scheduled to make its first deliveries in 2022 is a new plant at Morristown in Tennessee.
Representing the bus range was a new model, one of eight fuel cell-powered articulated Exqui.Citys for the French city of Pau.
Away from the stand, demonstrators included the: EX11LS Traxon, EX16LS Traxon, EX16MF EcoLife, EX15HS Traxon, EX16HS Allison, TX16 Astronef Allison, TX16 Astron Traxon, TX18 Altano Traxon, TDX25 Astromega Allison and the TDX27 Astromega Traxon.
VDL
The message on the VDL stand was: "Our manufacturing has a future in Europe and Europe has a future through our manufacturing."
Chief Executive, Henk Coppens, said he was proud the company was creating jobs in Europe through the move to electrification rather than only outside Europe, pointing out that VDL sells in 108 countries. VDL is to renew its manufacturing facilities in Belgium with a move from the former Jonckheere site to a new 30,000sqm plant on an 8-hectare site in Roeselare that will offer twice the capacity though it is not twice the size. As now, it will concentrate on manufacturing zero emission buses, production of Jonckheere coaches having transferred to Valkenswaard. Building will begin in 2020 with the move planned for the end of 2021. Employment will remain at around the 680 mark.
On display were six vehicles with more demonstration buses outside. Completing the electrification of the range was the launch of the low-entry Citea SLE-129 Electric city bus. It has the same powertrain as SLF models and a 288 kWh high capacity battery pack. Representing the SLF full low-floor electric range was an articulated SLFA-180 Electric with 288 kWh battery pack and pantograph. Completing the bus line-up was the Citea LLE Diesel which is said to be 6% more fuel efficient than its predecessor.
All VDL integral coaches have now been consolidated within the Futura range which was represented by three coaches. These were the two-axle 13m Futura FHD2-129/2100 with a 53+1+1 layout employing the top of the range Class 500 seat; the 13.9m FHD2-139/2300 with lift above the rear axle and a 57+1+1 capacity when fully seated, and the Futura FDD2-141/2600 in 48+2+1+1 guise featuring 2+1 seating and a fully loaded specification.
Volvo
Volvo's big unveil was the 7900 Electric Articulated which President, Hakan Agnevall, said
offers 80% less energy consumption than a diesel bus. It completes Volvo's electrified range. So enthused was he about the driving characteristics that he talked of zero driver turnover, which might be slightly over-egging the achievable. Available in lengths of 17.85m and 18.6m, both versions are powered by an electric motor that delivers maximum wheel torque of 3,100Nm linked to a Volvo two-speed automated-manual transmission. Front axles are from Volvo and the rear axle is the ZF AV133. Both opportunity and depot charging options are offered. Capacity is up to 150 passengers.
On the coach side, there were three versions of Volvo's new coach range displayed, among them the latest addition, a 15m version of the 9700 seating up to 65 passengers. Both it and the 13m version, which it has recently been announced is to come to the UK, can have the second door either within the wheelbase or at the rear, the latter with the option of a rear mounted toilet. A new in-swing door is also offered. Like the top of the range 9900 which was also shown, the 9700 has the 460hp 11-litre D11 engine and the Volvo Dynamic Steering system as an option. The 9900 displayed won the Busworld Grand Award-Coach.
Solaris
Ownership of Solaris has transferred to CAF since the last Busworld. New CEO, Javier Calleja, said: "Buses have to be bigger and have to be electrified." He predicts 50% of buses sold would be electric by 2025 and 75% by 2030. He went on to say that Solaris had won more electric bus contracts than any other manufacturer in 2019, though he cautioned that big cities buying batches of ten vehicles was not enough to achieve the change that was needed.
Solaris showed a biarticulated Trollino 24 trolleybus with two 160kW traction motors powering two drive-axles and a pack of 58 high-power batteries that are recharged via the trolley poles, enabling it to travel lengthy stretches without overhead.
As well as the Trollino 24, Solaris showed the Urbino 12 Hydrogen with a 60kW fuel cell giving it a 350km range between refills. Hydrogen storage is in five roof-mounted composite tanks. High power batteries are installed with a braking recuperation system and a CO2 heat pump heating and cooling system. Camera mirrors replace the conventional items.
Iveco
Iveco's factory-built Daily-based coach model, the Daily Tourys appeared on its stand with a Daily Line NP Hi-Matic in the demonstration park. Completely new was a version of the Daily Start that ran on natural gas.
Innovation came in the form of the new Iveco Bus e-Way by Heuliez, produced by Heuliez Bus at Rorthais though marketed internationally under the Iveco name. It has been developed from the existing Heuliez electric artic and joins the range alongside the BRT-styled Crealis In-Motion-Charging that was also shown. The e-Way is available in 9.5m, 12m and 18m variants each of which can either have pantographs for opportunity charging or overnight charging systems. Also shown was a dual-door Natural Power Crossway bus running on CNG or biomethane.
Caetano
Caetano has been largely absent from the UK city bus scene for some years but it is now back and looking to build on the initial 34 bus
order placed for its electric eCity Gold model by Abellio. The development vehicle for the 10.7m Abellio buses was displayed, alongside a completely new model that was again shown in right-hand drive. The eCity Gold, which is also offered in 12m form in both right and left hand drive, has a Siemens 180kE permanent-magnet synchronous motor, direct drive transmission, 385kWh NMC batteries, and a range of battery charging options, Abellio having selected the standard CCS 2 system capable of taking charge at up to 150kW. The body is aluminium, the axles are ZF and the range is said to be up to 300km. Interestingly, Abellio's will be the first buses in London to employ DC charging, which is quicker and more flexible than AC charging, partly because DC enables longer charging cables to be used, increasing layout options at depots.
New on the stand was the H2City Gold, which is dimensionally the same as the 12m eCity Gold but around one tonne lighter. In addition to the Siemens motor and 29-44kWh LTO batteries, it has a 60kW Toyota Fuel Cell stack mounted on the roof at the rear. Caetano is the first non-Toyota user of the fuel cell technology, which is the same as that used in the Toyota Mirai car.
Otokar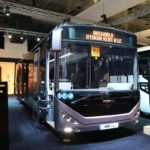 Otokar unveiled several innovations, all of them derivatives of existing models. The new generation Territo family was represented by a Territo school bus, the low entry 12m Kent U LE debuted and the 10.1m Ulyso T coach was shown for the first time with a wheelchair lift, giving it three nearside doors. Alternative fuel options shown were the 12m electric e-Kent C, launched in Stockholm at UITP this year, and the Kent CNG. Although the closure of Minis to Midis has seen them left without a dealer in the UK, a small number of Navigos have been delivered through Noones.
Irizar
Irizar celebrated its 130th anniversary at the show. Former CEO of the Irizar Group, José Manuel Orcasitas, has retired and Rafael Sterling, previously International Development Director, has taken on the role. He joins at a point when Irizar has increased its turnover by 15% making it the company's best year ever.
New products were developments of existing models but none the less interesting for that. Shown as an i4H hybrid was the new i4 which has a completely revised interior and is lighter than its predecessor. External features include an i6-style rear, new more robust wipers and revised LED headlights, while the interior features more durable materials, 53 new-style seats, a revised dash and lighter racks. It heralds a new range of fabric and material designs. The used i4H demonstration coach that has been operating in the UK is now being offered for sale at £195,000, a considerable saving on the new price.
On the i8, shown as a 14m coach to a Scandinavian specification with 390kW DAF/Paccar engine and ZF Traxon transmission, the major innovation was the new Swing Synchro door designed by Masats. Next to it was a 13m i6S with 51 recliners and a centre toilet. On this the novelty was Masats' new, light-weight PMR S8 lift.
Buses from Irizar Mobility Solutions included a 12m i-Tram (as unveiled at the UITP Conference in Stockholm) and an ieBus. The ieBus shell has been redesigned to more closely follow the look of the coach family as well as providing the possibility for some features, such as low side windows, associated with the iTram. It is offered as a 10m, 12m, 15m or 18m bus and has revised charging points to increase flexibility within depots as well as better battery technology to give a range of 250km.
Mellor
After a good experience at the last Busworld Kortrijk, where it felt its products were relevant and had a place, Mellor returned with three products, one of which, the Fiat Ducato based electric Pico, was making its world debut. The last visit paid dividends, with double digit sales achieved in Scandinavia through BK Invest and orders for both the Strada and electric Orion for next year.
Mellor MD, John Randerson, told me there was a project in Gothenburg next year that would require four Orion E buses and the company was just starting to make inroads in Germany and Holland. Further afield, Mellor is working with Iveco Australia after taking two 30-passenger Maximas on 7.2tonne Daily chassis to the Melbourne Show, attracting good enquiry levels. The business has grown every year since 2014 and will build 320 vehicles this year, with a target of 365 next year.
The new Pico is a completely low-floor demand responsive M1 minibus (though it could be M2) with a spacious interior for up to nine seated passengers, though the bus shown had six. It can be supplied as either an electric or a diesel in right or left-hand drive. John believes that a difficulty with many demand responsive schemes is that the buses are not attractive or comfortable to travel on when ease of access, comfort and a nice environment are essential requirements. He has deliberately set out to provide what is needed. Diesel versions start at £60,000; electrics are twice that and 200kg heavier.
The Pico joins the well-established Orion E, which was originally launched in 2017. The vehicle has an electric drive-system completely integrated by Mellor giving it a range of 100 miles. Providing 16 seats in either left or right-hand drive, over 20 have been sold to date.
Turning to the Strata, based on the Sprinter 516, John says the market for it was nothing three years ago, but now it has taken off. He claimed that an operator covering demanding terrain had recently had one on trial for a month and reported it had returned 27mpg. Shown as a 22-seater, there is also a bigger version called the Strata Ultra that can carry 30 in a 2+2 layout. Suitable for stage carriage work, the specification includes destination displays, a rapid sliding entrance door, a ticket machine platform, wifi and USB points.
MAN/Neoplan
On a stand that housed both the MAN and Neoplan brands, the big news was the two-axle 13m MAN Lion's Coach C being voted the International Coach of the Year 2020, following the Coach Euro Test in Sibiu, Romania (see B&CB 1550, 4 October 2019).
The coach was displayed on the stand and the presentation made to Rudi Kuchma, Sales Director of MAN Bus & Coach, by Jury President, Tom Terjesen, at the Busworld Awards Night. The specification included 48 seats, a lift, two wheelchair spaces, a 470hp D2676 LOH engine producing peak torque of 2,400 Nm and 12-speed gearbox MAN TipMatic Coach transmission.
The first application for the new 9-litre MAN D15 engine in the coach range is in the Lion's Intercity, a 13.05m Intercity C being shown. It will be available from spring 2020.
I recently drove the MAN Lion's City E and visiting operators had the same opportunity with one demonstrating while another graced the stand. Without the rear engine tower, it has four more seats than a diesel, the electric driveline delivering between 160kW and 270kW to give a range of between 200-270km, depending on conditions. A further new option is the Lion's City 19 articulated 18.75m bus, another member of the Lion's City range that boasts four distinct propulsion options. It was shown with a 360hp D15-56 unit.
With the introduction of the VW derived TGE minibus range MAN can rightly claim to have a full product range. Illustrating this were an electric edged Combi and a TGE City minibus.
Also under the spotlight were two Neoplans, a Tourliner and a 14m Skyliner, which had recently been used to carry the band of Hans Zimmer on a MovingART tour. Members of the band played regularly on the stand amidst a synchronised light display.
Daimler
Much much of Daimler's emphasis was on software products and services such as eMobility Consulting and Omniplus On. Omnibus On Commerce already has available around 200 parts that can be digitally printed, saving logistics, time and workshop space.
With the exception of the 8.486m Travel 75 version of the Sprinter, which features a five-tonne rear axle, and 18 seats, there were no new models displayed, but there were some milestones to mark, including the handover last month of the 30,000th Tourismo since launch 25 years ago. An example was on the stand, along with an Intouro and an eCitaro.
Head of Daimler Buses, Till Oberworder, said that the articulated eCitaro G will follow in 2020, and the next stages of development which will see 441kWh solid-state lithium-polymer high-energy batteries available in the second half of 2020, 396kWh next generation lithium ion batteries in 2021 and a hydrogen-based fuel cell as a range extender from 2022.
Setra models shown, all in a dark metallic green livery and considerably customised, included the MultiClass S415LE Business, the ComfortClass S515HD, the TopClass S516HDH and the double-deck TopClass S531DT. Coincidentally, on our return from Brussels we caught up with the first of a batch of ten left-hand-drive Setra S531DTs for UK operator Phoenix Bussing at the Coquelles terminal of Eurotunnel.
Temsa
Visitors to the NEC will already have seen the latest products for the UK from Temsa, but in addition to the HD13M, Maraton (with revised entrance and better seats), MD9 and MD7 coaches, the Avenue Electron was shown with a new cab layout.
The 12m Electron is one of three electric citybuses by Temsa, the others being the 12m Avenue EV with pantograph charging and the 9.5m MD9 Electricity. A new fully electric coach for America, the TS 45E, will be launched early in 2020. By 2025 it will have electric options in every sector.
Underpinning the new technology emphasis it has established TemsaTech, which will offer its developments to other manufacturers. The first product is an aluminium encased battery pack that weighs 55kg, an example of which was on the stand. It has also developed its own Battery Management System, known internally as Maestro.
Unvi
Unvi chose to emphasise its double-deck capabilities rather than small coaches, though there was a representative Compa T on an Iveco Daily present. The three double-deckers were an open-top Urbis DD on a CNG-powered Scania chassis, a MAN A22 Urbis DDOT and a diesel-fueled Scania tri-axle with the Sil coach body. Launched four years ago, 130 Sils have now been built. Most of the early ones were on MAN chassis but Unvi entered a cooperation with Scania last year whereby it is producing coaches with both diesel and CNG engines for express services.
The company says it would produce in right-hand drive for the UK and Ireland and is already talking to Scania about doing so, with interest from potential customers to support this. Stock vehicles for next season include both the Daily Compa T and the Voyager on the Atego.
A fully electric Urbis eDDOT open-top double-deck from a batch of six for Paris was shown in the demonstration park. RATP Dev is using a similar RHD bus in London on the Original London Sightseeing Tour.
Beulas
The big innovation for Beulas was the new glazed roof option, demonstrated on an Aura Panoramic on the stand and another in the demonstration area. That on the stand was a 12.9m MAN RR2 19.420EBC with 55 Kiel Avance 2050 Chic recliners for the Spanish operator, Canals, while outside was a 12.2m Scania.
The glazing is along each side of the roof in separate sections with the passenger service units and lighting along the centre. Additional condensers are added to the air conditioning system because of the extra glass area. The height is 3.6m plus air conditioning.
Alongside was a 13.7m long, 3.8m (plus air con), Mythos bodied RR4 26.500 with flat floor for use as a wheelchair accessible coach. The extra-wide centre door incorporated a Hidral lift, all 48 seats had quick release fittings and the rear toilet compartment was spacious enough to accommodate a wheelchair, having a turntable to help manoeuvre passengers.
The full specification included 360-degree cameras and a gold-tinted mirror ceiling. Completing the line-up was a 15m Jewel double-deck bodied MAN RR4 26.500 with 80 seats, though 88 is possible. It had a smaller toilet and an additional luggage area. Beulas is sold in the UK through the associated Moseley group of companies and all recent deliveries have been on VDL chassis.
Ayats
Ayats, with two plants in Spain and one in Mexico, focuses on the double-deck market and is represented in the UK by John Hill Coach Sales.
Two new 14.35m models were unveiled on the stand, the Horizon and the Horizon Intercity, both featuring Mercedes-Benz engines in an integral frame, although they can also be mounted on a variety of chassis including Scania and MAN. Replacing the Eclipse (which had replaced the Bravo), the Horizon is the coach version with OM471 480hp engine, new front mouldings, an altered side profile with 'floating' panel towards the rear of the upper deck, a GRP staircase and GRP exterior paneling.
Capable of seating up to 91 (without toilet) or 89 with, the first one has been sold to a German operator and ten more are in build. The similarly styled Horizon Intercity has a lowfloor and increased lower deck headroom of 1,850mm with a potential capacity of 102 seats, 15 standees and one wheelchair. It has a smaller 305-litre fuel tanks (rather than 627-litres), greater luggage capacity and the ZF EcoLife 6AP 2000B automatic transmission. Dublin Coaches has ten Horizons on order for February 2020 based on Scania chassis.
Equipmake
Equipmake launched its first prototype electric double-deck bus chassis. The Norfolk-based company's expertise lies in the development of electric motors and control equipment for performance cars, MD Ian Foley having worked in F1 with Lotus and Williams.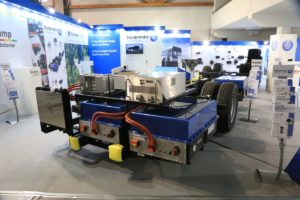 Its electric powertrain for bus applications features two compact liquid-cooled spoke-architecture high-torque 220kW APM200 motors driving through a two-speed gearbox to a standard ZF rear axle. Key to the project is the company's expertise in integration and energy management that will maximise the efficient use of power and enabling a full day's operation with overnight charging of minimised battery capacity that will keep the vehicle within 18t GVW. The company builds 78kWh battery modules using cells from Envision, previously Nissan's battery business. Four modules are used per vehicle.
In addition to supplying the electric powertrain to whole vehicle manufacturers, it will be available as a complete chassis for bodybuilders with the mechanical components supplied by the company's partner, Agrale in Argentina. The first low-entry single-deck vehicle is already undergoing testing and is expected to commence in-service trials in Buenos Aries in Q1 2020. When series production commences, an expected 700 powertrains are expected to be supplied to Agrale for Argentinian use in the first year, supporting the imminent move of the UK company to new bespoke premises in Snetterton.
The double-deck chassis is one of a further four pre-production chassis, the others being low-entry single-deck versions, one for the UK and two for Argentina. The company is currently in discussion with a number of bodybuilders with a view to commencing UK service trials within 18 months.
Indcar
Among the six mini and midi vehicles shown by Indcar were two new products. The Iveco Daily-based Mobi City L7 offers a capacity up to 44 passengers (eight or twelve seated) in a 7m footprint with lowfloor platform at the rear. Diesel and CNG options are currently offered with electrification to follow.
Also new was the Strada e-City 7.12m low-entry city minibus using Iveco components with capacity for 22 passengers, eight seated. Five Millor NMC battery packs totalling 135kWh are installed at the rear, sufficient for 16 hours' operation on some duty cycles. Testing has revealed consumption figures around 0.65kWh/km and the ability to negotiate a 24% slope. For the UK Market, the company's Iveco based Wing is proving popular with over 35 units delivered in the past six months.
MCV
MCV showed a Mercedes-Benz OC500 based MCV500 coach similar to the Volvo based EvoTor marketed in the UK. At 12m, it featured a high specification including 49 seats and toilet.
The second vehicle was a UK market EvoRa single-door, single-decker on 12m Volvo B8RLE chassis incorporating a number of currently available specification upgrades including a mirror replacement camera system, mood lighting and Vogel belted seats. Trimmed in a cloth and eLeather combination, these feature integrated bell pushes, wireless chargers, USB connections and reading lights.
The maximum capacity of 91 passengers includes 46 seated, all forward facing by using a small offside pedestal behind the front axle to maximise the available space.
BYD
The two vehicles on the BYD stand showed the ongoing development of its European 8.7m and 12,2m bus models, built in Hungary and France. New features shown on the 12.2m vehicle include CO2 medium air-conditioning, ambient lighting, digital mirror replacement cameras, hill-assist control and driver fatigue monitoring. A key feature is the integration of the electric control systems into a single '6 in 1' controller. BYD also introduced their telematics product, BAFAS, BYD Active Fleet Analysis System.
1000 BYD units have now been sold to 20 countries in mainland Europe, a recent success being the company's breakthrough in Germany where 22 units have been ordered by Bogestra, the transport company in the cities of Bochum and Gelsenkirchen. The partnership with ADL has seen over 400 vehicles delivered or on order.
Anadolu Isuzu
Nine vehicles featured either on the Anadolu Isuzu stand or outside in the demonstration area. Among these, three new models were revealed, two of them electric. The third was a CNG powered vehicle, the 12.99m Interliner 13CNG is powered by the Cummins L9 8.9l CNG engine driving through ZF EcoLife transmission. Intended for interurban operation, it can seat up to 63 with wheelchair access through a lift at the centre door and will be available from Q3 2020.
The two electric buses will be available from Q1 2021, these being the Novociti Volt, a 7.9m midibus with Isuzu derived componentry and the 11.99m Cityvolt under the AOS brand incorporating Siemens electric components. Both models feature roof mounted batteries, 200 or 250kWh on the 7.9m, 351kWh on the 12m. These will be capable of accepting an intermediate rapid charge without impacting battery life, adding 50km range in ten minutes.
Anadolu Isuzu also introduced their telematics system, Aconnect, which is designed to suit all vehicle and engine types to enable operators to manage their fleet more effectively. Four packages including a range of options are offered. Following the acceptance of the Visigo model in Irish and UK markets, the company advised that it is looking to introduce a further RHD model at Euro Bus Expo in 2020. In the demonstration area, the company's three vehicles included the new NovoCabrio, developed with Turancar SZ in the Czech Republic for city sightseeing operations in cities such as Prague where overhead clearance issues require open single-deck vehicles.
Yutong
Three vehicles featured on the Yutong stand, two electrics and a UK-bound Euro VI diesel coach, a 13.175m vehicle for the UK market, referred to as a T13 but badged GT13. The DAF MX11-powered GT13 vehicle features high specification including 57 seats with an offside exit door and sunken toilet.
There was an LHD example of the ICE12 electric coach similar to those recently delivered in the UK and a redesigned electric city bus, the U12, specifically aimed at the European market.
The 'new-energy bus' U12 features a much smoother outline than previous Yutong buses and benefits from a composite material outer surface to reduce weight. The 11.9m vehicle with ZF AVE130 electric rear axle (two 60kW motors) has 422kWh onboard battery storage, electric air conditioning and a maximum passenger capacity of 94 including a number on newly designed City seats.
It majors on Yutong's drive for safety in both vehicle equipment and driver support systems. The driver's life is made easier by what was described as 'intelligentisation' of the cab systems and through the BusEYE Pro driving assistant system which offers a range of active safety systems.
King Long Motor Company
King Long Motor Company has an interest in three brands; Higer, Xiamen Golden Dragon and King Long. From a UK perspective, the Higer stand was of particular interest with two UK-bound right-hand drive vehicles, destined for UK and Ireland distribution by the Harris Group in Dublin, and two new electric buses.
It was the first opportunity to see the Higer IC12 coach which will be marked by Harris Group as the Pegasus. This initial vehicle introduces the Euro VI D standard to Higer products and has already been sold to an Irish operator. It has a Cummins ISL9 engine matched to ZF EcoLife transmission and capacity for 55 passengers with nearly 10m3 luggage capacity. The second coach was an example of Harris' successful Super 9 model.
The two electric buses unveiled, at 8.5m and 12m, are both destined for customers in Israel, however the 8.5m model is expected to take a detour via Dublin for demonstration purposes by the Harris Group who will be marketing it as the 'Steed' in Ireland and the UK. The dealer has already ordered five units for delivery in early 2020. Harris Group's Chris Haughton reported significant interest in the model for both contracted operations and closed groups such as embassies and airports. In RHD, the Steed will have a revised frontal body design with a single door and at least 27 belted seats. It will be powered by a single 175kW motor from 175kWh of installed battery capacity.
King Long's full sized vehicles included the 12m PEV12 electric bus and two 13m coaches, the C13HD and U13, both with Cummins engines and ZF gearboxes.
Ebusco
Focal point of the Ebusco stand was the new Ebusco 3.0, the company's venture into lightweight carbon fibre vehicle construction enabling significant reduction in weight and hence reduced battery capacity needed to achieve any duty cycle (see News, this issue).
The company has secured a further major order for 156 examples of its Ebusco 2.2 model for Transdev Netherlands, to be delivered by November 2020. Two 'Streek.' branded vehicles from an earlier order by Qbuzz for the 2.2 model were on show at Busworld, one inside and the other available for demonstration.