When 50km isn't 50km
A public inquiry into Stagecoach Devon after a tragic accident seems to me to be more significant than at first meets the eye.
First of all, let me say that it was primarily a tragedy for the injured passengers, but also a tragedy for a young driver who made a small mistake with big consequences. Stagecoach deservedly faced sanctions, but I think the Traffic Commissioner got it right; training was missed, but the size of the fleet and workforce was relevant.
What is interesting is the 'split route' judgement by Kevin Rooney. As you'll read on page 27 (and in the full report, if you have the time), the TC decided that a continuous journey with the same bus and driver and no significant breaks is one service, no matter what the timetable may say. Thus, bus operators need to be aware of this when allocating drivers under 21 to services.
But the 50km breakpoint for local services also has another application, as was raised by Backhouse Jones. It is the threshold for tachograph use. However, the DfT specifically says that 'The route would be regarded as a separate route if…the same vehicle is subsequently used on another route with the same driver provided the two routes are not advertised as a through service.'
We have a dichotomy. It seems the 50km threshold is interpreted differently depending on the nature of the offence. Our legal eagles at Stone King will be commenting on this soon…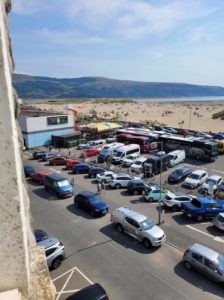 * Thumbs up to Barmouth, which policed this coach parking to perfection. The vans, cars and motorhomes in the coach bays all got a ticket, and the coaches were allowed to box them in. 'The illegally parked vehicles will be stuck there until it's time for the coaches to leave,' says a social media informant.
We want to hear from operators and drivers about towns, cities and attractions which care about coaches…and those who don't. An email to me at [email protected] gets a guaranteed reply and will be followed up with the offenders…