VDL Bus & Coach sets up UK base
VDL Bus & Coach has set up a new company for UK customers in a former DAF dealer's in Barnsley.
Following the demise of Moseley PCV earlier this year, the Dutch manufacturer has moved quickly to maintain continuity with its DAF-based Futura product but says it is planning to add other models in its line-up as the business progresses. It has taken on former Moseley PCV man Tim Fairless, among others, as an Area Sales Manager.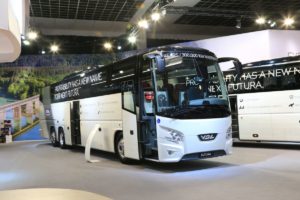 "With this direct presence, VDL Bus & Coach will have a stronger focus on one of the major bus and coach markets in Western Europe," said a VDL spokesman. "In the field of sales, after sales and parts, the aim is to operate closer to the customer enhanced by making use of an experienced partner network.
"In the British market the complete portfolio will be offered as widely as possible. The focus will initially be on coach (VDL Futura), where further branding of VDL Bus & Coach, its products and dedication to coach clients are the main priorities.
"VDL's presence in the UK market opens up possibilities for the sales and service in the mini- and midi-segment (MidEuro and MidCity). The market opportunities for the public transport products will also be investigated. With its Citea Electric, VDL Bus & Coach is currently European market leader in the field of e-mobility."
The new headquarters – a former DAF truck dealership – has parts warehousing, showroom and workshops, although service will initially be provided by a DAF network facility next door.
"VDL Parts has built up over many years with customers in the United Kingdom from the head office in Veldhoven, where more than 40,000 items are in stock," said the spokesman.
VDL Bus & Coach UK will be led by Interim Director Darren Dowsett. Darren is already working within the VDL Groep as Managing Director of VDL Steelweld UK.
Contact VDL Bus & Coach UK, 7 Barkston Road, Carlton Industrial Estate, Barnsley S71 3HU
T 0333 700 8999