ULEZ: Is it working?
With a number of Clean Air Zones proposed for next year, Bus and Coach Buyer asks whether the first Ultra Low Emission Zone in the country, in London, has proven a challenge or delivered any congestion benefits
It's three months since the London Mayor's ULEZ scheme kicked into action in the former Congestion Charging zone, so we asked whether coach operators are seeing a traffic dividend.
On the face of it, extending the car charge to include weekends should have produced a dip in congestion as car drivers reconsider their transport choice, especially at weekends when it was a free-for-all. Additionally, charging all but coaches of Euro VI standard was aimed at getting 'greener' coaches on the streets.
So far, Transport for London and the Mayor's office haven't offered up any evidence of change, although it is promising data for us soon, so Bus and Coach Buyer approached a number of operators running in and around London to see if they've seen any effect.
'Streets quieter: Anderson Travel
Anderson Travel's MD, Mark Anderson, says he sees no evidence of a change in the vehicle mix in the ULEZ zone which can be attributed to the new regime.
He reiterated comments he made in April, when he said the catastrophic loss of inbound tourists post-Brexit was the chief reason the streets are quieter: "Inbound numbers have collapsed," he told us.
"And I think we will see it getting harder still; there are slim pickings to be had, and in terms of coach business, this will be a test of whether it kills your business. Cruise business is proving resilient but in terms of tourism income, they're just people passing through.
"It's my feeling that the Olympics legacy has now washed through. The London knife crime stories have reached the States in particular and, whereas the UK used to be seen as a bastion of justice, this and the Brexit has made us look absolute basket cases."
Mark said that he has, though, seen an increase in traffic speed: "Three or four years ago, I'd be driving an average 6 – 7mph but that was because the city was full and the economy prospering. It's now 14mph but I put that down to the reverse happening."
Mark said he is concerned that if Mayor Sadiq Khan gets in for another term, there will be areas of London "which are effectively no-go areas for coaches"
'Brexit the bigger challenge': Lewis Coaches of London
Keith Payne, Managing Director at Lewis Coaches of London, said the Brexit effect seems to have hit the American market hardest: "Americans are not coming; they seem to think that, due to Brexit, they can't go between the UK and Europe," he speculated.
Keith said the change in the dynamic for London operators caused by the lack of inbound tourism was that big London operators which had previously served the tour companies had now turned their attention to areas of coach operation traditionally run by small operators.
"The workloads are very different recently. The big boys seem to have come into our territory. They have a lot of Euro VI vehicles for which the ULEZ is not a problem, but the workload is so diluted, brokers are offering poorer rates.
"Regarding traffic, nothing has changed, even at weekends. Let's face it, operators with Euro V or less coaches aren't bothered because they are just adding the ULEZ charge to bookings. Traffic is still horrendous at times, and the new 20mph zones adding to it."
'TfL fees an issue': Williams Travel
Among many glitches in the ULEZ system reported to Bus and Coach Buyer, Fred Williams of Cornwall-based Williams Travel said his annoyance is that he cannot register to get a ULEZ account.
For many operators, the risk of missing a payment and getting a fine makes it worthwhile going through the TfL registration, but Fred said that, when he tried, he discovered it cannot be done if you are a sole trader.
"I've no intention of becoming a limited company," said Fred, who runs a 55-disc business. "I'm a sole trader, and I cannot be the only one. If you are, your application fails," said Fred.
Other operators have reported that vehicles which should be paying the toll are found, through the TfL/DVLA vehicle check register, to be listed as ULEZ-compliant. Several operators have discovered that their vehicle is registered as a goods vehicle, not a minibus. It is believed this issue may affect conversions approved through COIF after the base vehicle was registered.
'Early days' says Golden Boy
Terry McIntyre at Golden Boy said it was too early to tell how the ULEZ will affect its operation. Being based in Hoddesdon, Hertfordshire, just 25 minutes from the M25, a lot of the operator's work sees it drive within the capital. Although the ULEZ has had time to bed in, Terry's drivers have not noticed any change in traffic levels.
Golden Boy has the fortunate position of having a largely Euro VI fleet due to its proactive investments. Terry said 69% of its fleet meets Euro VI and it is these coaches that tackle its work into the ULEZ. This means the ULEZ has not impacted the business a great deal. Terry said: "Operationally the ULEZ hasn't caused us any issue whatsoever. We had a goal to achieve Euro VI by 2020 anyway. We might fall short of that, but it's not a problem operationally.
"It takes away the need of retrofit equipment. Retrofit options have not come across quickly enough. If a solution becomes ready, we have an Irizar Euro V that we might retrofit, but only to sell it on, not because we need it to operate."
How has he seen the ULEZ affecting the secondhand market? "We thought Euro VI coaches might demand a premium on the secondhand market. But some doubt whether that's there."
He continued: "The bigger hurdle will be in October next year, when the LEZ standards change for Euro VI." This change will see Euro VI be a requirement for all PCVs within the current LEZ, not just central London. In October 2021, the ULEZ is to be expanded to everywhere within the North and South Circular Roads.
"This will have an impact on the industry," Terry said. "I've heard of an operator that is going to add the £100 charge to his hires. The majority of our vehicles are on contract work. We can't have an extra £500 per week added to school contracts, so we need to comply.
"The number of operators is definitely shrinking and I think that's only going to become more so the case. People would think that would be good for us, but it's not. At peak times, we are at full capacity. I think that if operators disappear, the home to school market will suffer. So it can only get worse for London schools."
'Don't panic' says Phillips International
Alan Phillips of Phillips International says that he doesn't see ULEZ being a major issue for his company.
His operation takes on National Express work, which sees its vehicles go into London. He said the business is always complimented on its punctuality into the capital. Has the ULEZ affected traffic levels in the city? "I should imagine it could be affecting it," Alan said. "We have noticed in the week, it has made a big difference. But it's always been better in the week since the Congestion Charge Zone was introduced. The problem is Saturdays and Sundays, when parking is less stringent. After 1.30pm, there are places you can park on single yellow lines."
'Challenging times' says CPT
The Confederation of Passenger Transport has been handling issues created for its members by ULEZ, and it hasn't been plain sailing.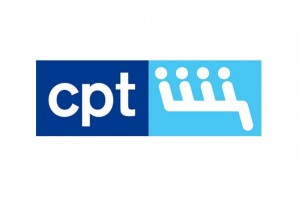 "These have been challenging times," said Coaching Manager of the Confederation of Passenger Transport, Andy Warrender. "We have been working with TfL to resolve the issues created by the ULEZ."
Andy said the problems have partly arisen because the TfL coach database makes an assumption of non-compliance on vehicles earlier than the Euro VI implementation date: "We did a lot of work with the manufacturers and suppliers to help them link their data to TfL to get a decent list, but the reality is that the TfL default has worked against us."
A check against the database hasn't always been bad news for operators, Andy said, as he was aware of a number of vehicles registered between 1997 and 2007 which have shown as compliant.
Although Andy believes private car traffic may have fallen in the ULEZ, the reality on the ground is that motorists are using the ULEZ boundary like a ring road to avoid paying, and creating a new problem with congestion. It is possible, he agreed, that they are using sat nav set to 'no tolls' to achieve this.
"One positive seems to be that coach tour traffic seems to be reaching out to other UK cities, though this may not be the result of the ULEZ." He cited high accommodation prices in London as perhaps being a factor.
"Our advice to all operators is that, before they put any new vehicle to their fleet on the road, they check with the compliance register that it is compliant. To be fair to TfL, they have been dealing with incorrect data very quickly – usually within a day or two – to alter the database." Operators who are sure their vehicle is complaint but is not showing compliance on the register is to contact TfL with copies of the V5 and other evidence immediately, he said.
Andy said the bigger problem will be the 2020 changes to the LEZ – bounded roughly by the M25 – which jumps from Euro IV to Euro VI, with the £100 penalty charge for sub-Euro VI coaches, and a whopping £300 charge for vehicles under Euro IV. Changes to the ULEZ boundary to the North and South Circular, said Andy, will have no effect on coach operators.
"The LEZ change in October 2020 will draw a large number of operators who are based in the zone and who will be unable to leave their depots without being either compliant or paying the charge," said Andy.
"As the new LEZ standard will already have overridden the ULEZ expansion, as far as coaches are concerned, it is of no significance although it will impact on smaller vehicles. This is a common misunderstanding which we've had to correct a number of times but its causing confusion among operators, many of whom are under the impression that they have until 2021 to comply."
'2020 target date': Eminox
Eminox was the first company to receive approval from the Clean Vehicle Retrofit Accreditation Scheme (CVRAS) for a coach system – for the Volvo B9R, the UK's best-selling coach chassis. It was also the first company to gain CVRAS accreditation for a bus system.
Over the past three years, Eminox has retrofitted almost 2,000 vehicles in London, the majority of which were bus upgrades as part of TfL's retrofit programme. It has also fitted systems to coaches for use in the existing central London ULEZ.
To extend its commitment to the coach market, Eminox is currently working to achieve accreditation on a range of popular coaches to offer a cost-effective route to compliance. It is developing solutions ahead of the expansion of the ULEZ in October 2020, which will impact a greater number of coach owners and operators.
With Clean Air Zones planned in other cities from 2020, as well as the expansion of London's ULEZ, selecting the best route to achieve Euro VI compliance is becoming an important priority for coach owners and operators.
With over 40 years of experience, Eminox Retrofit Solutions claims to be market leader in delivering Euro VI emissions-compliant systems for the UK's buses and coaches.

'Rescued' Green Urban systems may surface
Driveline Emissions Technologies, which acquired the IP and some assets of defunct Green Urban Technologies may rekindle the company's DAF PR265 project.
In the market with certified bus retrofit SCR systems it acquired, the Grangemouth-headquarted company says it is suffering the same bottleneck with test facilities at Millbrook Proving Ground but is planning to certify more kits in the near future.
DET has a background in DPF cleaning, and branches in Warrington, Newcastle, Milton Keynes, Madrid and, now, the former Green Urban premises in Penrith. At the time Green Urban fell foul of a certification process, it had been working on a system for DAF PR265 drivelines, and had fitted one to an Irizar Integral.
A spokeswoman for the company would not confirm the DAF retrofit kit is in the mix for new systems, but said DET would be releasing an update soon.
Coach retrofit Euro VI
Meeting ULEZ standard and avoiding the £100 fee may not be a question of investing in new coaches, with a number of retrofit SCR options now available.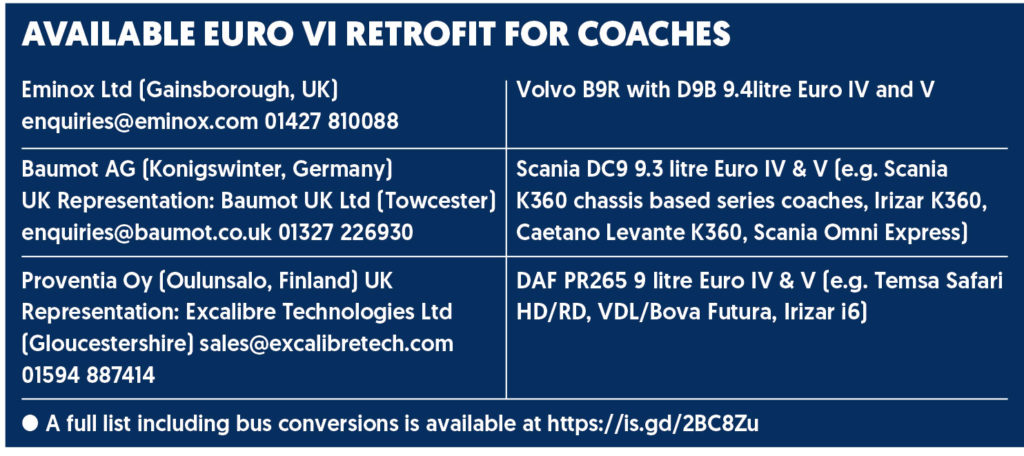 Many operators in the M25 circle have decided future-proofing by advancing fleet replacement and getting new Euro VI coaches into the fleet is the best option, and with the incentive of perhaps £30,000 in ULEZ bills per coach to face, that makes perfect sense. Yes, they have the advantage of similar or identical running costs to a Euro V, less the £100 fee, which should give them an advantage in volume work in the capital.
But that's not necessarily the right answer for operators who depend on visiting London for a smaller proportion of work, and who may feel wholesale fleet replacement at this stage – though with CAZs in other cities coming soon – is an overspend. The good news, in a perverse sense, is that Euro V coaches have taken a big hit on residuals, and could be perfect for retrofit.
The flies in the ointment are firstly the small number of chassis options suitable for certified retrofit currently, and the slightly complex process of getting the retrofitted vehicle on TfL's ANPR database as compliant.
The Clean Vehicle Retrofit Accreditation Scheme (CVRAS) has now updated its list of accredited coach chassis/body combinations, and in many cases, these are focused chiefly on the chassis, bringing a number of bodies into scope.
For a full guide and explanation of the system, plus a full list of buses and coaches now accredited, go to
https://is.gd/KzrtbV
A new retrofit guide can be downloaded at https://is.gd/SZr1mf