UK Coach Rally 2023: all the results
As always, we were at the UK Coach Rally and bring you ALL of the winners in a huge gallery of photos by our amazing photographer, David Cole. Click the top image and cycle through shots of EVERY competitor
What a weekend that was! The UK Coach Rally in Blackpool saw the number of entrants down, but spirits high, and a great exhibition from dealerships and suppliers.
Among the winners were Metcalfe Coaches of Carlisle, whose lovely Van Hool and an expert driving performance combined to see it collect the Alan Goodwin Trophy for its placings in all competitions over the weekend. But at the winners' podium for the coveted Driver of the Year and Coach of the Year were competitors for whom the trophies meant the world.
Winning the UK Coach Rally Coach of the Year with his Van Hool TX16 Acron drew a line under a tough three years for A&P Travel said its MD, Paul Cartwright.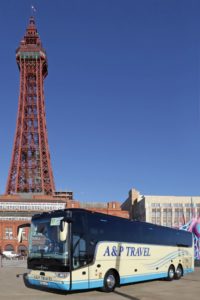 "That was the perfect weekend," said Paul. "Not just because of our wins but because we had such a good time." Not only has A&P Travel faced serious problems during the pandemic – with this coach ordered but no income to pay for it – but the vehicle was on tour until two days before.
"I was going to attend the rally but not enter – we had enough on our plate. Then Peter Bibby talked me into it, saying 'If you don't enter, you'll regret it.' The coach had been away on tour until Wednesday, got a new windscreen which arrived Thursday and on Friday we left for Blackpool."
Together with driver Terry Baker, Paul set about giving it the finishing touches: "It was a great weekend for Terry; huge credit to him. He'd asked if he could enter the driving contest instead of me, and went on to reach the final. What an achievement," said Paul.
A&P Travel went home with five trophies, all safely seat-belted in the coach: "I don't mind admitting that, when we got back home, I let my emotions get the better of me and shed a few tears. This win draws a line under a really tough time."
Winner of the Coach Driver of the Year title at the Rally was Daryl Dixon from Bibby's of Ingleton. He told B&CB how he felt about lifting the trophy: "Enormous pride, a sense of achievement."
This is the second time Daryl has won the driving competition at the Rally, having won in 2010. However, this is the first time the trophy has born the name of the late Dudley Haynes of Banstead Coaches, a supporter and repeat title winner of the Rally. Commenting on this honour, Darryl said: "I thought, this is brilliant to be the first one to win this. Matthew Haynes (Dudley's son) came up to me and said his dad would be eternally proud. The pair of us were welling up."
Daryl won in the Van Hool TX despite being plagued by interruptions to his driving challenge, with cyclists, pedestrians, mobility scooter riders and even a dog straying into the test boundaries.
Here are the full results (click the red titles of the main trophies to see a picture), followed by news from all the trade exhibitors who supported the event. And for all other competitors, click the top image on this page to cycle through the HUGE gallery – you're in there somewhere!
| | |
| --- | --- |
| Trophies and awards | |
| | |
| Alan Goodwin Trophy | |
| Highest Placed Coach Operator in all Classes | 34 Metcalfe Coaches |
| | |
| UK Coach Rally Coach Driver of the Year | 40 Daryl Dixon – Bibby's of Ingleton |
| UK Coach Rally Coach of the Year | 37 A&P Travel |
| Top Team on the Road | 4 Howard Snaith Coaches |
| Peter Bostock Trophy | |
| Highest placed driver in Saturday test | 70 Christopher Shaw – Dews Coaches |
| UK Coach Rally Mini Driver of the Year | 27 David Hamilton – Heathside Travel |
| UK Coach Rally Midi Driver of the Year | 3 Wesley Goodwin – Go Goodwins |
| West Middlesex Coach Operators Association Trophy | |
| Runner-up to the Coach Driver of the Year | 38 Chris Bibby – Bibby's of Ingleton |
| Director's Challenge Trophy | Matthew Winson – Paul S Winson Coaches |
| | |
| | |
| Concours D'Elegance Awards | |
| Top Mini/Midi | 27 Heathside Travel |
| Top Standard Coach | 14 South Staffs Coach Hire |
| Top Touring/Express Luxury Coach | 37 A&P Travel |
| Top Executive Coach | 2 Coachpoint |
| Top Coach aged five years or older | 23 Stanley Travel |
| Rita Dalziel Trophy | 5 Go Goodwins |
| John Fielder Memorial Trophy | A&P Travel |
| Berkhof Trophy | Not awarded |
| Neoplan Trophy | 23 Stanley Travel |
| Jonckheere Trophy | 43 Robinson Holidays |
| Kassbohrer Trophy | 2 Coachpoint |
| Plaxton Trophy | 31 Coopers Tours |
| Beulas Trophy | Not awarded |
| Mercedes-Benz Trophy | 70 Dews Coaches |
| Van Hool Trophy | Not awarded |
| VDL Trophy | 22 Marshalls of Sutton-on-Trent |
| Volvo Trophy | 7 Brethertons Gold Line Tours |
| Irizar Trophy | 26 Blakes Coaches |
| Yutong Trophy | 39 PC Coaches of Lincoln |
| MOBIpeople Trophy | 12 Holmeswood Coaches |
| Temsa Trophy | 14 South Staffs Coach Hire |
| | |
| Special awards | |
| Smartest Uniformed crew | 22 Marshalls of Sutton-on-Trent |
| Boon's Award | |
| Best Co-ordinated  Décor | 70 Dews Coaches |
| Peter Rogers Shield | |
| Top CPT Member | 37 A&P Travel |
| Cymru Trophy | |
| Top Coach from Wales | 16 Williams Coaches |
| Tony Roose Trophy | |
| Top Coach from Scotland | 21 Prentice Westwood |
| Fred Bibby Award | |
| Best-loved Coach | 43 Robinsons Holidays |
| UKCOA Martin Cornell Trophy | |
| Highest-placed UKCOA Member in all Classes | 37 A&P Travel |
| Maurice Wrightson Memorial Shield | |
| Oldest Employed Participant | 27 David Hamilton – Heathside Travel |
| Bernie Porton Memorial Trophy | |
| Coach of the Year voted by coach drivers | 7 Brethertons Gold Line Tours |
| Gwynn Williams Trophy | |
| Highest-placed in all classes from Wales | 15 DJ Thomas Coaches |
| Cyril Kenzie Memorial Trophy | |
| Highest-placed First-time Entrant | 14 South Staffs Coach Hire |
Trade exhibitors
Report by Stuart Jones
Although the number of participants was down on last year, trade support remained strong and might have been stronger had some suppliers had stock available to display. Those who were there were relieved that the weather remained dry throughout with periods of sunshine that helped to attract a good number of operators, many of which were actively looking to make purchases. In this round up we look at what was shown, retail prices and current availability at the time of the rally.
Plaxton
Plaxton showed a PSVAR equipped Leopard with 59 Brusa Extend seats on dual tracking, PLS lift and Hanover destination equipment.
Mounted on a Volvo B8R chassis with i-Shift transmission it was in the livery of York Pullman. Alongside was a Panther for Aziz Coaches of Balsall Heath, Birmingham. A straight seated coach, it was to full PSVAR specification with lift ahead of the rear axle accommodating 59 passengers or 55 and a wheelchair. Availability for new build coaches is from July for Panthers with 57 seats and a toilet as well as PSVAR provision while there are 72-seat Leopards available from June to full PSVAR specification.
IlesBus
Sales are going well across the range for IlesBus, which showed three mini/midicoaches.
On the Mercedes-Benz Sprinter 519 was a Renaissance 300 coach body with 19 GLR seats and courier as well as many extras for Heron Travel. Renaissance 300 prices start at £95,000 with availability from mid-September 2023. The other two products were both based on the Iveco Daily chassis. For Pat's Coaches of Wrexham was an I-City Max low floor coachbuilt 31-seater which was the first IlesBus product to feature camera mirror, a £1,000 option. Retail prices for the model start at £133,000. Showing the alternative high floor and lift PSVAR configuration was a Glance model with an offside rear Dhollandia lift, glazed roof with electric blinds, and 31 GLR seats plus courier seat for Safeway of Batley, the capacity of which will be increased to 33 before delivery. Availability on Sprinter is from mid-September while it is 12-14 weeks from order for Iveco based coaches.
Yutong/Pelican
With strong sales, soon to be opened new 20,000 sq ft bus and coach specific premises and the 1,000th Yutong delivery fast approaching, Pelican Chief, Richard Crump had much to be pleased about.
The two coaches exhibited were both already with customers, a GT12 from the G.H.Watts fleet and a TC9 midicoach belonging to Stanley Coaches. Richard told me that he had never known the market as strong as it now is, describing demand for both diesel and electric models as 'buoyant.' 'We are getting more enquiries for electric coaches every week,' he said. With the recent deliveries of 24 electric buses to first in Aberdeen as well a further 41 to McGill's taking their fleet to 96, the total number of electric PCVs supplied is now over 350. Of these, 70 are coach models, more than half of these (38) for the Ember operation in Scotland.
Current availability on the GT12 is from September with a retail price of £265,000 including PSVAR. Some TC9s will be available in a month's time with prices starting at £191,000 with toilet and £187,500 without.
BASE
The BASE exhibit was a new MAN RR8 mounted MobiPeople Explorer 74-seater to full PSVAR specification for P&D York of Wolverhampton.
This featured the MAN D08 293hp engine and ZF Ecolife transmission. Only three MobiPeople build slots are still available before the end of April 2024. These could be filled with Explorers or the 3.5m high Premium coach which can be a 53 or 57 seat executive and can be converted to a 70-seater in later life. Premium can be supplied on the Scania K360 or MAN chassis with nine-litre D15 360hp with prices starting at £245,000. A full PSVAR 74-seat Explorer on the MAN RR8 with 290hp and automatic gearbox costs from £230,000.
Good news is that the 2.35m wide Midi Explorer 35-seater will be available again later this year now that the MAN TG3 chassis has been homologated for M3. Ten are expected later this year.
Beulas has full order books to Spring 2024. Currently in build are a Jewel double deck coach for Pegasus Coaches, a second Aura for J&B Travel of Leeds and three 12.72m Cygnus 57-seat executives prepared for PSVAR for the Holmeswood fleet.
Used sales are also strong with 26 sales so far this year on top of which PSVAR conversions are still being undertaken at prices of between £28-35,000 depending on vehicle. Particularly popular have been PSVAR conversions combined with up-seating to 70 seats on former Shearings Tourismos.
AOS/EVM
The AOS midicoach range offered by EVM was represented by a Grand Toro 37 and a Visigo 39. Sold to Reays, the 8.516m Grand Toro had 35 Sege seats plus courier, an Allison T3270R push button auto and a Cummins B4 four-cylinder 206hp engine.
The Visigo had 39 Sege seats plus courier, a rear mounted Cummins B6 engine rated at 317hp and a ZF Ecolife six-speed auto transmission. Prices are from £170,000 plus VAT on the Visigo and from £140,000 for the Grand Toro with availability on both from the end of this month. Having just completed an Irish demonstration tour, the two coaches shown will undertake a northern British tour later this month starting in Aberdeen on the 24th and taking in Falkirk (25th), Carlisle (26th) and Manchester (27th), enabling potential customers to ride and drive the product.
Scania
Scania's exhibit was a 12,9m two-axle new generation KNI-360 chassis with the new 12-speed Opticruise gearbox.
Coachwork was the Irizar i6S built to the Treinta limited edition specification celebrating 30 years of Scania and Irizar in the UK. A maximum of 30 individually numbered Treinta coaches will be built on a mix of two and three axle chassis. They feature extra seat padding, half leather trim and piping, armrests, wood effect flooring, black side glass, USB chargers at every seat and camera mirrors. The example shown was to full PSVAR although you can just have it prepared for PSVAR, with centre toilet, drinks machine, Bosch DVD and two monitors and a leather steering wheel. Customer deliveries start this month with the first 20 sold and the remaining 10 due early in 2024.
The new generation Scania Touring model on the latest chassis will be available from July this year. Similar externally to the previous Touring, the interior is completely new. Both two and three axle variants are available to buy this year and the range will include a 10.8m 42-seat version, rear toilet and lift over the rear axle.
Park Safe
Exhibiting at the rally for the first time was Park Safe, specialising in telematics and camera systems. Nick Junor-Fitzpatrick is their Business Development Manager concentrating on the bus, coach, rail and marine markets. He showed me examples of their cameras and recording systems which can be retrofitted on to any bus as well as digital mirrors, audible alarms, working lights, Wi-Fi modules, digital recorders (DVRs) and low bridge warning systems.
MAN
The main exhibit was a Neoplan Tourliner P20 with 55 Kiel Avance business class seats in the colours of Go Goodwin of Manchester.
Featuring the MAN D26 510hp engine and ZF Traxon gearbox, the coach had a Hubner lift and two wheelchair spaces as part of a comprehensive PSVAR package. Senior Bus & Coach Sales Executive, Matt Jacobs, said that the company was very busy at the moment and expected to sell 40 coaches this year, all with three-year comprehensive warranty and fourth year driveline warranty. Vehicles available this year were a small number of 13.1m two-axle Tourliner P10s executives with either 53 or 57 seats and either preparation for PSVAR or the full package including lift. Retail prices are from £265,000. Some former demonstrators are also available. Matt also said that the company is spending £40m improving the aftersales network through a dealer development plan which includes bus and coach. The aim is to improve expertise through the network as well as the capabilities of dealerships.
RHA
In Blackpool to talk to members and prospective members, as well as helping out with judging on the Sunday, the RHA is in the process of ramping up its PSV training offer and was offering new members access to its new PSV Transport Manager training package.
EvoBus UK
One of ten new Tourismos for Grange Travel of Kent was displayed.
It featured the latest 22-inch full HD monitors and a new touchscreen coach infotainment system with HDMI Bluetooth audio connection for improved connectivity. It had the ZF Ecolife 2 automatic transmission and Mercedes-Benz OM470 428hp engine. Current availability for 2023 delivery is around a dozen vehicles including some Access models, a couple of 14m Tourismo Ls and some M2 coaches but no M3s. Additional options include the Setra Voyage Plus seat, following on from the use of the Setra Voyage Ambassador unit in a number of team coaches.
Volvo
At Volvo's stand I spoke to new Retail & Coach Sales Director, Josef Gisslow, who told me that the double deck 9700 would be coming to the UK towards the end of the first quarter of 2024 with coachwork by Carrus of Finland.
Orders have already been placed for the coach for which there will not be a stock build programme. Following the surprise news that the Wroclaw plant in Poland is to close early in 2024, the 9700/9900 range will continue but there is no word yet on where it will be built in future. Volvo will continue to offer MCV, Sunsundegui and Plaxton but there are no plans to add more bodybuilders to the current portfolio. The Jonckheere body will not be sold because it is no longer being offered by VDL, I was told.
In Blackpool were a PSVAR equipped 13.9m three-axle B13R 9700 with 59 seats (55 when wheelchair bay occupied) and a 12.5m Volvo B8R Sunsundegui SB3 PSVAR with 59 Sege seats in the colours of Glen Valley Tours. There will be limited availability of the Sunsundegui SB3 and SC5 in July with the next stock 9700/9900 models scheduled for September.
Jones Coach & Bus Sales/ Noone
Llanrwst based Jones Bus & Coach Sales in conjunction with Brian Noone Ltd offers the Turas family of small vehicles types. They include the 29-seat Turas 700S on the Iveco Daily 70C18, the coachbuilt Turas 500 16/19-seater on the Mercedes Sprinter 517/519 and the Turas 900, a PSVAR specified example of which, with PLS lift, was shown. This utilises a 12-tonne DAF LF chassis and can have wheelbases of 4.8m with 33 seats or 5.1m with 37 seats giving 5.5cum or 6.6cum of luggage space respectively. Destined for Lakeside Coaches the coach had an automated six-speed ZF gearbox although an eight-speed full auto will be offered soon with the launch of the DAF Global 6 chassis. The new auto model, which is said to be particularly quiet, will be from £168,000 plus VAT as a 33-seater.
Temsa
Debuting on the Temsa Sales UK Ltd stand was the first HD13RHD 13m 57-seat two-axle executive coach a capacity increase of four compared with the established 12m product.
Built to full PSVAR specification with Dhollandia lift, it has alloy wheels as standard, Paccar/DAF engine and an unladen weight of 13,200kg. Procters are taking the first coach and five with 53 seats and a toilet have been ordered by Caledonian. Retail prices start at £247,000 while the HD12RD is from £235,000 retail. I was told that around 20 HD13RHDs have been sold so far with availability on the midi MD9 from the end of May.
With effect from 1 April, the business has taken on responsibility for selling Temsa bus and coach parts, something previously handled by Alliance. Existing parts stock have been acquired with a further two containers of parts scheduled to arrive on the day following the Rally.
The new General Manager of Temsa Sales UK Ltd, the UK distributorship for the Temsa brand, is Josh Beer, 31. He brings 11 years of transferable knowledge from his experience of the robotic farm equipment business. Asked about his first impressions of the industry he said, 'There's a lot to do but huge potential. Coming from a very service driven background I do believe we can make a difference.'
Also on the stand was a converted Van Hool Astromega double deck hospitality unit/race car transporter and a miniature open top double-decker based on a racing car chassis with Cosworth engine originally built for Top Gear.
Last word
I compiled this report on the Saturday of the event and all of the stand holders I spoke to were pleased with the level of operators they saw, a trend that continued on the Sunday. Several reported taking or confirming vehicle orders.