The road to zero
Sourcing the power to charge the vehicles and modifying depots to allow this to happen can be significant challenges and were the main subject of LowCVP's latest 'Supporting electrification of bus services' workshops in partnership with energy supplier SSE. David Cole joined the second event at SSE's Reading offices
Procuring the electric vehicles (EVs) themselves is just one aspect of the challenge to introduce zero-emission vehicles to meet the UK's commitment to a net zero carbon economy.
The bigger issue may be creating the means to charge them. Energy supplier SSE, one of the organisations playing a leading role in facilitating the introduction of zero-emission vehicles, has supported LowCVP in bringing the challenges of electrification to a wider audience at workshops in Perth and Reading.

The Reading event was addressed by the Mayor, Cllr Paul Woodward, who spoke of few things being greener than a bus and offered solutions that "get us quicker further on towards sustainable transport." He added, "electric vehicles are going to be fantastic," but warned of simply transferring emissions from vehicles to power generation.
Welcoming participants, Nathan Sanders, MD of SSE Enterprise provided a background to the energy supplier's activities and how it is moving to a distributed energy environment through the three Ds: Decarbonisation, Decentralisation and Digitisation alongside a partnership approach. The company is focused on developing long-term revenue schemes through supporting the infrastructure needs to supply electricity for heat and transport.
SSE Enterprise: Services and Infrastructure
Kevin Welstead, EV Sector Director at SSE Enterprise advised of the company's e-Fleet model and the services it could offer to support the introduction of EVs. SSE only works with Open Protocol partners to ensure minimum disruption as new technologies come on board and aim to maximise value for its client. In particular, it can focus on solutions where there are electric grid constraints, be it local generation, batteries or unlocking capacity in over-specified private networks.
The company is involved in most of the bus depot electrification schemes in London, including working with Go-Ahead on the world's first fully electric depot at Waterloo. Two major projects currently underway are the electrification of Northumberland Park depot due for completion early in 2020 and the development of ground up solutions for a new 200 bus depot requiring 10mVA electric capacity, some of it to be made available to third parties during the day. While the chargers may be smart, back office systems will similarly need to be smart to ensure optimisation of the facilities available.
ULEB Scheme, incentives and support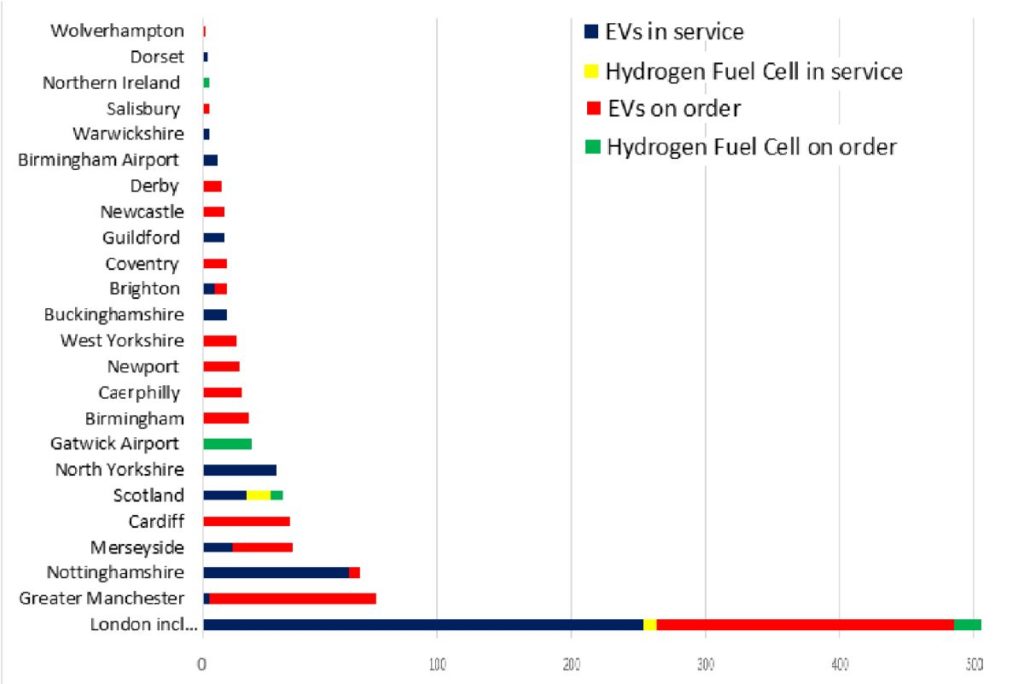 Dan Hayes, LowCVP's Project Manager with lead on buses, presented figures showing that 431 zero-emission buses are currently in service in the UK with another 508 on order. Around 50% of this total relates to London while less than 5% are powered by hydrogen fuel cell.
Incentivisation is a potential issue in England and Wales due to the current application of the BSOG scheme that appears to favour low-carbon or hybrid diesel. In Scotland the scheme shows a clear increase above the base rate for zero-emission buses although this is limited to a period of five years.
His presentation also included an overview of the political parties' manifestos, now yesterday's news, and a review of the £220m bus spending announced by the Government in September 2019. £50m of this is intended to create an electric bus town where it would cover the cost of infrastructure and 75% of the cost difference between EVs and Euro VI diesel vehicles. Expressions of interest in this scheme are to be invited in 2020.
Depot electrification and EV rollout in London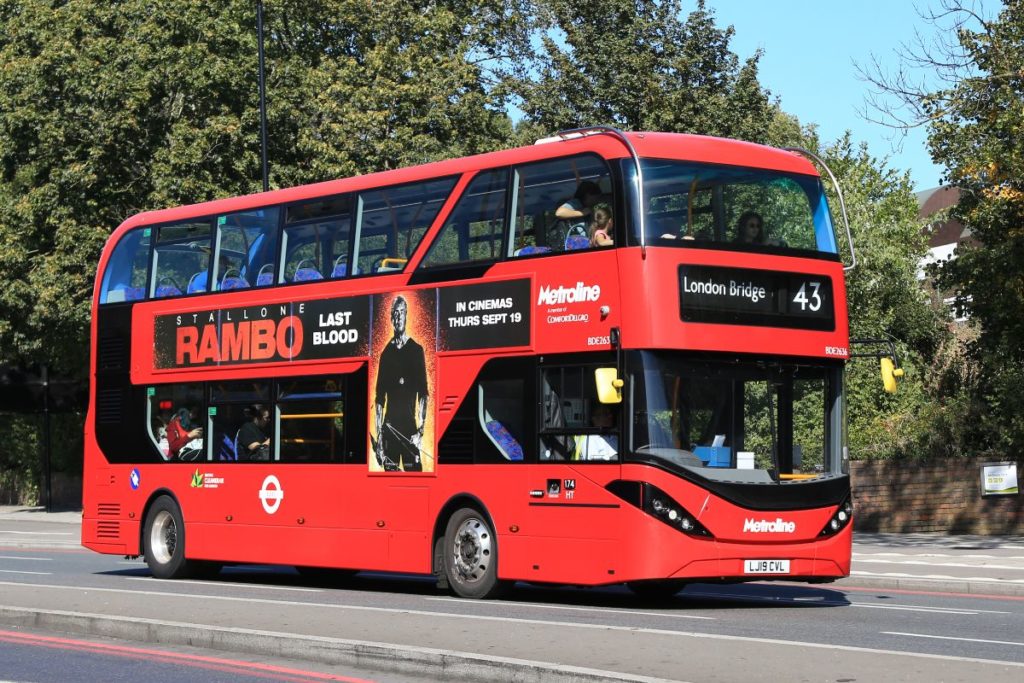 ComfortDelGro owned Metroline is one of the operators at the forefront of introducing EVs to London. It was the first to operate modern electric double-deckers, the recently 'retired' BYD heavyweights operated under special dispensation, and now operates both single and double-deck EVs from two of its depots.
Group Engineering Director, Ian Foster, provided an overview of the challenges presented by the work with SSE in electrifying the two depots. Potters Bar depot is home to the 32 Optare Metrodecker EVs being delivered for route 134. These vehicles have built-in chargers so require one connection point per vehicle and making use of the outside parking areas at the depot. Despite requiring additional civil works, it proved possible to bring this project to completion significantly within its original budget.
Upgrading Holloway has been, and continues to be, a challenge resulting in a budget overrun of around 20%. The depot provides 23 ADL/BYD Enviro 200EVs for route 46 and 37 ADL/BYD Enviro 400EVs for route 43. The depot, dating back to tram days, is undercover and has 40 charging points, the installation of which took out seven parking bays, plus an emergency plug-in point should this be required for one of the Optare vehicles "caught short" at the London end of the 134. Cost increases included the need to rebuild the substation floor and re-instate the building to its original specification while connection of a third cable to the site is still awaited, the delay arising from the need to cross a TfL owned bridge.
An electric bus manager is employed to optimise the charging process which may mean vehicles being charged or moved between chargers several times over a 24-hour period. Vehicle duties are also planned to equalise battery usage across the fleet. Part of the power requirement is supplied by a timed connection with availability between 2230 and 0700 to recognise the constraints of the local electric grid.
Ian put forward a number of learning points from his experience so far including taking into account that all authorities involved have different priorities, there is no special treatment for bus depots, over-specified capacity will be removed by the supplier, the infrastructure should be future-proof and consider both what other uses the supply could be put to and what happens if the power fails. Timescales to connect to the electric grid are the biggest concern, Ian warning: "There is nothing agile or fast-moving about the electricity grids." Typically a grid operator would expect a period between three and ten years for connecting a new load, such as a housing estate, of the peak capacity required by some bus depots on day one.
On site renewables with depot electrification
As a CIC owned by the local community, Big Lemon's values include sustainability and innovation, something the business has taken to heart with significant steps towards full electrification.
Founding Director, Tom Druitt provided an overview of the company's move to electric power and the challenges of electrifying a leased depot on a planned redevelopment site. Big Lemon now operates nine electric vehicles representing almost half the fleet, these include a Smith Edison Ford Transit, two Magtec retrofitted Optare Solos, four Solo SRs purchased new and two very early electric Solos purchased secondhand. The latter are still on their original batteries so have a lower range than the other Solos but sufficient for the role expected of them where in-day charging is possible.
Funding has come from a variety of sources including the ULEB scheme and its predecessors, the M&S Energy Fund, £785,000 in community bonds which attracted 256 local investors and 162 crowdfunding supporters, totaling an investment of £1.3m. Tom has been particularly impressed by the appetite for support shown by local residents which has seen each funding target met earlier than planned. Big Lemon was an early adopter of solar power with a 28.56kW max array installed on one third of the depot roof following approval by the landlord. Six-vehicle charging points have subsequently been installed on site so vehicle diagrams need to be planned to suit.
Tom concluded his presentation with five top tips; Articulate your vision; Get buy-in from stakeholders; Talk to your landlord early on; Assess local grid capacity and Partnerships, partnerships, partnerships!!!
Integration of V2G, renewables and energy storage
Nottingham City Council is a leading innovator in the field of EVs. At one point its electric bus fleet was the largest in Europe, operated for it mainly by Nottingham Community Transport. The city has a carbon neutral target of 2028 and the city's Principal Project Officer, Steve Cornes, delivered a presentation on the city's latest venture, cleanmobilenergy.
This will see the procurement of 40 small, commercial EVs with V2G (Vehicle to Grid) capability and a stationary battery pack (second life batteries) to maximise the internal use of the solar panel system installed at the city's Eastcroft depot. Other objectives include reducing energy costs, particularly by only taking power from the grid overnight and lowering the city's carbon footprint. Key to the project is the development of the energy management system that optimises the use of internal sources and minimises the capacity sourcing from the grid at peak times, the target being zero grid input between 6am and 10pm.
Among the challenges already identified are the demands of the electric grid operator for connections to be sized as if the V2G and battery outputs are treated as generators, the availability of vehicles with charging connectors suitable for V2G and any potential impact on vehicle warranties. The city will also need to use its vehicles differently and not just as a one-for-one diesel replacement. To further the city's aims, a further 120 electric commercial vehicles will need to be procured from 2020. Looking at the city-owned electric bus fleet, Steve noted that that the earliest vehicles, now seven years old, were just starting to show a drop in their power storage capability.
Electric Minibuses for DRT
Against the challenge that, "current public transport options are not delivering for our cities," Pierrick Athukorala of ViaVan spoke of the role of on-demand transport systems in re-imagining how cities move and how these can play their part in the road to zero. ViaVan's on demand system algorithms deploy virtual bus stops to optimise the service and are capable of rapid deployment or upscaling.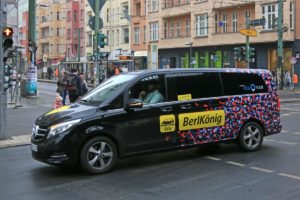 The company deploys its technology as a consumer product or through 'Transit as a Service' or 'Software as a service' options. The latter 'white label' option supports partners' branding of the service such as Arriva Click.
Electrification adds another layer of complexity to the system's algorithms, determining where and for how long the vehicle needs to go to recharge. Pierrick presented the case study of ViaVan's largest current on-demand electric service, Berlkoenig in Berlin where 60% of the 150 vehicles are electric.
The service is integrated into the app of the local transport authority, BVG, and is planned to grow to 300 vehicles, all electric after 2020. In the UK, grant funding will enable the 30 vehicle operation in Milton Keynes to move to fully electric operation by early 2020. This uses the Mercedes-Benz eVito platform but the model can support multiple vehicle sizes.
Challenges for EV manufacturers
Matthew Lawrence, EV Business Director at Alexander Dennis spoke of the need for "a completely different mindset for the operator" when it comes to specifying electric vehicles. The BYD/ADL approach includes two significant up-front activities, analysis of the route(s) the vehicles are to be used on and evaluation of the depot where the vehicles are to be charged. With this detailed knowledge, an appropriate vehicle energy storage specification and charging scheme can be determined, noting that this will be based on the expected capacity of the battery after ten years in service requiring the initially installed capacity to be several percent higher.
Turning to the BYD/ADL product range, Matthew advised of specification improvements to the Enviro 200EV. This now features third-generation, liquid-cooled batteries which are housed in a new full-length streamlined roof pod and has heat-pump-based electric heating as standard. Increased battery capacity is now possible on the Enviro 400EV and both models will be available with DC charging from 2020 using the CCS2 connection system. ADL is also continuing to develop the Enviro 400 as a hydrogen powered zero emission vehicle using fuel cells.
LowCVP

LowCVP Project Manager Chris Douglas is the lead for fleet depot electrification and advised that material from the workshop and five others across other vehicle classes would be used to develop a barriers and opportunities report on fleet electrification by the end of February 2020. Forthcoming LowCVP Zero emission bus events include 'Pantograph charging with Volvo' on 20 February at Birmingham airport and 'Depot based charging with Yutong and Zenobe' in Newport in April. LowCVP also plans to update its Low Emission Bus Guide in 2020.