Support grows for 'big bus bias' campaign
Small-bus builders Mellor and EVM campaign to be part of the government's drive for electric vehicles
Following its criticism earlier this month of the Department for Transport's (DfT's) latest round of restrictive funding for smaller size-appropriate zero-emissions buses, Rochdale-based bus manufacturer, Mellor, has received substantial backing for its 'big bus bias' campaign from industry bodies, charities and at political level.
The Zero-Emission Buses Regional Area (ZEBRA) funding includes £120 million for the provision of up to 500 new British-built zero-emission buses – although no cash is available for manufacturers of buses of less than 23-passenger capacity. At the heart of Mellor's 'big bus bias' campaign lies the question of why the DfT has seemingly withdrawn local authorities' ability to choose where to invest in zero-emissions buses – and into the essential services they deliver.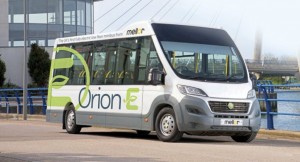 The revelation has prompted concern from the Shadow Transport Minister, Sam Tarry, who has already voiced his support for Mellor's 'big bus bias' campaign by raising the issue in the House of Commons. Significant support also comes from industry stakeholders including the influential Bus Users Group, the Community Transport Association (CTA) and the Campaign for the Protection of Rural England (CPRE).
Claire Walters, CEO of the Bus Users Group – the registered charity campaigning for accessible inclusive transport – said, "If the National Bus Strategy is genuinely to meet the levelling up agenda, then all vehicles, including those serving hard-to-reach areas, should qualify for the Electric Bus Fund. Let's make sustainable, environmentally friendly transport an option for everyone."
Chief Executive at the CPRE, Crispin Truman, OBE, added, "Mellor is absolutely right to raise this important issue. Reliable bus services are essential for thriving rural communities and smaller buses can play an important role in connecting the areas across the country that have too often been cut-off from public transport. As the government rightly promotes electric buses, Ministers must invest in vehicles of all sizes," he said, "including those best suited to the needs of small villages and country lanes."
Chief Executive at the CTA, Bill Freeman, also said: "Smaller buses are vital for the provision of accessible and inclusive transport all over the UK for those who are excluded from the conventional transport network. It is vital that the role of smaller buses and their importance in the community transport sector and communities across the country is recognised through equal funding opportunities."
The ZEBRA funding was announced just before Easter via the DfT's Zemo Partnership, described by Mellor as 'big bus bias' and an intolerable snub for the small-bus sector – totalling in excess of 80,000 vehicles in the UK – which provides essential services for countless inner-city community groups and for linking suburban and rural communities.
Bus Division Managing Director at Mellor, Mark Clissett, added: "We believe the DfT has ignored the pivotal role of the small bus sector," he said, "and the fact that smaller, size-appropriate vehicles are the clear and obvious solution where larger single-and double-deck buses are becoming no longer viable."
"Of course, we all want to see zero-emissions vehicles, wherever public transport is needed, but why the big bus bias? If the government is serious about improving air quality, then this must include all vehicle types. Moreover," he said, "why prevent Local Authorities from making their own decisions on where to introduce zero-emissions services? The DfT, through its Zemo Partnership, simply must recognise the small bus sector's fundamental role in connecting vulnerable groups and wider communities across the UK."
EVM puts senior DfT official on the spot
Crawley-based bus and coach builder EVM faced senior DfT official Caroline Low CBE with the same question of bias at a webinar run by exhibition ITT Hub this week.
Sales Director Peter Flynn tabled the question 'Why have small buses been excluded from ZEBRA funding?' at the pre-show event at Farnborough International Exhibition Centre, and Caroline, Director of Environment & Future of Mobility, admitted she wasn't aware of the situation.
"I spoke to Caroline after the webinar and tried to get some context to this," Peter told Bus and Coach Buyer. "If the government is looking for bang for their buck, the small bus market can deliver it."
Though he said the DRT market has not quite reached the tipping point into profitability, the large number of DRT schemes and buses EVM has sold for them suggest this will be one of the solutions which have a great fit for electric buses: "The advance is really handicapped by lack of funding, but DRT small buses can make a real difference, and be front and centre of zero emissions, in town centres."
Peter believes the same level of funding for small buses would make them price-comparable with diesel buses and encourage immediate adoption: "I have a full order book for diesel lowfloors in front of me, and a substantial number of these would be electric if there was ZEBRA funding."
Peter said that EVM is campaigning alongside Mellor for small buses to be funded, has regular dialogue with the Woodall Nicholson-owned manufacturer and with Zemo Partnership – formerly the Low Carbon Vehicle Partnership (LowCVP).