Shhh… here comes Voyager GT
Bus and Coach Buyer's small-vehicle guru, Rob Orchard, checks out some big changes made to UNVI's Voyager GT midicoach. It's a smooth operator these days…
When, a few years back, Mercedes-Benz announced the end of the Vario manufacturers of midicoaches were thrown into a bit of a turmoil as to how to replace it.
Most coachbuilders opted for various versions of the Mercedes-Benz Atego front-engined light truck chassis. This was the route chosen by manufacturers like Ferqui (Connaught); Indcar (Moseley Group in UK and EVM in Ireland), Beulas (Moseley Group), Noones (Midland Bus and Coach Sales in the UK and Noones in Ireland) and UNVI (UNVI Bus and Coach UK and LIR Sales in Ireland).
The solution for UNVI was a new vehicle slotting into the 29-35 seat sector between its established Vega and Touring ranges. The vehicle was called the Voyager GT and it was launched at the 2016 NEC show. This used the 10-tonne GVW Atego chassis powered by the four-cylinder Mercedes-Benz engine matched to six-speed manual or PowerShift automated transmission.
Voyager GT wasn't an instant success largely because of its unusual styling. For once UNVI, hitherto renowned for very good styling, seemed to have gone too far with Voyager and its crab claw-like frontal styling wasn't to everyone's taste. Those that did buy Voyager found it was, in fact, a very dependable vehicle. UNVI lost no time in adjusting the styling and came up with a really sleek look which has since found much greater acceptance and Voyager GT has gone on to become a key model in the UNVI range.
In common with some of the leading manufacturers, UNVI did find that customers commented that the early four-cylinder engine appeared to be quite noisy and not particularly smooth. No amount of insulation seemed to improve the situation. This is in no way affected the vehicle's performance, which was perceived to be good, but it was a bone of contention. This was perhaps a surprising reaction because its predecessor the Vario had certainly not won any accolades for quietness!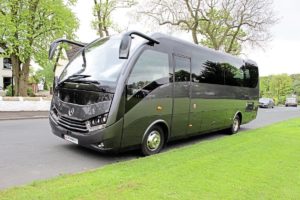 After some experimentation and success UNVI decided to try using the same chassis but fitted with the six-cylinder version of the engine which they use in their heavier model, the Touring. The engine seemed to be quieter and, unsurprisingly being a six cylinder engine, was much smoother. With the assistance of UNVI's UK Sales Manager David McKinless, I arranged to take a closer look at this revised product.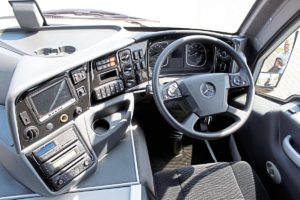 Before I got to look at the latest Voyager GT I studied some data provided by UNVI on the noise level comparison of vehicles fitted with the early four- and six-cylinder engines and those being produced now. The new four-cylinder engine operating at 2,000rpm in a vehicle fitted with a manual gearbox and being driven along a motorway at a steady 80Km/h produced a noise figure which showed a reduction of 3dB at the front, 1.5dB in the centre of the vehicle and 1dB at the rear… levels which would generally be considered very acceptable. However the six-cylinder vehicle operating at the same speeds under the same conditions but fitted with the automated transmission produced reductions of 2dB, 3dB and 2dB respectively.
The same vehicles stopped with engine running at 700rpm produced reductions of 2dB and 1.5dB respectively with the compressor under load and 3dB and 3.5dB with the compressor not under load.
Remember that decibels are not measured on a linear scale but a logarithmic one, which means a reduction of 1dB is in fact a substantial reduction, equivalent to three points on a linear scale. So these figures for the six-cylinder vehicle show a substantial reduction in noise level of 4dB over the four-cylinder equivalent..
Although not measured in dBs, the pitch of noise is also a factor. Our ears tend to think that the pitch of certain sounds indicates they are louder than others although in dB terms they can be exactly the same. This is the case when comparing the four- and six-cylinder Mercedes-Benz engines. The four-cylinder engine sounds louder and harsher to our ears than the six-cylinder unit.
As part of its tweaking of the Voyager GT design, UNVI has also revised the acoustic insulation materials that it is using and this, they say, has been a contributory factor in reducing the noise levels of both vehicles even more.
The vehicle
The Voyager GT inspected was a standard UNVI model built using the 4820mm wheelbase Mercedes-Benz Atego 1024L chassis with forward mounted diesel engine. It is seated at 30 including courier and has a GVW of 10.5 tonnes.. It can also be seated up to 34 including courier seat.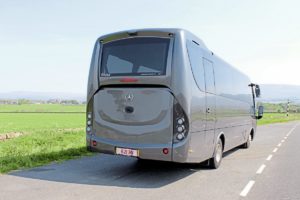 The vehicle is powered by the 7.7-litre Mercedes-Benz OM936 six-cylinder engine which develops 238bhp and has a maximum torque figure of 1000Nm available across a wide speed range. The engine, with SCR exhaust, is matched to the latest recalibrated PowerShift 3 automated six-speed transmission.
Front suspension uses 4.4 tonnes parabolic leaf springs while the rear axle is fitted with air suspension with stabiliser and lift/lower function. Braking uses a dual-circuit hydraulic system with disc brakes on all wheels.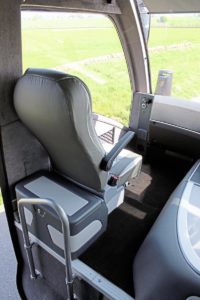 Steering is powered, variable ratio, rack and pinion. Electronic steering has not yet graduated to this class of vehicles.
The body is an all-steel structure with extensive corrosion protection. Front, rear and roof are GRP mouldings and the structure conforms to all the necessary safety standards including R66 rollover.
The side entrance is set behind the front axle and fitted with an electric, glazed, plug door. Once open, the door reveals a four-step entrance which gives access to the sunken gangway, which is flat throughout the length of the vehicle and is carpeted. The seat plinths are capped in aluminium and incorporate LED strip lighting. The entrance is fitted with well-positioned hand rails and is lit by general LED lighting as well as step-edge strip lighting.
Seats are mounted on plinths fitted with non-slip floor covering. Seating is of 29 Platinum recliners fitted with gangway armrests and lap and diagonal seat belts. The seats are trimmed in soft-feel leather in grey tones with the centre section quilted. A courier seat is fitted alongside the driver and matches the saloon seats. The courier seat is approved for passenger use if required, increasing the capacity to 30.
The sides and ceiling are trimmed in soft touch suede material. Glass is bonded, panoramic, double-glazed units with extra dark tint and fitted with full draw curtains.
A new modular style of luggage racks are fitted with slim pillars and incorporating individual adjustable air flow controls, reading lights and courier call. The underside of the racks is finished in matching soft touch suede. USB ports are provided at each seat row. The racks have LED feature lighting.
The ceiling incorporates full-length strip lighting with half-light intensity alternative setting and a glazed adjustable roof hatch/emergency exit. Future vehicles will have two hatches to comply with the recently introduced revised emergency evacuation legislation changes. At the rear there is an offside emergency exit with fold out steps. Here again this item has been modified on later built vehicles to take account of the new legislation.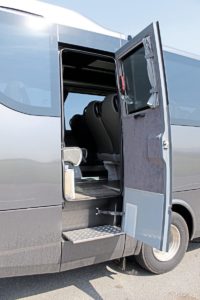 Other saloon equipment includes ceiling-mounted speakers for the Bosch PL Audio Line sound system and the driver/courier PA system. The vehicle has convection heating with radiators down both sides of the vehicle and has a Hispacold high capacity air conditioning system with roof mounted equipment. Another recent addition has been the option of the Mercedes-Benz Cab specific air conditioning running independently of the saloon system. The vehicle is not fitted with a DVD monitor but wiring is in place for the fitment if one is required.
The cab is well designed and laid out. Being a front-engined vehicle, there is a cover over the engine but this is very neatly tackled and is not intrusive. For the driver there is a fully adjustable air suspended, high back seat with three-point belt. The wraparound instrument panel is very well laid out and incorporates a 10.5cm screen which is also used for the reversing camera. The dash features new subtle brushed aluminium facings and the cab incorporates a number of storage units for crew use. Glazing on both sides of the cab is electrically operated and heated. A driver's door is incorporated.
The main external mirrors are on new arms and are heated and electrically adjustable. These are optional. There is also a low mirror similarly equipped. Also incorporated is the Bosch audio system with PA microphones for both driver and courier, cup holders and USB, power points and mobile phone connection. The vehicle also has electrically operated individual sun blinds. A fridge unit is mounted behind the driver's seat and another storage locker behind the courier seat.
The Atego features many of the now familiar safety systems including ABS, ESP, collision avoidance and lane guard. The vehicle also benefits from cruise control, is of course speed limited and has a Smart tachogrph.
Features externally are daytime driving lights, halogen headlights and fog lights and LED rear lighting. The Voyager GT has a large illuminated rear boot accessed via a one piece lift up door and with additional nearside access. There are also two underfloor side lockers giving the vehicle a combined luggage capacity of 4.5cu.m. Finally the vehicle sports attractive chrome effect wheel trims.
This particular vehicle was finished in a very attractive Graphite Grey metallic grey paint finish.
On the road
UNVI's Voyager GT was once dubbed an ugly duckling but that label cannot be applied to today's version. This is now a very stylish, sleek midi both inside and out and it looked especially luxurious in its Graphite Grey metallic finish.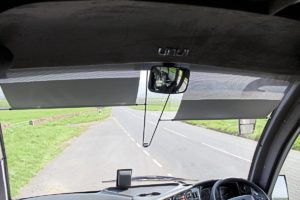 I first reminded myself how nice the six-cylinder powered Mercedes Atego is to drive when I am ascended into the driver's seat via the driver's door. The Voyager GT has a real coachman's cab – comfortable, with well laid out controls and instrumentation and an excellent seat. This is backed up by superb vision through the massive screen and the well designed and positioned external mirrors…the new mountings of the high mirrors being especially worthy of comment.
The big six has a pleasant exhaust note and this translates into plenty of power and useable torque. The vehicle is both docile and well behaved at slow speed and when manoeuvring along narrow two way roads but becomes an eager thoroughbred once some good open road is encountered.
I was also very impressed with improvements that Mercedes has made to the control of the Power Shift 3 automated transmission. This transmission has come in for some criticism in the past for being rather jerky and notchy. The latest incarnation is altogether smoother whether it is either changing up or down. Yes, it is an automated box so can never quite match the smoothness of a fully auto transmission, but if you apply the golden rule for all automated transmissions of allowing it to make the changes, rather than you trying to tell it what do, you will achieve very smooth, uncomplicated changes.
The vehicle also exhibits excellent road holding and ride coupled with positive, yet light steering and powerful braking if required.
Of course the purpose of this exercise was to determine whether the six-cylinder engine produced a quieter and smoother vehicle, so I also spent quite a bit of time within the vehicle leaving David to the task of piloting it along the road.
Let's get this noise thing into perspective. As the dB figures I gave earlier show conclusively, there was nothing wrong with the original noise levels of the four cylinder Voyager GT; they were well within acceptable limits both externally and internally. As I have said vehicles can sometimes appear to be noisier than they really are because of the pitch of the sound and this is undoubtedly the case here.
So is the six cylinder version quieter? As the figures show, yes technically it is, plus the new vehicle also benefits from insulation materials which are more sound absorbent. But does it sound quieter on the ear of the passengers (and the driver)? Yes it does. Wherever you are in the vehicle the engine note is low and not unpleasant. Just a faint hum and the further you move into the saloon, unsurprisingly, the more distant it becomes. At no point does it inhibit conversation even between the driver and courier.
In my opinion the latest UNVI Voyager GT, with the six-cylinder engine and the Power Shift 3 transmission, is an absolutely cracking vehicle which will please your customers and the crew and most importantly returning an average 18mpg, it will earn you money – which is after all what it is all about.