ROAD TEST: From trot to sprint
EVM's Low Floor concept bus, providing service bus accessibility and low running costs, has come of age with the new Sprinter base vehicle. EVM was prompted by the re-engineering to make another step change in sophistication.
When EVM launched its Sprinter-based Low Floor in 2013, it causes a ripple of interest in the bus market, but only a ripple.
The thinking was clear; if you're going to engineer a vehicle for bus work, make sure it's durable, and with EVM's long experience of Sprinter, that was a given. The engineering work, involving cutting a big chunk out of the mid-section and re-routeing the propshaft – was approved by Mercedes-Benz, which does, in fact, supply the dropbox and exhaust among other parts.
Its genius is not just the wheelchair-accessible and thus service-bus compliant, lowfloor section. The deal breaker for a great many operators is the extra-wide, 1200mm Masats electric sliding door – a development from the single Ventura sliding door EVM prototyped with. For as I found out on a visit the next year to Busworld in Kortrijk, many converters had produced a similar Sprinter product, as had Daimler itself, but most opted for twin plug doors.
The advantage from the start was that drivers did not have to consider the door's outswing when pulling close to extra-high bus stop kerbs. Twin plug doors proved a liability in this respect; sliding doors project less than 10cm from the aperture.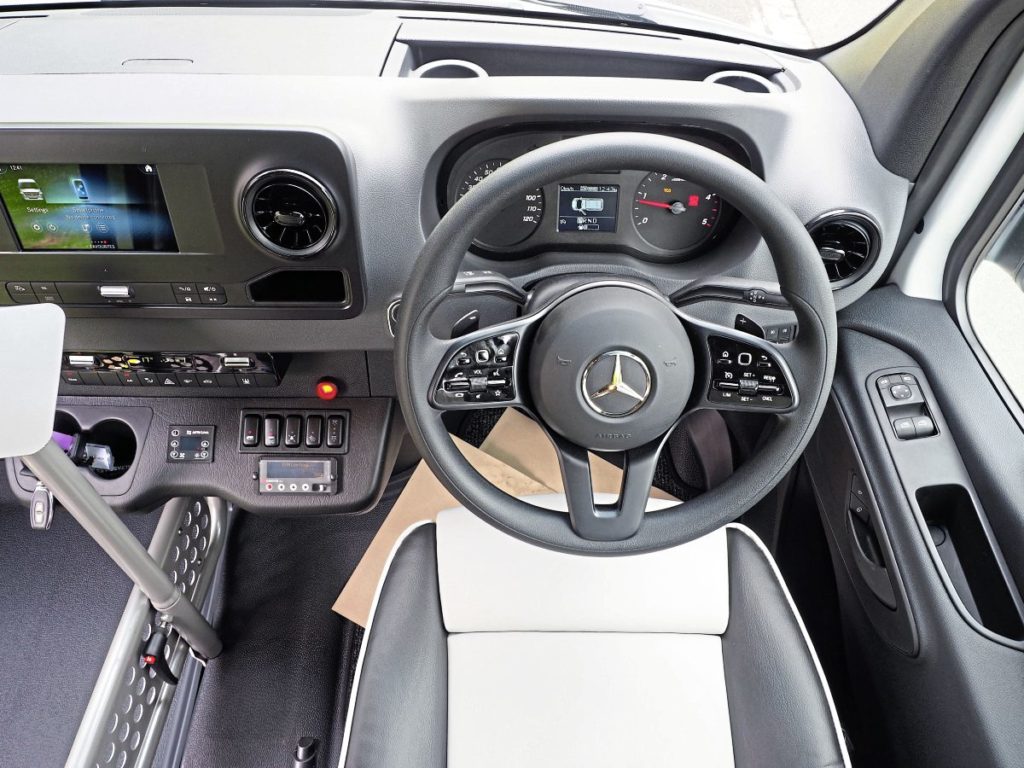 Since that auspicious beginning, which generated a trickle of orders, the Low Floor concept has become embedded in the psyche of many community bus operators and, latterly, has been gaining ground with commercial bus operators who are coming around to the idea that as much as 20mpg fuel savings – yes, a quarter of the fuel use – there might be more profit in running Sprinters on low-capacity routes and when loadings are light.
But that's only half the story. EVM has made its reputation by creating very high-spec minicoaches, and wasn't going to let anything slip with the Low Floor: "We think it presents well as an accessible vehicle, but it blurs the lines between community transport and executive travel," said Peter Flynn, EVM's Sales and Marketing Director. "And as a premium product, it has good scope for a second life."
The residuals are now telling the story, holding up very well, to the extent that there's a queue at the door of the Crawley headquarters when they are part-exchanged. There are now, Peter estimates, 200 or more Low Floors out there and, with the continuing development of demand-responsive bus services, a market for many more.
The latest Sprinter has now emerged from Kilbeggan, converted to Low Floor with some palpable changes from the original, which we road tested back in 2014 (https://is.gd/PxUcp6). Is it markedly different from last year's?
Exterior
If one thing's to be said about the new Sprinter Cityline, it's that on the outside, it's just like the old Sprinter. M-B isn't going to reinvent a very successful wheel.
Then again, this really is a new Sprinter. Dimensionally it's almost identical, and though it has a few new styling cues and a more rakish look, the engine grille still features a giant three-pointed star and, for punters as well as buyers, that's the label they'll see. All bumpers are colour coded to give it the familiar EVM finish.
In terms of its engineering and systems, the new Sprinter is a big advance on the previous model, with a raft of safety electronics to coach standard, plus MBUX – the acronym which describes its intelligent suite of electronics, all operated via the central colour screen. It's not just the usual Bluetooth-and-media package, because it also connects to Mercedes PRO Connect services, which allows remote monitoring of the vehicle.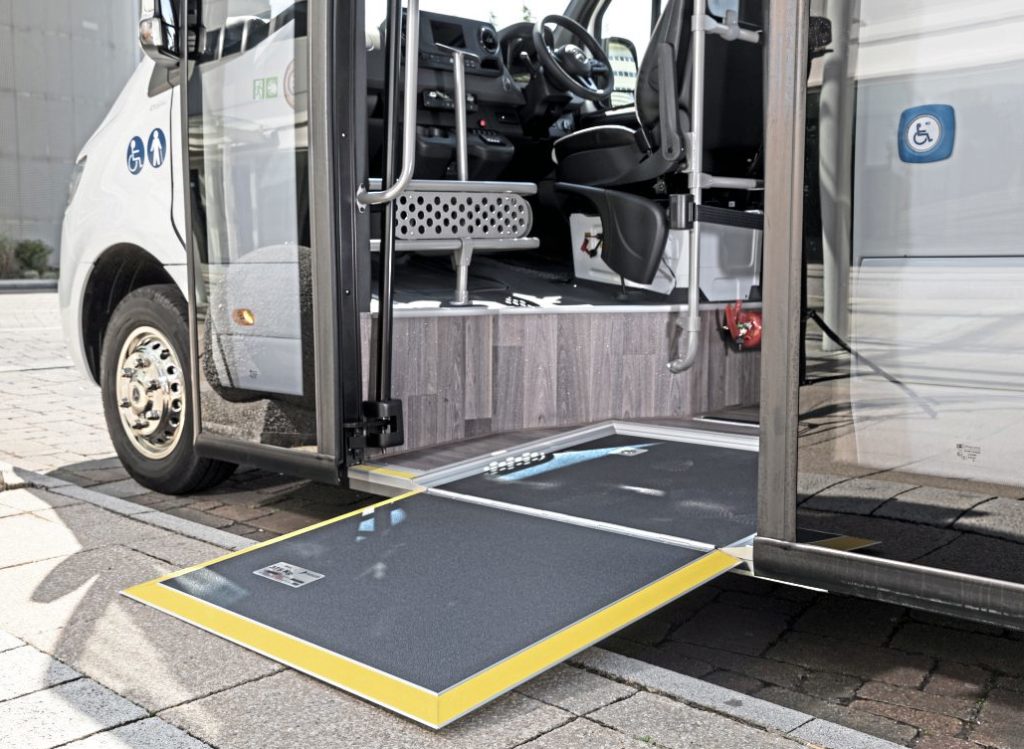 And not just for this new Sprinter. The telematics – which really dig deep, even monitoring driver behaviour – can be added to the previous model Sprinter via a new device which plugs into the OBD socket, so operators who've been repeat buyers can include the whole fleet in the system. Indeed, Mercedes-Benz says it will even be making modules for vehicles from other manufacturers soon.
And there's more. It accepts voice commands, for example. Mercedes-Benz has upgraded its electronics to be at the cutting edge of what's possible within a vehicle. Adaptive cruise control via M-B's Distronic system is included, plus lane-assist and everything you would expect on a luxury touring coach, including a reversing camera as standard.
This may become especially important as Sprinter becomes more widely adopted as the vehicle of choice for demand responsive bus services. The full Hanover destination display gear, front, side and rear, with its new high-contrast white-on-black, gives a hint that EVM sees the growing number of DRT and routed services as a significant market for the Cityline Low Floor.
Interior
The ring of familiarity in the latest EVM Cityline Low Floor is only superficial. The structure may be identical, but almost every part of the interior has evolved since launch.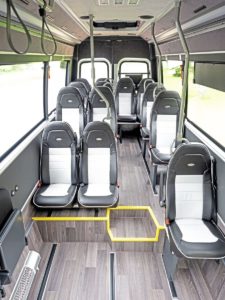 "Every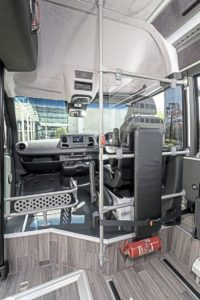 single change has been made as a result of feedback from operators," says Peter Flynn. "That includes community transport operators. Although this can be a slow process, going through committees, those committees are formed of retired and semi-retired professionals with a lot of skills and a really acute focus on the end user.
"They will test every seat and every handrail. They're picky. ArrivaClick and PickMeUp have added their operational experience, and taken the specification even further.
"The result, I would say, is a vehicle which blurs the lines between community transport and executive travel… a premium product with great flexibility."
The result is not all visible to the owner; EVM's scrupulous attention to reliability has seen factory changes under the skin of the Cityline to ensure complete reliability and durability. Very short command chains between customer and the factory see changes made very quickly.
The Masats extra-wide double sliding door – a lovely, quiet and fast item – lets into the large lowfloor area, with a luggage cage to the left and the driver position. The door can be operated from the dash or via a remote key fob. There was a manual ramp in the test vehicle but a powered ramp is an option.
The floor previously had recessed single tie-downs for the wheelchair occupant but EVM has changed this to two tracking rails and a rear-facing wheelchair position with backrest. The tracking is simply more adaptable to other uses, such as fitting an optional temporary luggage cage – EVM devised a folding one specially for one community operator who ran a shopping day out.
On van-width conversions, aisle width is often restricted, even with a 2+1 layout. Cleverly, EVM has largely avoided this issue in the example we tested with a staggered seat pattern which sees one seat positioned forward of the aisle step, and then the nearside single row of four positioned at the leg space of the offside double row, giving 13 full seats at the rear section, and three tip-ups in the lowfloor section wheelchair space. The nearside row can also be of five seats.
In fact, there are a variety of seating options on the Cityline, including one with 16 seated and six standing (with grab straps overhead), and a tabled 'executive' version – more flexibility than you might imagine in a vehicle of this type. In a higher seating capacity, an additional double tip-up seat is fitted on the offside lowfloor section. Options include an airport-spec vehicle with luggage racking.
EVM has dispensed entirely with grey carpet trim, and fits soft-touch mouldings and other durable plastics throughout the saloon. The test vehicle retains the OE double rear doors, but these can be replaced with a single-piece rear with large window. Speaking of which, the Cityline is double-glazed throughout and is fitted with an emergency exit roof hatch.
The interior is kept comfortable with floor-level convector heating and air conditioning – either an 8kW or 14kW system. In addition to comprehensive CCTV systems, Icomera and Beam wifi systems can be added, and the Cityline comes with USB sockets for every seat, mounted in the side wall, as standard.
Everywhere, the interior is beautifully fitted, and the wood-effect non-slip flooring plus the quality of the seats really does elevate the passenger experience. Personally, I have great hopes for DRT using Artificial Intelligence, such as the Via system currently used by ArrivaClick. The Cityline is the kind of vehicle which will attract repeat business.
On the road
With no Stig to hand, it fell to me to sit behind the wheel around Crawley for a bit. As a test driver, my experience is nil and I have few benchmarks.
I think this is relevant; I know that this vehicle is destined to be driven by many inexperienced drivers – volunteers, in some instances. I also understand that some DRTs have found dyed-in-the-wool PSV drivers baulk at following a sat nav all day, and are training drivers especially.It will come as no surprise to operators that the Sprinter is a very easy vehicle to master, with minimal rear overhang and giving the driver a good understanding of its width intuitively. I spent a lot of time checking the mirrors to see the kind of nearside space I was giving parked cars, and they confirmed I was getting it about right.
The engine is punchy and the automated gearbox silky smooth, even when forcing downchanges with the steering wheel paddles. The ride is firm but forgiving, and the ground clearance – which you might think a concern with a vehicle with a low floor – was more than adequate over speed bumps. I might add that the propshaft is, in any case, recessed into a tunnel to protect it.
The view of both sides in the mirrors was good, and this helped draw the vehicle tight to any kerb – as I mentioned, without the concern about leaving space for out-swinging plug doors. As you'd expect, reversing is aided by a very good, 'guided' reversing camera.
This Sprinter is entirely without handling foibles, aided by Crosswind Assist among other handling controls, and delivers a passenger environment which is admirably pleasant. It's no surprise to me that EVM has delivered something like 200 of these vehicles during their evolution, and should have justifiable pride in this latest version.
Verdict
I'm sure the Cityline had its doubters in the early days – not of the vehicle's build quality or the Sprinter base vehicle, but of its residuals.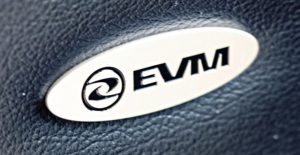 Almost five years on, operational experience has proven that its versatility is its strength; Peter Flynn says there's a queue for used Low Floors: "It's a fully rounded product," he says. "People are now seeing the value of the vehicle, with aftersales service we are proud of and residuals very strong."
Maybe this has persuaded Mistral to offer the Cityline Low Floor on lease, and this news also means operators bidding for the right contracts have the option of pinning down costs and returning the vehicle, whether as a lease or rental: "It's a premium product and we are seeing now that it has scope for a second life," says Peter.
I know from my factory visits that EVM invests endlessly in engineering for durability. You cannot see beneath the skin, but heavy use on salted roads soon shows up any deficiencies. I spoke briefly to William Houston, a Director at Houstons of Lockerbie, which has had this design on high-mileage fare-stage bus services since 2016: "Passengers and drivers like them," he told me.
"They're perfect for rural routes and towns – places we just wouldn't be able to use a rear-engined bus. We've had no problems at all with them."
The plain fact is, the Cityline Low Floor is a real service bus, and with 27mpg possible in working life, plus the Sprinter's reputation for reliability and lower insurance costs, there are real savings to be had for rural services and for off-peak services.
There's no need to plan bus routes which avoid parking congestion and narrow streets, and this explains why non-routed services such as DRT have made the Low Floor the vehicle of choice, and community bus services are snapping them up.