'Record-breaking' crowd for Busworld
Organisers of Busworld Europe report a record breaking crowd for the 26th edition of the exhibition. Held in Brussels from 7 to 12 October, the event returned for the first time since taking a hiatus in 2019 due to the pandemic.
Over the course of the event, it welcomed 40,120 visitors from 111 countries and hosted nearly 350 members of the press from across the globe, including B&CB's Stuart Jones and David Cole. It featured 75 bus and coach manufacturers, a significant increase from the 66 presented in the 2019 edition. In total, 526 exhibitors from 38 countries showcased their innovations, with 182 being newcomers. The top participating countries included Turkey with 96 companies, Germany with 79 companies and China with 61 companies.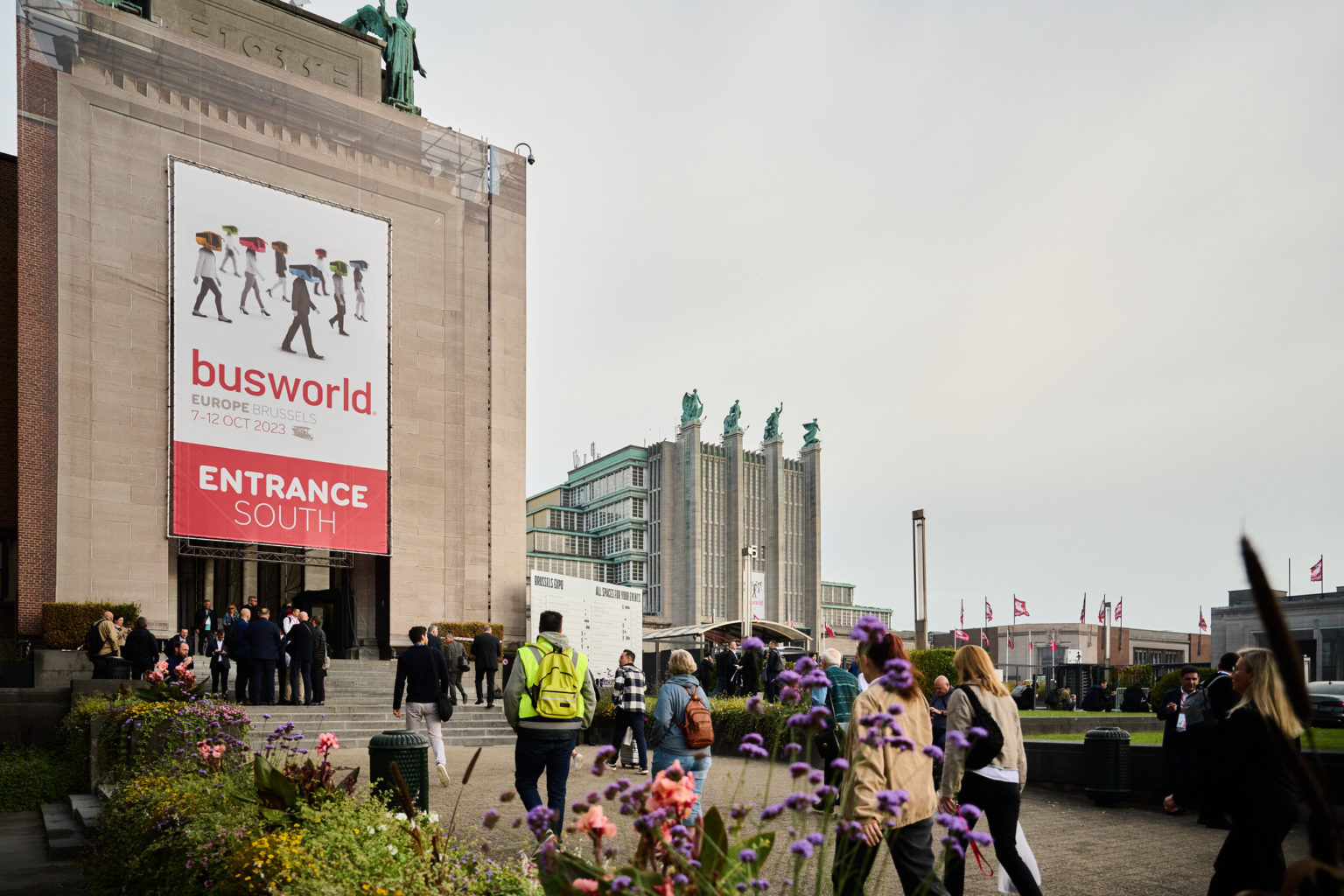 Inside the exhibition halls, a total of 222 vehicles were on display. Additionally, 29 vehicles were positioned outside for demonstrations, offering visitors a hands-on experience with the latest models and features. See B&CB's comprehensive round-up of the vehicles on display here.
One of the notable changes in this year's Busworld Europe was the new schedule, running from Saturday to Thursday instead of the previous Friday to Wednesday arrangement. This shift was met with positive feedback from both exhibitors and attendees, according to the organisers.
Ventac's expectations exceeded
Attending Busworld was vehicle sound-proofing and thermal solution specialist Ventac, who told B&CB that its team's expectations of the show were exceeded, taking the opportunity to meet with new and existing customers. As designers and manufacturers of acoustic and thermal solutions for bus and coach, they were impressed by the diverse range of exhibits by major players on the market, focusing on eco-friendly solutions, low-emission technologies and cutting-edge interior designs. A spokesperson from the company said: "Busworld's diverse approaches to sustainable travel were fascinating, and what's more, presented great scope for Ventac's innovative processes in the future."
The Irish SME is a small operation with by its own admissions great ambitions, exporting globally with a customer-centric approach at the forefront of its processes. The key concerns around battery performance that arose from countless conversations with bus and coach manufacturers at the exhibitions were range, protection and safety. The team were there to showcase their latest unique product to the market – Ventac's Thermal Battery Wrap – and were delighted to discuss how it will benefit the industry as a whole. The Wrap's main advantages is that it is designed to extend the range of electric vehicles, especially in cold temperature conditions, according to the company. It is also intended to protect the battery from the degrading effects of temperature variation, protecting the length of the battery's life and reducing the chances of thermal runaway.
"Busworld 2023 provided an excellent platform for networking and knowledge exchange" – Ventac
The Ventac spokesperson said: "Busworld 2023 provided an excellent platform for networking and knowledge exchange, and Ventac are excited about the industry's future and look forward to continued advancements."
For more information on Ventac, get in touch with the team at [email protected]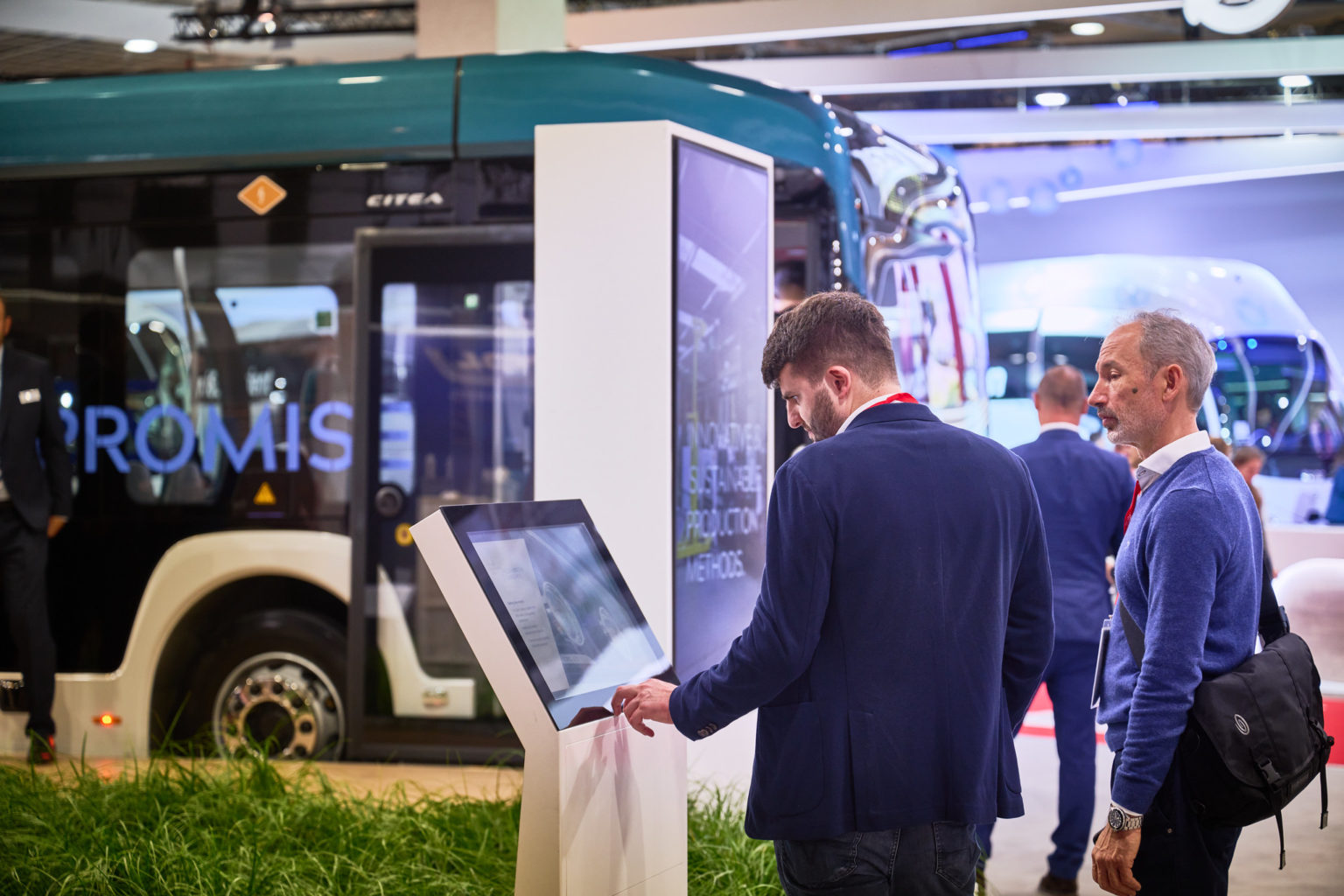 Awards
The 20th edition of the Busworld Vehicle Awards has recognised outstanding achievements in the bus and coach industry, with a keen focus on safety, ecology, comfort and design.
Bus category
Grand Award Bus: Mercedes-Benz eCitaro
Runners-up: Anadolu Isuzu Citivolt and Ebusco 3.0
Label of Excellence DESIGN: VDL Bus & Coach Citea New Generation
Label of Excellence COMFORT: Mercedes-Benz eCitaro
Label of Excellence ECOLOGY: Ebusco 3.0
Label of Excellence SAFETY: Anadolu Isuzu Citivolt
Coach category
Grand Award Coach: Setra S 516 HDH
Runners-up: MAN Truck & Bus – Neoplan Tourliner L and Van Hool T16 Astron
Label of Excellence DESIGN: Yutong T15 E
Label of Excellence COMFORT: Setra S 516 HDH and Van Hool T16 Astron (ex aequo)
Label of Excellence ECOLOGY: Yutong T15 E
Label of Excellence SAFETY: Setra S 516 HDH
Digital Awards
For the first time, Busworld held the Digital Awards.
The Digital Awards are divided into four different categories:
'

Digital On-Board Comfort'
Winner: MAN Truck & Bus and its new Digital Cockpit with SmartSelect.
Other nominees were: Actia for 'ACTiVi solution' and Navaho Technologies for their 'Navaho Transport Systems'.
'

Digital Operational Excellence'
Winner: Iveco Bus with 'IVECO ON Heavy Buses Digital Services'.
Other nominees were: TOTT UP for 'GPS Training Partner' and ZF Group for SCALAR.
'Digitally Enhanced Driving'
Winner: Karsan with the autonomous e-ATAK.
Other nominees were: Anadolu Isuzu for its 'V2X'-System and Daimler Buses for 'Active Drive Assist 2'.
Winner: ChargePoint/TWAICE for its 'Battery Health Package'.
Other nominees were: MAN Truck & Bus for its 'eManager' software and Rampini for the hydrogen system 'Hy4Drive'.
Innovations 2023
Following a rigorous process, the following companies were celebrated as the top innovators and awarded the esteemed title of 'Busworld Europe 2023 Innovation':
3 in 1 DRL/DI/POS combination light by Superlee Corporation

Athenia ENVI Heat Pump with R744 by Thermo King

CO2 Heat Pump by Konvekta

EcoBusRapidDesign by Ctrine Engineering

Eleather by Generation Phoenix

I6s Hydrogen Efficient by Irizar

JTSolar Glass by Jaakko Tuote Oy

Reflexcontrol by Saint Gobain

ServoE by Bosch

Twiliner Coach Seat by Twiliner
Busworld Europe 2025
Busworld Europe 2025 will be hosted at Brussels Expo from 4-9 October. Sales for existing exhibitors will commence in spring 2024, with invitations extended to ensure their participation. New exhibitors will have the opportunity to secure their spot from May 2024.
Mieke Glorieux, Managing Director of Busworld Europe, said: "We want to thank all exhibitors, visitors and speakers for their loyal participation. We are eternally grateful for the confirmation of your trust and enthusiasm after four years. And most importantly: we'll be back in two years this time!"