Busworld 2023: the complete guide
Founding Editor Stuart Jones and contributor David Cole bring you FULL coverage of the Busworld 2023 exhibition in Brussels, covering almost every relevant stand and with a gallery of photos to enjoy
The 26th edition of Busworld, the biggest dedicated bus and coach exhibition in Europe and possibly the world, was staged in Brussels over the period 7 to 12 October. Spread across nine halls of the Brussels Expo, it attracted 526 exhibitors and 222 vehicles with more demonstration buses available outside. Were we to balance the number of stands against the available space for this article each exhibitor would get around eight words, so we have been selective in our report, favouring products of most relevance to the UK along with those that offer new perspectives for the future. It should be noted that many players important to the UK, such as ADL, Wrightbus, Volvo and Switch were not exhibiting this time, which as Brits is disappointing. As well as for the press day, we were present for the first public day and part of the second and in that time met many visiting UK and Irish operators which suggests there was business to be done.
Van Hool
On one of the biggest, if not the biggest stand, were vehicles showing the breadth of the Van Hool offering. None of the coaches were in operator colours as all wore a matching blue colour scheme.
Centre stage was occupied by the T17 Astron, T16 Astron and T17 Acron from the latest T family of coaches which have taken aerodynamics, design, comfort and safety as their muses and will serve as Van Hool's flagship range for the next decade. They feature new seats with a 'cradle' function, a completely new interior, new racks and a new driver's cockpit area. Engine options are the DAF/Paccar Euro6 NG range of 11 and 13 litre units delivering 270kW/367hp to 390kW/530hp with a choice of the ZF TraXon automated manual gearboxes or Allison or ZF Ecolife automatic gearboxes.
The EX range continues and was represented on the stand by the EX16M. Also continuing for double deck applications is the TX with a TDX27 Astromega shown. A T17 Astron, a T15 Acron and TDX27 Astromega were available to experience in the demonstration park.
Representing the bus products was an A12 -VVM of the new A-range destined for De Lijn. The A can have battery-electric, fuel cell or trolley zero emission drivelines and is offered in five lengths with between two and five doors.
Unveiled on the stand was a newly developed version of the ExquiCity 24 electric bi-artic BRT designed in conjunction with the purchaser to be even more tram-like in appearance than the standard version. They have Kiepe electrics and Alstom charging equipment capable of charging from beneath. Île De France Mobilités is taking at least 56 and refers to them as its Tzen4 and Tzen5. Such units could be supplied to the UK and Ireland in 18m or 24m formats.
Speaking to CEO, Filip Van Hool, he confirmed that there would be no more TX products built other than the popular double and twin deck models which will continue. UK sales of the T are already in double figures though Van Hool has not yet started building rhd versions. They will before the year end with the first examples expected towards the end of Q1 2024.
I understand from another member of the team that orders taken now will go into production in July/August 2024.
Yutong
Four new electric models were shown by Yutong including the U11DD 10.9m double decker, the T15E 14.95m luxury coach, the E7S 6.96m minibus and the U18 18.17m articulated low floor single deck.
With an overall height of 4.35m, a 6.1m wheelbase, 305-70R.22.5 tyres and a capacity of 82 (70 seated [43/27]) the U11DD is a UK specification provincial double decker with CCS2 charging and ZF axles. Batteries offer 422.87 kWh with the option of a smaller 385kWh capacity. The electric motor (385kWh battery) delivers 220kWh continuous and 350kWh peak.
The T15E coach is 3.9m high, has a 7.1m/1.515m wheelbase, provides 8.5cum of luggage capacity, uses CCS2 charging and the liquid cooled batteries offer either 630kWh or 563kWh, while the motor delivers 250kWh continuous or 500kWh peak. Again, ZF supply all the axles.
Among other technical advances announced were: YEA, claimed to be the first EV-specific platform integrating software and hardware in the commercial vehicle industry; a 600Amp double gun charging system; the first mass-produced multi-source super-cold climate heat pump, a new generation of high-efficiency and lightweight integrated e-axle, and a new generation of high-safety super-energy battery with sandwich fireproof insulation structure and nitrogen protection system.
Speaking to Richard Crump, CEO of Pelican, he confirmed that Pelican was close to supplying 1,000 vehicles in the UK, 680 of them diesel and 320 electric, with around 60 electrics and 60 diesel coaches on order. There will not be any diesel service buses.
The plan for the UK is to take the 14m GTe14, with its shorter front and rear overhangs, rather than the 15m T15, with the demonstrator expected in December. It will have the same dash as the GT12, almost the same luggage capacity as the T15 and will come with PSVAR equipment as standard. Charging via a single plug at 300kW typically takes 90minutes to get from 20% to 80% charged. Prices are currently £515,000 for the 563kWh model and £485,000 for the 422kWh version. Ember has ordered 14 for early next year.
Essentially similar to many hundreds already operating in China, the double decker is to a provincial specification. Interest is considerable with many operators wanting to try it; hence two demonstrators have been built, the show bus being the second. An order for two has already been placed by Newport Transport. Prices are from £485,000 for the standard bus as shown with 422kWh batteries and air conditioning.
As for the new 18m artic and the E7 midi there are no immediate plans for either to come in, although there is no barrier to their being offered if there is demand.
Mellor
The three buses on Mellor's stand were all from the Sigma family of low floor electrics though two were models that had not been seen previously. Mellor has high hopes for the 9.4m Sigma 9 which has the advantage over manufacturers' products of being only 2.35m wide. As on all of the Sigma range it has CATL LFP Cobalt free batteries and a Dana motor. The Sigma 9 also has a Brist front axle and a Dana drive axle.
Also new to me was the Sigma 12, a 2.55m wide bus with a 5.85m wheelbase, a 19.5-tonne GVW and ZF front and rear axles. Offered in left-hand drive as a three-door Class 1 bus at 11.95m or a two-door Class II bus at 12.98m, it has a battery capacity options of 385kWh or 420kWh and a range of up to 400km. In two-door form the capacity is 43 seats and 27 standees.
The final exhibit was the 7.15m Sigma 7 which is 2.105m wide and has independent front suspension.
Interesting news was that Mellor has jointly announced with PVI (Part of Renault Groupe) the introduction of a low floor, fully electric M2 Class A minibus called the Oreos M20 and built on the recently launched X62 Renault Master E-Tech van platform with e-drive motor. It has yet to be tested but a range of 155km is anticipated. Layout options are; eight fixed seated plus two flip seats and ten standees or, eight seats, one wheelchair and nine standees. The Oreos M20 comes with a standard 7.4 kW wall box for home charging or, for a three-hour charge, an optional 22kW wall box. Work is already underway on the first right hand drive Oreos 20 which Mellor say will be competitively priced. Mellor is developing a variant for the Class B Communities transport market which will offer more seats and be ready soon after the UK Oreos M20 launch. Mellor is also working with PVI on other affordable electric products.
Ilesbus
An unexpected visitor to the Ilesbus stand at the last Busworld subsequently placed an order for 300 minibuses leaving the company in no doubt about the value of attending.
Among the six vehicles displayed were two right-hand drive examples, one a very high specification electric Mercedes-Benz Vito with a four-seat saloon featuring a fibre optic ceiling. Also with the steering wheel on the right side was the first Ilesbus eCity. With a capacity of 25 seats, two wheelchairs and 17 standees, it is based on an Iveco Daily platform, the conversion to electric has been undertaken by the company in association with a University in Istanbul. Gary Johns told me that it had been out on the road undergoing testing for the past six months and fully loaded with lights and air conditioning on it had a 170mile range, more if less heavily loaded. It will come to the UK after the show.
Shown in left hand drive were an 8.75m coachbuilt coach on the Daily 20C21 and three Sprinter based products, one a 519CDi Sprinter i-City.
Irizar
All four of Irizar's integral exhibits; an i6S Efficient, an i8, an electric ie tram and the new Hydrogen i6S Efficient, displayed significant benefits over Irizar's standard products in terms of fuel costs, a reduced ecological footprint and technology.
Easily identified as a hydrogen fuelled i6S by the large bulge on the roof and the additional side grilles to allow the hydrogen to vent rapidly in an emergency, the new Irizar Hydrogen i6S Efficient looks the same inside except for the new dash. The first prototype built, it is expected to have a range of up to 1,000km, be capable of refuelling in around 20 minutes and offer the capability to run in electric mode for short distances. Irizar says that it will also offer a hydrogen fuelled i4 and that future hydrogen coaches will be lighter, offer more baggage room, carry more passengers and have a greater range. It claims the batteries will last the life of the coach though the fuel cell will need attention, though no new parts, after 30,000 hours of operation.
Already, as the name suggests, efficient, Irizar has taken the i6S Efficient another step forward adding up to a further 5% fuel saving over the up to 13% already achieved by further weight optimisation. It also now sports a new cab layout and dashboard as well as meeting the new GSR and cyber security requirements. A new Efficient version of the i8 is imminent, and will be unveiled in February in Mexico City as Mexico is the biggest market for the model.
Completing the line up was an electric articulated ie tram, variants of which are now in service in 11 European countries. Order books for the tram are nearly full for 2024 and a new generation of electric vehicles is under development for introduction at the end of 2025.
MCV
Two single deck electric buses featured on MCV's stand. Among the small number of right-hand drive products at the show was a 9.7m Volvo BZL in TfL's red colours destined for Metroline.
It has four NCA Li-ion batteries giving 376kWh of storage and an EPT402 electric motor delivering maximum torque of 425Nm. The capacity is 29 seats, 37 standees and one wheelchair. The body is offered with single or dual-door coachwork at 12.975m, 12.175m, 11.375m, 10.8m, 10.35m and 9.715m and with a front door only at 9.0m.
The second exhibit was MCV's own electric C127 integral low-floor bus, with Actia driveline and ZF axles, designed to meet the requirements of German speaking markets. A 10.5m version is set to follow next year.
MCV expects to build between 2,500 and 3,000 buses in 2024, 80% of them for export. Around a quarter of production goes to the UK. To date, 525 Volvo BZL models of various lengths and heights have been delivered or ordered for the UK. Also offered are the B8RLE EvoRa single deck and the B8R EvoTor. It was recently announced that MCV is to build the bodies of the solo and artic Volvo 7900 as well as a new version of the Volvo 8900 intercity model. Production of these will start in mid-2024 with ex-factory deliveries from the end of the year.
EVM
EVM had a three vehicle stand on which two exhibits were '100% electric' as well as products on the stands of other manufacturers.
Danny McGee told me that the market was currently strong with lead times at 12 months and everything except Anadolu Isuzu sold out until September 2024. When I spoke to the team on Saturday afternoon, they were very pleased with the number of potential buyers they were meeting.
On the stand were a coachbuilt Accessible Daily based CM with Elinta EV150 power train. The EV motor gives 120kW and 1,150Nm torque, there are three batteries giving a total of 115kWh and a 13.2KW AC-DC inverter and charging socket in the front grille for fast charging at 120kW.
Alongside was a Sprinter Elegance EV accessible minibus with underbody PLS wheelchair lift and 16 single SEGE Trend 410 seats with NMI quick release legs. It also featured Autoclima RT120 rooftop air conditioning, dark grey tinted panoramic side windows and an Android system with Android auto and Apple Carplay.
Representing the conventional was an EVM X-Clusive Diesel Sprinter with 16 seats plus the driver, two tables, a drop well boot, half raised floor, Masats plug door, Panoramic double glazing and glazed roof, Webasto 13.4 KW saloon air conditioning, a fridge, chrome pack and a Durite 12v DC3000W inverter providing passengers with various charging options.
Anadolu Isuzu
Sold in the UK through EVM, Anadolu Isuzu's large stand hosted five vehicles including the new Kendo 13 CNG gas powered low floor city bus with Cummins L9NE6E320 engine and ZF Ecolife transmission.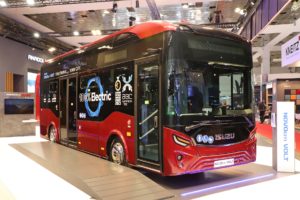 It also featured the Grand Toro medium sector coach which is available in the UK, the Citi Volt 12 which charges in three hours and the Novo Citi Volt electric midi which has a 400km range and can be fast charged in two hours.
Also new, and likely to come to the UK in 2025 is the Novo Volt electric, a 7.3m long coach. Offering 29 seats plus the driver, it is the same height (3380mm) as the diesel and has the batteries mounted within the podests beneath the seats, maintaining the luggage capacity. It has a 320kW Allison eGen Power 100S motor and axle and 165kWh NMC batteries for a range said to be up to 225km.
Danny McGhee told me that EVM will finish 2023 having sold 50 Anadolu Isuzus, all but six of which have already been delivered. He has increased the number of Isuzus he is taking next year to 85, claiming that, 'with minibus based products rising in price, the Toro just gets better value.'
Mercedes-Benz/Setra
The two divisions of Daimler Trucks, Mercedes Benz and Setra, shared a stand just as they share the technology that goes into their vehicles, though the Setra line up was distinguished by a bright honey yellow metallic paint scheme.
With the new General Safety Regulations coming in next July, they have been developing the appropriate driver assistance systems and rolling them out across the coach ranges. Features include Active Brake Assist 6, the turning assistant Sideguard Assist 2, Frontguard assist and Intelligent Traffic Sign Assist. Also new is the option of camera mirrors in place of conventional units on all Daimler family vehicles. These were to be seen on a Tourismo as well as three members of the Setra family, a Comfort Class S515HD, a TopClass S516HDH and a TopClass S531DT double deck. Representing the recently launched MultiClass family of low entry Setra buses was an S515LE with other variants, including the new 14.5m S518LE, to be seen outside along with the Mercedes-Benz Intouro.
In the city bus market the two big developments were both electric Citaros. One featured the latest NMC3 batteries while the other was the first eCitaro Fuel Cell with hydrogen used as a range extender, not as the vehicle's primary power source. It was shown as a 12.123m solo bus on the stand, though the articulated eCitaro G fuel cell bus was available to experience outside, it features 294kWh NMC3 batteries ZF axles, a Toyota second generation fuel cell and five hydrogen storage tanks on the roof, each holding 5kg of hydrogen. The maximum charging rate is for the batteries is 150kW.
On display in unbodied form was the new eO500U electric bus chassis for South America.
Although Busworld is a product showcase, the Brussels location was ideal for a number of important political points about the need for the necessary infrastructure to be in place to be made, of which more later.
MAN
Two completely new low entry buses making their debuts were the electric MAN Lion's City 12 E LE and the 14.43m three-axle Lion's Intercity LE 14 with EfficientHybrid drive. The LE14 can have two or three passenger doors.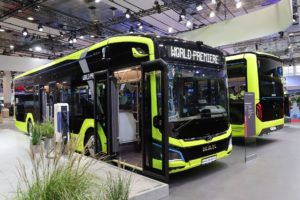 It was also the first Busworld for the shortest version of the electric low floor Lion's City, the 10.5m Lion's City 10 E, which returned 0.77kWh per km in a test in the Dolomites. It is built at the city bus plant in Starachowice, Poland where MAN's 1,000th electric bus was recently completed. All MAN buses will benefit from a new digital dash arrangement from the 2024 model year.
A new digital workplace with SmartSelect operating system is also a feature of the MAN Lion's Coach and, I believe, the Neoplan coach range. It was shown on a 12m Lion's Coach with 44 seats and the latest 12.4-litre Euro 6e MAN D26 engine which gains 10hp and 50Nm more peak torque. It also featured Efficient 3 gear-shifting which is now an option on all MAN and Neoplan coaches.
Representing the minibus sector was a 7.4m MAN TGE Coach with 177bhp/130kW engine. There was a variety of models outside including Neoplan Skyliner, Tourliner and Cityliner models.
Speaking to Robert Katzer, the recently appointed Head of Sales & Product Bus, he pointed out that the first right hand drive example of the new electric Lion's Chassis was handed over in South Africa this month. Employing the same technology as the CBU Lion's City E range, and built in the same plant, the Lion's Chassis can be fitted with local bodywork and adapted in length as required. He was interested to know whether there was potential for it in the UK?
Scania
Among points made by Scania's Head of People Transport Solutions, Johanna Salomonsson Lind, were that local needs and prerequisites are different from country to country and energy security will be more and more important for us.
Accordingly, Scania believes in having a wide range of power train solutions as it demonstrated. Scania believes liquified biogas will be a viable option for coaches because it can run for 1,200km on one tank and still have room for luggage. It will shortly deliver 50 biogas coaches to Flixbus. Shown was a 14.1m, 57-seat, KNI6x2*4 Irizar i6S Efficient with LBG/LNG Scania OC13L 410hp/302kW engine and GRSO895R transmission. A biodiesel alternative was provided by a 10.9m KNI4x2 Scania Touring HD with DC13L 410hp/302kW engine and 47-seats.
For bus applications was Scania's latest electric platform, a two-axle 13.065m LE BEV with 300kW (peak) electric engine and 520kWh batteries. It was shown as a Castrosua bodied Class II two-door bus with 45 seats. The Spanish bodybuilder is celebrating 75 years in business this year and has named its new low entry electric bus product the 75CS in recognition of this.
BYD
New from BYD were the BYD-UNVI DD13 double deck coach and the 12m eBus B12 which is the first bus application for BYD's long awaited Blade battery which is integrated within the chassis. They appeared alongside two current models, the 18.75m eBus B19 and the 15m eBus B15.
The Lithium Iron Phosphate Blade battery promises increased safety and energy efficiency together with 'exceptional' range. Also new is a new 6-in-1 controller with Silicon Carbide technology and two innovative wheel hub hairpin motors. With a maximum capacity of 500kWh, the Blade battery gives a 600km range from one charge, enabling buses to be charged less often and potentially reducing the amount of infrastructure required to operate a fleet.
For the BYD-UNVI DD13 decker BYD has worked with the Spanish manufacturer Unvi marrying its Sil coach design with BYD's chassis and battery technology.
Temsa
One of many manufacturers mentioning supply chain difficulties among the problems being faced, Temsa stressed the breadth of its offering and its efforts to be more environmentally aware.
For its electric vehicles it has two new battery packs that can be incorporated as required, one giving 102kWh and the other 48kWh.
Dominating the stand was an HD Fuel Cell concept coach developed in conjunction with Salvador Caetano. 12.276m long with 53 seats, the coach has a maximum 160kWh battery capacity, a TM4 Sumo HD 350kW motor and a 180kW (peak) Toyota hydrogen system, running at 700bar (350bar is possible). With 72.8kg of hydrogen carried the range is said to be 1,000km.
Also new was the LD SB E 100% electric interurban coach. Fitted with a 250kW motor and a choice of 210, 280, or 350kWh batteries, we were told that it can be charged in two hours. Finally there was the new look Avenue Electron in three door full electric format.
Iveco
Launching its new logo and brand identity, Iveco stressed the range of environmentally friendly bus alternatives it offers. The big launch was the 12m E-Way H2, a new hydrogen fuel cell electric bus developed in partnership with the Hyundai Motor Company, which completes its carbon free range of buses. Also shown were a new generation 12m E-Way electric city bus; a 12m Streetway Elec electric city bus; a 13m Crossway LE Elec electric low entry bus, an e-Daily electric minibus; and an e-Daily chassis for bodybuilders to mount their own coachwork on.
VDL
On a smaller than customary stand, VDL showed only one vehicle, the latest generation Citea low floor electric citybus. It was accompanied by a display with a full scale mock up of the shape of the next generation Futura on to which some of the design features were projected. Inside was an example of the new VDL Class coach seat. Fuller details on 'Vision Futura' appeared in the previous issue of B&CB.
On the stand, Darren Dowsett, MD, VDL Bus & Coach UK, told me there was still a lot of interest in the Futura in the UK. Although everything is sold until July 2024, it is still possible for customers to choose bespoke specifications with some slots reserved for the UK.
Indcar
After several attempts at finding a meaningful position within the UK market, Indcar has decided to concentrate its efforts elsewhere and does not envisage a return to the UK unless it develops a product that fits a UK niche, CEO Gael Queralt confirmed. The message on the stand was minibus is one of the solutions for mobility to which end the company is starting a new journey that will involve: organisational and cultural evolution; more sustainable and efficient manufacturing processes and increased capacity; and a new product range. Indcar has long worked with Iveco and has recently signed an agreement with Bluebus covering Spain and Italy for products less than 6m that can't be offered by Iveco. Currently city buses are 50% of production, tourist coaches 30% and school buses 20%.
Solaris
Two buses were launched by Solaris, which claims a 16.4% share of the European electric bus market and a 12.4% share of all European electric bus sales since 2012.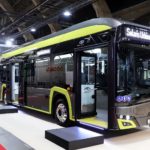 It plans to stay at number one and has just launched a new intercity bus division headed by Luca Cordiviola. Recent investment has seen a new charging park opened at its main plant as well as a 5,500sqm Hydrogen Hall dedicated to the manufacture of hydrogen buses. Solaris has offered hydrogen buses since 2014 and has supplied over 140 units to date.
The first of the new products launched was the articulated Urbino 18 Electric which scores over the previous model in having no interior engine tower, more roof space, six more seats plus additional standees, easier maintenance, higher capacity batteries and a second wheelchair space in the trailer section. Up to 800kWh of battery storage can be installed on the roof giving a range of up to 600km. Various charging options are available.
Also new on the stand was the Urbino 18 Hydrogen, which was introduced along with the Urbino 12 Hydrogen that was not shown. Both are modular designs with the 18 featuring a 100kW fuel cell and eight roof mounted tanks holding over 50kg of the gas giving a range of over 600km based on SORT II calculations. Evidence of the growing popularity of hydrogen comes in Solaris having 450 forward orders for delivery in the next two years.
Beulas
Three left hand drive Beulas coaches were exhibited but, unfortunately, we had no chance to speak to anyone. Mounted on Scania chassis were a 14.6m long Glory over-deck coach with seats for 70 plus two wheelchairs and a 10.5m long, 3.425m high, Cygnus with 35 seats that appeared to be for Alliance 4 Drive. A 14.15m double deck Jewel coach body was mounted on an MAN 26-470 tri-axle chassis for Moove Together. It was wheelchair accessible and featured 89 seats.
Dancer Bus
A low entry city bus that looked attractive and genuinely different to those of other manufacturers was shown by the Lithuanian Dancer Bus concern. It has only delivered two so far but has recently won an order for ten more low floor examples from its home city of Klapeda. The bus shown had single rear wheels but they will have double rears. The driveline is from ZF.
Among the distinctive design features are windows that curve on two plains, no two of which are the same size, and extensive use of composites, including in the chassis, to significantly reduce the weight. The interior was spacious with ample headroom. The rear is steeply reverse-raked to reduce drag and incorporates a display screen to show following vehicles the road situation in front of the bus.
Automecanica
Automecanica Mobility is a Romanian company with big ambitions that include a light rail platform as well as an E-bus platform in 2024, an EMU/DMU rail platform in 2025 and a Metro platform in 2026. A broad range of electric vehicles was shown in the brochure (including coaches) but only one bus was on the stand, a 12.1m AM 12 EB400 low floor three door city bus with Plastic Omnium direct drive dual motor rated at 130kW/250kW, a choice of NMC or LFP batteries offering up to 420kWh and a capacity of up to 87 passengers.
Unvi
Unvi's stand had one exhibit, an electric low floor minibus called the ec24S that carried 29 passengers, 12 of them seated. The company failed to tun up to its own press conference, which is unusual to say the least, though the CEO was to be seen at BYD's event at which the new BYD DD13 double deck electric coach was unveiled.
Ferqui
Three vehicles featured on the Ferqui stand including a high specification left-hand drive Sunrise F2 on an Iveco 70C21 basis and a right-hand drive Sunset S4R on a Mercedes-Benz Sprinter 516. The latter was destined for the Irish market through EVM. Ferqui also supply the UK through Connaught PSV. The third exhibit was their new up to 13 seat Cares model based on the Ford eTransit which will initially be available in left-hand drive form only. This has a 75kWh battery offering a range up to 317km.
Ebusco
The two Model 3.0 vehicles displayed on the Ebusco stand, a 12m and an 18m articulated, featured the company's lightweight carbon-fibre roof and sidewalls that reduce the weight of a 12m vehicle to under 10 tonnes. Alongside them was a sample of the slim side-wall construction that increases interior space, a process aided by the use of single wheels throughout. Building the battery packs into the composite (fibre and stainless steel) floor reduces the vehicles laden centre of gravity to just 860mm above road level.
Right-hand drive versions of the Model 3.0 feature in plans for the future and the company has already produced a 2.5m wide version of its previous Model 2.2 for demonstration to the Australian market. Ebusco recognises that power sources for charging can prove challenging and now offers 'Flex,' a portable 184kWh bi-directional battery pack that can be used to charge a bus at 60kW through a CCS2 connector.
Karsan
Three electric vehicles featured on the Karsan stand, an e-ATA 12 Hydrogen 12m city bus, an e-Jest minibus and an e-Atak autonomous midibus. A second version of the latter displayed its capabilities on a circuit of the Expo's main car park. Karsan's press presentation focused on future developments including trials of platooning with a pair of e-Ataks due in 2024, remote driving to remove the need for an on-vehicle safety driver to handle issues such as roadworks on autonomous routes, development of heat pump technologies down to -25C and lightweighting to remove 900kg from the e-Atak by 2025. The company aims to be a global player and has made significant progress with the e-Jest into the USA where over 100 units of the European market leader in its size are expected to be delivered by the end of 2023. The first right-hand drive example of this model will be delivered to Japan in December 2023, opening the pathway to targeting other right-hand drive markets including UK, Ireland, Malta and Australia. The e-Jest uses BMW electric technology in a 5.845m long and 2.055m wide shell. It has a passenger capacity up to 22 passengers when equipped with 88kWh of battery capacity.
Rampini
Specialising in the production of short and narrow vehicles for restricted city centre operations, Italy's Rampini showed both battery and fuel cell versions of its 2.2m wide and 8m long premium-priced electric product, the Eltron and Hydron respectively. A third model, the battery electric Sixtron is offered where a vehicle just 6.1m long and 2.1m wide is required, this offers 10 seats and up to 20 standees depending on chosen battery capacity. The company has a production capacity of just 50 units per annum.
Guleryuz
Having established a significant foothold in western Europe with its open-top sightseeing vehicles, Guleryuz is now electrifying its portfolio. On display were an 11m EV Panora open top double-decker with 73 seats and an EV Ecoline 12m three-door single-decker. They are equipped with the ZF Ax Trax driveline with a choice of battery chemistry to suit customer requirements. The Turkish company has a capacity to produce 600 vehicles per year of which 80% are exported, western European examples being supported from a base in Wuppertal, Germany.
Geyushi
Representing the globalization of Busworld, Egypt's Geyushi showed three vehicles predominantly aimed at markets outside of Europe including the Luxor 12.37m high floor luxury coach based on an MAN chassis.
Ikarus
On display was an 80e 8.545m electric midi-bus with two doors and 281.9kWh of CATL LFP battery packs installed. A 170kW PMS motor provides traction and with a passenger capacity of 60, 18 seated, a range of 300km is claimed.
Tremonia
The successor to Mercedes-Benz' Dortmund mini-bus operation showed an example of its City 45 Electric minibus with a capacity for up to 22 passengers, 13 seater. Based on a Mercedes-Benz Sprinter bodyshell, the vehicle has three NMC battery modules installed totaling 115kWh and giving a range up to 300km.
TAM
Vero is a range of lightweight modular electric buses from the Slovenian manufacturer covering vehicle lengths 7.76 to 10.75m based on the wheel-forward concept. Standard front and rear modules incorporating all the drive line componentry are matched to low floor door and cabin modules of either 1m or 1.5m length although this means the longest version does have a wheelbase of 8.1m, mitigated by all wheel steering. 2.3m and 2.5m width options are listed. One or two 141kWh battery packs give a range up to 130km or 250km respectively. Right-hand drive examples have been produced for Malta.
Skoda
On the Skoda stand alongside electric traction componentry was an example of the organisation's E'City plug-in electric bus. Based on a body shell from SOR, the 12m vehicle has a 160kW electric motor, 29 fixed seats and two wheelchair or pram spaces. Total capacity will depend on the battery packs installed, options from 308kWh to 514kWh being available.
Altas
Lithuanian minibus specialist Altas had two Sprinter bodyshell based electric minibuses on display with electrical equipment from Elinta Motors who occupied the adjoining stand. The 22 passenger Novus Cityline LW with low-floor centre area was finished in the colours of Geneva. 115kWh of NMC battery is installed, chargable at 120kW and giving a range up to 270kM. A similar package featured in the Novus Multiline up to 19 seat high-floor vehicle with a rear-lift option. In partnership with Zhongtong, Altas will be marketing the Novus City N8, an 8.75m midibus with 245kW Dana driveline and eight 31.2kWh CATL LFP battery packs delivering a range up to 350km.
Higer
Highlight of the Higer stand was the unveiling of their new 12.5m Fencer f1 integral EV (City) which was claimed to be 1000kg lighter than its predecessor. Some styling changes have been made to the body design compared with the Scania based examples in the UK, including a break in the roofline, emphasized by the paint scheme chosen. With a total capacity of 88 passengers, it has a 155kW (nominal) electric motor and LFP battery packs at the rear and in the roof totaling 350kWh. Examples of the Azure 7 and Azure 9 midibuses were displayed alongside.
Zhongtong
Another Chinese manufacturer with a broad portfolio in its home market, Zhongtong exports to a number of countries across the globe including its first European foray into Portugal where it has sold 265 vehicles since 2019. It has recently started a co-operation with Altas and established a European subsidiary in Frankfurt am Main while continuing to look for partners and operators across Europe. It is part of the Shandong Heavy Industry Group which has many facets worldwide including Linde in Germany, Ceres Power in the UK and a joint venture with Ballard. Two products were shown, the N12 low-floor fuel-cell electric city bus and the H12 battery electric coach. The latter is equipped with 44 luxury seats in a 12.6m overall length and has an overall height of 3.73m. A range of 350km is claimed with the maximum 428kWh LFP battery pack from CATL driving a 250kW (nominal) motor.
Safra
Safra has opted for a more conventional drive-line approach with its latest Hycity H2, adopting the ZF AVE130 product for the 11.857m vehicle. It has a 45kW fuel cell supported by a Microvast NMC battery and carries 35kg of Hydrogen in six tanks giving a range of around 350km. Safra also offers H2 Pack, a hydrogen conversion kit for diesel coaches, the Mercedes-Benz Intouro being the initial model evaluated. A 70kW fuel cell is installed, backed up by 71kWh Microvast NMC batteries, supporting a 350kW Dana drive-line. The hydrogen tanks can be rear or roof mounted. The company currently produces 150 vehicles per annum but is planning a move to larger premises in 2024.
Habas
A new manufacturer from Turkey, multi-sector conglomerate Habas has recently moved into the automotive sector, acquiring Honda Turkey and establishing a commercial vehicle manufacturing unit. With aims of being a global player, the company showed four vehicles at Busworld, one of them a rare example of a 12m diesel city bus. ComfortCity is a modern three-door 106 passenger (26 seated) vehicle that features a Paccar-DAF 300ps engine, ZF Eco-life transmission and ZF axles. Alongside was its electric equivalent, the ComfortCity E which, like all Habas electric vehicles on show, has a Voith motor, in this case 410kW driving a ZF rear axle. Habas' own batteries totalling 353kWh are installed. Two 8.2m vehicles completed the display, these having a 250kW motor and 283kWh installed battery capacity. The Alfa City E has a 63 passenger capacity (18 seated) while the Alfa Lux E has a 'touristic' specification with 35 all forward facing coach standard seats.
BMC
BMC's four exhibits included two ICE vehicles and two EVs. The Procity+ 12M was another rare example of a diesel citybus on display and featured a rear corner mounted Cummins B6.7 engine. The articulated version, Procity 18M CNG was gas-powered with a Cummins L9N 8.8litre engine, both had ZF transmission. The electric version of the Procity was unveiled at Busworld in 12.09m form. It has a 250kW engine and 112kWh LTO batteries by Aselsan as standard and is equipped for pantograph charging. The second EV was an 8.9m Neocity 8.5 M EV midibus with a 145kW Sumo motor and six Akasol 33kWh NMCbattery packs.
Hess
Two electric buses featured on the Hess stand, a LighTram12 PLUG battery bus and a LighTram 19 DC trolleybus. The latter was displayed in the colours of Transports Publics Neuchatelois and is capable of operating up to 30km without access to overhead wires using a battery pack chargeable from the overhead wires or through a CCS2 plug. Hess has the capability to produce 120 vehicles per annum in Switzerland although its bolted lightweight body concept is licensed world-wide.
Tekaydinlar
Surrounded by the high specification minibus conversions that the company is noted for was an example of Tekaydinlar's entry into the full-size electric bus market, the E-TORQ 12M City. Based on componentry from Golden Dragon in a stainless steel and composite shell, the E-TORQ has a 350kW motor and eight battery packs totaling 422kWh from CATL, giving it a range around 250km. The initial vehicle is for the Israeli market but the company aims to market the product Europe wide, including the UK and Ireland.
Ayats
Two double-deckers from the Horizon range were shown on the Ayats stand. The Horizon coach replaces the previous Eclipse model and complies with all the latest regulations. It is available in four lengths from 13.35m to 15.00m with seating capacities up to 95. Daimler engined and visually similar, the Horizon Intercity is offered in lengths up to 14.35m with seating capacity up to 106 for interurban routes.
Marcopolo
Further demonstrating the events globalisation, Marcopolo returned to Europe to show an impressive 15m Paradisio G8 1800 DD double-deck coach. Based on a Scania K500C B6x2*4NI chassis with a 500hp DC13 engine, the luxury interior is intended for long distance sleeper travel with just 35 seats. Between the adjacent halls, Marcopolo showed an example of their Audace 1050 fuel cell coach developed in conjunction with Sinosyenergy and Allenbus.
JBM Electric Vehicles
The JBM Group is a multi-faceted Indian conglomerate looking to expand on a world-wide basis and claiming to have a current order book for 5000 electric vehicles. Its electric bus division products are based around what were described as best in class products from Europe including ZF axles and Wabco braking systems. A spokesperson confirmed right-hand drive vehicles were an important part of its portfolio, being able to offer five models from school bus to full coach adding that developments in the UK market could be expected in 2024.
Two vehicles, both left-hand drive were displayed at Busworld. The Galaxy is a 12.4m high floor electric coach with capacity for up to 60 passengers and a claimed range of up to 1000 miles although little information was made available on its electric drive train. Likewise, there was little driveline information on Eco-Life, the 12m city bus product which is available in both low-floor and low-entry versions. It has a capacity for up to 63 passengers and a range of 400-500 miles.
King Long
Under the headline 'EVer than ever', King Long displayed three electric vehicles: PEV6 5.99m city minibus, PEV9 9.18m city midibus and C12E, a 12.25m electric coach with 422.9kWh battery capacity and a claimed range of over 300km.
Golden Dragon
Publicity on the Golden Dragon stand claimed that the company has already delivered 33,600 electric buses worldwide and three current examples were displayed on its stand. Flanking a Triumph electric coach were two Pivot city bus models, an E12 for the Israeli market and a Pro-E13.
Otokar
A traditional harp and violin duet welcomed the press to Otokar's conference, the first of press day.  The event introduced two new zero emission vehicles and a commitment to having electric versions of every model by 2026. The crisply styled 13m e-Territo U interurban coach is available with 300kWh or 450kWh underfloor batteries from CATL. It has a Voith 410kW drive-line and can accommodate up to 63 passengers. The 12m Kent C hydrogen, again with a Voith drive-line, has five roof mounted carbon fibre reinforced tanks that hold 38kg hydrogen and a 140kWh battery pack.
Also on the stand were examples of the Cummins ISBe powered Ulyso T and Navigo T midicoaches, the latter with a restyled front, new dashboard and redesigned interior. Completing the Otokar line up was an e-Centro level 4 autonomous minibus. This 6.6m vehicle has a 140kW Dana driveline, two 55kWh battery packs and ten seats, with a maximum capacity of 32 passengers.  A further example of the e-Centro Autonomous was providing a demonstration link outside between halls five and eleven. Otokar has introduced its own telematics system, BusMonitor, and this was demonstrated on the stand.
Caetano
On a stand considerably downsized from recent Busworlds, Caetano displayed an example of their H2 CityGold hydrogen powered single decker featuring Toyota fuel-cell technology. Caetano also featured as fuel-cell technology supplier on the Temsa stand.
Kutsenits
Two midibuses were shoe-horned into the Kutsenits stand. Displaying the typical deep window styling of the innovative Austrian manufacturer, the E-Solar City XL is an electric minibus for nine seated passengers plus up to 31 standees, available on a Toyota, Mercedes-Benz or Iveco base. Almost hidden behind it was a Mercedes-Benz Sprinter based Tourist 4×4 minibus.
Other small bus manufacturers
Time prevented exploration of the many other stands specialising in coachbuilt and converted minibuses. These included Automet, Aveuro, Bur Can, Busmaster MMI, Carbus, Cento, CMS Auto, Distrimob, Emir VIP, Esref, Pacific Tur, Rosero, Universals, AG Bus Creations and Zeroid. A broad palette of Iveco and Mercedes-Benz minibuses featured on the extensive Erener stand. Erduman's contribution included a right-hand drive Touras 900 midicoach while the Ermis-Bus stand opposite them had an impressive high floor touring midicoach based on a modified Mercedes-Benz Atego chassis. Single new energy vehicles were also displayed by Arthur, Bluebus and Eversum.
Suppliers
AT Industries has been trading in the UK for 30 years. New is a range of extremely heavy duty ribbed and rubber backed carpets that are ideal for aisles and step areas. The range of interior linings for which it is known have been joined by new flexible and formable options that are easier to install as well as soft touch velours for a luxurious finish.
Following an RMT bus driver survey, Pailton Engineering, the Coventry based designers and manufacturers of steering components for commercial vehicles, has designed a new electrically operated tilting head electric steering column. Each driver fobs in when he starts his shift, and the steering wheel automatically repositions to the required settings, saving the sometimes protracted time it takes to obtain a comfortable driving position.
The main thrust of the Camira display was the digital print facility that was introduced last year, enabling designs to be printed onto blank fabric that is woven like a standard moquette but presents as a finer weave. With a minimum order of 10m and a cost of around £30 a metre it is massively cheaper than weaving a whole roll as was traditionally the only option. Camira can now print on a moquette that presents as a flat weave. It has all the benefits of traditional fabric including being easier to clean.
Two new internal combustion engines featured in Cummins' display.
The X10 is their new European engine platform, a 10litre unit with power outputs from 350-450bhp. Replacing the L9 and X12 ranges, it is Euro7 ready and meets US requirements coming into force in 2026. Hydrogen IC engines are proving popular in industrial plant and agricultural applications, particularly in Ireland and the B6.7 Hydrogen is a further development of the B series platform for these markets. Following Cummins acquisition of Meritor, the organization now delivers electric drivelines under the Accelera brand.
The Transport Door Solutions team were expected on the Ventura stand later in the show to support a range of new developments from the door supplier. Adequate sealing on the base of inward swinging doors has always been a challenge so the company has developed a revised door opening kinematic that raises each leaf slightly during the opening process, dropping back to form a tight seal with the floor edge when closing. Where passenger operated doors are installed, a multitude of operating button designs have been required to suit a range of duties and operator tastes. Ventura's new programmable button allows function and operator specifics to be shown on one standard LED screen design. The pictogram can be rapidly changed (e.g. to display a no-entry sign at a specific door) and has the capability for a braille overlay.
Centrepoint of the PLS display was the company's latest MOTUS cassette wheelchair lift, designed to save space, weight and improve the passenger experience. Designed for step entrance vehicles, the swept path of the lift mechanism is such that the wheelchair passenger is delivered inside the vehicle at the top of the steps. Weighing in at just 208kg, the unit features proven technology packaged to deliver a 30% space saving compared with previous models.
A range of lifting products for vehicles and components featured on the Sefac stand which had a backdrop image of their product lifting a Hong Kong AD Enviro 500. Attention was drawn to a new compact transmission jack to support the removal and installation of such components in a variety of environments including narrow pits.
With a variety of new products on show including the company's new camera mirror system recently featured in Bus and Coach Buyer, the Ashtree Glass stand was always busy when the team visited.
The rapid move of city buses to electric drives has required a significant change in focus from the traditional transmission manufacturers. ZF's electric drive line solutions have been adopted for a significant number of products and the company showed the latest generation at Busworld, the Ax Trac2 LF electric axle and CeTrax 2 dual central drive. Allison showcased their latest eGen Power 85S electric axle which has had its first application in the Anadolu Isuzu Novo VOLT. Voith spotlighted the latest mild hybrid version of their DIWA transmission, the DIWA NXT, under the headline  'Tradition meets Innovation' and also showed the latest version of its VEDS electric drive concept.
Last word
Stuart Jones writes: 'From the huge number of electric and hydrogen buses and coaches on display you would think that there was all the infrastructure in place to fuel them, but there isn't, and the disparity between the rate at which the politicians want electrification to progress and the rate at which the necessary large scale supply networks are being developed is a cause of growing concern across Europe.
Til Oberworder, CEO Daimler Buses, dedicated his press conference speech to a message aimed directly at politicians. He said,: "The bus industry can significantly reduce CO2 emissions in Europe from 2030. For this to succeed, the policy framework must be tailored to each segment. For city buses, maximum electrification is absolutely possible. In our view, it is crucial here that the entire industry can focus fully on CO2-neutral solutions. For the coach segment, we need a comprehensive charging and H2 refuelling infrastructure. And we need achievable targets from policymakers. We must be able to use our financial resources fully for the development of zero-emission technologies – and not for EURO VII or possible penalties for not meeting targets."
With manufacturers prepared for the enhanced safety requirements of GSR2 coming in July 2024, coaches are not only getting cleaner but also even safer. Among other trends, there was a tendency towards some of the big players taking smaller stands than hitherto and the number of Chinese manufacturers was noticeable, although they were outnumbered in respect of the number of stands by Turkish suppliers.'