Postcards from the edge
An insurance broker has launched a 'Wish you could hear' campaign in which operators can send a postcard to their MP, highlighting the plight of the industry
Coach Insurance broker McCarron Coates has launched a postcard campaign with which operators can lobby their MP for support.
The imaginative 'Wish You Could Hear' campaign is aimed at supporting the Honk for Hope group which has been trying to draw the attention of politicians to the plight of coach operators, many of whom are now desperate for funding to stay solvent.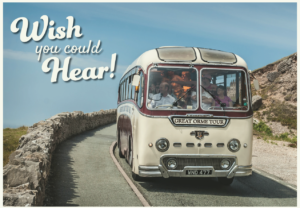 McCarron Coates has produced a retro postcard, which carries the spin on the popular holiday 'Wish You Were Here' message of yesteryear, as well as an image of a coach of the same era, travelling the route around Great Orme in Llandudno. Operators can get the postcards free to forward to their MPs to highlight the problems the industry faces.
The broker is using its oversized version of the postcard in photo calls that will help raise awareness of the plight of the coach sector and will be attempting to arrange such photo calls with its local MP and other influencers. The first of these took place with operator J&B Travel Ltd, a family run firm based in Stanningley, Leeds, which has suffered the same devastating impacts as its fellow operators during the pandemic.
McCarron Coates has also had a stock of postcards printed and will be sending a postcard to all of its local Leeds MPs, plus selected others, including Chancellor Rishi Sunak. It is sending unstamped postcards to its clients, so they can send a card on to their own local MP and it can also send cards, on request, to other coach companies who wish to use the powerful mechanism in order to lobby their own MP.
A McCarron Coates Director, Paul Coates, says: "If we can get 500 cards sent out to MPs and other influencers, we should be able to start to make a bigger noise about the need for the Government to listen to the sector's cries for help and do more than has been done so far. Ministers are simply not grasping the devastating impacts on family businesses in the coach sector and what that means for their livelihoods, their homes and their family life."
Fellow director, Ian McCarron, adds: "Things have gone on far too long without satisfactory responses from the Government. Our 'Wish You Could Hear' campaign should drive the message home that people are simply not listening. The message comes from the heyday of coach travel, which helped build the UK tourism industry. We want to remind Government what the coach sector has contributed to the economy and evoke childhood and nostalgic memories of coach tours, to try to finally get some concrete action and financial support."
Anyone wishing to have cards to send to their local MPs and any other targets, should email [email protected] with their address details and number of cards required, or call 0113 298 3489. The address of your MP can be found HERE.
Paul Coates says: "Together we can do this and all it will cost an operator is a bit of time, to find the contact details of their MP, and a few stamps. We hope operators will share news of the initiative on social media and help us make the noise that we wish to generate behind our powerful 'Wish You Could Hear' message.
The message on the reverse of the card reads:
Having a truly torrid time. Black clouds ever-present. Coach sector is beached. Vehicles laid up, family businesses in ruins, finance agreements on off-the-road coaches being enforced.
Wish MPs would shout out that the coach sector matters – to tourism, leisure & education. It matters to destinations, attractions, theatres, schools and community groups. To people of all ages.
Probably won't be back next year