Pelican's Team Zero launched at COP26
Yorkshire-based Pelican Engineering, which has become one of the leading players in the electric PSVs in the UK, has launched a network for zero-emission bus and coach operators to support best practice as the sector transitions to greener transport.
Pelican, which supplies Yutong electric bus and coach models in the UK, has launched the group, known as 'Team Zero' at an event in Glasgow ahead of COP26, where it has the largest concentration of zero-emission passenger vehicles in operation. Attended by directors of both Yutong and Pelican Engineering as well as representatives of eight leading operators, the event demonstrated the importance of cooperation between vehicle manufacturers and operators.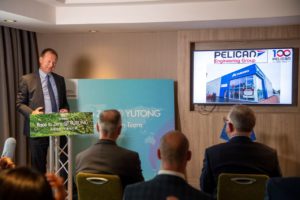 Head of Yutong Bus UK at Pelican, Ian Downie comments: "We have been working on developing a collaborative platform for our zero emission passenger vehicle customers for some time. The network will bring together our customers across England, Wales and Scotland with the intention of  supporting their move to clean passenger transport technology.
"As well as providing a forum for bus and coach operators to learn from one another, we also plan to provide ongoing updates and host a series of informative workshops to keep customers abreast of the latest developments and promote best practice throughout the industry."
With a heritage of over 100 years as a family business, Pelican Engineering undertakes the full commissioning of Yutong buses and coaches at its workshops in Castleford, West Yorkshire. It has partnered with Yutong since 2016 and, by the end of 2021, it will have 200 Yutong zero emission vehicles in service in the UK.