Orion electric is grant-ready
The Department for Transport may be slow to react to criticism of its restrictive, 'big bus only' ZEBRA funding but Mellor is now ready with an eligible 23-seat lowfloor which should have appeal for bus services
Mellor's drive to expand its electric bus range now includes two, new zero-emissions buses…the low-floor Orion E23 and Maxima E23 both in scope of the £120 million Zero-Emission Buses Regional Area (ZEBRA) funding.
With more than 50 of Mellor's Orion E 16-seaters already in service and 20 more on the order book, the company's Bus Division Managing Director, Mark Clissett, says the addition of cost appropriate grant-ready vehicles with capacity which reflects the government ambition to grow and 'green' the bus fleet will appeal to even the major bus operators.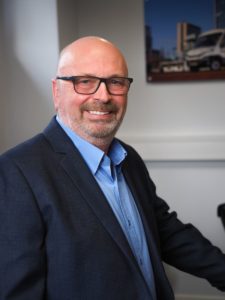 Talking to Bus and Coach Buyer, Mark said he felt that – even with the advantages of low capital cost – some operators have been targeting the cost advantage that the ZEBRA fund presents. Orion E23 and Maxima E23 now meets that ambition.
"We have already seen a solid uptake of our non-electric, size and cost -appropriate buses with the realisation by operators that they can make uneconomic routes profitable," said Mark. "Not only is the capital cost half that of high-capacity buses but fuel and running costs are significantly lower." We have seen an increase in the number of independent operators adopting smaller buses for marginal services.
Both the new Orion E23 and new Maxima E23 are based on existing and proven Mellor products familiar to a significant number of operators and local authorities. Deliveries of Orion E23 and Maxima E23 are expected to start in summer.
The Mellor range is now to adopt a simple system for model name, with D signifying diesel and E for electric, with the seating capacity after the letter. The high-floor Iveco-based Maxima E23, which has a wheelchair tail lift, is expected to appeal to the schools, care home, community transport and local authority markets.
"The range is the result of Mellor playing to its strengths as an integrator," said Mark. The electric drive system is outsourced but the engineering to integrate it is now managed by newly-formed Woodall Nicholson company ProMech Technologies, managed by former Mellor MD John Randerson, now Chief Technology Officer. The Ducato-based, coachbuilt Orion E23 has a 92kWh battery with a range of 200km and GVW of 5.5 tonnes. The Iveco-based Maxima E23 has an 80kWh battery and a range of 160km, with a GVW of 7.2 tonnes.
Mark said that even if Iveco and Fiat produced an electric base vehicle, in all likelihood the battery placement would not work for a PCV: "At this stage, we are working in a market which is developing so we are integrating technologies but as the market becomes more mature, I expect that to change.
Currently, the base vehicles are delivered with a diesel engine and gearbox, which is removed and sold on: "Sell us a 'skate'," says Mark, who'd prefer not to have this additional cost. "The reliance on OEM base vehicles is a bind but I suspect the Mellor-created content will become more and more."
Controlling weight is obviously key, with range directly influenced by it. Mellor is constantly driving weight out of the design so that the passenger capacity can be increased without compromising range.
Mark reports growing support for its recent 'Big Bus Bias' campaign; the company's response to what he describes as the DfT's short-sighted and restrictive ZEBRA funding for smaller size-appropriate zero-emissions buses. With support from industry bodies, charities and from the Shadow Transport Office, Mellor remains steadfast in its view that the DfT has seemingly withdrawn Local Authorities' ability to choose where to invest in zero-emissions buses – and, therefore, the essential services they deliver.