OBs up for grabs
Many operators have a heritage vehicle in the fleet, some just hobbies, others road-ready for weddings and vintage hire. But Dr Mark Sleep has five, and no other vehicles. Bus & Coach Buyer's Founding Editor, and fellow OB enthusiast, Stuart Jones goes to see the working fleet of Bedford OBs
Ages Past is a business born out of necessity that has evolved with changing social norms. And now, after more than four decades, it's looking for a new owner.
Ages Past runs no fewer than five Class-6-tested Bedford OBs from its rural headquarters at Eversley on the Hampshire/Berkshire border. Proprietor, Dr Mark Sleep, describes it as 'OB City, home to the finest collection of Class 6 Bedford OBs in the world', and has a sign over the garage to say so. It's a very special business with a fascinating history, the roots of which lie outside the coaching industry.
As Mark puts it, his 'proper life's work' was the creation of the Geology Department that became Brunel University Geology Department, but before that he had; studied petroleum engineering at Imperial College, London; gained an Advanced Diploma in secondary education at Cambridge, where he also won his cricket colours for Churchill College Cambridge; been asked to sign professionally for Wimbledon FC (when it was still at Plough Lane); taught PE at Cheam Secondary School (while doing a Masters degree in the evenings) and added to his lengthy list of qualifications at University College, London, and Bath University.
For three years between 1964 and 1967 Mark was in Abu Dhabi working as a geologist in the Arabian desert on a well 26,000ft deep, at the time the deepest in the world. When he retired from academic life at the age of 55 he took a further Masters degree in Theology. He has never been one to be idle.
His eldest son unexpectedly passing the entrance exams for Wellington College, Crowthorne, presented Mark and his then wife with a real dilemma – how were they going to pay the fees? It was 1978 and the annual fees equated to roughly half of their combined income at the time, so things were desperate for the family. 'Why don't you make that heap do something,' his wife suggested, referring to the old MG SA Coupe car Mark owned,. Sot that's what he did.
He put an advert in a shop window making it available for weddings 'and we got killed in the rush' he recalls. Ages Past was in business and was a great success from the start. Throughout the Thatcher era of the 1980s an additional car was purchased every year and at its peak the fleet reached eight very distinguished cars, four of them ' Real Royce,' built during the time when the founder, Sir Henry Royce, was at the helm of the company. To be able to provide back up, only six of the eight cars were ever booked out at the same time.
In July 1989 there were five Saturdays and for all five of these, the business was fully booked before the end of the previous July. During the year there were so many requests that Mark had to turn down over 400 enquiries. This situation was not to last, and a number of factors combined to make the offering less attractive.
There was a depression, many people found their property had gone into negative equity, and people looked to economise. Other long-term trends have come in to play as well, with the advent of civil ceremonies and the licensing of other venues to hold ceremonies. 1977 was the first year that there were more civil wedding ceremonies than religious wedding ceremonies (180,446 v 176,508) and though the percentages went up and down between then and 1993, thereafter the number of religious wedding ceremonies declined rapidly to the point that by 2018, only 39,945 (22.2%) of 179,905 weddings were religious ceremonies.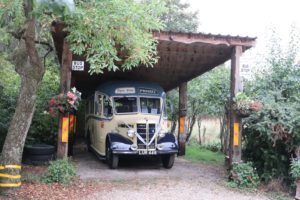 Whereas once most weddings were held on summer Saturdays, that is now far less likely to be the case, and there is also the trend to go abroad to tie the knot, though one might expect this to lessen in the current economic climate. With the emergence of wedding venues at which the wedding and the reception are held in the same place and the couple stay on site the night before, there is less need for a car to transport them. On top of this, as the population has grown older, the level of interest in older cars has declined, with people more focused on later vehicles they remember from their youth. This trend became more noticeable in the new millennium. From a 1980s peak of 164 weddings in a year, the figure was down to 62 by 2000.
Fortunately, with all the cars paid for and his boys successfully through school and university, the need to earn the cash that had driven the company's creation had become less, so the business just continued on a lower level.
It wasn't until 2003 that Ages Past got into operating coaches in addition to the cars, though Mark had always had the ambition to own an old coach. He had passed his PSV driving test (badge no KK53035) around 1968 with Sonners Coaches when he was Head of Geography and Geology at Gillingham Technical High School in Kent. He had wanted to establish field courses and when he approached Sonners about providing the transport, they had the coaches available but not the drivers.
Mark suggested that if they put him through the PSV driving test, he would drive and he did so, continuing to drive for them subsequently. When later he got a lectureship in London and moved to Wokingham, he kept his licence going with Brimblecombe Coaches, turning out for them about 15 to 20 times a year. The coaches were notable for having a lighthouse motif on the whole of the rear with the back windows representing the lights, Mark recalled.
On Saturday 13 September 2003, at the suggestion of one of his drivers, Mark went to the auction of the John Mould Paradise Collection of Vintage and Classic Vehicles in Reading. What had originally appealed to Mark in the auction catalogue was the first-ever Bedford coach, mounted on a WLG chassis and bodied by Rainford of Lincoln in 1931. However, his drivers impressed on him the shortcomings of the vehicle for their work, including its very limited capacity of only 20 people, the scarcity of parts and its relative fragility compared with the OB.
Mark took heed of the advice and is glad he did. There were two OBs offered in the sale, one unrestored and the other the recipient of a body-off restoration with new electrics. He bid successfully for the restored example and quickly resolved the issue of its identity having been transposed with the other coach. When purchased it was painted red and black, but Mark had it repainted into a maroon and cream scheme that better suited the age of the vehicle.
To a lesser extent, acquiring the first OB had the same effect in the market that the first advert for the cars had created, with considerable and immediate demand. Although people seem to have less affinity with old cars than they once did, the Bedford OB remains ever popular. Mark thinks part of the reason is that 'It's big enough and small enough' because whether you have a full bus load or only a dozen people, they are still comfortable and in touch travelling in it. He also loves the sound of the transmission.
Obviously, operating a coach involved a very different set of regulations to those for running wedding cars, not least of which was the acquisition of a PSV Operator's licence and CPC qualification and establishing a documented maintenance regime with external inspections. It also opened new possibilities. Unlike the cars, which can only undertake weddings and film work unless a private hire or taxi licence is acquired, the coaches come within the remit of the PSV licence and can do all manner of duties. As well as weddings the fleet undertakes proms, birthdays and anniversaries, theatre trips, takes parties to sports events, appears in film work, and goes on corporate hires, among other duties.
Despite the immediate popularity of the first OB, it was 2008 before the second was acquired, though Mark had worked in conjunction with its owner for some time before buying it. It is relatively unusual in having Mulliner bus bodywork with low-back, vinyl-trimmed seats, having originally worked as a bus on Jersey for Jersey Motor Transport, initially in BEA livery. Built in 1946 it is the oldest of the quintet. Demand continued to outstrip availability and as a result further OBs were acquired at regular intervals. OB3, a former Shamrock & Rambler coach in that company's distinctive orange and cream colours, was the next to arrive in December 2012. This was sourced with the help of the good offices of the late Tim Wootten who did much to bring OB owners together. It arrived with antimacassars on the headrests which were retained with new ones purchased and subsequently fitted to the two other Duple Vistas.
Once part of the fleet of the South Notts Bus Company based at Gotham near Nottingham, the next acquisition was a 1949 OB bodied by Duple when the Government had instructed operators to simplify their specifications to save materials. As a result it has no sunshine roof, greatly simplified embellishments with no sweeping side flash, painted rather than chromed sidelights and a less luxurious interior with dual purpose seats. The purchase was funded through the sale of two of them from the, by then, underutilised, car fleet.
The final arrival came in September 2017 bringing a lavishly restored 1950 model coach to the fold. New to Kirbys of Bushey Heath in September of that year, OB5 carries Kirby's cream and two tone blue livery and looks stunning, inside and out. Everything about it looks right so it is little wonder that it has become the most popular coach in the fleet for hires.
Upkeep
Each bus is independently inspected every eight weeks by TK Travel, Reading. Maintenance needs engineers with empathy and an understanding of bygone engineering. For years, the servicing and eight-weekly checks were attended to by Charlie Owen and David Divine, both Bedford experts, but they have now retired, while driver/mechanic, John Playle, has been in hospital.
Today most engineering work is undertaken by Pete Gaine, an expert on Bedfords from his days in the military, who has his own fleet of four WW2 Bedford MW army trucks and a Humber car similar to that used by General Montgomery. Despite the fact that they are now over 70 years old, mechanical parts are generally not too much of a problem. Mark's own stores have many items including a complete engine ready to be dropped into a coach if necessary and if something else is needed Norman Aish of Bygone Bedford Bits or Chris Morter in Wymondham can usually oblige, often with newly manufactured items. Whenever one of the OBs goes out, it carries a box of spares in the boot that contains belts, condensors, bulbs and other items that might be needed.
With such an old fleet (the newest of the coaches is 72 years old) there are foibles that have to be recognised. You might not have all of the ECUs and electronic wizardry of modern coaches but there is still lots that can go wrong. A particular issue is vapourisation of fuel because of high temperatures in the vicinity of the engine. To combat this they have a large Kenlowe fan fitted to blow air over the manifold and renewed radiator cores. The problem is not the internal heat of the engine, it is the external heat, especially with modern petrol which causes the fuel to rapidly evaporate in the lines when you stop. Mark told me that there were three factors behind this. Firstly the modern 99 octane fuel burns 'ridiculously hot' compared with the 70-75 octane petrol used when the OB was made. On top of this the current super unleaded 5% ethanol fuel has a lower boiling point and vapourises at a lower temperature.
Mark was intensely embarrassed recently, on the hottest day ever recorded, when OB1 failed repeatedly on a funeral job because of vapourisation leading to fuel starvation and a refusal to restart for at least half an hour when stopped. Despite the measures already taken, Mark has decided to go further which is why, when I visited, OB1 was away at Pete Gaine's premises having a few changes made under the bonnet. As well as rerouting the fuel pipes and adding an electric pump between the fuel tank and the mechanical pump that is only activated when starting and then turned off, Pete is looking to use an F1-developed composite heat shield material to shield the carburettor.
Drivers need to be similarly sympathetic to the age and characteristics of the vehicles which requires mastery of double de-clutching. They also need to be courteous and smart to match the service being provided. Mark accepts that individuals with this skill set are not that plentiful, but the fact that he pays extremely well does help in finding them. He can call on 12 to 15 people on a part-time basis, many of whom have been with him for a long time. Not all drivers can drive the coaches, but all of those who can drive the coaches can also drive the cars. If there is ever only one vehicle out, Mark will drive it himself.
Vehicles
Mark has never named his cars or coaches, the OBs are known as OB1, OB2, OB3, OB4 and OB5 based on the order in which they were acquired. OB1 is an example of the most numerous version of the OB as it has the ubiquitous Duple Vista, 29-seat coach body. OB3 and OB5 are the same, while OB4 is also essentially similar, though to what might be termed a dual-purpose specification. All the OBs permanently carry decorative ribbons irrespective of the work they are employed upon and these are colour coordinated to the vehicle. Though he would love to own a half cab coach at some stage, an ambition he concedes he will probably now never achieve, Mark has never sought to buy any other type of coach. Each of the coaches covers between five and ten thousand miles annually – by comparison most of the cars now do under 1,000. All the OBs are in different colours.
The job
Whereas once the emphasis was always entirely on the bride and groom and getting them to church, it is now much more about creating a party atmosphere for the guests.
The catchment area was quite wide and jobs as far away as Cheltenham and Stroud, around 100 miles from Eversley were undertaken. Recognising that 'they are old ladies and at 83, and I am an even older man,' he is planning to stay within a 50-mile radius of base from next year, a scope that includes London and the South Coast as far as Portsmouth and Southampton. Very little advertising is done, but the company does have a very good website.
An increasing trend is couple's appointing wedding planners. They usually have a pretty high budget and they want to create something spectacular for the bridal couple. Five bookings in the past year have involved all five of the OBs, including a three-day celebration at Blenheim Palace and weddings at Kew Gardens, Arundel Cathedral, Sezingcote in the Cotswolds and Laverstoke near Winchfield. All five of these hires were booked through wedding planners. With such jobs, which often involve household names, the business is sworn to secrecy and this is rigidly observed, though Mark did derive some satisfaction when his coaches appeared prominently in a double-page spread in a leading newspaper.
Mark always encourages wedding couples to visit Eversley and look at the cars and coaches before booking. They often come back several times. Looking back he said: "It's nice to have been part of it. People come to the house and talk about what they want, so you feel part of it." Mark feels that offering value for money is important. His standard coach hire price for a wedding price within ten miles of Eversley (currently £695) includes unlimited runs to the church or venue, runs between the venue and reception if required and a run for the couple from the venue up until 9pm, usually in one of the cars of their choice. Later or additional runs and longer distances are by negotiation.
Work isn't all weddings; quite a few funerals are undertaken. This is another significant change he has witnessed. When he started they were usually very sombre affairs but now they often 'provide the pleasantest surprises,' as they are more likely to be celebrations of a person's life. People often have a jazzband in the back of the coach or something like that.
Recent
COVID wasn't an easy period for the business because though income ceased, overheads didn't, and it was still necessary to pay for vehicle inspections, maintenance and MOTs, tax, rates, insurances and utilities. No Government money was taken and he and his partner ended up having to put £26,000 into it over the two years to ensure that it could keep going.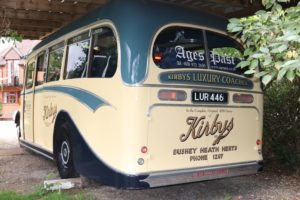 The level of demand in 2022 has amazed Mark. 'This year has been ridiculous,' he said, 'we have turned away £7,000 of business in the last month alone, either because it was too far away or we were already fully booked.' As a result Ages Past is on target to make a profit that will wipe out the deficit of the past two years.
An aspect of modern business Mark dislikes is what he calls 'the Lastminute.com effect' with people leaving everything to the last minute. It can mean that although a vehicle would have been available, without sufficient notice it is too late to find a driver for it. He will nevertheless try his best and recently had someone call on a Friday for the following day, and because he had had a late cancellation was able to do it.
Something that gives him great pleasure is being asked to provide transport for the children of people he did weddings for 20 or more years ago. It is evidence that positive memories have been created, as are the letters of thanks that follow almost every hire. 'I'm really quite proud of what we have done here,' he said.
Future
As a sole trader, Mark is starting to find the constant demands of the business, particularly the administration side, more of a challenge and would like to take a step back and spend more time with his new partner, who he has known since she was a young teacher over 60 years ago.
Although the past 12 months have seen the business become quite profitable, he does not feel he can continue working so hard at 83. "I either need help or I need to sell it," he said. "Being totally and utterly egotistical I would like to see what I have created here remain intact. It would be nice, because I don't think anyone will ever again build up such a collection of OBs that is commercially viable. I really want to sell the whole thing as one."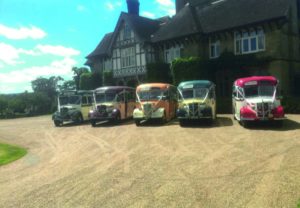 He wants to keep the coaches together, if possible, because he believes they represent: "The finest collection of Class 6 Bedford OBs in the world," Mark opines. One possible alternative he has envisaged would be for Ages Past to become an adjunct to an existing coach company. Alternatively: "It might be a nice retirement venture for someone who loves OBs as much as me. If he was in his 50s or 60's, wouldn't that be great?
"I can't stop getting old; nobody can, but I must be realistic. It's a lovely place to live and we're very happy here, but my partner doesn't want to see me ground into the dust. I'm doing a mass of work," said Mark. "If someone locally came along and said, 'I like the set-up, would you sell the whole lot?' I would consider it because it's quite a package. There's 0.75 of an acre of gardens behind the garages. We really don't want to move, but if we have to, we will."
It is a very special business in an idyllic setting, and one that will appeal to a very particular type of buyer. Mark knows he could sell his assets off individually but he would really like his OB family to stay together and continue to serve people at momentous times in their lives, so a sale as a going concern is his preferred option. There is already quite a good amount of forward bookings in the book, including one for five coaches on New Year's Eve and another for three coaches the previous day.
Cars

The six cars currently owned are the original 1936 MG SA Coupe, a 1930 Rolls Royce 20/25 limousine by Park Ward, a 1932 Rolls Royce 20/25 limousine by Crosbie & Dunn, a 1932 Rolls Royce 20/25 cabriolet by Thrupp & Maberly, a Daimler E20 limousine and a 1965 Alvis TE21 drophead coupe.

The story of the MG SA might warrant an article all of its own in a car magazine. Mark had acquired it more than a decade before starting the company when he was 22 and working as a teacher. He had had his heart set on buying an Alvis but despite saving hard for a year he had only managed to scrape together £100. He used to trawl through Motor Sport magazine looking at the adverts, but Alvis prices started at around £350 at the time, way out of his league. Stocky, an older colleague who taught metalwork at the same school was looking through the magazine with him and alighted upon the MG, 'That's what you need,' he said. Far from enthusiastic he was talked into going to see it at a big house in Ruislip one evening. It belonged to the son of the family who had been posted abroad and was on offer at £150. With a big six-cylinder engine, and a three stage convertible hood, it was impressive and, egged on by Stocky, Mark was warming to it. They got the seller down to £120 at which point Mark had to admit he only had £100, but after popping home and talking to his mother she agreed to lend him the extra £20 and it was his.

Just what a good buy it was didn't become apparent until later. Wokingham Choral Society, of which he had been Chairman, had borrowed it to stand outside the Town Hall to help promote a performance of Verdi's Requiem. When Mark turned up to collect it there was a man who had been waiting for some time to see him and asked if he could look under the bonnet. When Mark opened it for him, the stranger burst into tears and explained that he had helped prepare the car, and another like it, for the MG stand at the Earls Court Motor Show in 1936. With all trace of the sister car long since lost, it is the oldest of its type and has a number of features not found on other examples, and it was spotting these that had suggested to the man it might be what he suspected. Opening the bonnet revealed the chromed rocker covers that were only ever fitted to the two show exhibits.