The metal men
So, you call the dismantler, he collects your scrapped vehicle, and it's towed away. Ever wondered what happens next? Mark Williams and Chris Peat visit the beating heart of bus dismantling
Boulder Bridge Lane near Barnsley is the stuff of legend; the place where buses and coaches meet their maker.
On the face of it, breaking up PSVs may seem a simple act of destruction but, as we discovered, it's actually a complex and risky business, paying ahead for raw materials which may fall in value overnight.
Exactly how so many dismantlers – at one time, at least eight – ended up in one, short dead-end road seems to be a tale of 'unwelcome' businesses shoved out of sight. The truth is, the industry would be in deep trouble without them.
Pulling into PVS Barnsley, it is immediately apparent how well-organised the business is. Formed in 1960, PVS Barnsley is a family-run business headed by joint MD, Geoff Laverack and Phil Hollinshead. Geoff's father, Brian, first started the business in South Elmsall.
Brian was dismantling buses even in these early days. He got into this trade by running scrap metal from a yard nearby into Sheffield. He then bought an end-of-life bus, which he then dismantled and, in Geoff's vernacular, "that's how he set off".
He started this is South Elmsall, but moved to Goldthorpe in 1968/69, before moving to the current site in the early '70s: "Together with Tommy Goodwin, dad was one of the first dismantlers on this site," says Geoff. "There were eventually eight or nine dismantlers here; they put us all in this spot, out of sight." Joe Sykes will be another name remembered by some operators.
Geoff's dad is now the grand old age of 89, but retired only four years ago, being involved with the business right up until he finished. He has not completely cut his ties to the company, as Geoff said: "Dad always likes to know what's going on over here; he likes to know we're OK."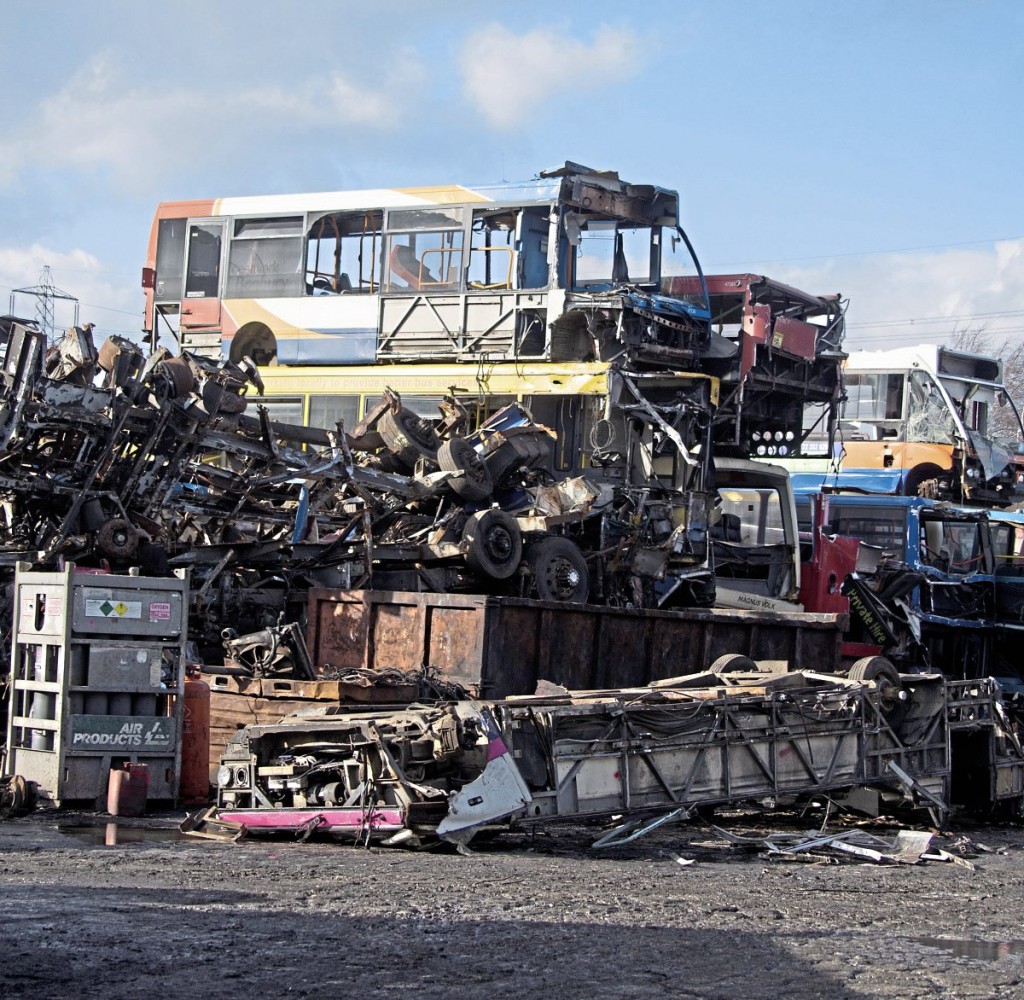 One of his major customers is FirstGroup, for which PVS has a disposal contract, but he also works with the other national bus companies. That causes its own issues. Contracts are agreed weeks before the buses reach the yard: "There's no set price, and we can't set a price. Metals can be one price today and another price tomorrow. At the end of the day, a company like us can easily lose money because when you tender on today's market, you might not get the buses for another three months.
"We bought buses off Stagecoach once, which we got six months later. Metal prices dropped that much, we didn't really want them, but we took them on anyway. If you give that word and then go back on it, it gives you a bad name." B&CB did a quick check; processed aluminium has been as low as £1,420 a tonne and as high as £1,640 a tonne in the last six months. Scrap prices are much lower but the fluctuation is just as stark.
Vehicles came from across the country, with Devon one of the furthest destinations the company's wrecker had reached. But this was before tachograph rules ensured such a trip had to be done over two days' of driving, which Geoff said makes it unprofitable to travel too far north, west or south of Barnsley.
At one time, a bus represented a lot more scrap metal. Geoff said: "As buses get newer, there is more plastic and GRP in them." Phil added: "There's a hell of a lot of waste that comes out of this, no matter what you do. And it costs about £150 a tonne to send it to landfill."
Seats in particular make up a lot of the landfill traffic. Phil said: "You just can't do anything with seats. It's landfill that kills you. It's £90 a tonne landfill and then you've got to take your transport there. We do 20-tonnes a month of landfill; 15-tonnes, easy, a month. It's a big bill to hit you."
Phil then went on to bemoan legislation that governs waste: "There's too many rules and regulations. Those big black rings, tyres, in particular; you can't get rid of them for love nor money. They only give tyres three years' life now too. You can recut them, but after that, they're done."
He said he has worked with the Environment Agency to put together a consignment document for waste transfer, which comprises of three parts. They have worked to create a single document for the three segments.
However, complying with these regulations is just a part of the business. Geoff said: "We've had to do it, and we get audited every year. We have had to come to FirstGroup standard. When we have vehicles come in, they are classed as end of life vehicles (ELVs). The land you're based on has to be fully environmentally friendly, they do come round and check.
"There needs to be a procedure in place for lorries turning up. You've got to be insured and have a proper paperwork trail. We leave a copy of the paperwork with the customer. We send a copy to say when it's landed. We are connected with the DVLA. It's not as easy as it used to be."
But how much profit is there? When asked how much a double-decker would cost, Geoff said: "It depends how much there is of worth on it and where it is. You've got to keep collection distance in mind. It can be anything."
Another issue is with the price of steel. Geoff said: "I believe a lot of Chinese steel is laundered through Turkey. China has been flooding the market. The stuff they have brought in, though, is rubbish. Nobody makes steel like us; we're good at it – British steel!" says Geoff, who sees the loss of most of the smelters in the UK as a major oversight. Most scrap goes on to freighters leaving Liverpool docks.
The process of disposal at PVS Barnsley starts with the removal of diesel, oils and coolants, which is done in the specialist depolluting area. This area has a sealed surface. The upside is that the recovered diesel can be used for the company's own trucks and machinery. "But you don't get a lot of diesel out of them," he said.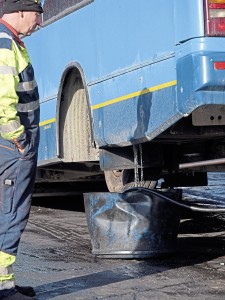 No fluids in this part of the site can escape into the environment, with run-off going into interceptor tanks. These tanks are then regularly pumped out. The Environment Agency will check the oil, antifreeze and batteries on a vehicle are disposed of correctly. Geoff said: "They always seem to persecute those that have money, and spend money. They say 'that wants repairing, and that' and they know we will do the work."
The next stage is for the engine and transmission to be removed, and many of them go to remanufacturing. Likewise the destination boxes, which Omnitech will refurbish. The bodyshells are then parked up and dismantled, with all the aluminium salvaged as a priority. Geoff said: "There's not a lot of steel there. The rest of it is rubbish."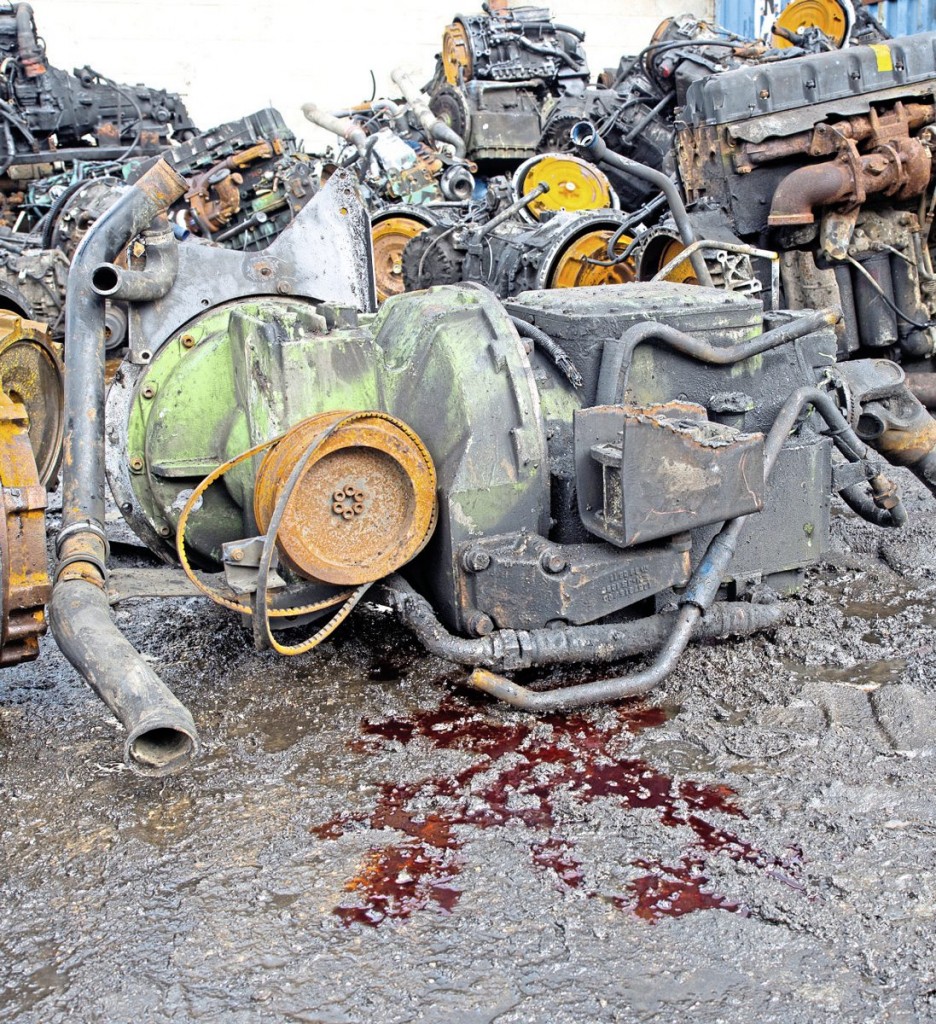 As you can imagine, it is a dangerous job, working with mountains of scrap metal and harmful substances. One hazard is fire, especially with the use of cutting torches around flammable plastics, wood and rubber. There has been the occasional fire at PVS Barnsley, but they have been put out and controlled before causing any serious damage. Geoff said: "Buses can go up within minutes. In the old ones, it was wood. But now, it's the plastic and GRP. The floors have all been treated with a retardant substance now as well, but can still go up in flames."
Gas buses taken once proved particularly dangerous, when they were promised empty but received with gas still in the tanks. Phil said: "I was working on one and when the gas ignited, the bus knocked me off my feet. In summer, there's more of a fire risk, but right now everywhere is wet through."
As a fire safety precaution, the business does not use cutting torches after 4pm. The latent heat can re-start fires an hour later, which is not something the business wants when everyone apart from the night watchman has left the site.
Do manufacturers have dismantlers in mind when they design PCVs? "I don't think they're bothered. It's our problem at the end of the day."
Getting to grips with these vehicles as they do, at the rate of ten vehicles a day, the dismantlers know them inside out, seeing parts of the framework others do not. It tends to be the service buses that PVS specialises in dismantling, although he does do some coach. Steel-framed coaches are tough, reassuringly for passengers, but a nightmare to pull apart, says Geoff.
With the margins getting slimmer every year due to additional paperwork, regulation and tumbling steel prices, will there ever be a time when bus companies pay dismantlers to take away their vehicles? "Maybe one day but not in my lifetime," said Geoff. "And every year, site fees go up and the landfill waste price increases every year."
Geoff was clearly impassioned when describing the challenges he faces in the industry. However, he has no intentions of retiring. The workforce fluctuates depending on workload, but around nine employees are there full-time, managed by the yard's foreman. Geoff said: "I've got two Polish lads who come into the yard at 8am and if I asked them to, they would work till eight the next morning. That's just what they know; they come in, work and then go home."
Finding the right people to do this work is difficult, according to Geoff. Often workers from one yard in the area will move to the other as work rates fluctuate. Geoff said: "You can't get the people for this job. We have an agency that calls in and says can we send some lads down? But I guarantee you, they can send 30 people from the dole and we might get one or two out of them that are any good. I take my hat off to our lads. Whatever they are doing out there, I've done it. I always used to be out there. You have to have good lads."
Just around the corner from PVS Barnsley is Trevor Wigley & Son, the next stop in our tour of dismantlers. Originally set up by its namesake in the early '70s, it is now headed by Andy Smith and Mark Wigley.
The latter has been working in his dad's yard since he was a boy, so it is fair to say he knows the job inside out. Like many of the dismantlers here, the company was previously based elsewhere, which for Wigley was Goldthorpe. It was only there 12 months before moving on, entering its current site in the mid-70s.
Although there is the use of forklift trucks and massive industrial machinery used to grab and crush the vehicles, there is still a lot of manual work involved. It's a strenuous job, as Andy attests to: "You've got to be tough here."
The good, the bad and the ugly

Short of cutting away all the panels, you're never going to find out how sound your vehicles are. But that's the business the dismantlers are in.

On the service bus side, Mercedes-Benz Citaros, according to PVS, are particularly likely to decay. Mark Wigley says Tridents tend to be "pretty solid." Of coaches, PVS said Van Hools can be particularly bad, though as premium coaches, they do tend to be kept on the road longer.

If the dismantlers agree on anything, it's that corrosion really takes off the moment vehicles are standing still.
It is not just a physically hard occupation, but there are a lot of environmental safety hoops to jump through: "We just take it in our stride, it's part of the job. We just get on with it, just accept we have got to do it," said Mark, philosophically.
Andy said: "We find the Environment Agency are not on your back as much these days. A few years ago, they pulled the funding from quangos, and Environment Agency was one of them, and they lost a lot of staff. They still do come and see us here, though."
He explained that when a dismantler breaches any environment regulations, they have points marked against them. The more points they have, the more the fees for the licence go up: "So it's in your interest to comply," said Andy. "Especially as it takes some time for the licence fee to come back down."
Complying with environmental safety is something the company takes seriously, with three sets of interceptors in place to catch any harmful fluids before they run off and pollute the surrounding area.
Buses and coaches take a lot more processing at the dismantlers than trucks, according to Mark; there is simply more to the vehicles, especially coaches. But Wigleys will have all PCVs at the end of their life. Andy said: "We pick up from anywhere. We go as far as you can get before getting your feet wet."
Mark agreed: "People phone up all the time and we don't turn them away. The business is about finding the vehicles. We go a lot further than some others to get ours. We've just bought one up in Dundee. We will turn nothing down."
One of the youngest vehicles the business had in was a Volvo B12, on an '03 plate. However, even newer vehicles to arrive in the yard were two '59-plate hybrids. They had received an extensive refurbishment, but the battery pack had failed and they had been laid up.
Dispelling the myth

A 'scrapyard dog' might be a popular trope of film and TV, but it does not live up to reality. When asked if he had a canine companion at the yard, Geoff from PVS said: "No, we're not allowed; it's the regulations. We used to have dogs before. We have a night watchman now; he's good at his job."
A great deal of what Wigley picks up are buses, but there are significantly more coaches in the yard than some of the other dismantlers down Boulder Bridge Lane. These are kept in stock for spare parts, some of which are obsolete and hard to come by. As to what is kept in stock and for how long, it can depend. A high-value vehicle could come in and it will replace a lower one. It tends to be the coach operators that are more likely to want parts from them.
With such older vehicles kept in stock for parts, the company attracts its fair share of bus spotters. However, these have been banned in more recent years, simply for the fact they have been caught stealing from the yard. They are not completely unsympathetic towards enthusiasts. Mark said: "We still let certain ones in."
According to Mark, something that might surprise is that what is often referred to as stainless steel on coaches and buses, is not. "It's actually chrome iron."
How much is the scrap worth from a bus? Mark said: "We have to work buses out all the time. So the value varies a lot."
By the time we left Wigley's yard, the sun was getting low in the sky. We had run out of time to get to the next in the row, Geoff Ripley, or call in at Alan Hardwick's yard just round the corner. The number of dismantlers may have fallen, but what's left are businesses which have a new level of professionalism, coupled with old-fashioned common sense.
It's no wonder the Boulder Bridge Lane yards get irritated at the 'scrapyard' tag; the world has moved on. What we saw were businesses which thoroughly deserve our respect… a warm community of people in the toughest job there is.
The Boulder Bridge Lane bus breakers
PVS Barnsley
www.pvsbuses.com
01226 722052
Trevor Wigley & Son
www.twigley.com
01226 723147
Geoff Ripley & Son
www.geoff-ripleysbuscoachsales.com
01226 727769
Alan (AH) Hardwick
Shaw Lane, Carlton, Barnsley
01226 727774