Martin Hay steps down at Scania
Following more than 30 years service with Scania, Martin Hay has announced his intention to take early retirement.  Recruitment for his successor to the post of Managing Director for Scania (Great Britain) Limited is now underway, with an announcement to follow in due course.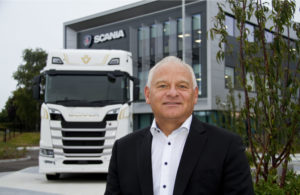 During his time with Scania, Martin has worked within the dealer network, at importer level and at Scania's headquarters operation in Sweden.  His dealer career included appointments as Managing Director for the former Scantruck operation and as Regional Executive Director for Scania South East.  In 2009, he moved to Scania (Great Britain) Limited's Milton Keynes headquarters to take up the role of Sales Director.  Then, in 2016, he transferred to Scania AB to become Vice President – Truck Sales to work on the global development of the Scania brand and as a member of the core team overseeing the introduction of Scania's new generation trucks.  He was appointed to the position of Managing Director for Scania (Great Britain) Limited in September 2018.
"I have been extremely fortunate to have worked for Scania for the majority of my career and will certainly miss my colleagues and the many friends I have made along the way," comments Martin.  "However, the time feels right for me to move on, as I have decided to make a lifestyle change which I believe will be in the best interests of myself and my family.  I will be leaving behind me a hugely successful organisation with a great future ahead of it, and now look forward to introducing my successor to the fantastic team in Scania UK, a team which has generated continued success over the course of many years.
"I would also like to take this opportunity to thank all of our customers for their support and continuing loyalty to the brand during my tenure and wish them every success for the future."