London open-top market gets third operator
City Sightseeing brand enters the London arena in collaboration with Stagecoach and Grupo Julia
Stagecoach and open-top brand City Sightseeing have joined forces with Grupo Julià, a specialist in global tourism and mobility services, to launch a new sightseeing service in London, in competition with Big Bus Tours and RATP-owned The Original London Sightseeing Tour.
"At a time when the country is re-opening and people are planning day trips and holidays, boosting domestic tourism will initially be absolutely crucial in supporting the restart of London's economy, and in the longer term, encouraging the return of overseas tourism," says a press statement. "The three partners have therefore come together to launch the new service to become the leading operator."
City Sightseeing London will launch on 20 May and will offer hop-on, hop-off services in 11 languages. City Sightseeing is present in more than 100 destinations in six continents and Grupo Julià operates sightseeing buses across ten cities worldwide.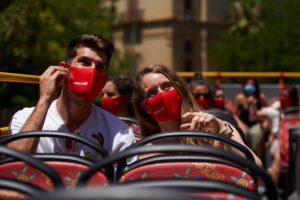 Grupo Julià has already attempted to run London open-top tours, as London City Tour, and in 2018 collaborated with the Original London Sightseeing Tour, but then exited the market, though retaining its O licence and, it is believed, service registrations. Stagecoach has also joined the arena, with its Megabus brand, as megasightseeing, though this is not a hop on, hop off (HO-HO)service.
Enrique Ybarra, CEO of City Sightseeing: "Since we founded City Sightseeing, London has always been an inspiration. After developing the hop-on hop-off service around the world through more than 100 cities on 6 continents, I am very happy to see City Sightseeing as the cradle of the HO-HO business. Together with renowned partners Stagecoach and Grupo Julià, we want to provide the best experience to the city's visitors, as we put all the experience gained and our industry network to make City Sightseeing London the leading operator."
Paul Lynch, Regional Director for Stagecoach, said: "Buses will play a crucial role in the recovery of the country and of course, our capital city. Boosting domestic tourism is a key priority and as people now start to plan to return to doing the things they enjoy doing, such as day trips and staycations, the launch of this new open-top tour bus service will provide an easy, convenient and environmentally friendly way for people to tour the great sights of London.
London is well-renowned all over the world for being an exciting and historic city that people want to visit, and by joining forces with City Sightseeing and Grupo Julià, we also have a great opportunity to encourage overseas visitors as soon as we are able."
Jose Adell, CEO of Grupo Julià: "Offer the best hop-on hop-off service available in London. This is going to be the objective of Stagecoach Group, Grupo Julià and City Sightseeing in this new stage. Three operators, experts in our respective fields of activity and who share the vocation of service, quality and safety as three fundamental areas of our action."