London Honk for Hope gets media attention
More than 400 coaches convened on London for the latest Honk for Hope UK protest, which aims to draw the government's attention to a transport sector in crisis.
The noisy cavalcade which swept around Parliament Square for more than two hours as coaches filtered in from as far afield as Scotland achieved significant press attention, with the BBC notable for not covering the story on national news. Organiser Jenna Rush from North East Coach Travel was interviewed, explaining the almost complete lack of support, as were operators at the event.
"It was important for the industry to come together. We had to be seen to be doing something rather than nothing," Jenna told Bus and Coach Buyer.
She said the need is urgent, with one Scottish coach operator at the event saying he has just ten days before he is out of business and being pursued personally for monies owed on leases: "He wanted to attend the Blackpool event but on the morning, his coach has been repossessed. His story had some of the people in Parliament Square in tears."
Jenna said operators aren't after 'free money' but measures which will enable them to get back to work: "Ian Jones of Backhouse Jones spoke at the event and underlined the three things we need. We need a furlough scheme extension, finance which works for us and government security for personal loan guarantees. Some operators are in danger of losing their homes, and need this worry removed.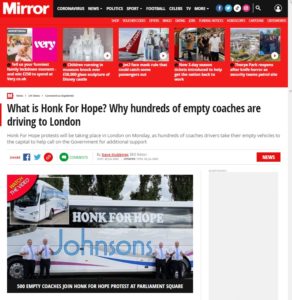 "We also need the government to tell the public that it's OK to travel by coach." One study by an air conditioning specialist shows that coach ventilation places passengers in a 'bubble' with little chance of viral transmission. She said operators have bowed to other government demands, such as meeting Euro VI to enter CAZs and the ULEZ in London: "We feel totally unsupported," said Jenna.
Having failed days earlier in its bid to persuade central government to help the ailing coach industry, the Confederation of Passenger Transport lent its support, CE Graham Vidler was interviewed in the empty coach park in York, and its President, Steve Whiteway, attended on the day.
The convoy which formed along the M4 as coaches made their way into the capital was a hugely impressive spectacle, though traffic filters in central London fragmented the grouping and Police officers in Parliament Square cautioned drivers against using their horn, ironically after complaints from the Houses of Parliament.
The result was largely positive, with many mainstream media outlets covering the event, some doing so live. However, one newshound thought the event was staged by a drivers' union, and another reported that it was a protest by coach drivers.
"The phone hasn't stopped all morning," Jenna told Bus and Coach Buyer the following day. "I'm over the moon with the way the event went."
A Scottish Honk for Hope is now being planned for Edinburgh, organised by Scottish operators.