Light heavyweight contender
Three months after unveiling the new Sigma lowfloor electric bus range to the press, Mellor has been showing the to potential customers at the UTAC Millbrook proving ground in Bedfordshire. In an arena of heavyweights, they promise a two-tonne advantage, says Mellor
The introduction of the Sigma range has transformed Mellor into a full , single-deck electric bus supplier and , for the first time, potential customers got to experience the new buses first-hand.
Offering tailorable options at 7m, 8m, 9m, 10m, 11m and 12-metre lengths, with one or two doors and in both right and left-hand drive, Mellor believes that the Sigma will be a disruptive force in the industry because of the combination of its capabilities, quick charging and low cost of ownership.
There was a different emphasis on each of the two days, with those invited to the first day drawn from bus operators, including at least one from outside the UK, and those on day two primarily from the local authority sector – although there were also representatives of leasing companies on both days. Visitors heard Mark Clissett, Mellor's Sales Director, run through Mellor's tradition of developing 'size- and cost-appropriate transport solutions' and some of the vehicles' attributes before John Randerson, Chief Technology Officer, revealed more about the 'ground-up' design process.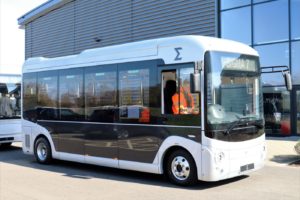 There are six models, suitable for city and rural applications, offer weight savings averaging two tonnes over other electric buses (EBs), a light and airy interior and a quiet ride. After stressing total cost of ownership (TCO) advantages, he described Sigma as, 'the most configurable range on the market,' with capacities of up to 84 passengers, and promised, 'It will be a big hit with your drivers too. It has a genuinely pleasurable driving environment.'
'Conceived, designed and delivered in the UK' the Sigma is to be completed at a new plant in Scarborough. This will open by the year end and will employ up to 50 additional people, with others transferring from elsewhere in the group.
Saying that Sigma was, designed and manufactured with ease of maintenance in mind,' he said it came with a five-year battery warranty that could be extended to eight years as well as a 15-year structural warranty which was fully manufacturer backed and delivered by a UK-based customer care team. Customers could order the Sigma 7, 8, 9 and 10 'today' for deliveries starting in four to five months, with the Sigma 11 and 12 following afterwards. Though no figures were mentioned, pricing, he promised, would be 'disruptive.'
John Randerson said that Sigma features components from industry leading brands throughout and at every length is the lightest in its class. It is constructed of stainless steel and advanced composites and because it weighs less needs fewer batteries to power it. 'Less batteries means lower energy consumption' he said, adding, 'It can be configured to meet any need of any operator.'
First drives
One of the attractions of the day was a first chance to ride on the Sigma around the Millbrook facility with Millbrook's own drivers at the wheel.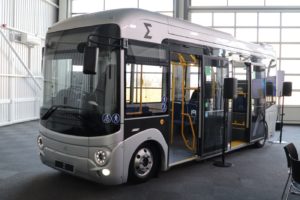 BCB's first trip was on the Sigma 7, the baby of the range at only 6.99m long. This had a capacity of 15 seated and 16 standing or 13 seated, 13 standing and one wheelchair. With around a half load on the tortuously twisty track, it handled precisely and stably, though the suspension was harsher than the Sigma 10 over the joints in the sectional concrete road, with the smaller 17.5-inch wheels no doubt a factor. Despite transmission of these jolts through the vehicle it seemed very structurally taut with no rattles or body shimmer evident. We weren't told the steering circle but judging by the way it tackled the turns, it appears very manoeuvrable.
The Sigma 7 and, we're told, Sigma 8 and 9 have rear axles with an integrated motor. Sigma's 10 and 11 have a traditional rear axle with driving motor and short propshaft to a differential, while the Sigma 12 will benefit from hub motors. The different driveline layouts are a feature of Mellor's philosophy of producing size-appropriate products.
Our second ride was on the Sigma 10 which has a 'big bus' feel about it, although it is on 19.5-inch wheels rather than the 22.5-inch wheels of the Sigma 11 and 12. It was very smooth and relatively untroubled by the joins in the concrete road sections to give a comfortable ride. Once again, the body was very taut and rattle-free, while the powertrain was particularly quiet.
There was a slight rattle from the decency screen to the rear of the centre door, though this should be easily remedied. At the rear, it was easy to chat with other passengers, one of whom noted that there was more headroom at the rear than on 12-metre Yutongs running locally. Whether the Sigma 12 shares this advantage we do not yet know.
In a quick chat with one of Millbrook's drivers afterwards he described it as 'smooth and with rapid acceleration,' adding, 'it is certainly on a par with the others.'
Customer viewpoint
The London Borough of Croydon operates 60 buses and 18 months ago purchased 15, 30-seat Mellor bodied Iveco Daily diesel buses.
It is looking to progress to EVs and Gordon Grinham and Daniel Shepherd said they were interested to see the Sigma 7, though they feared it might be a bit too big for some of the services. They were keen to see how suitable it was for urban operation. They saw it as reducing low-floor risks but were slightly concerned about how low it was, because they had experienced issues on larger vehicles with rear lifts grounding in the depot. Outside London they saw it as suitable for both semi-rural and demand responsive work. They were also positive about the support they had received from Mellor which was superior to another leading supplier.
Somerset County Council's Public Transport Officer, Chris Parkinson and Fleet Operations Manager, Lee Jones, had come to see the range because they operate buses with between five and 60 seats on both urban and rural roads. They will take their first electrics in the next fortnight, a pair of LDV EV90s, and are looking very closely at electrics and the associated infrastructure.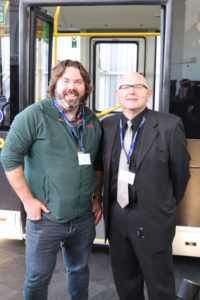 "If you have an electric bus stopped on the Quantocks you've got a problem," said Chris. From the Sigma range they were most interested in the 7 and 8 for rural work and potentially the 10 for park-and-ride. Some of their routes are over 100 miles: "A 160-mile range would probably cover most requirements," they said.
Most of the contracts they run are for eight years, having increased from seven years in the last couple of years. Noting the pace with which technology is moving, Chris said: "If we don't want to take the risk [of buying] with fast-moving technology, it is always an option to hire from the likes of London Hire or Dawsonrentals, who will tailor to your demands.
"We have hired from both in the past and also purchased direct from Mellor. SCC is currently operating ten Mellor Tucanas on a mix of work: "Both drivers and passengers love them on rural routes," he said.
Steve Roberts and Matt Munford of Lincolnshire County Council were attending to see what was available, conscious that "diesel is a thing of the past and EV and hydrogen are the future." Their primary concerns were around price and range.
"It needs to be on the road 12 hours a day," said Steve. "As the range increases, it becomes more relevant." LCC currently runs Mellor diesel minibuses within its 51-strong Call Connect fleet which has capacities of between eight and 22 seats, the majority being at the lower end of that range. They could see a place for the Sigma 7 with Call Connect, but probably only the 7 in their internal fleet. After a test ride Matt said: "It was only a short distance but you can have a conversation with the person next to you. It's nice."
Anthony Lambell and David Fenton of Leicester City Council are currently working on a project to provide a city centre transport link service. They explained: "A lot has changed in Leicester over the years but we can't move the railway station to the city centre." They had not previously bought Mellor but do have contracted Yutong electric buses running on a park-and-ride service.
They said: "The Sigma 7 is probably just right for what we are looking for, with it being narrower and possibly making incursions into urban areas." They thought most operations that required a Sigma 10 sized bus would be commercial. Anthony commented: "I'm quite surprised how manoeuvrable it is, though I would have liked to see it going over a road hump. A lot of our road humps are bus-friendly, but this, being narrower, probably wouldn't be."
Peter Moxom of London Hire has Mellor product in both his own fleet and on lease to other operators. He is looking at Sigma 7 for a three-bus contract currently running with diesels. He revealed that two major funders were backing London Hire on five to 15-year electric vehicle contracts. On existing five-year contract hire deals he is happy to take back diesels and put in electrics for the difference in cost and "would definitely accept Sigma for that."
He told Bus and Coach Buyer: "We definitely have to rethink transport for the future because it can't be done as we are doing it. I don't know all of the answers but we are in a good position because we operate 150 routes, so we know what the problems are."
New Head of Sigma Sales
Richard Matthews, Head of Sales – Sigma, is new to the team since the December launch having previously spent many years with ADL.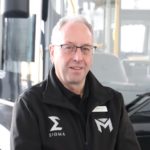 He was delighted with the number and calibre of visitors attracted to the two events which he believes shows what a convincing package the Sigma represents and the regard buyers have for Mellor.
He said that a lot of operators were looking for alternatives to what they had previously purchased and that the Sigma provided clear advantages in what it offered them, particularly the cost of ownership. Another area he highlighted was Mellor's willingness to provide the specification each operator wanted, something that was not always easy with manufacturers focused on producing in large batches.
Richard joins National Sales Manager, Stephen Haywood and Area Sales Manager, Jane Dransfield on the sales team.
Export
Speaking to Gustavo Marqueta, Mellor's Business Development Director, who joined from ADL last summer, he revealed that a Sigma 7 customer order had already been received for supply to Sweden. It will be delivered later this year.
BK Invest has been Mellor's dealer in Sweden since 2017 and around 20 vehicles have been supplied to date including Strata, Orion low floor and four Orion E electrics.
Mellor will not be exhibiting at the IAA but already has a left-hand drive Sigma 7 demonstrator in build and this will be followed by a Sigma 8. It will shortly announce the name of a distributor for the German, Austrian and Swiss markets. The company is also talking to potential dealers in Benelux and Southern Europe. In addition Mellor is looking at offering the full range in the Canadian market where a distributor has been appointed and will be announced in the near future.
Infrastructure
The London Borough of Hackney has been a pioneer in electrification with 75 electric light commercial vehicles in its fleet.
The latest deliveries are the fifth generation of electrics operated since the first were purchased in 1998, though it has no electric buses yet. Norman Harding, Hackney's corporate fleet manager and his colleague, Terry Kearney, told me they thought the Sigma was clearly well designed for service bus operation but that, for the council, they "don't work." They said most of their bus work involved carrying passengers in wheelchairs and they did not think side loading was the best solution for this, preferring rear loading.
"I think they are good products and I can see them doing well. The narrow one with the smaller body I think will fit the bill very well as a service bus for urban operations," said Norman. 'I thought the Sigma 10 drove really nicely, the Sigma 7 was a bit bumpier." Despite reservations about Sigma for their applications, they remained enthusiastic about Mellor, saying that the company had come back to them with suggestions on how it could be modified to suit their purposes. Hackney is currently running 30-seat Mellor Maxima Iveco Daily 72C17 diesels, and when these come up for replacement, they will talk to Mellor about a BEV version of that with the Sigma 7 driveline.
Both stressed that the change to electric is not just about the product, it is as much about the infrastructure: "It has become very clear that the grid is a finite resource and although a survey today may say that you are good to go, if you are not first in the queue in terms of installation you may find that capacity is no longer available.
"Other people are looking to do the same thing and if you are on estate with several fleet operators that is quite a possibility," said Norman. He also urged careful thought about where you would be parking and charging vehicles and raised the issue of the rapid pace of technological improvement.
Illustrating the last point , he said that Croydon has a depot that is around seven years old and was built with electric operation in mind. When electric vehicles were bought, he had thought that all that would be required would be the replacement of three-phase industrial plus points with Type 2 plug-in points, but found that the original cabling no longer met the current electric vehicle standards so it had to be replaced: "I have experienced that sort of obsolescence several times," said Norman.
Last word

Operators I spoke to seemed impressed with the vehicles, particularly for bus work, though there were reservations expressed from those whose operations are currently reliant on the rear loading of wheelchairs, writes Stuart Jones, Founding Editor of Bus and Coach Buyer.

That said, the audience on the day I attended was primarily Local Authority led, and it's fair to say these customers have a particular requirement for wheelchair accessibility that Mellor cater for with their all-electric Orion E and existing range of diesel vehicles. Mellor was encouraged by the success of the event which is a further step towards getting the new Sigma range to market.

Group Marketing Manager, Rachael Buckley commented: "We received positive and constructive feedback and the turnout exceeded our expectations with more than 55 operators attending over the two days." We won't have long to wait for production vehicles with the first deliveries promised by the late summer.