It started with a Chevrolet: Dudleys, from start to finish
On the eve of the departure of Dudleys Coaches from the coaching scene, Stuart Jones visits Chris Dudley to chart the operator's beginnings and progress to one of the country's best-loved operations
To see a gallery of images of the fleet, just click on the main image above and move right or left
The business was started by Chris's father, Ernie Dudley, a motor mechanic, in July 1938. He had completed an apprenticeship with the Austin dealers, Morralls of Evesham, and subsequently worked for Ford dealers, Coulters, which explained his preference for the Ford brand in the early years. It wasn't initially a coach business but a retail garage supplying petrol and undertaking maintenance. Sidelines included selling crop sprayers and activities related to the fact that there was no mains electricity locally at the time, such as selling paraffin and charging the accumulators needed to run radios and other equipment. The site was and is known as Poplar Garage because three huge poplar trees stood opposite it until the local farmer chopped them down 20 years ago. 'I was furious,' Chris recalled.
The move into coaching came in January 1953 when the Hugh Stanley in the village of Rous Lench wanted to retire. Ernie acquired his school run from Abbots Morton to Rous Lench School along with a 1931 Chevrolet seven-seater that he continued to operate for a further two and a half years. More contracts were acquired starting with a minibus run from local villages to Prince Henry's Grammar School in Evesham which was taken on the condition that it would also carry Chris's oldest sister, Susan. Chris is the youngest of four and joined the company in 1968 when the fleet strength stood at eight. His elder brother John, like his father an excellent mechanic, emigrated to Australia in 1970 and runs trucks. Younger sister Diane, who still lives down the road, has worked for the company on and off over the years, latterly on a part time basis dealing with the agents who sell excursions. Her son, Darren was employed by Dudleys for a while before realising that, 'computer programming was a much more desirable career.'
Chris worked alongside his father and mother who taught him what they knew, especially on the mechanical side, but despite 15 years running it on their own there were many aspects of operation about which they were somewhat naïve. It was three very different local operators that were Chris's main coaching mentors in his early career. The first was Harry Leach of A.E.Marsh of Harvington, trading as Black & White. An ex-military man who believed everything had to be done by the book with polished shoes. Chris credits him with teaching him how to do the job properly. Second was Graham Harris of Catshill near Bromsgrove, who passed on his immense enthusiasm for the coaching industry, while Syd Strain of Royal Motorways of Redditch was more in the Harry Leach mould, a quiet and subdued man who provided a lot of help and shared his sensible approach to coaching. An example was the company accepting a school run to a private school in Worcester without realising that a licence was required for it. Midland Red objected but with help from the well-qualified parents, who were unhappy about their children having to walk across Worcester if they used the Midland Red, an application to the traffic courts proved successful and a licence was granted. It was with the help of his mentors' knowledge that the express licence was later changed to a stage carriage licence enabling FDR to be claimed and later Bus Grant too.
Always more interested in the coaches than the retail side, Chris moved away from petrol sales and later gave up outside maintenance other than a little for other operators. There was something of an aberration when his father 'was persuaded to buy' a motor factor business in the late 1980s, but this only lasted a couple of years.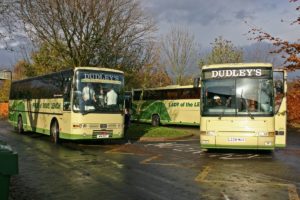 Although Chris has twice served as Chairman of the West Midlands region of CPT, Dudley's has never been an especially high profile operation, instead getting on with the job and doing so to a high standard that earned it regular repeat custom and the high regard of other operators. There were some significant moments along the way, notably the acquisition in 1986 of Royal Motorways of Redditch. At the time the Dudley's fleet stood at 12 and was run by Chris, his mother and sister Diane from his parents' house. Syd Strain contacted Chris to ask him to meet him at his house where he unveiled his plan and how he envisaged it working. The family went with it and a deal was done at the Easter of 1986. Neither group of employees was told of the sale and Syd continued to run Royal, renting the coaches off Dudley's, until the end of the summer term, with the fleet returning to the Radford premises on the last day of term. Three Royal drivers were taken on. Overnight the fleet grew to 18, later reaching 22 (with 21 licences) at its peak. It had been Syd's intention that the Royal name would disappear, but a couple of weeks after the takeover, before any of the coaches had been repainted, he changed his mind and suggested keeping it, and at least one, currently two, Dudley's coaches have carried Royal Motorways name and colours ever since.
A further acquisition came in 2001, the year after Ernie's death, when Redditch based Kingfisher Travel was purchased along with four assorted vehicles, two of which passed swiftly to other operators, though two were retained. In the event, this second acquisition did little to enhance what Dudley's already had and the name was not perpetuated.
Vehicles
After the initial Chevrolet acquisitions were mainly Fords, Bedfords and sometimes Commers, though there were a few oddballs such as a Plaxton bodied Sentinel STC6, a Churchill bodied Austin K8 and a Reading bodied Karrier. 'Dad would buy anything that was cheap,' said Chris. There was also a rare Ford 530E with K.B. body, only five of which were made; 'We know why,' said Chris. He recounted how his mother would never turn a job down and accepted a private hire from a school that also involved taking the party's canoes. To accomplish this Ernie constructed a makeshift roof-rack for the Ford 24 seater and thereafter it leaked and nothing anyone did would stop it leaking.
The original livery was red and cream, a new Reading bodied Karrier delivered in 1960 had a one-off black and silver scheme, a short lived lilac and cream combination followed and then coaches were blue and white until the purchase of the company's first ever brand new full sized vehicle, a grant specification Plaxton Supreme bodied Ford R1114, in 1976. While visiting Plaxton, Chris saw a coach in build for Beeline which he liked, resulting in the adoption of the two-tone green colours still used on most of the fleet today. The exception has been that, since 1986, at least one coach has always carried the white, blue and red of Royal Motorways, in order to maintain the name. The latest versions of the schemes were designed by Rob Melville, who Dudley's used to take to school, in 1999.
Two more grant specification Fords were acquired new in 1979 and 1982 but in 1984, as a result of Ford moving away from the coach market and Chris having a hankering for a Volvo, there was a move to heavyweights. A DAF powered Bova Calypso had been considered but W.S.Yeates had a stock batch of Volvo B10M Duple Caribbeans on offer at very little more and this option won the day. Dudley's would have preferred one of the stock white ones painted in their own colours but the one with the best specification seats carried a metallic blue paint scheme applied by Duple for a Yeates show. This was purchased, retaining the colours for many years, before getting the two tone green and staying in the fleet until 2000. 'I daredn't have had the inferior seats because I couldn't have faced Graham Harris. My life wouldn't have been worth living,' said Chris.
There was never any regret about opting for Volvo and, with the exception of coaches acquired in takeovers and a few Dennis Javelins, nearly everything full sized bought since has been from the brand. The Royal acquisition had brought with it a number of Leyland Leopards, 'which shows Syd didn't get everything right' joked Chris, though he admits 'it was really Tigers we didn't get on with.' The Kingfisher deal saw an unusual Volvo-engined Bedford and a Leyland Tiger Paramount 3500 join the business for a while.
There was quite considerable expenditure in the fleet between 2010 and 2012 with the idea that everything would be paid for by 2016 when Chris reached 65. Three brand-new and a couple of late used coaches were acquired in this period and in the eight years since only two further acquisitions have been made; a 2009 Plaxton Cheetah and a 2009 15m Volvo B12M Plaxton Panther 71-seater, which means that none of the current fleet meet Euro6 emissions levels. There was slight downsizing from 17 to 15 in 2018.
When I visited the fleet strength stood at 15 when I arrived and 14 later that day when Dave Morris of Bromyard departed with a 2003 Toyota Optimo 18-seater. A couple of other coaches have been sold since and the oldest coach owned, an M-prefix Volvo B10M Plaxton Premiere, will go to 21-year-old mechanic, George, when the doors finally close. Another, slightly later, Optimo remained along with a Plaxton Cheetah. Everything else was Volvo, mostly with Plaxton Panther, Profile, Premiere or Excalibur bodies but with single examples of the Volvo 9700 Prestige Plus, Van Hool Alizee T9, Jonckheere Mistral and the 43 seat Sunsundegui Sideral 50 on a short B7R chassis.
A distinctive aspect of the fleet is that most coaches carry a name with a local connection. This started with in 1984 with the Caribbean which gained the name 'Inkberrow Cruiser' to help distance the business from another West Midlands coach business with a similar name. The titles all derive from local villages or hamlets including Tanworth (where Ernie was born), Flyford Flavell (where Chris's mother was born), Inkberrow, Radford, Dormston, Kington, Hanbury, Cowsden, Feckenham, Rous Lench and The Lenches. Some have now been used several times carrying a number after the name to indicate the fact.
Asked what his best memory in the business had been, Chris said, 'without any doubt at all taking KJF (a 1999 Volvo B10M Plaxton Excalibur) to the UK Coach Rally in Peterborough and winning two trophies, Best Volvo and Best Uniformed Driver. It was perhaps insignificant in the grand scheme of things but for me, as a local operator competing in that competition, it was a bit like Lewis Hamilton winning his seventh world title.'
He wasn't sure about his biggest mistake over the years but recalled a trip to the Don Everall dealership when they weren't sure what they wanted. Chris spotted a Bristol LHL with no engine and the gearbox sat on the floor that was otherwise nice and persuaded his father they should buy it. 'I suppose it wasn't a mistake in the end' he said, because it was towed to Radford, an engine was sourced and it operated for three years before being sold for more than had been paid for it. 'It was the only Bristol we ever owned: once bitten,' he said.
With the closure Chris will continue the process of trying to sell the rest of the fleet, though he recognises that the effects of Covid mean that what he manages to raise will be less than he might otherwise have expected, probably considerably so. He commented, 'I don't have an extravagant lifestyle, so fortunately I'm not dependent on the sale of the vehicles for my pension, but what I do realise will top my pension up.'
Future
Chris was born in the house next to the yard where he lives today and has no plans to sell the site for redevelopment or continued operation, because, 'if I redeveloped I'd have to move'. He joked about perhaps turning the workshop into a badminton court but in the short term it may be that he rents the premises out. The 1976 Ford Supreme is still owned and kept elsewhere and there is a possibility Chris will get it back on the road after retirement, 'but don't hold me to that,' he said.
Beyond spending some time in Vietnam with his wife's family, he insists he has no particular plans for retirement, saying, 'I'll take it as it comes,' though he admits, 'I can see me being talked into a bit of school bus driving for local operators. I still drive every day – it's what keeps me sane.' He enjoys motor racing of all kinds as well as music and hopes to experience more of both as well as, 'seeing a bit more of the world.' His wife, Mai, welcomes him making the decision to close down and has been very supportive.
Looking back he says, 'the industry has been good to me. I've enjoyed it and it has given me a comfortable living. I've not made the rich list, but that was never my intention.'
Fleet List

(As at 17 November 2020).

CR12DCR Volvo B9R – Plaxton Panther (53)

CR61DCR – Volvo B9R – Plaxton Panther (57)

DC10CED – Volvo B12R – 9700 Prestige Plus (49)

YN09KHP – Mercedes-Benz O814D – Plaxton Cheetah (29)

SW09UMD – Volvo B12M – Plaxton Panther (71)

FJ08FYS – Volvo B7R – Sunsundegui Sideral 50 (43)

BX57AMK – Toyota Optimo (22)

PR06BET – Volvo B7R – Plaxton Profile (70)

CN04NFF – Volvo B12M – Plaxton Panther (49)

BU03SXJ – Toyota Optimo (18)

GO52END – Volvo B12M – Van Hool Alizee T9 (51)

FP51EUJ – Volvo B12M – Jonckheere Mistral (53)

NUI6121 – Volvo B12M – Plaxton Panther (53)

S577KJF – Volvo B10M – Plaxton Excalibur (53)

M750VYB – Volvo B10M – Plaxton Premiere 320 (57)