Is EVM on Trend?
Let's face it. You can buy a factory-built minibus for just north of £40,000, so what makes EVM's Trend 17-seater worth almost £9,000 more? We took a look to find out
Road testing Sprinter-based conversions is always a slightly depressing exercise for the Bus and Coach Buyer team.
There's a reason that it's considered the best base vehicle on the market and, arguably, in its new guise with a raft of new electronic tricks, now even better. The reason is that Mercedes-Benz has a pretty good handle on what works, and a factory that repeats the formula to perfection.
It's a bit like hearing a kafuffle across the street and, curious to see it, being greeted by a police officer saying: 'There's nothing to see here. Move along.' Every Sprinter we've road tested has been the same, at its core. What EVM has done is brought a few finishing touches which make it more minicoach than minibus.
The base vehicle is the VS30 414 L3 H2 Sprinter with a 4.15 tonne GVW, which in Mercedes-Benz' hands, as the Transfer 35, has 14 saloon seats and two up front. Converted by EVM, the sliding centre door is gone, gaining seat spaces, and loses the front 'passenger' seat so it can engineer a three-step passenger entrance through the existing door, with decency screens and handrails in a coach style.
The ex-factory Sprinter has perfectly decent seats but a slightly Spartan interior. EVM sprinkles a bit of stardust in the saloon, with full-length overhead racks, improved seats and new flooring. It's a package EVM has crafted from its experience of producing its premium minicoach range.
But would it tick all the boxes for our coach operator road tester?
Exterior
I hope EvoBus can forgive me for comparing Transfer to the Trend; you might argue they are different products for different markets, and that may, in fact, be the point of the comparison.
Transfer is aimed at a broad market, including non-commercial users and hirers and is, of course, a versatile and tough minibus. EVM has, in effect, retained almost all of the structure of this capable vehicle and, externally, the main difference is the sliding door deletion, the addition of a typical EVM lower body styling kit, and colour coding the entire vehicle.
It would be pointless to describe the vehicle panel by panel; it's a very familiar product. The rear bumper of the test example had a step, but EVM says that's a bit of a one-off; the vehicle is usually ordered without this style of bumper. EVM's contribution – as you'd expect, well executed – gives the Sprinter a definite lift and a bit more wow factor. It has handrails left and right, the right side being attached to a substantial decency screen.
The most important change visible from outside is the new passenger entrance, which EVM achieves by cutting away the passenger-side floor at the front and installing steps. This ensures, of course, that the driver doesn't have to leave his seat and step into the traffic, walk round the vehicle and open the sliding door at every pick-up.
Our road tester quickly picked up on one option he'd specify – an electrical plug door – but for many operators, the original Sprinter door will be more than adequate; it's a good, wide door. If you want the power door, it's an extra £3,600 plus VAT.
Interior
The saloon is where EVM has outscored the Transfer, with a plethora of tweaks which, together, make the Trend a better product for commercial operation.
The Executive 110 seats in flat-weave fabric with 'virtual' leather bolsters and headrests are recliners with aisle-side armrests, and while the Transfer has exposed tracking, EVM has the tracking covered.
The seat pitch is very generous, with no compromised seat positions; this minicoach can accommodate 16 adult passengers and give them ample legroom. Aisle width is also generous.
The overhead rack with LED illuminated edge – giving lovely ambient lighting when it's on – is a practical depth to stow laptops and handbags, and braced at intervals which will prevent 'luggage slide' under heavy braking. It has no passenger service units but EVM has installed twin USB sockets at every seat position in the waist position.
The interior panels are finished in soft-touch velour over ABS mouldings. The original roof lining is retained. While we're up there, the Mercedes-Benz skylight emergency hatch is retained, plus the air conditioning unit, whose condenser pod on the roof is also OE.
We road-tested the Trend in a 33-degree heatwave and it stayed comfortable throughout. EVM is well-known for adding full-depth double-glazing on its other products, but the Trend's glass is the OE single glazing which reaches only to the cant rail. Importantly, the windows are set low; in this respect, Mercedes-Benz scores over some rivals whose glass is so high, vertically-challenged people like yours truly can barely see over the edge. Despite its smaller glass area, the Sprinter isn't in the slightest bit gloomy. My feeling is that privacy glass could be a mistake in this vehicle.
The original van doors at the back are retained. Between the doors and the rear row of seats, there is a useful storage area; not enough for more than a couple of suitcases, but good for oversized objects. Our test driver thought he'd probably add a towbar to the specification, allowing him to use a 750kg trailer. That's a £453 plus VAT option.
Driving
Mercedes-Benz takes all the credit for the driving experience of the Sprinter, and for the huge advances in its electronics package now available.
At great risk of repeating ourselves, the 'new' Sprinter at first glance appears to offer little more than some subtle restyling; dimensionally it's more or less identical to its predecessor, to the relief of converters, but the real advances in this minibus are signalled by the centrally-positioned multimedia screen.
It's Mercedes-Benz' new MBUX 'Hey Mercedes' voice command system, which controls audio and vehicle systems and can include Mercedes PRO Connect – a telematics package which includes driving monitoring, navigation and a great deal more. If you want to understand PRO Connect – which goes beyond the scope of this road test – visit
https://is.gd/bhJMrC and https://is.gd/HmD6Kb There's also a rather cheesy but useful video at https://youtu.be/PCokfiRe5vE
Outwith MBUX, the Sprinter has available a number of coach-standard extras, including lane assist, crosswind assist, automatic emergency braking, adaptive ESP and more besides. Drivers can use Android Auto and Apple CarPlay via the USB Type C cable, which may have increasing importance as operators get up to speed with the advantages.
After a keyless start, the Trend performed brilliantly: "It's a car driving experience," said the road tester. It has the seven-speed G-Tronic gearbox allied to the torquey 414 143bhp 2.1-litre engine and is spritely enough. The road tester said the new electrical steering system provided perfect weight and feel throughout the test.
Close-quarters manoeuvring was aided by excellent mirrors and a reversing camera which give a good sense of the perimeters of the vehicle. It had no discernible foibles. The tester has an earlier vehicle based on the old model Sprinter, and said he felt the transmission has been improved, delivering gearshifts more seamlessly than before.
For the passenger, it has a roomy and quiet environment. Noise levels are slightly higher at the rear than the front, and though this passenger felt the leaf springs gave a slightly bouncy ride, this is common on an unladen vehicle.
As I said at the start of this road test, it's a Sprinter, and devoid of any major issues, which is why it commands its position in the market.
Verdict
EVM's Trend is a very useful and likeable minicoach; it genuinely offers a better commercial prospect than the stock OE minibus.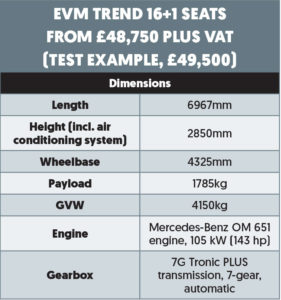 I'll be nit-picking, and say that the driver seat base presented to the passengers behind could do with tidying up; maybe some shroud to mask the steelwork and fasteners. There was a slight rattle at the back which EVM said would be picked up at PDI.
The attraction to operators of the Trend will be the drive and the high-quality nature of the vehicle – especially when using it for shuttles and tour transfers – but I suspect the attraction of a real-world 27mpg will also figure highly. Achieving this level of economy is easily possible with 414 Sprinters, which have a 'headline' 33mpg.
Of course, the Trend is designed at a price point, and adding extras will affect the 'From £48,750 plus VAT' price. For all that, we agree with our road tester that a towbar would be very useful – adding versatility for unplanned relief work such as airport transfers. Adding a power door would be nice, but every operator will have a view on this.
So, is the Trend almost £9,000 better than the OE minibus? Our road tester says it is, and I suspect that many operators will agree.