Ian Field takes the trophies in Bus Driver of the Year
Bus Driver of the Year for 2018 was a one-two for Stagecoach as the accolade went to Scotland for the second year running. David Cole reports from Blackpool
It was fifth time lucky for Stagecoach East Scotland driver Ian Field as he took the title at the 52nd annual Bus Driver of the Year event in Blackpool. Previously, he had always finished in the top 20 and entered in 2018 for the first time after a four-year break, seeing it as, "a good year to reapply and see what happens."
Ian, 39, has been based at the Stagecoach depot in St. Andrews, Fife for more than ten years, where his normal driving duties are varied although often include the depot's flagship route, the 99 to Dundee that is allocated fairly new ADL Enviro 200 MMCs.
His steed for the competition could not have been more different; the Wrightbus New Routemaster provided by RATP. Coincidentally, part of one of his awards includes the opportunity to drive a New Routemaster in London. As well as the BDoY Trophy sponsored by the Road Operators' Safety Council, Ian took home the Unite the Union award, the John Boxall Medallion as national champion (John founded Bus Driver of the Year in Coventry in 1967), the highest placed finalist from Stagecoach award and the best competitor from a depot in Scotland award accompanied by the Joe Mackie Shield. His prize money of £4600 also included the ROSCO award for the highest placed driver from a ROSCO member company and he also receives a TfL sponsored break in London.
Ian is passionate about improving driver performance and, alongside his driving duties, he is a 'Green Road Champion', promoting the benefits of the telematics system installed in Stagecoach vehicles and a 'UK Super Champion' for the company's Eco project. As tension built during the awards ceremony, Ian realised he had a chance: "When it came down to the last two and neither Stagecoach award nor the best Scottish award had been made, I knew I had a one in four chance of winning something but I couldn't believe it when they announced I had won. I was so shocked but incredibly happy. It was a very challenging competition but it was a great experience and I really enjoyed it."
Runner-up for 2018 was Anthony Quinn from Stagecoach West who was also top placed driver from a depot in England and runner up to the top Stagecoach driver. Stagecoach's success continued with Graham Hall of Stagecoach South East in fifth position and a notable five places in the top ten. Raj Viswanathan from Go-Ahead London took third place and Nicholas Graham from First Hampshire, Dorset and Berkshire was fourth. 2017 winner Adam Ksiazek from First Aberdeen finished just outside the top ten but excelled in the driver knowledge section of the contest, scoring significantly higher than his nearest rivals.
In all, 91 drivers took part in the 2018 event which involved a knowledge quiz and a testing drive in another operator's vehicle along Blackpool's foreshore where a number of the challenges had been updated since last year. Works behind the Metropole Hotel also necessitated a change in the turning location to the North Pier tramstop. After the rains and gales of recent years, the weather for 2018 was much improved, cloudy and still but warm enough to make trips on the open top bus popular.
The trophies were presented by retiring Traffic Commissioner for Scotland, Joan Aitken, who stressed the importance of the driver's role in promoting the industry while regaling some of her professional experiences with them, both good and bad. In particular, she was keen for high performing drivers to be recognised and all Scotland-based drivers who were successful in competitions such as BDoY received a personal letter of congratulations from her office. She also proudly wore her 'thank you driver' badge in support of a positive attitude to the profession. The awards were presented in the company of the Mayor of Blackpool, Councillor Gary Coleman, himself a former busman in the days of Leyland PD3s and Atlanteans, and the Mayoress, Councillor Debbie Coleman.
Download the full scores below
BDoY 2018 score sheet final version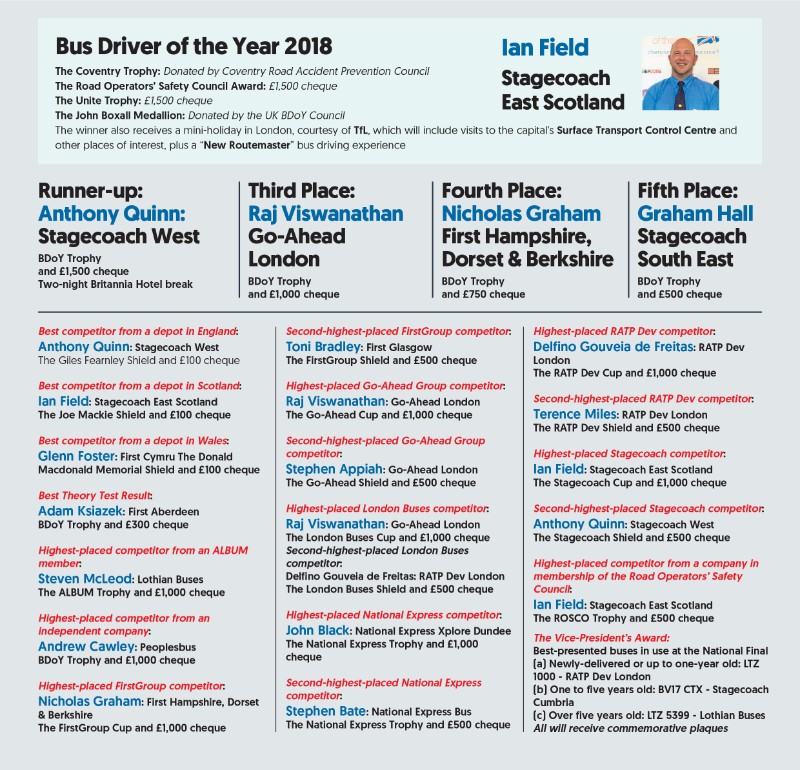 The vehicles
A noticeable change to BDoY in recent years has been the quality of vehicles provided for the competitors and most of 2018's turnout was straight from the current product catalogues of ADL and Volvo/Wrightbus, including one vehicle which had only entered service the previous day. Stagecoach provided no fewer than six vehicles with two each from First, Blackpool Transport and Lothian Buses together with one each from Go-Ahead, RATP and National Express.
Vehicle presentation standards are recognised in three categories by the Vice-President's Award, judged this year by retired Traffic Commissioner Chris Heaps. His task was eased in the over five-year-old category by there being just one qualifying vehicle. This was a former Metroline West 2011 Wrightbus Gemini bodied Volvo B9TL that has been fully refurbished by Lothian Buses to a standard that stood it easily alongside more recent vehicles. In the one- to five-year category where most vehicles were under two years old, Stagecoach Cumbria's open top Wrightbus bodied Volvo B5TL was a popular choice having probably carried the majority of visitors/passengers during the day. In the up to one-year category, Chris noted that "buses are of such quality that it is very hard to choose," before awarding commendations to the Wrightbus Gemini 3 bodied Volvo B5TL of East Coast Buses (Lothian) and the Blackpool Transport ADL Enviro 400 City. The top award in the class went to RATP Dev's Wrightbus New Routemaster LT1000, the last numerically of the breed which entered service in November 2017.