Getting a lift from VDL
Moseley Distributors does more than just supply vehicles, it can also modify them to meet customer requirements, and it has done this recently with a pair of 12.2m VDL Futura FHD, which it converted to meet DDI 1 and 3 standards.
The first coach has gone to Bay Travel of Cowdenbeath and it was so pleased with it that a second one was ordered and has now joined its fleet.
The decision to adapt the Futura FHD was in response to requests from customers for a coach with the flexibility to cover all types of work. There were three parameters the dealer worked to, including ensuring there was no loss of style, specifications or luggage capacity.
Proven reliability
Moseley Distributors decided to use this model for such a conversion due to what it described as the vehicle's proven reliability, as well as its lightweight construction. It also named its ease of maintenance, effortlessness to drive, good fuel consumption and what it describes as the best residual value in today's market as reasons for converting on this vehicle.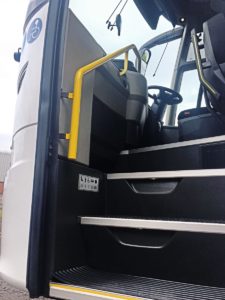 A PLS cassette lift system was installed in the vehicle, with all three Moseley companies contributing to the system during its development by VDL around 2013. The coach manufacturer and PLS designed the lift to fit. It is installed above the rear axle and mounted internally, avoiding road dirt and water ingress. The lift is located just above the rear axle and is designed so as not to interfere with luggage space. Two seats are removed to make the vehicle DDA compliant.
VDL installed the wheelchair access lift, while Moseley did the rest of the necessary conversion work.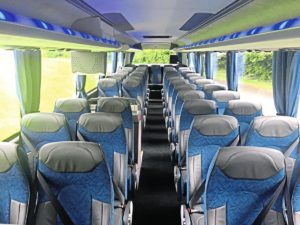 Jim Tweedie, MD of Moseley Distributors, said: "You would never know it had a wheelchair lift. The Futura is a reliable vehicle and has good fuel consumption. It is a very flexible vehicle and this adds to its flexibility."
This is the first time Moseley Distributors has made such a conversion. Jim said: "The first one took a week to convert here. The second one took three days."
The first of these coaches went to Bay Travel, a regular customer for Moseley Distributors, in March. It has proved popular for the operator and a second vehicle has now joined the operator.
The coach is capable of covering tours, private hire, service and schools combined with service and the facility to help disabled.
Iain Robertson, Joint MD of Bay Travel, explained why he chose the DDA converted VDLs: "We were looking at the market and VDL just looked like a better option. And Moseley Distributors are just down the road from us."
They're just beautiful coaches. All of our drivers and all of our customers love them, absolutely
Iain said other dealers tend to spread their focus on both truck and bus sectors, but complimented Mosley Distributors as being solely specialised in coaches. "With Moseley Distributors, they understand us."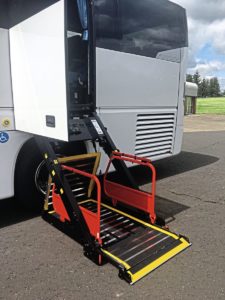 There is a real need for DDA compliance for Bay Travel. Iain said: "By 2020, all our school runs have to be DDA compliant."
Iain was very positive about the vehicles, saying: "They're just beautiful coaches. All of our drivers and all of our customers love them, absolutely."
They are currently being used on all of the tours Bay Travel does. The 11-year-old business is a repeat customer for Moseley Distributors, having purchased vehicles from them before.
As well as the 12.2m version of the coach, the 12.9m Futura FHD can also be converted to DDA 1 and 2 specification. The only difference is the fuel tank needs to be made smaller on the longer version; rather than a 800litre tank it will be converted down to 500litres. Despite this, there is no loss of luggage space, nor does it affect the entrance.
Although Bay Travel is the first to take these DDA compliant vehicles, Nick Armstrong of Moseley Distributors reports there is interest in them from other operators. They have been scouted out for possible addition to fleets for next season. Nick said: "We'll see how that pans out in the next few months."
Futuras in general have proved ever popular for the dealer, according to Nick. He said: "They have great residual value."
Nick added: "We don't just sell you a vehicle, we are all about developing relationships. We will look after you. We can do repairs and maintenance, to turn them around and get them back on the road. And you can always speak to the man at the top. The door is always open."
Supplier
Moseley Distributors – Rydenmains,
Condorrat Road, Glenmavis,
Airdrie ML6 0PP – 01236 750501