Fit for another 50
The pandemic has brought significant challenges to the industry and the industry has reacted in many ways. Some chose to give up, some to complain and others to plan for a better future. Alpine Travel of Llandudno took the latter route. Bus and Coach Buyer meets up with its Managing Director, Chris Owens, and Head of Sales & Marketing, Beverley Cooke, to find out more
CLICK ON THE TOP IMAGE TO ACCESS THE FULL GALLERY
It is a busy 50th anniversary summer for Alpine Travel and, arriving at their modern headquarters in Llandudno, it is clear that much of the fleet is out at work with little more to see than the back-up sightseeing vehicles and a few school coaches parked up for the holidays.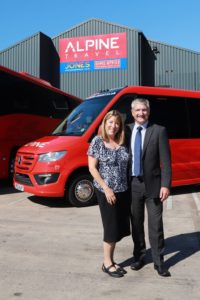 There's a warm welcome from Chris and his team as we head upstairs to his office and discuss the challenges and successes of the half century and how it has taken the impact of the pandemic as an opportunity to focus on its key competences and prepare for the future while, in Chris's words, 'never being afraid to do something different.' Involvement in fflecsi is a key example of the latter but Beverley was keen to point out the exceptional growth that has been driven in the Jones Holidays brand over the past year, taking it well beyond pre-pandemic levels.
From a few coaches in the Conwy Valley, Alpine Travel has grown to around 75 vehicles operating from three depots and engaging 92 staff currently, the highest number in recent years. The share capital of the business is still wholly in the Owens family, Chris taking over as MD when his father retired in 2007 although his parents remain directors. Chris' wife Sally is named as company secretary in her role as Head of Business and Finance. Beverley and Head of Operations, Terrance Jones, complete the management team. Terrance also oversees the engineering and compliance teams. Chris is really proud of the team and how they have risen to the challenge of the pandemic and come out with a positive outlook for the future.
Jones Holidays
Now the flagship holiday brand within the Alpine Travel operation, the involvement with Flint-based Jones Holidays goes back to 2004 when Chris agreed to provide a liveried vehicle to support Alun Jones' holiday programme. In 2010, this progressed to acquiring the Jones Holidays fleet and taking the company's driving staff on TUPE. In 2017 the core Jones Holidays Ltd business was acquired together with its office in Flint. Sadly, the much-loved Alun Jones passed away in May 2019.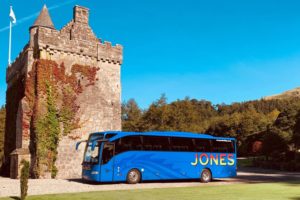 "Jones Holidays attracts a particular clientele base" says Beverley, "and they know what they want; we would not dare sending a red coach out for them. Satisfaction drives repeat business. The average Jones Holidays customer travels 3.8 times a year so we know the combination of door-to-door service, high-quality blue Mercedes-Benz Tourismo coaches and hand-picked hotels works for them."
Door-to-door service is facilitated by a number of Ford Tourneo people carriers that also play a role in staff development. Although this service effectively limits the catchment area to that currently targeted: Wirral, Chester, Wrexham and the North Wales coast, the company is finding a growing base of customers who are prepared to travel in to the area to join a Jones Holiday.
Marketing effort post pandemic has seen a focus on the coach being a clean, safe environment and building the expectation of what being on a Jones Holiday will be like. Already over 1,000 new clients have been attracted for 2022, building on 2021's growth to be well ahead of the equivalent period in pre-pandemic 2019.
Alongside on-line activity, Jones Holidays customers still expect the comfort of traditional marketing including a quality A4 brochure and the ability to book in person at a holiday shop. Adding to the existing presence in Flint, a second shop has recently opened in Craig-y-don, a busy suburban shopping area in Llandudno. In addition to the customer interface, the first stage of the new premises' renovation provides accommodation for Beverley and her team plus preparation space for the welcome packs for each Jones Holidays customer. A second phase is under way to deliver a training suite which will further relieve pressure on space at the main Llandudno depot.
Developing people
Chris sees significant benefit in training drivers from scratch and, at one time, the business had a dedicated training operation using a fully-branded coach.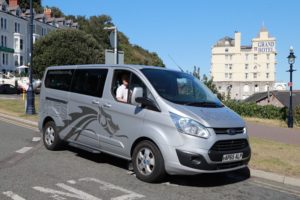 Now, the process starts with new recruits allocated to the people carriers used predominantly as feeders to the Jones Holidays tours. This gives the opportunity to assess their aptitude to customers and navigation while contributing to the business. PCV training is undertaken in parallel and once qualified, the new driver will transition to general coach work to gain experience. Tour drivers are then selected from within.
Attracting new talent to managing the industry is also a priority for Chris and, in January 2020, the company took on two graduate trainees who faced a baptism of fire as the business negotiated the pandemic. Adam Wilkes is now Private Hire Manager and Dan Cuthbert the Depot Manager at Llandudno.
City Sightseeing
After the sale of its bus operations in 1995, Alpine Travel started working with Guide Friday on a tour taking in Llandudno and Conwy.
This has continued into the City Sightseeing era and provides work for three open-top buses during the peak season, with two convertible vehicles available to extend the season from March to the end of October. A second City Sightseeing branded service, the Great Orme Explorer, has recently started with cabriolet minibuses that can be rapidly closed in the event of inclement weather. An in-house heritage coach tour is also operated in season around the Great Orme.
School buses
The home to school bus business once accounted for around 65% of the company's turnover but is now less than half of this, although still providing good stable baseline work. Volvo coaches are dedicated to the activity and many have been upgraded to 70 seats with seatbelts. Their deployment is continually risk assessed including during school trips in the recent unprecedented heatwave.
As an example, a booking for six 70-seat coaches to Blackpool was considered likely to deliver an unpleasant environment on board so the four 3+2 seated vehicles were replaced by six 2+2 seated vehicles, an extra cost but considered safer.
Coach hire
Alpine Travel is a CoachMarque member and has recently reviewed its coach hire processes following a mystery shopper review.
In addition to following up quotations more often, the business is looking at adding value to its offering to try and make the customer not just focus on the coach price. The company has a lot of experience in the added value market from its involvement with cruise ships that stop off at Holyhead and, to a lesser extent, Liverpool. On average, the clientele from two ships a week will be transported to destinations throughout Wales, with Alpine Travel managing the added value destination packages and using additional vehicles hired in as necessary.
Following the pandemic, the company has also instigated a day tour programme aimed at restoring the community's confidence in returning to coach travel and aimed at a clientele base different to that of Jones Holidays. Staycation has had a positive impact although low interest rates have meant older people living on investment income have less income. Fuel costs are similarly a double-edged sword – operating costs are increased but customers see the value in holidaying by coach rather than driving.
fflecsi
One of the outcomes of reviewing the business during the pandemic was to diversify into new areas of operation and the company placed a successful bid for operation of the Conwy Valley demand responsive travel (DRT) service.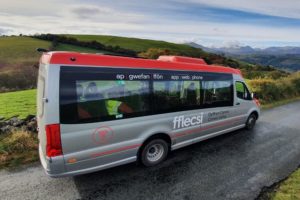 The vehicles are three Welsh Assembly (Transport for Wales – TfW) funded EVM low-floor Mercedes-Benz Sprinters supplied by Conwy Council and operated out of Llanrwst depot. The service regularly scores very highly in TfW's satisfaction ratings and Chris puts this down firmly to the quality, competence and flexibility of the drivers involved, "Fflecsi has to be run by a coach company and with coach drivers to deliver the best results."
Vehicle policy
Chris strongly believes in the benefits of standardisation across the fleet from both a maintenance and customer perspective such that, with the exception of heritage vehicles, two manufacturers' products make up all the fleet.
Mercedes-Benz has a prime role, the Tourismo being chosen for frontline coach operations alongside Sprinter and Atego-based smaller vehicles. The latter include two of the Noone Turas 900s which were initially operated in a silver variant of the current livery. The Sprinters are also from Noones, including a newly-delivered, high-specification 22-plate example. 2016 CarBus Cabrio convertible open-top Sprinters joined the fleet in 2017 and 2021 for the City Sightseeing Great Orme Explorer.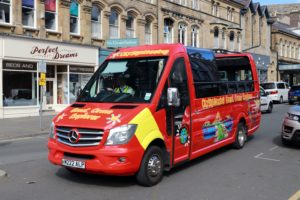 The Tourismos include both body styles and the majority carry blue Jones Holidays colours, one of the main fleet examples being lift-equipped and another branded for a 'Just Go' holiday contract. Chris cites the window pillar spacing, visibility, air conditioning and reliability for the continuing choice of the Tourismo. The oldest is over ten years old and still in front-line service every day.
Volvo products dominate the main coaching and school bus fleets, with Panthers of three styles in the former and a mixture of Panthers, Paragons and Profiles in the latter with most Volvo chassis types from the past 20 years represented. Alpine was the first operator to receive a Plaxton-bodied Volvo B9R although, like other early examples of this chassis, it has now left the fleet.
Many of the school bus fleet have been upseated to 70 in 3+2 layout with the work carried out in-house using seats produced in North Wales by Prime Passenger Seating. A standard Camira moquette is applied throughout. Several are lift equipped and the latest example to be thus converted by Lawton Services had arrived the day before Bus and Coach Buyer's visit.
In house conversions have also delivered the five Volvo B7TL-based open-top double-deckers that operate the Llandudno and Conway City Sightseeing tour. Since 2013, three Plaxton-bodied examples have been converted to full open-top to provide the complete experience when the weather allows. For inclement days and the cooler 'shoulder season,' two East Lancs Pyoneer bodied vehicles from London General have received a translucent roof in shatter-proof polycarbon and feature upper-deck windows that can be completely removed. The roof profile of these vehicles was adjusted during the conversion process to allow for the restricted clearance through Conwy.
A number of Ford Tourneo people-carriers are run to provide the door-to-door facility cherished by Jones Holiday's customers. The heritage operation, the 'Round the Orme' tour, provides daily work for one of the two restored Leyland Tiger Cubs in the fleet, the 1958 Duple bodied example is the usual vehicle with a tachograph fitted 1964 example carrying Harrington Cavalier bodywork as a back-up that is also available for wedding hires.
For many years, the company has also owned a 1954 Guy Otter that started life in the Llandudno UDC municipal fleet and would probably been a regular on the Round the Orme service prior to the council ceasing bus operations. The heritage vehicles carry a maroon and cream colour scheme inspired by the Llandudno UDC livery.
Vehicles are based out of three depots in Llanrwst, Llandudno and Rhyl, the latter benefiting from further investment during the pandemic when overspill parking facilities in Conwy Council's Llandudno coach park were not available. Most engineering work is carried out at Llandudno and, like most operators, Chris is finding challenges with the timescales in obtaining spare parts, particularly body panels where an alternative may be available if the suppliers staff have the appropriate knowledge. In this respect he singled out Peter Richardson of Evobus in identifying alternative cosmetic parts to repair a Tourismo where the system said the item required was unavailable, for example a plain wheelarch panel was only available on back order but an identical fit one with a hole drilled for a marker light was available off the shelf.
Trade associations
Chris is passionate about the benefits of trade associations, being a past President of Confederation of Passenger Transport and, from this year, a director of Coach Tourism Association.
He recalls: "Dad got me involved in CPT. He encouraged me to get out there and see what other people do." It emphasised the importance of building relationships with other businesses and developing self-help networks, recounting a problem his dad had in the company's very early days. He was taking a coach to Gatwick to collect a group when it broke down on the outskirts of London.
With only a telephone box for communication, he called a local operator who, to his relief, was very supportive in recovering his vehicle and loaning him the means to collect his group, 'all on trust.' That positive approach came from Roy Richmond of Epsom Coaches and its importance in being reciprocal with other operators has never been forgotten. Chris recalls his father saying: "That man saved my career."
Chris remains committed to CPT and sees the recent changes in the organisation as making it more fit for purpose in supporting members. He is also a keen supporter of Transaid, particularly, as a committed cyclist, taking part in their long-distance sponsored bike rides.
Looking forward
Beyond the challenges of growing the customer base and keeping the space between the driver's seat and steering wheel filled, Chris talked of two challenges that could lead to future opportunities.
It now seems certain that Wales' devolved government will adopt a franchising model for bus services throughout the Principality. This will bring significant change with limitations on the size of franchise packages and the pattern of award. In line with his commitment to explore all opportunities, Chris is happy to be involved with the concept, providing the units are sizeable and the business is able to commit the right resources to it. His main concern is whether the Welsh Assembly will have access to enough people with the right skill sets to deliver it successfully.
Decarbonisation is another matter, delivering it will totally transform the coach industry whether battery or hydrogen and Chris has a fear that it will take too long or be done in a misguided manner like PSVAR. The likely driving force, he considers, is the availability of diesel beyond 2030 as demand and refining capacity diminishes. Supply chain pressures will probably drive the change more than regulation, not just in fuel but also from developing and reskilling the required expertise as the current ageing engineering staff base retires. From an Alpine Travel perspective, Chris has already made a start with a plug-in hybrid car and the next stage is likely to be the depot vans and tour feeder people carriers.
After looking back at the positive business ethos engendered in him by his father and the customer ethos picked up from Alan Jones, Chris concluded with: "My father saw an awful lot of change in the first 15 years of the business' first half century and it is looking like the first part of the second half century will be similar."
A look back over 50 years

Back in 1972, Chris' parents, Bryan and Pat, bought vehicles from a Mrs Edwards that had been operated by R. O. Edwards and Sons in the Conwy Valley. They chose the name 'Alpine' reflecting the 'little Switzerland' nick-name given to the local area, applying it to the elderly mixed pedigree fleet from day one.

Using a name beginning with A brought the added benefit of an early placing in the Yellow Pages section of the telephone directory, then one of the primary means of advertising. Slowly the business grew and the initial vehicles were replaced, an investment aided by operating and providing destination management services for Saga Holidays from Llandudno and, later, Bangor University. In 1975 Hughes Brothers of Llanrwst and Trefriw was acquired and run alongside the Owens' own business, the operations being combined in the late 1980s using the Hughes Brothers licence trading as Alpine Travel.

The first new coach, a Moseley Continental (Caetano) Estoril-bodied Ford arrived in 1978, soon followed by further Fords with Duple and Plaxton bodywork. Deregulation of coaching in 1980 paved the way for the establishment of the excursion business from Llandudno and the acquisition of the Llandudno depot in 1985. The new depot provided the springboard for Alpine to introduce bus operations at deregulation in October 1986.

A network of local routes was built up, many in competition with Crosville Wales and adding to the portfolio of school bus operations. Stylish Optare and Iveco midibuses provided Alpine Travel with a USP in the competitive environment. A review of the business' direction saw the bus services sold to British Bus in 1995, the then owner of main competitor Crosville Wales. British Bus morphed into Arriva and a positive relationship has continued to be fostered leading to the establishment of an Arriva sub-depot within Alpine Travel's yard, which continues in use.

1990 brought the Alpine Grand Tourer brand on a pair of Duple 425 coaches, followed soon after by the white, red and green 'Dragon' livery ushered in on a Marco-Polo bodied Dennis Javelin. A large fleet of Bristol VRTs and subsequently Leyland Olympians was built up for school bus operations, all finished in yellow and replaced with coaches from 2012 onwards, following a Welsh Government edict that school contracts should not be operated with double-deck vehicles; a subsequent 2014 measure requires seatbelts in all school buses.

With the potential for loss of contracts when the local authorities announced a retender for them all in 2014, Alpine Travel acquired the Silver Star holidays business as another route to the travel market, running it until 2017. Despite those initial concerns, Alpine were very successful in the block tender process and mastered a challenging three-week mobilisation programme to deliver the additional commitments. In 2016, Hughes Bros Holdings was formed as a holding company for the various aspects of the business.

Recognising that there was no longer a clear definition between these various aspects, a rebranding exercise, particularly differentiating the quality coaching business took place in 2017. The new, predominantly red, livery has been designed by Sid Madge of local brand-building business Mad Hen and was applied in a focussed campaign by Lawton Services. A common format and typeface is used across all operations, retaining a subtle dragon motif as a link with the past. School coaches retain a white base and Jones Holidays vehicles are blue.  In April 2019, the business of Abacab in Conwy was acquired.