FirstGroup buys Ensignbus
FirstGroup plc has agreed to buy Ensign Bus Company Limited, the Essex-based operator founded by Peter Newman which has extensive operations around London.
The acquisition of the Ensignbus business will not only provide a number of synergies and value accretive growth opportunities in the B2B and bus vehicle dealership markets, but it will also enhance the FirstGroup's local commercial bus operations in Essex, says the buyer. Ensignbus is to retain its heritage fleet, but is selling its bus dealership and engineering in the deal.
Ensignbus' commercial bus operations comprise two B2B segments that include rail replacement and private hire contract operations and a local bus route network complementary to First Bus's operations in Essex. The business has a young vehicle fleet of 55 buses that will require limited capital expenditure for several years.
"In addition to its commercial operations, Ensignbus has a vehicle refurbishment and re-sale business that purchases used vehicles and refurbishes to modern standards before re-selling. This will benefit First Bus and the wider UK bus industry as the oldest, most polluting diesel buses are taken out of service. It is anticipated that the market for the resale of lower emission used diesel vehicles will continue to remain robust in the medium term, followed by the emergence of a similar market for the resale of zero emission vehicles," says a FirstGroup statement.
"If the acquisition completes before the Group's FY 2023 year end, the Group anticipates a year end adjusted net cash position (pre IFRS16 and excluding ring fenced cash) of £70-80m, reflecting the ongoing buyback programme and the timing of net capital expenditure and working capital flows."
Graham Sutherland, FirstGroup Chief Executive Officer, said: "The acquisition of Ensignbus, a long-established, high-performing business, will allow us not only to grow our B2B offering but to also enhance our operational footprint in Essex, and we look forward to welcoming Ensignbus employees to the Group. This is a strategically and financially accretive growth opportunity for us, and one that is fully aligned to our balanced capital allocation policy."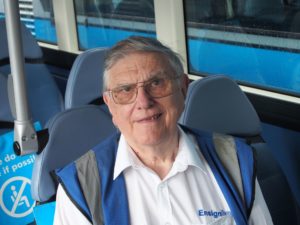 Peter Newman, Ensignbus Chairman, said: "I want to thank all of our employees at Ensignbus for their ongoing hard work to deliver great service for our passengers across all of our communities in Essex, and we will be supporting them fully as they move to their new employer. We're pleased that First Bus, with their reputation for customer service, innovation and sustainability, will take the Ensignbus business forward as a going concern and we wish them a successful future. We will continue to serve our communities and operate our network as usual until the completion date."
Peter Newman, now 83, and his sons Ross, 52, and Steve, 50, will leave the business when the deal is completed. Speaking to Bus & Coach Buyer, Peter said: "Our remaining task is to find a depot for the heritage fleet of buses."