Fenn Holidays – Nailing down costs
Fenn Holidays has become one of the first operators to sign up to a new maintenance deal for its fleet of Van Hool coaches. Bus & Coach Buyer pays a visit to the Cambridgeshire operator . . . then chews the fat with its charismatic proprietor, Peter Fenn
Fenn Holidays of Cambridgeshire has been among early adopters of Arriva Bus & Coach's fixed-price maintenance packages.
A renowned Van Hool customer, Fenn Holidays has a small fleet of four 14-metre TX17 Astrons which are exclusively run on tour work, with destinations throughout the UK and Europe. With experience of coach touring going back to 1988, the established company says that, among the keys to its success, controlling costs to eliminate the 'surprises' is served well by the package.
Bus & Coach Buyer caught up with Directors Peter and Margaret Fenn at their smart and welcoming business premises in March… out on the Fens, appropriately enough. It has a large, rural catchment which, on the face of it, wouldn't seem to have the potential to maintain a group travel business. But it does, and the quality of its work has won numerous awards.
Fenn's holidays offer a door-to-door package with feeder minibuses or, if customers prefer, secure car parking at the depot. The attention to detail is impressive, with a tour waiting room among the smart, mainly new, buildings on the site. Indeed, the site is still being developed, with a new workshop with 15-metre pit being installed, together with the repositioning of parking to the rear of the paved area.
Staying one step ahead of the pack has been Fenn Holidays' stock in trade, adding value whenever possible to tours and keeping its focus on what it does best. It's a market always on the move, explains Peter.
"For example, Brexit has had a big effect on our European tours; always our biggest seller. That's why we have just 48 seats on 14 metres, a servery and have run Van Hools; they're all about the ultimate comfort on a long journey," he says. "The effect on loadings is that where we used to get numbers up in the 40s for European holidays, they are now around the 20s.
"In the round, we've had some very good years since 2010 and overall, passenger numbers are only slightly down on the same time last year. The UK market has taken up the slack of lower bookings for European trips, although the margin is generally lower."
The Brexit effect has included passengers calling to ask Fenn Holidays whether their passport is still valid: "It's a general nervousness about travelling to Europe," said Peter.
A browse of the Fenn Holidays brochure reveals prices which confirm that it's a company which still avoids cheapening the coach tours product: "We're more expensive than almost everyone," Peter admits. For example, a four-day North Devon tour which ran in late May was priced at £529 – a margin more expensive than many tour operators. The advantages, Peter explains, outweigh the temptation to 'buy' business on price.
The holidays use great hotels, include a tour escort, porterage, half-board, all excursions and, of course, the luxurious coach travel. Holidays are 'door to door' using Fenn's own fleet of near-new minibuses to bring customers to boarding points. Cannily, Fenn also offers up to £20 discount for people who'd prefer to drive to the Fenn HQ and join tours at the start. Additional tour price discounts are available for customers who book multiple tours during the year.

Sensible margins have helped Fenn develop its premises with a smart front office and reception and everyone travels with the reassurance of the Confederation of Passenger Transport's Bonded Coach Holidays package travel cover. Of course, running a quality operation helps ensure the company can attract and reward well-motivated staff.
The 'care package' for Fenn's driving and office staff includes a regular get-together and even the office staff are encouraged to travel on the company's holidays, to get experience of the product and to enjoy themselves: "I have a phrase that we're 'Family run, reflecting family values'" said Peter.
"We have a great driving team," he adds. One attraction for them is the dedicated, predictable work: "I did see one operator advertising that all drivers would have at least five days' notice of work patterns. To be fair, that is in the nature of the work the operator has, but our drivers know where they'll be two months ahead, barring emergency cover.
"We pay well for the area, and my drivers end the year with between £30,000 and £35,000 salaries, and the nature of the work sees them get good gratuities. I don't expect drivers returning from tour to wash coaches."
Marketing bodyswerve
Whereas Fenn Holidays used to heavily depend on local newspapers for its marketing, the focus is now on social media.
"I'll admit to being a bit of a Luddite," said Peter. "Thankfully, we have a great team here who manage our Facebook page and create and send our e-shots. The regional newspapers are either becoming ineffective or they've gone."
These days, Fenn Holidays maintains a mailing list of between 25,000 and 30,000, and sends almost 10,000 brochures out, twice a year; Spring/Summer and Autumn/Winter tours are offered in the two brochures, both produced by Mark Annand's team at TCD Design and Print. The response rate to brochures is carefully monitored and, if a customer on the mailing list hasn't booked a tour for three years, a card is sent to ask if they still want to get the brochure.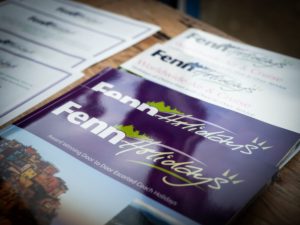 "I don't really subscribe to the 'silver surfer' theory that older folk are up to speed with on-line business," says Peter, who added that although every booking form prominently asks for an email address, so far they have only 2,500 on their list for e-shots: "That said, for those customers, e-shots are effective."
An early adopter of Distinctive Systems' software, Fenn Holidays maintains all bookings and tours through the package but does not use its website function, preferring to elicit telephone calls and send booking forms.
Many of the holidays in the brochure are favourites, using hotels Fenn has tested itself. It insists on its customers sharing the restaurant with everyone else and having a table d'hote menu with choice, despite this not always being easy to ensure. Although many of the holidays are created at Fenn Holidays, it also uses a variety of tour wholesalers.
Part of the mix is a number of air/cruise products sourced through the Consortium of Independent Tour Operators (CITO) which are marketed with a dedicated brochure. Fenn's part of the holiday is taking customers to the departure point.
Fleet management
Fenn Holidays has always been known for its investment in high-end coaches with exceptional legroom, and the current fleet of Van Hools reflects the philosophy.
In the past, explains Peter, Fenn ran a significant number of schools routes and private hire, and maintained vehicles in-house. The decision to concentrate solely on holidays – and the resultant reduction in fleet size – made this approach redundant, and it has for some time sub-contracted its maintenance.
An operator purely of DAF product since the 1980s, this meant Fenn sending its coaches to a DAF agent, and Peter says this worked very well, with DAF Aid abroad a particular attraction. However, Arriva's development of the Wellingborough facility and the addition of a fixed-price maintenance deal persuaded Peter to look again at the arrangement.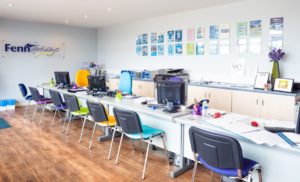 "The DAF dealers were good, but it's still a fact that coaches and trucks are different beasts. While the engine and driveline may be familiar to technicians, many features are exclusively coach. Arriva Bus & Coach does know about Van Hools, and have been our parts supplier, with the result that we have developed a great relationship with Wellingborough.
"They approached us, and came up with a very good package. It's a simple vehicle/month to cover routine servicing. Arriva collects and delivers the vehicle and the journey time is similar to our previous service provider, plus they have mobile technicians.
"I've been very impressed with the service, and in particular by Jason Hawkins, who is our main point of contact at Wellingborough. And, of course, they have a hire fleet at Arriva should we need a replacement coach."
The package is based on estimated mileage – which Fenn can very easily predict, given its operating profile – and has a six- to eight-week 'window' for routine servicing to reflect the tour pattern. Payments are made by standing order: "I think ourselves and Arriva Bus & Coach are on a learning curve with this," said Peter. "We're going to have a review at the end of the year but so far, it's working well."
The deal includes parts discounts and good labour rates for work outside of the maintenance regime. Clearly, the high Van Hool parts stock at Wellingborough ensures rapid turnaround: "As with all things in this business, it's about developing a good relationship, and with Arriva, we have that."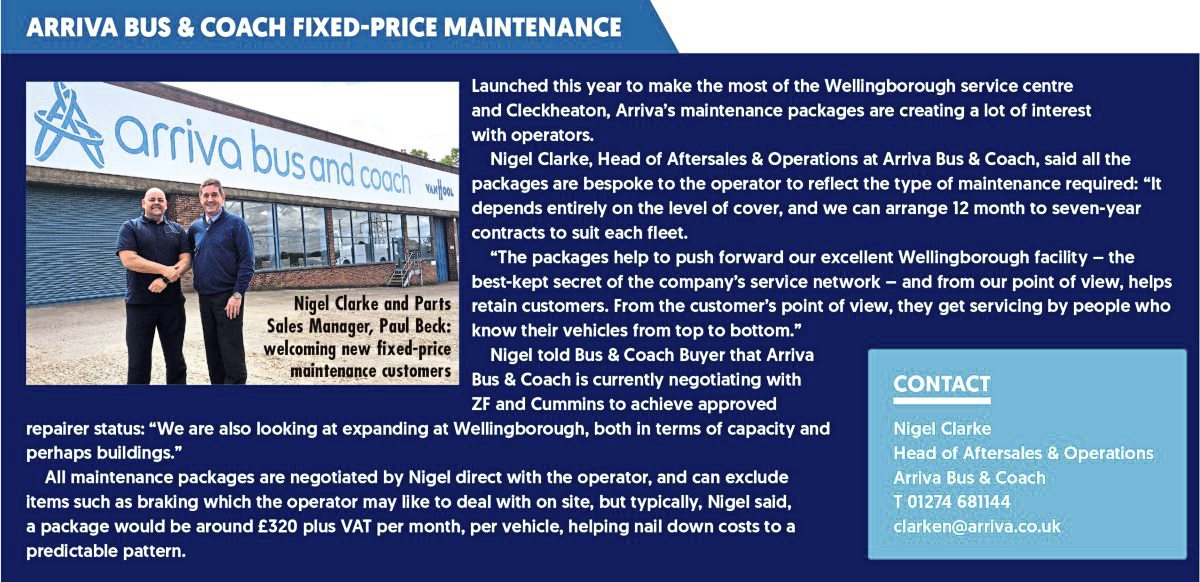 Premises being developed
Although Fenn Holidays now sub-contracts maintenance to Arriva Bus & Coach, visitors to the premises will witness diggers and a new maintenance building.
Peter and Margaret Fenn, having spent four decades or more at the helm, are planning to reduce their hours and, with no succession plan in place, Peter felt that the business would be completed for the next owner with a good workshop.
At the time of our visit, the building was up, with two ample bays and a new 15-metre Premier Pits pit heading for completion. Additionally, the hardcore for a large extension to the paved area was being delivered, while other machines were levelling the area to the rear of the site.
This will become new dedicated tour customer parking, Peter said, providing a large area for coach movements within the yard.
Not that I came away with the impression that Peter is going anywhere soon, apart from on his own tours every now and then. His enthusiasm for coach touring (though tempered with the reality of a difficult industry) seems to show no sign of abating. As is evidenced by the building work, he's still looking forward to the future and, while Fenn Holidays exudes a tradition of old-school values, it's still making strides towards ever-better quality. With or without Brexit . . .