Don't miss the latest issue…
Busworld, exclusive pictures and more in the latest issue of Bus and Coach Buyer
Busworld gave visitors a fascinating insight into the latest innovations across the bus and coach sector. Explore the new vehicles and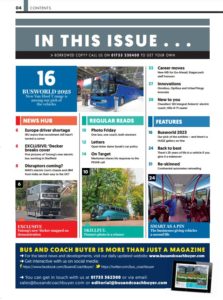 technology on display at the Brussels-based exhibition in our extensive coverage in the latest issue of Bus and Coach Buyer.
Having only just made its debut at Busworld, Yutong's U11DD electric double-decker is now being trialled in service in Sheffield and Bus and Coach Buyer brings you exclusive images of it in service. You can only see this in the news section of this week's magazine.
Our jam-packed issue also includes an interesting insight into Continental's tyre retreading plant in Devon, news on the driver shortage issue and a focus on the industry's vehicle refurbishment specialists, plus much, much more.
The online version of the magazine can be viewed here and the paper copy arrives from today (20 October 2023).