David Morris: 'Just a little country lad' RIP
Hearing the sad news that we have lost David Morris – the charismatic owner of DRM Bus in rural Herefordshire – many readers have left messages of condolence.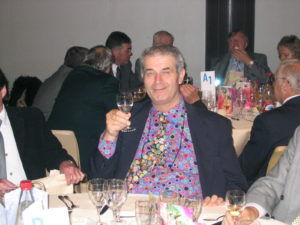 The messages on social media underline what a huge (in every sense) character David was, but also record the influence and passion he had for developing rural bus services and for encouraging so many people in the industry. In addition to his family, he leaves behind a huge retinue of friends.
Bus & Coach Buyer would like to pass its condolences to David's family and, indeed, to his community of Bromyard. David was a great friend to all of us here at the magazine, and will be sorely missed.
His obituary will be in this week's issue, on-line from Wednesday 14 September and through the post on Friday.
Jason Burn
Big Dave was a great friend to my dad & family. He was a big man with a massive heart. We were only with Dave last week. To say we are in shock is an understatement. RIP Dave
BASE Coach Sales
So sad to see the loss of another 'larger than life character' the world will be a little bit duller without David's clothing selections! RIP Dave from all of us at BASE
Julie Hartley
Oh goodness, that's so very sad. Always he would greet me 'dolly bird' which made me laugh as I'm quite the opposite! My lasting memory was visiting David in around 1998 or 9 at Bromyard on the day a solar eclipse was due. Well, the next thing I knew I was in his car and we headed to his home to watch the footage!
Sandwiches and tea were made and there we sat with the telly on and the patio doors opened for the next couple of hours or so watching the proceedings. Obviously anything else I had planned that day flew out of the window – so all I could do was relax and enjoy the company.
From that day David became special to me – I was new to the industry, yet he'd made me welcome and took me seriously – it meant so much. I loved his loud suits and strong views. We have lost a character for sure. My thoughts are with loved ones at this difficult time
Matthew Jacob
So sad to hear this. RIP David
Jim Davies
I had the pleasure of working with David during my time at Herefordshire Council and am so sorry to learn of his passing. He was the first Herefordshire bus operator I met when I started working there and I remember thinking afterwards "I wonder if they are all going to be like that!" Obviously not. David was a one-off and will be sadly missed.
Dave Stevenson
I heard a few minutes ago and am devastated. We had a close friendship and had even gone on holiday to Switzerland together. He was the one who rang me when I was made redundant and said come and work for me until you find something. A lovely man. Eccentric in a good way.
Paul Worth
Lovely LITTLE country operator. Best get some cabbage and goat for an honorary meal. Rest in peace Dave. All at Worths send our heartfelt condolences to his family.
Jo Baker
What a perfect gentleman. Very early in my sales career he sent me a bouquet of flowers, and I've always remembered that kind gesture one of a kind. RIP David
Lawrence Hailstone
A gentle giant a smashing fellow
Ken Dryburgh
I worked for David when I first passed my test in the 80's and then again later when he only operated buses. A kinder more generous man you couldn't wish to meet. R.I.P David
Blakes Coaches
I first met David about 20 years ago at a trade event and hit it off immediately. He fast became a family friend to us all at Blakes, both personal and business wise. His dry wit, bright jackets, and a huge personality will always be remembered by all who knew him. His business acumen was always first class and he was always on top of his game, but was always prepared to help and give his advice to all. I'm really pleased to have called him a true friend and we will all miss him immensely. Our thoughts and prayers are with all his family and workforce at DRM.
The Omnibus Society
A regular attendee at our Branch meetings and a stalwart of the OS, David was renowned for his campaigning for smaller rural operators, a task he excelled in and regularly could be heard to say he was 'just a little country lad and a small country operator'. His efforts were recognised by the receipt of the Special Award in 2009 Awards.
He was recognisable at any event with his love of colourful clothing and bow ties and enjoyed talking to other operators with the impression that he might learn 'something that the big boys do right'.
OS Midland Branch Chairman Geoff Lusher said: " It's hard to believe that the giant figure of Dave Morris will no longer grace our meetings. Dave was active in the industry body CPT, where I befriended him many years ago, and his loss will be felt widely across our industry and, of course, particularly in the town of Bromyard. Our sympathy goes out to his family and to the DRM workforce. R.I.P. Big Dave."
Craig Temple
Extremely sad news. One of the real characters of the industry and a good friend. You will be sadly missed David.
Chris Hunt
I had a lot of time for David, used to really enjoy working in his yard with him insisting you had lunch and tea with him before leaving, a lovely man with a fantastic sense of humour, he will be sadly missed
Mark Howarth
How terribly sad and a shock . David was a true gentleman and a very good friend. He always made time for you and was interested in what you were doing . My visits to Bromyard to visit him were always amazing and he always put himself out to show me something new each time. Equally his visits to Newquay were always something to look forward to. And I always remember him vigilantly fighting his corner at CPT in London. His outrageous suits and shirts were always such fun and he was always so proud of his little DRM operation. A really good friend who will be truly missed. My thoughts and prayers go to his family and staff
Russell Price
So sorry to hear the loss of David. One of the best people around who was always interested in what you were doing and try to help in any way he could. He used to call in on me at the yard to make sure I was managing ok and always there in the background. I was fortunate enough to know Bill too. The world is a much poorer place now.
R.I.P David.
Ros Hadley
Always kissed my hand as if I was the Queen and a great friend of my Dad Who will be devastated. R I P David x