CoachMarque announces 2022 conference
The CPT CoachMarque Conference returns to the Radisson Blu East Midlands Airport Hotel this on 10 and 11 April.
The first in-person conference in two years, it will welcome back members, suppliers, and other coach operators from across the country, to share best practice and of course look at the road ahead. The conference is open to both CoachMarque members and CPT members who are interested in joining the scheme and developing their business and of course sharing industry knowledge and ideas for growth.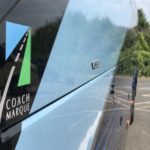 CoachMarque has secured several industry speakers to inform and entertain attendees including Joss Croft from UK Inbound, Claire Rawlinson from We Are Buzz (a marketing agency specialising in the passenger transport industry), Keith McDonnell from Global Passenger Network, and Scott James from Rise (who support many members with their digital needs).
There will also be a special guest speaker, Martin Butler, an entrepreneur and marketer who has worked with some of the World's leading brands. Martin will explain how the pandemic has changed customer expectations, and how to reach people effectively to gain more business. Martin speaks passionately about how organisations must engage technology to reach out and wrap their customers rather than pull in and process them.
The event is sponsored by BackHouse Jones, Dawson Group, TruTac, Rise Digital, Pelican and Gallagher Insurance.
Roland Eglinton, Chair of CoachMarque and MD of Chalkwell Coach Hire in Kent said: "I cannot wait to catch up with our members and suppliers face to face. We have worked hard through the various lockdowns and restrictions to remain in touch with members, suppliers, and stakeholders so we can continue to support the coach industry.
Now as we enter the Spring of 2022, I want to bring a new energy to CoachMarque, to look at member engagement, supporting with new communication tools and technology so we can make CoachMarque membership great value for operators. We are back out at shows across the country, with our first at The Excursion Show on the 17th of March where we will be pushing all the benefits of using CoachMarque members.
This conference will give us an opportunity to not only give back to members but also hear from them about what more we can do for their business. We have a renewed focus on business development for CoachMarque and working with our CPT partners, we are ready for the Road Ahead."
The conference takes place on the 10/11 April. The conference is on Monday 11 April and there is a dinner the evening before to allow members to catch up and socialise. Bookings for the event can be made via https://www.jonesholidays.co.uk/Tour/CoachMarque-Conference