Coach Tourism Association: Showcase in Llandudno
The Coach Tourism Association (CTA) is inviting operators, wholesalers, and suppliers to its Spring Networking event in Llandudno from Sunday 21 to Monday 22 May. The event is designed to support coach operators increase product and develop new business. CTA Spring Networking presents the latest initiatives for coach tourism in Wales, including a fam trip experience with new attractions, plus a showcase of suppliers from across the UK. The event also includes a social media masterclass from Sid Madge, consultant to global blue-chip corporations.
"Spring Networking will present coach tour operators and wholesalers with the key development opportunities from Wales, and buyers will also meet a host of suppliers from across the UK, all in one location," says Robert Shaw, CTA Chair. "The event will help operators generate more customers, both by expanding the range of tours and trips they can offer, and by increasing business potential through networking knowledge, as well as the expert presentation by Sid Madge."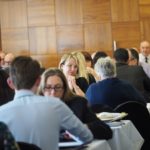 Branding and communication expert Sid Madge will present how operators, wholesalers, and suppliers can optimise their social media presence to grow their business and brand online. Sid has worked with organisations of all sizes, from some of the world's largest organisations through to start-ups and charities.
"Focusing on social media to help operators, wholesalers, and suppliers grow their business is a direct response to requests from our members," says Robert. "We're fortunate to welcome Sid Madge, an expert guest who has worked with blue-chip organisations to develop their marketing performance and brand awareness online. Sid will present practical lessons to help our members increase their digital potential."
The event is based at Llandudno's Imperial Hotel, set on the Victorian seafront promenade, and begins with a fam trip. Departing on Sunday 21 May at 12pm, the fam will take in important new developments from the north Wales area. Touring courtesy of Alpine Travel, the first stop is Plas Cadnant, Anglesey, a 200-acre estate and home to one of the finest gardens in Wales. The Plas Cadnant Hidden Gardens comprise a variety of horticultural settings including the valley garden, complete with waterfalls and a riverbank setting. The group will enjoy a homemade lunch at Plas Cadnant followed by a guided garden walk.
Alpine Travel then takes guests on a majestic tour through the Snowdonia National Park, including the Llanberis Pass and views of Snowdon. The Slate Landscape of Northwest Wales has recently been awarded UNESCO World Heritage Site status and the CTA group will discover the opportunities this is bringing for coach tourism. The fam heads to the National Slate Museum, an engaging attraction based in the Victorian workshops of the Dinorwig quarry, presenting the life and work of the quarrymen and engineers. The visit includes a special demonstration of slate splitting, and delegates will also see the museum's impressive machinery including the largest waterwheel on the British mainland.
Returning to Llandudno, guests can enjoy an optional visit to Penderyn Distillery. The new Llandudno location is the sister-site to Penderyn's original Brecon Beacons distillery. On an informal tour, delegates will learn about the Penderyn single malt and the opportunities for visiting coach groups. Back at the nearby Imperial Hotel, in the evening more local attractions will provide a reception followed by a networking dinner sponsored by Christmas in Birmingham.
On Monday morning, branding and communication expert Sid Madge will present to event attendees, followed by a CTA Partners & Supplier Showcase. Operators and wholesalers will meet hotels, attractions, and service providers to coach tourism from around the UK. Suppliers will present the latest developments and the showcase will be an opportunity for industry stakeholders to network and gain new contacts all in one location.
To book your place and find out more about the event, visit the CTA website. The event is open to CTA members, and prospective members can find out more about the organisation at this link.