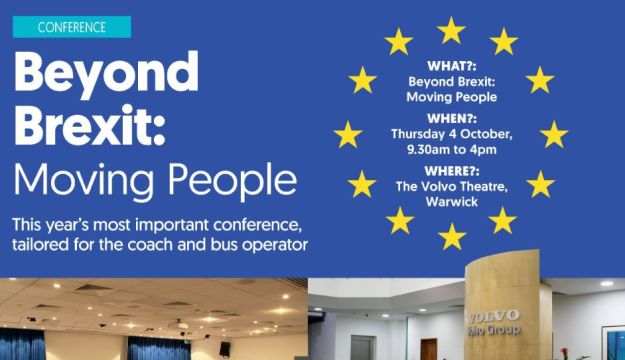 This year's most important conference, tailored by Bus and Coach Buyer for the coach and bus operator. Book your place, and prepare for 2019
Beyond Brexit: Moving People
Thursday 4 October, 9.30am to 4pm
The Volvo Lecture Theatre, Volvo UK, Warwick
The question on everyone's mind as Brexit looms is 'how will this affect the coach and bus industry?' Whether 'soft' or 'hard,' exiting the EU will mean changes in employing migrant workers, potential changes in driver licensing, creating and running European tours, negotiating port customs, and new documents you'll need to understand.
Bus & Coach Buyer, in association with leading transport law firm Stone King LLP, have assembled the experts who have some of the answers. The conference opens with a keynote address from former Under Secretary of State for Transport, Norman Baker – who left politics to run a bus company.
The Bus & Coach Buyer columnist will be summing up Brexit after the party conference season, attempting to nail down what is decided, and what's still to come. To end the day, former Confederation of Passenger Transport President Ian Luckett, together with Richard Grey, of award-winning Greys of Ely, will join our speakers for a round-table discussion of the issues raised.
This one-day conference will look at:
Immigration sponsorship – how you can make this work
EEA nationals – what you need to do NOW
Border controls – what to expect at Dover and Holyhead
European tours – will our customers still want to go?
Inbound tourism – how will Brexit hit airport and cruise traffic
Your workers and HR – how to stay within the law
We have a line-up of speakers which will not only give their verdicts on these and other topics, but will be able to answer your questions directly. Lunch is included
---
---
Provisional running order
Beyond Brexit: Moving People*
09.30-10.00
Registration/coffee
10.00-10.10
Welcome and introduction BCB
10.10-10.25
Keynote address: Norman Baker, former Parliamentary Under Secretary of State for Transport
10.25-10.45
Immigration in the Brave New World: Julie Moktadir, Stone King.
• Immigration Sponsorship – a general overview – covering the current system EEA nationals & free movement and employing overseas nationals.
10:45-11.15
Driver licence and Driver CPC recognition post Brexit, Chris Yarsley, Freight Transport Association
• Taking vehicles abroad/issues at ferryports
11.15-11.30
Coffee
11.25-11.50
BREXIT – what might happen? Greg O'Ceallaigh, Barrister, Garden Court Chambers
• BREXIT – the current proposal.
• Transitional arrangements until December 2020
• Future possibilities – Points Based system for all non UK nationals. Sponsorship, licence holders.
.
11:50-12:20
Inbound Tourist Market post-Brexit. Kurt Janson at Tourism Alliance.
12.20-12.55
Outbound Tourism post-Brexit Debbie Marshall at Silver Travel Advisor
• Focussing on over 50s demographic.
12.55-13.40
Lunch (cold buffet)
13.40 to 14:00
HR Systems Laura Majewski Stone King HR Consultant
• How best to prepare HR systems pre-Brexit
• Right to Work checks
14.00-14:25
Employment issues Peter Woodhouse Stone King
• Drafting of contractual rights
• Termination of contract for non-compliance
14:25 – 14.40
Coffee
14.40 – 15.15
Bus & Coach Operator Forum, panel including Ian Luckett, former CPT President and Richard Grey, Greys of Ely and John Gilbert, former MD of Eurolines coach company and Secretary General of the European Passenger Tours Operators (EPTO) with questions from the floor for speakers
15.15 – 15.20
Close – BCB
* Speakers and timings may be subject to change
---
---