ADL to open new 'centre of excellence' honouring Dennis heritage
ADL has announced a new Farnborough office and museum complex which will help celebrate the Dennis brand.
Aftermarket, some engineering, IT and finance will be based at the complex, which is being fitted out next month and will be staffed starting in early 2022. In addition to housing ADL's museum of vehicles and chassis and becoming an events and handover facility, Farnborough will be a centre of excellence.
The news came during a media ADL update today (Monday 19 July) hosted by Paul Davies, who became MD of ADL last summer, replacing Colin Robertson. Paul had headed ADL's successful export model into Asia for 20 years, being based in Hong Kong.
Paul told journalists that export orders – including buses into Berlin, New Zealand, Hong Kong, Singapore and Ireland – had supported the manufacturing business in Scarborough and Falkirk throughout the pandemic, filling the gap left by close-to-zero demand for coach during 2020/21. But to further its export ambitions, ADL has set up local assembly in New Zealand, in collaboration with Kiwi Bus Builders and Chinese technology supplier BYD.
"We can look back on 2020 and be grateful for our export market," said Paul. He said the markets still face competition from local manufacturers but ADL's ability to innovate – typified by the development of its Enviro500 – had won out. The Enviro500 tri-axle supplied into Singapore via the assembly plant in Zhuhai has three doors and two staircases: "I questioned its relevance at the time and people who said it couldn't be done."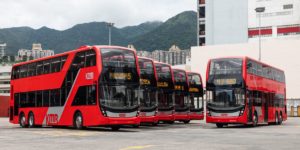 The drive for electric bus sales and development continues, with ADL promoting through its patent company, NFI's, 'Leading the ZEvolution' phrase, now trademarked. BYD is now working on Generation 4 of its electric driveline, with significant efficiency and range improvements for battery buses.. Paul said hybrid continues to be a niche product in domestic markets because it does not qualify for the government's ZEBRA funding.
Hydrogen fuel cell technology continues to be a target, with a new 'H2.0' hydrogen bus based on a Ballard fuel cell and Voith electric drive expected to launch early next year. ADL anticipates a 300-mile range but admitted that sales will be limited to markets and operators which have hydrogen infrastructure in place, or in plan.
One of ADL's landmark orders has been the 200 12-metre Enviro200EVs for Dublin, ordered by the country's National Transport Authority. To win the order, ADL has made significant changes to the styling of the Enviro200 externally, meeting NTA specification. They will join 280 hybrid buses already in Ireland.
Berlin has been another success story, with 198 double-deck buses being built in Scarborough for Berlin's municipal transport operator BVG, to join two already trialled.
ADL is strengthening its management team with a new Group Engineering Director to be announced soon. It has already appointed Martin Brailey at UK and Ireland Sales Director; former truck expert Tony Davis as its Group Aftermarket Director; ex-Daimler Alexander Helfritz as its MD for Europe; and promoted Matt Lawrence as Business Development Director.