Transdev goes for biodiesel as it heads towards electrification
Though poised to go all-electric by 2027, Transdev in Yorkshire and Lancashire has switched to a high-blend biodiesel, cutting carbon dioxide emissions by thousands of tonnes – the equivalent of taking an additional 1,745 cars off the region's roads every year.
Transdev became the first operator in Britain to introduce eight 'opportunity charged' Harrogate Electrics buses in 2018. At the time, it became the only bus operator in Yorkshire to win funding of £2.25 million from the Government to create Britain's first Low Emission Bus Town. The Harrogate-based operator has trialled electric vehicles built in Britain by Alexander Dennis in partnership with Chinese firm BYD on its busy route 1 between Harrogate and Knaresborough, plus alternatives from rival makers Mercedes and Yutong.
The trial results are set to inform the type and specification of 71 fully electric buses to be introduced in a jointly funded programme over the next three years, which will see the operator's entire fleet based in Harrogate replaced by battery electric vehicles. In the meantime, Transdev has partnered with fuel provider Argent Fuels to switch its entire fleet across ten operating centres in Yorkshire, Lancashire and Greater Manchester to high blend biodiesel.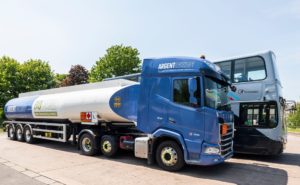 Transdev Operations Director Vitto Pizzuti said: "The biodiesel fuel we're now using across our fleet is a high-blend B15 formation, produced as a solution of 15% biodiesel and 85% low sulphur diesel. In summer, the biodiesel content will rise to 25%, delivering even lower emissions in the communities we serve.
"Completing our switch to this lower emission fuel is helping us to achieve environmental benefits now, and on a commercially viable basis. Biodiesel is 100% biodegradable, less toxic than table salt and is derived from renewable sources.
"At 15% concentration, biodiesel is significantly reducing emissions compared with regular diesel fuel – and without damaging engine components. And the benefits are happening right here and now across all ten of our operating centres, as we prepare for the keenly-anticipated replacement of our entire Harrogate bus fleet with 71 new fully-electric buses."
Fuel producer and supplier Argent Fuels predicts that, based on annual fuel consumption of 8.1 million litres and a blend rate prepared to the 15% biodiesel and 85% low sulphur diesel specification, Transdev can expect to cut its emissions by around 3,612 tonnes of CO2 per annum – the equivalent of taking 1,745 cars off the North's roads every year.
In May 2022, Transdev's bid to the Department for Transport's Zero Emissions Bus Regional Areas (ZEBRA) fund, supported by a new partnership between its parent Transdev Group and North Yorkshire Council, was approved.
Together with Transdev's own £12 million commercial investment, the funding will enable full electrification of its entire Harrogate service bus fleet, plus supporting infrastructure at its Starbeck headquarters, where its diesel fuel tank will be removed and replaced with electric charging points, using power generated cleanly from sustainable sources offshore.
A total of 71 new electric buses will be introduced under the joint funding agreement, which will also enable Transdev to work with West Yorkshire Combined Authority (WYCA) to convert its popular 'theSHUTTLE' branded route between Bradford and Keighley to electric operation.