Zipabout helps operators deliver passenger rewards
British technology company Zipabout has created a solution that enables transport operators to connect with brands, businesses and retailers of all sizes and reward passengers for using public transport.
The solution is designed to improve passenger experience and loyalty by offering rewards and even a thank you for returning to public transport. It can also incentivise behaviour e.g., managing passenger flow around busy times or incentivising off-peak travel. For passengers, it is aimed at making the journey a little nicer or a delay more bearable.
A pre-Christmas lockdown trial was carried out on the service. Working with EagleEye Solutions and its AIR digital marketing platform to enable the in-store redemption, Zipabout collaborated with an international café chain and Oxfordshire County Council's Oxontime bus information service across both Stagecoach and Oxford Bus.
Bus passengers using Oxford Bus Company's Oxontime Connect on Messenger received a 'Thank you for travelling' message and were offered a free hot drink at their local cafe chain. At the end of their journey, they received a unique QR code and directions to their nearest store to redeem it.
"This will be a really useful tool in helping us to support our communities' recovery from the pandemic" – Phil Southall, Managing Director of Oxford Bus Company
Phil Southall, Managing Director of Oxford Bus Company, said: "Both public transport and the retail and hospitality sectors have been hit hard by the COVID-19 pandemic. Zipabout's technology means that we're able to work together with retailers and local hospitality businesses to reward our mutual customers and help to encourage footfall back to our local high streets. This will be a really useful tool in helping us to support our communities' recovery from the pandemic, and we're already thinking about how we might be able to extend the use of this technology further."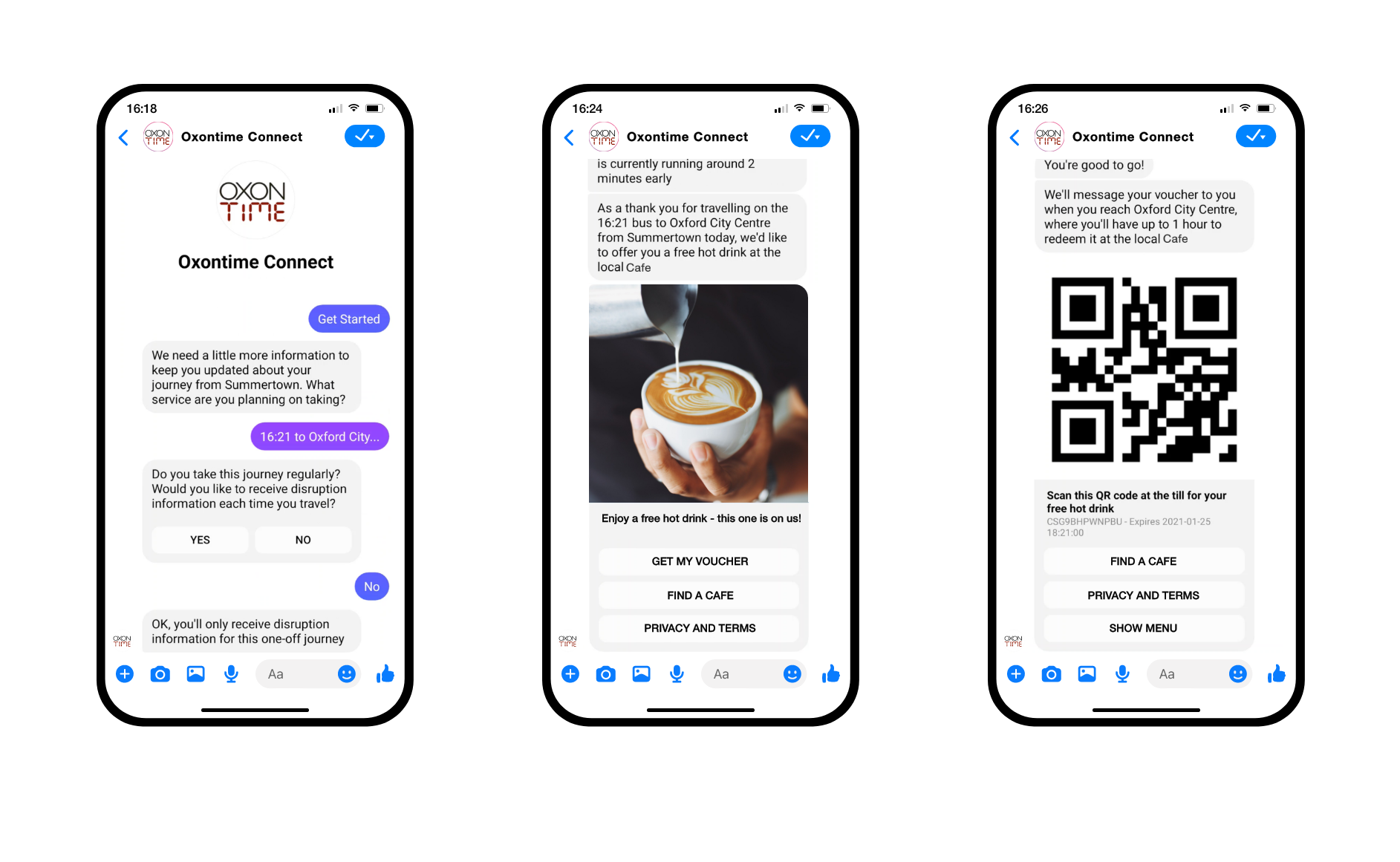 Llewelyn Morgan, Head of Innovation at Oxfordshire County Council, added: "We're delighted to have been part of this trial. When restrictions are lifted, not only will the programme support the safe operation of public transport by providing unique personalised information to travellers, it will also encourage people back onto public transport so keeping our county moving."