Yutong – straight down the line
As Pelican prepares to launch its GT12 touring coach, in the second part of his visit, Stuart Jones takes a look at the impressive factory in China which builds 430 vehicles a day. It's so big, it has its own bus service…
Yutong currently has two manufacturing sites in Zhengzhou, both massive and both modern.
Construction of the first began in 1998 (replacing Yutong's original plant from 1964) and the second, known as the 'New Energy' plant was built in 2012. Covering 1.19 million cubic metres and 1.28m cubic metres respectively, they have a combined capacity of 430 buses and coaches daily. Within each complex the roads have names and are served by regular electric bus services to get people around efficiently.

Vehicles for Europe are built on a dedicated line in the 2012 plant on which we saw TC12s for the UK, largely similar coaches (but with one-piece side locker doors) for Israel carrying the 'Lion' model name, and some high-specification models for China among others. From painting, it is a 19-stage process before the coach is ready to go for a road test. Within the finishing workshop, one of two on the site, there are four lanes covering small electric buses, large coaches, large electric buses and export. The line moves on every 20 minutes, the timing for the move indicated by the playing of music. Between the lines in the centre the pre-assembly stations are situated.
Prior to going on to the finishing line, every vehicle is fully corrosion protected in one of four cataphoretic dip facilities that together cost RMB0.8billion (£90 million). These are 15 metres long to accommodate any vehicle (artics are dipped in two sections). We were shown one of these plants which are manufactured to the latest automotive standards by the Durr and Parker Engineering concerns.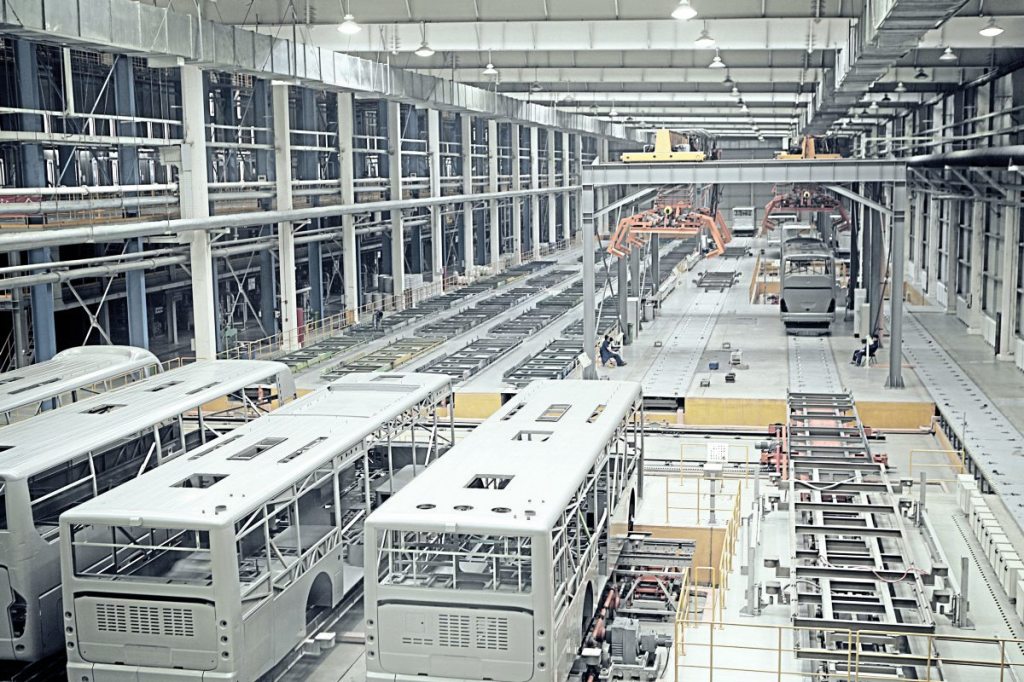 The 16-stage automated process first sees the frame degreased followed by a series of rinsing dips, an activation dip to activate the metal surfaces before the vehicle is plunged into the phosphatisation tank. Two water rinses follow before a distilled water dip, a drying stage and the electro-coating process in which the charged body structure attracts the coating to every millimetre of its surface. Two UF dips follow in which any surplus coating material is removed before the final distilled water dip and unloading from the line. This is followed by the painting of the coach, for which equipment includes 20 seven-axis painting robots.
In addition there is a test track completed with banked road section, skid pan, steep inclines, and brake test areas. Prominent in this area is the slogan: 'Don't consider the market as a test ground, consider the test ground as the market', emphasising Yutong's approach to development. Close by is a drive-through water dip area, through which electric coaches are driven to check that the battery compartments withstand submersion in water, as they are designed to do, a process we witnessed. Other pre-delivery processes include six inspections, a whole vehicle inspection, a shower test, wheel alignment, and a road test.
At the elder of the two factories is the facility where components undergo testing to ensure they are capable of the life expected of them. We witnessed accelerated weathering tests, water testing in the shower chamber, high/low temperature testing in the range between minus 70°C and plus 130°C, a multi-axis vibration test bench, durability testing for relays, flashers and accessories and testing switches by turning them on and off two million times.
Especially impressive is a reinforced all-terrain road simulation
test bench which enables details of maps and conditions to be fed into its computerised systems and replicated on a rolling road capable of accommodating a complete vehicle. It enables a 100,000km worst-case simulation, equivalent to a million km of on road testing, to be undertaken in just one month. We were told the vehicle stays on the rig until something breaks.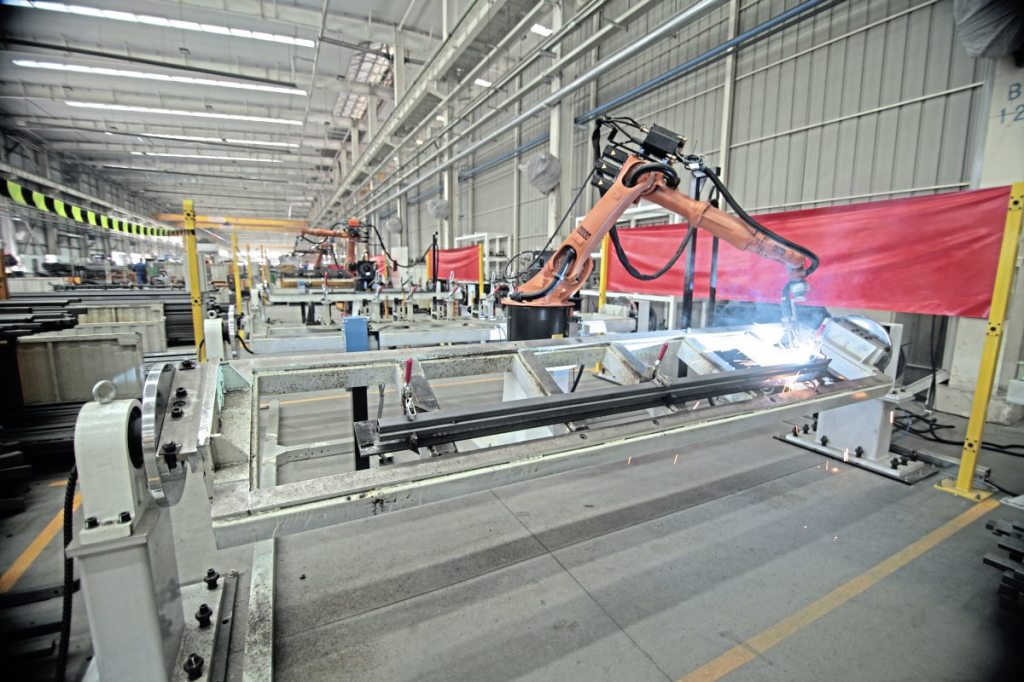 We were told that the RMB250m investment (£28.1m) in the facility included 200 different testing machines of which 70 were specifically for new energy buses. Since 2010, including hybrids, Yutong has built 93,665 new energy buses.
Electric coaches on 
their way
Westway Coach Services has already placed the first UK orders for electric coaches; two 12.3m TCe12 48-seaters similar to 50 coaches already running in Paris with Keolis and Flixbus.
They are 3.4m high and 2.55m wide with two entrances, and are scheduled for delivery in the second quarter of 2019. They will be equipped with Yutong's own electrical motors and control equipment as fitted in the E12 and E10 city buses.
Yutong will offer two outputs in its electric vehicles, either 258kW or the yet to be developed 374kW, but unfortunately only the 258kW can be supplied in the UK because the additional batteries for the higher will prevent it being viable here.
To achieve an initial range of 200km, the TCe12 has 12 battery packs, each weighing around 250kg. They can be recharged in as little as two hours depending on the type and capacity of the recharging system. Pelican is offering a choice of 60kWh, 90kWh or 120kWh DC chargers. It has yet to be decided which option Westway will go for although, helpfully, there is an electric sub station within the yard… The coaches running in Paris are said to be exceeding 1km per kWh of charge, though the extent to which the heating and air conditioning are used does have an impact.
Westway already has three Yutong vehicles, two TC9s and a TC12, and David West told me:
"The back up is phenomenal" – David West, Westway
"It is the best out of all of them." He believes that electric is the only way to go for the future and has decided that his future new coach purchases will all be electric.
We rode around the factory in a French example with 59 seats on which the motor was virtually silent, it certainly couldn't be heard above the air conditioning. With the low overall height the seating towards the rear of the saloon was raised. In the current generation of electrics the electrical system drives directly, (with the disadvantage that the floor cannot be 100% lowfloor on a bus) but it was revealed that hub motors are already being worked on, which would be a big advantage for a double decker.
In price terms, the TCe12 retails at £295,000 – £100,000 more than a diesel in this sector on top of which there is the infrastructure costs associated with installing a charging station on site, if this is possible. On the positive side it should require significantly less maintenance, the fuel will be a huge saving and it should also be future proof in a way that diesel coaches no longer are.
At present, only low-height Yutong electric coaches are to be offered in the UK but while we were in China we saw a number of high-floor electric coaches with the same power systems and David West was quick to ask why we couldn't have these in the UK. It was explained that with the additional battery weight and the UK's continuing 11.5 tonne rear axle limit (despite the increase in overall GVW) it was not currently possible to build them for the UK and meet the regulations.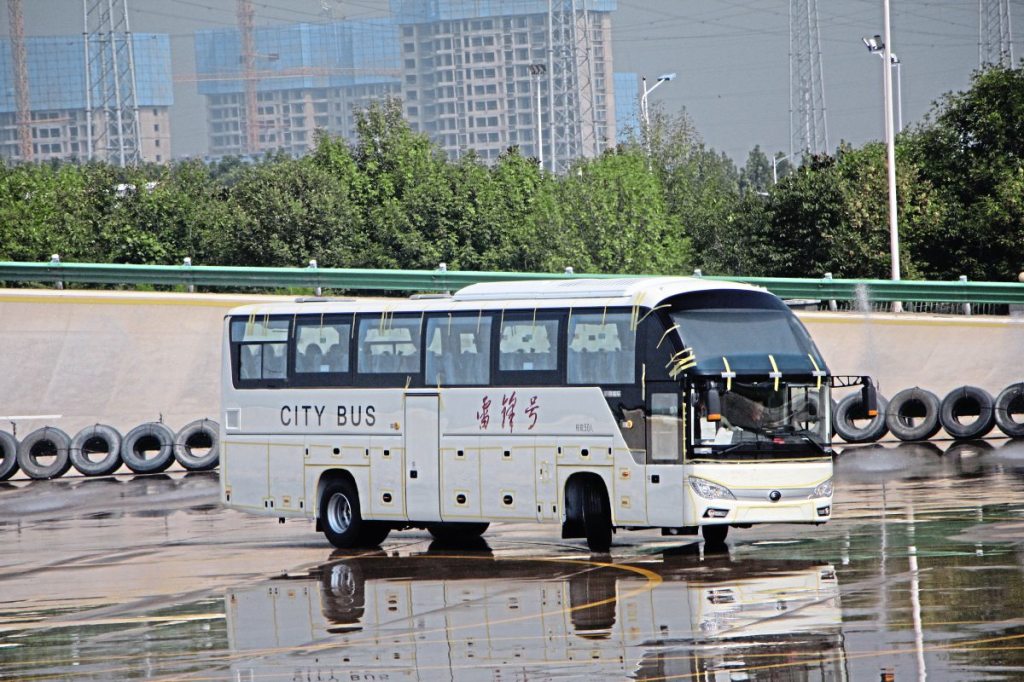 Other technologies
One of the most difficult aspects of the Yutong experience to take in is the amazing breadth of products that are offered. As you drive around the plants, which have their own electric bus services, you see a seemingly never-ending array of different vehicle types ranging in length from five-metre school buses to articulated city buses, and I believe there is also a bi-articulated 25-metre bus.
In between there are double-deck buses and coaches, bonneted school buses of various lengths, all manner of coaches of different heights, lengths, and specification levels, minibuses, motor homes, wide airport buses, off road coaches, buses with every means of propulsion you can think of and even, as we experienced, buses that drive themselves.
Given the grasp of so many advanced technologies, it is a surprise to me that Yutong has yet to tackle what I see as its Achilles Heel; the weight issue. I am led to believe that this is because of the demands of the road conditions in its home market (and many others) but to take a significant proportion of the European premium coach market it is something I am convinced it will eventually have to do.
As others have proved, strength can be achieved with less weight and until the structure is more competitive in weight terms, there will be higher passenger capacity specifications the market seeks that Yutong will not be able to deliver, especially in markets such as ours where the rear axle weight limit remains 11.5 tonnes. Already a disadvantage, with the increased weights associated with current battery technology, a weighty structure will further limit capacity in the electromobility era, making a coach structure reappraisal inevitable..