'Worst year since records began' for registrations
Registration figures for new buses and coaches in 2021 represented the 'worst year since records began', according to the Society of Motor Manufacturers and traders (SMMT).
The UK new bus and coach market declined by 16.8% in 2021, with registrations falling to 3,467 vehicles, according to SMMT's figures. Quarter four saw figures down 31.6% to just 883 registrations, rounding off the worst year since records began as ridership levels failed to recover to pre-pandemic levels.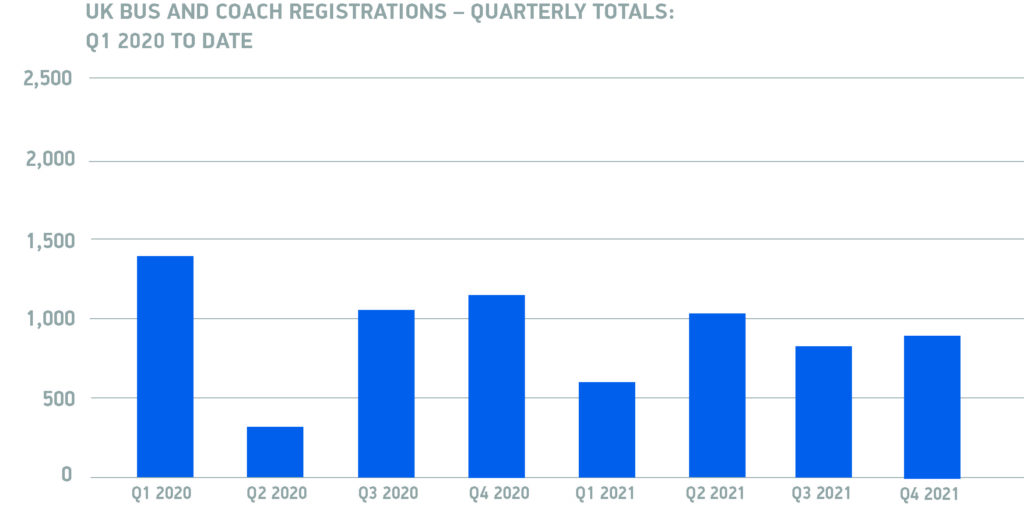 The Society pinned the blame on the decrease on ongoing Covid restrictions and a subsequent 17% decline in ridership levels that continued to dent demand for new buses and coaches, with all body types experiencing declines in 2021. Single-deck bus registrations fell by 0.5% to 751 units, against a weak 2020 performance. Double-deck and minibus registrations saw much more significant declines of 35.4% and 17.1%, respectively. Minibuses continued to dominate the market, accounting for 66.8% of all new bus and coaches joining UK roads in 2021.

The long-term effect of the pandemic on bus ridership, with levels still around a quarter down on 2019, is the biggest reason behind the drop in demand. The SMMT notes that given the sector also faces the challenge of decarbonising its entire fleet as part of the plan to achieve Net Zero, the need for government incentives to invest in new, greener vehicles is paramount. It believes the Government's ambitions set out in the recent Levelling Up White Paper to bridge the gap between the user experience of public transport in London compared with other parts of the UK will require significant action. This includes the release of necessary funds from the Bus Back Better Fund, but could ensure the conditions are right for operators to invest in new vehicles, safeguarding the sector, the jobs, and livelihoods it sustains as well as providing the mobility society needs whilst meeting its green ambitions.
"We need the Bus Back Better programme to release funds to support the sector and for that investment to be made urgently" – Mike Hawes, SMMT Chief Executive
Mike Hawes, SMMT Chief Executive, said: "The pandemic has continued to undermine the bus and coach market, with the latest figures an alarm call. The sector, and the millions of people who depend on it for essential mobility, is at a critical juncture, as Covid-19 has led to declining ridership which, in turn, has damaged demand for new fleet investments. We need the Bus Back Better programme to release funds to support the sector and for that investment to be made urgently. If we are to improve air quality and reduce carbon emissions whilst keeping society and the economy moving, operator confidence and fleet renewal are essential."