Welcome to the Guild
What drew Marshalls of Sutton-on-Trent to join the Guild of British Coach Operators?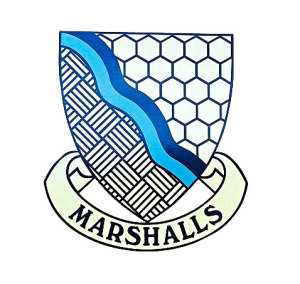 Before pulling into Marshalls' headquarters in the pleasant Nottinghamshire village of Sutton-on-Trent, a pristine Optare Solo from its fleet passed by. Although the weather was wet and there was no shortage of mud on the roads, it was impressively clean. It was a small thing, but noticeable and it made a positive impression.
As Paul Marshall from the company went on to say, it is these little things that count and are what help it achieve the high standards of operation required to become a member of the Guild of British Coach Operators. The company is the latest member to join the prestigious organisation.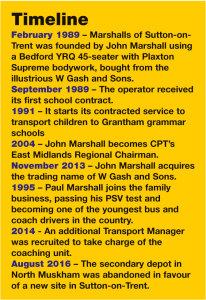 Giving a warm welcome to his office on arrival was Paul Marshall, who admitted he is at his element in the workshop maintaining a coach rather than behind a desk. He is the Engineering Director, but these days looks after the day to day running of the operation, being the only full-time member of the management team. Also involved in the running of the firm is his father, John Marshall, a staunch supporter of the CPT, having been head of the organisation's East Midlands region for many years. Another family member involved is Paul's sister, Sally Sloan.
Joining Paul in his office was Richard Delahoy, Administrative Director of the Guild of British Coach Operators.
So, what made Paul and the rest of the company want to join the Guild? "I was speaking to a couple of friends in the industry that are members and they said: 'Why not become a member of the Guild?' I spoke to my dad and my sister about it and we went for it."
He continued: "One thing we do know about being a member is we are working to the best of our ability because of the accreditation we needed to go through to be part of it. We know our maintenance is to a very high standard. Our staff have a full uniform and they are fully trained. When I talk to parents, the difference in hiring us might be a little higher, but they know the vehicle is safe, insured and well maintained."
Rigorous audit
To become a member of the Guild, Marshalls had to pass a rigorous independent audit conducted by Lloyd Morgan Group. There is a 65-point checklist set by the Guild, covering: customer service, employee investment, fleet standards and community and regulatory standards. Commenting on the audit, Paul said: "It's the little things it highlights; these count and they keep you on your toes and if things improve as time goes on, then that's what it's all about."
Passing the Guild audit is recognised by CoachMarque and currently 20 Guild members are part of scheme. Marshalls is one of them, proudly displaying the stickers of the CPT administered scheme on the bodies of its coaches.
The Guild is about a commitment to operating to the highest standards, being at the forefront of developing best practice and sharing that with fellow members. Richard said there is openness and trust among the membership, engaging in a free and frank exchange of ideas with fellow members. It is not just the director that benefits from it, as best practice meetings are held for engineering managers, operations managers, trainers and marketing staff. If one of the members has an emergency, the others are encouraged to help where they can.
The Guild registered in 2008 as a Driver CPC Training Centre and provides a suite of specially designed courses to members as a consortium for them to deliver to their staff. The organisation also organises presentations from and discussions with industry suppliers, such as technology providers Faltcom, Distinctive Systems and TruTac, as well as other innovative solutions, including: Vamooz and sn-ap.
Sharing best practice
A large part of what the Guild is about is sharing best practice, advice and experiences among fellow top-flight operators. Paul said: "One of the big things about it is that everybody is there to help each other. I went to one of the Guild's Think Tank sessions and it was very interesting to be sat there and go through figures with other operators. A lot of operators are doing things and it gives a chance to say: 'How are you doing that?' For example, they mentioned fuel and how they would ring round different suppliers and get a good price by playing them off each other. It also gives you a chance to compare like-for-like vehicles, so you can notice if one of yours is not achieving what it should be."
Commenting on the latest discussion the Guild held, Richard said: "Last time, there was an interesting debate about buying in volume, about the different buying methods across members. We looked at the difference between hot and cold diesel."
Paul added: "The change in temperature of diesel when delivered could mean a 28,000-litre delivery could be as much as 700 litres difference than when it came in. Some of the guys near Liverpool, who are based close to the refinery, get this a lot. We heard of one operator who won't accept hot deliveries."
Richard said: "We then talked about fuel cards, about techniques such as giving drivers three to four cards, then texting the driver to let them know which one to use based on which will offer the best price at that time."
Paul was complimentary to the support the Guild has already given the operation. He said: "Richard here is really on it. CoachMarque is good, but it doesn't have the clout the Guild has."
It can be argued that Marshalls acceptance into the Guild is confirmation it is one of the country's leading operators. Paul said: "It just shows you that things do grow. It's meant I've had to come out of the workshop a bit more and manage things more."
One way the operator has striven for quality is by rewarding its drivers. Paul said: "The other Sunday, we had a staff meeting. They weren't paid for their time for this, but even so, I would say 95% of staff turned up. We put on paper the costs of things and people made suggestions. On 14 May, they will get a 9% pay rise. This is to encourage new staff and existing staff, but also to encourage them to take even more pride and realise they can get more out of their job. We will look at the wages on an 18-month timescale and see how it goes."
Pay is one of Paul's biggest bugbears in the industry, recognising it is not always possible to pay staff the wages they deserve for carrying the most precious cargo. He said: "Our drivers know that if they need assistance, they can ask. With joining the Guild, we explained to them what it was so they can explain to passengers what it took for us to get there. Maybe passengers, when they look at other operators, might think there is something about this Guild thing."
How does he expect Guild membership to affect patronage? "I feel it should increase passenger numbers. Hopefully professional groups will see it that want that extra bit of quality. We know foreign passengers look at things like the Guild and CoachMarque because they want to be assured of the standard they are getting. I'm positive it is going to help us. It is very positive to be involved in it, and it is down to us to how we sell it."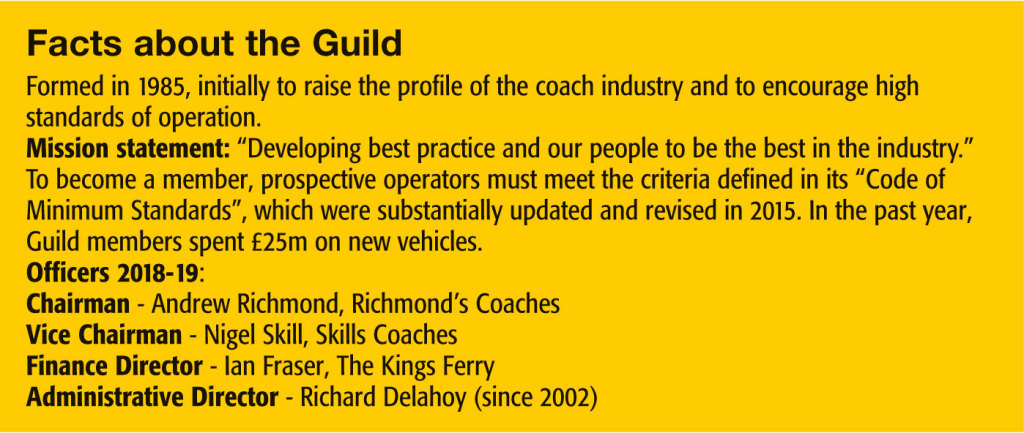 Pushing standards
Despite gaining entrance to the Guild, Marshalls has not ended its focus on pushing operational standards. It is currently planning to computerise the management of the workshop. Paul has employed computer-savvy Jacob Marshall (no relation to Paul's family) to its engineering team, who is tasked to do this. The operator's maintenance facility is to get internet access and young Jacob is to play a big part in installing an electronic maintenance programme.
Paul is hopeful of okaying the appointment of another engineer, who should be coming onboard by 21 May. "It's hard to find people for the workshop," he admits. "We can't afford the £16-£17 an hour the roadside assistance guys can get, but you can't have good pay and the good working conditions you have here."
It is apparent Paul likes to take care of his workers: "I treat everyone that works here to the same level; we're all one of the lads. We're a family business. If they have a problem, they can come and see us. I think that if people feel they can put their opinions forward, then it makes a real difference; they come up with ideas. There was an issue with a service we run on a split shift. We did some brainstorming and one of the guys came up with an idea to change certain things and we got rid of the problem. We have to remember the face of Marshalls is the driver."
The operator has two depots, one in the centre of Sutton-on-Trent and one on the outskirts of the village, just off the A1. Paul said those who work out of the latter site have a foreman they can go to for assistance.
Another possible future development is to be accredited for Earned Recognition, the DVSA's scheme whereby operators submit data concerning the operation of their fleet to demonstrate they are compliant. The intention of the programme is to allow the Agency to focus on those who do not prove they comply. Paul said: "It would be another way to make sure that everything we do is done right."
So far, five Guild companies have achieved Earned Recognition status: Coliseum Coaches, Lucketts Travel, Stanley Travel, Stewarts Coaches and Worthing Coaches.
The scheme would involve the operator submitting compliance data digitally. The company already makes use of computer systems to aid its operation, with Don't Travel Empty proving particularly useful. "It's brilliant," Paul enthused about the empty coach-journey leg booking system rolled out by Antony Marrett of Marrett's Chariots. "We were one of the first to be a part of it. We assisted them with ideas."
When it comes to computer systems, Paul said integration of them is the "Holy Grail".
Richard explained there is no prescribed software or systems Guild members must use to pass the audit. He said: "We look at outcomes, so you must respond to enquiries within a certain amount of time, for instance. Computer systems might help with this, but we don't say they must use one system over another."
It's taking part that counts
Richard explained what the Guild looks for in applicants: "We want people to apply because they want to buy into our ethos. It's about participating. To join, you need to commit to get actively involved in meetings, to share ideas.
"In terms of applying, it's a simple application form. It asks them, what makes your business different? What makes you stand out from the crowd? Another part of joining is to ask an existing member to propose them and then their selection gets seconded. Although we're not closed to people we don't know. But the people that will join are likely to have a high profile in the industry already. If they are not already involved in the industry, they are not in the right mindset."
Paul agreed: "You've got to be there at meetings. Why should you get information out and not put information in? There are unfortunate circumstances where an operator can't be there of course."
Richard said: "One stipulation we have is they must be a member of the CPT. It's hard to say you will buy into the Guild if you are not already a member of the industry trade body. We are not looking to grow massively, we work well together and are a good size to all sit around a table and discuss."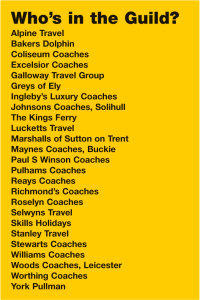 In terms of who would be most suited to join the Guild, Richard said: "When they apply, we show them the audit standards then ask them to go and do a self-audit to see if they already meet them. We are reasonably sure they can complete it when operators apply, and we have never had anyone fail."
Richard will visit the operation and do due diligence prior to the application process starting. The expectation is for the operator to exceed the financial standing the O licence requires and to have had the licence for over five years. Each member must pass the audit every two years. Companies become members of the Guild, rather than individuals. A stipulation is members should not regularly sub-contract work.
Paul said: "They are stringent, because you have got to be right with it. But realistically, if you do the job properly and take pride and take safety seriously, it's not that difficult. When you look at the audit, it is very close to CoachMarque's standards."
Are the Guild and CoachMarque competing entities? Richard said: "There's no competition, we have no issue with CoachMarque; we try and do different things. Two thirds of the Guild are members of CoachMarque."
"Something else we like about the Guild is there are no age restrictions," commented Paul. "We have some older vehicles, but they are tidier than some newer ones about. It's like our 12-year-old Volvo B12, it's still in very good nick."
Better, not bigger
Marshalls' fleet is currently expected to stay largely the same size as it is now for the time being. Paul said: "We don't want to be bigger, we want to be better at what we do. If you want to be the best at what you do, then the Guild is the way forward."
Perhaps the biggest barrier to further growth for Marshalls is the difficulty it finds of getting drivers. The company has an in-house driving instructor and in the last couple of years he has been used to train some younger people. Paul said: "We need more drivers. We tell drivers to tell people what it's like working for us, with nice vehicles and a nice depot."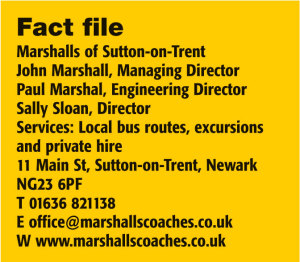 The company has recently taken two drivers on from Hodsons Coaches that has been reported to have ceased trading (see B&CB 1476, 20 April 2018). Paul said: "But it's still very difficult; who wants to drive 80-odd kids around when you could be stacking shelves for the same money? The public has no clue what drivers get paid. I don't know what the answer to it is."
"Why do drivers leave? It's not just about pay," said Richard. "But lack of notice about working patterns. A bus driver will know his shifts, but a coach driver is different, work can come in at the last minute, meaning they suddenly have a long trip to make tomorrow. It's all about that dreaded term: work/life balance. It's because of the unpredictability of the hours that they work."
"It's that which will kill the industry," Paul speculated.
Marshalls has contacted its local MP to arrange a meeting to discuss the challenges the industry is under. Paul said: "We know the situation, the local authority just hasn't got the money. The people who lose out are those who live in villages." He went on to say he is very lucky to have Nottinghamshire County Council on his side, which is particularly pro-public transport, "but they just don't have the money."
Trials and tribulations
Another of Paul's biggest challenges is the competition he has with the Newark to Nottingham train. Marshalls runs a lot of buses between the two towns and they are operated on a largely commercial basis. "We can't beat them on time."
One thing it is investigating in an effort to promote patronage growth is the introduction of a discount fare for school-age children and students. Paul said: "We've got to get the message out that bus and coach is the way forward."
Richard added: "Providing free wifi is less an advantage nowadays, but providing charging  points onboard is. I've sat there on a bus and used my own 4G because it's faster. Charging points are the way forward."
Paul showed concern over the Ultra Low Emission Zone (ULEZ) coming up in London and the emerging Clean Air Zones (CAZs) across the nation, saying: "We need to encourage public transport, not cars. Funding for this is a bit woolly. Unless you've got vehicles that are the same specification as TfL, you might as well go whistle."
Richard added: "It's a massive challenge to convince the government and decision makers that the coach is part of the solution, not the problem."
Despite these trials and tribulations, Paul's enthusiasm has not dampened: "We will continue to do what we do. We won't be at the forefront if we sit back and relax. It's an interesting industry, I love it. I have been in it for years and I have a lot of pride. It's from this place in me that the Guild application came from. It was a proud moment to get in. I put a lot into this and I get a lot out of it. My dad is proud too. We're here to do the job right; it's down to us to push standards forward. That's why we're a member of the Guild."