Vehicle Focus – The beauty of Swans
Plaxton Elitei coaches join Swans Travel's fleet.
Posed under atmospheric winter skies are Swans Travel's latest additions to its fleet, a pair of Plaxton Elitei coaches.
Managing Director of the Manchester-based operator, Kieran Swindells, is passionate about continuous investment in what he describes as modern, pace-setting vehicles designed to feature the latest in safety, luxury and low emission technology. He sees these new additions as a fitting tribute to the company's 40th anniversary, a landmark it reached last year.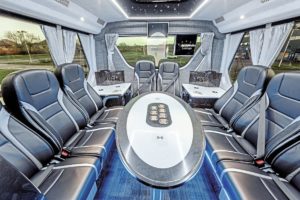 He commented: "As a family-run business we have come a long way in 40 years and continue to have one of the most modern fleets in the UK. These latest vehicles are 13.8m B11R Euro VI models, converted to VIP Team specification by AD Coach Systems. They have a superb, ergonomically designed interior with 42 passenger seats, 24 of which are positioned around a total of six tables, encouraging interaction between players and coaches on route to and from events. Both vehicles also have an eight-seat lounge and galley kitchen located centrally."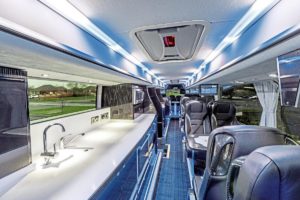 They are not the first Plaxtons to enter the operator's fleet, having had four Leopards in 2016 and 2017. The new coaches will operate out of the company's headquarters at Broadway Business Park, in Manchester, and while they will complement the wide range of corporate contracts, inbound tours, conference and event transport services provided by Swans Travel, they will essentially be focused on high profile team transfers and VIP events, notably those associated with sporting occasions. The company was recently awarded the team transport contract for the 2019 Cricket World Cup.
Kieran said: "These are truly top-of-the-range coaches and are targeted at very specific, niche sectors, particularly in the world of sport, where we already have an enviable reputation and aim to reinforce our credentials. The Elitei is the perfect vehicle with which to make a statement of intent. They are very good. They have a very good engine."
What made him go for this make and model? "Because it's British-made. The over-deck style is good too, it's popular among our sports passengers."
The operator tends to have a year's buying and then have a break for 12 months. However, a potential contract win could see it continue investing this year.