Turning around Fourway
Adrian Morton is back in the industry, having moved up north to steer Fourway Coaches back to profitability.
Thousands settle down of an evening to watch Emmerdale, following the famous characters' trials and tribulations. But what they might not know is those actors and the crew that film them would not be making TV if it was not for Fourway Coaches. The operator provides the transport for the iconic soap opera from its depot in Guiseley, near Leeds.
Its coaches are used to pick up the stars appearing in the show and all others who need to be on the set to film it, shuttling them between the TV centre in Leeds to the location. It is a contract the company has had for many years.
"It's nice work," said Adrian Morton, the man steering the company. "It's good to see all our staff being treated as part of the Emmerdale team."
If Adrian's name is familiar, it is because he was formerly the Managing Director of Mortons Travel. He left the business when Lucketts Group took over the operation in 2018. One of the latest actions Adrian has taken since coming onboard with the operator is the purchase of a pair of Plaxton Leopards.
Both are 12.8m 72-seat B8R models with I-Shift transmissions and they were put straight into service once they hit the fleet. They are currently operating on school hires. The new Leopards are particularly notable in that they bear new branding for the operation.
Adrian said of the new Leopards: "We like to maintain a modern fleet of well proven, low emission, eco-friendly vehicles that set the pace in terms of exterior styling and interior finish. Road conditions in this part of the world can be variable and demanding, whether it be winter, spring, summer or autumn, so all of our coaches have to handle well and be dependable.
"The Plaxton range meets our criteria and both of the new Leopards have slipped effortlessly into our fleet operations."
The company runs a lot of Volvos, with Adrian considering the B8R a well proven chassis.
Tackling the challenges
The new Leopards are also PSVAR compliant. Adrian has had to adapt quickly to these regulations, putting smaller vehicles into service. "It really has had a negative effect on the industry," he said of the PSVAR rules.
Fourway has acquired three former-National Express Levantes to ensure he is capable of handling work that requires PSVAR-compliance. It bought the wheelchair-lift-fitted coaches from Travel de Courcey in Coventry, where due to the regular work they were employed on meant they have done some high mileage. One of them had clocked-up 1.8m miles. Adrian said of them: "They have been quite reliable. But they lose their versatility with the wheelchair lift. They are purely for PSVAR work."
There must be many out there seeking Levantes to meet PSVAR, he believes, adding incredulously: "The price of them has doubled."
An issue he has with the recent round of PSVAR is the exemptions announced, intended to give non-compliant operators extra time to comply. Instead of seeing them as a boon for operators that may not yet be able to fully comply, he believes they cause confusion. He said: "There are a lot of operators out there that have invested a lot of money to ensure they are compliant."
Another issue that irks Adrian is the ULEZ and Clean Air Zones. The ULEZ is proving a difficulty up and down the country for operators who send coaches into London. But more pressing is the Leeds CAZ: "It was meant for January, but now it's been put back to June."
He believes the solution to the problem of pollution does not lie with coach operators, but private motorists: "We need to get people out of cars and onto public transport."
He lamented the timing of these current issues: "For PSVAR, we had to go buy Levantes and then another six months and we have to be compliant with Leeds CAZ. We are about two-thirds compliant with PSVAR, but some of our biggest competitors are nowhere near compliant."
Adrian has managed to source some additional revenue from the private schools to fund the PSVAR compliant vehicles. Adrian is thankful of this, saying: "They felt the onus was on both sides. Private education establishments don't want to give themselves a bad name. We increased contract prices by £75 a day."
PSVAR also affects another aspect of its work: rail replacement. "We are very well placed for rail replacement," said Adrian, as a train rumbled down the track that runs by the side of the depot. "We have a good working relationship with Northern." 
The company inherited a lot of its current fleet, predominantly Volvos, from the operation's previous owners in April 2019. It was previously run day to day by Penelope Coaten and David Kellett. Adrian said the Leeds CAZ and the requirements and changes that necessitates was the final nail in the coffin for the pair, who, being 72 and 73 respectively, decided to retire.
As the previous owners decided to close the depot doors for the final time, well-known industry professionals Andy Garratt and Kevin Procter came in to value the assets and sell the business off. Adrian said: "When they came in, they saw the business was just too good to close. There are hundreds of different sectors for them to serve and we are surrounded by work opportunities around here."
Nearing a full solution for the problem that nearly put an end to the name Fourway Coaches, the business is all but covered to take on the Leeds CAZ now. Adrian said: "We are about two-thirds prepared for Leeds CAZ. We have a few motors that can enter."
From loss to profit
If Fourway Coaches was broken up and sold, it would have meant the end of nearly 50 years of the business. The lead up to the new owners taking over the business began at the start of last year and was completed by April. Adrian said: "When it was all announced about the takeover, the old owners took a step back from day one."
He continued: "When it was bought, it was a loss-making operation. I've known Andy Garrett for several years and he called me out of the blue and said: 'What are you doing? Fancy going over to Leeds?'"
When Adrian received that call, he was spending some time out of the industry. After the sale of Mortons to Lucketts Group, Adrian relocated up north to Cheshire.
The commute from his home in Knutsford, Cheshire, to the office in Guiseley takes around an hour and a half, but it can be much longer if he travels during rush hour. He said: "To all intents and purposes, I'm the new General Manager. I do it on a consultancy basis."
Has he missed being in the industry since selling Mortons? "I think I have. But I don't miss certain aspects of it. But this industry is all I know and love. I miss something for my brain to engage with."
Since taking charge, Adrian says there have been a number of changes made. The focus of the alterations has been to make the operation more streamlined.
To turn the operation's fortunes around from a loss-making business, Adrian has proactively sought additional work. He said: "As part of this, we are now heavily involved with the railways."
He has also reviewed Fourway's bus services. It operated a contract requiring two vehicles, which Adrian revised from a five-driver requirement down to two. Adrian has focused on providing much tighter scheduling of jobs and driver downtime. He said: "Sadly, staff who could not adapt to the changes left to seek alternative employment. But the business had to change."
This all seems to have paid off for Adrian, who said: "We are now approaching a net profit of around 8%."
This is not only good news for the owners and Adrian, but also for the staff. Understandably, the past year has been a troubling one for the workforce considering the take-over. Adrian said: "A lot of them were pleased because they thought they would be made redundant."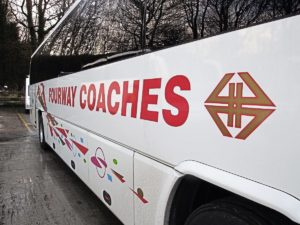 He puts his money where his mouth is too, saying: "Last summer, we gave employees a generous pay award, an extra £2 an hour. From a company that was loss-making, to make a pay rise is a big step. But it's a step that needed making. You have to realise it's a very demanding and responsible job."
He is well aware of the benefits of a good team: "Without good staff, you do not have a company."
As is the case across the country, driver recruitment is an issue in the Leeds area. Adrian said: "Finding good staff is hard. We have taken some good recruits from First, the main local bus operator. It's seen as a good progression for them. I like it when they are new to the industry and have not learnt any bad habits from other operations they have worked at."
What does Adrian look for in a good coach driver? "They have got to be reliable. And be a people person. They have also got to accept that this is not a Monday to Friday, nine to five job. You have to be professional at all times. It's easier to train someone to drive a coach than it is to train them to be a people person."
Having professionalism deeply ingrained in the operation is key for Adrian; it is important for attracting and keeping work. He said: "Reputation is important. The Fourway brand is very strong, we have a lot of loyal customers and a really good name. We have to ensure the name and reputation of the business is protected."
It seems like Adrian is succeeding in this, with customers seeing it as business as usual despite the change of hands. He said: "There is no worry from the customers; they are not that aware of the change of ownership."
Investing in higher capacity vehicles became a must for Adrian. He said: "When quoting for work we were losing a lot of work to others with high-capacity vehicles. That's why I have put emphasis on getting high-capacity vehicles in the fleet."
This is one of the reasons the operator has gone for the recent Plaxton Leopard duo. It is also why Adrian has had a 50-seat coach converted to a 61-seater at Duoflex. He was pleased with the work the interior convertor did, upgrading the seating. Stepping onboard the vehicle, his judgement seemed justified.
The exteriors of the coaches have also been focused on since the takeover. Vehicle presentation has been improved with the addition of a wash bay, seeing a section of the depot hardstanding concreted over again and water draining measures put in place. Adrian said: "I had to have a proper wash bay installed. Your vehicles are the only free advertising you get."
Adrian has employed two valets, one to focus on the external cleaning and another the internal. A Bitimec push-round wash system has been invested in. On this equipment, Adrian said: "We had a couple when I was at Mortons, so I knew what they are like."
Investment has also been made in training the team at Fourway since the acquisition, in particular on compliance issues. Adrian said: "We have just offered the fourth CPC course since the takeover. We are way ahead of where we should be with this."
Also brought into the operation is Aquarius IT's solution for tachograph management, ClockWatcher. Adrian said: "This is a brilliant system. The system that was in place before wasn't working effectively, but this one ticks all the boxes nicely."
The operator has updated the way it does walk-round checks too. It has employed Distinctive Systems' walk-round check app, with drivers using their smartphones to complete and register the checks. Adrian said: "I used that system at Mortons and I use their Coach Manager package."
Work up north
Adrian mused on the differences he has noticed since moving to northern England: "Until I moved up north, I never followed rugby."

Fourway does a lot of work for rugby and other sports clubs, carrying the teams and supporters for various squads in the area. The mighty Leeds Rhinos, at the top tier of English rugby, are among its portfolio of sporting work. The operation's diary tends to fill up on a Wednesday, usually its busiest day, due to local universities having sporting fixtures then.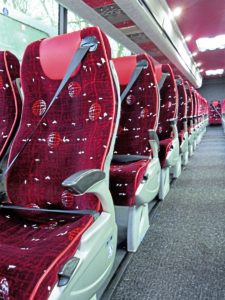 Adrian said: "The fleet is getting heavily utilised now. But it is about getting the right balance, getting as much use out of them as we can. We have a Temsa Safari for Leeds Rhinos and a Plaxton Elite team coach for use with other clubs."
He is clearly enthusiastic about his work and coaches and buses are something he has been drawn to for a long time. He said: "It's something I've always wanted to do since I was at school. When I was 18, I worked for Reading Transport. I then moved into coaches when I was 21. It's my hobby as well; I have eight vintage buses.
"I worked for a number of different coach companies until I decided to set up on my own in 2004. I did my Operator's CPC three years previously. I started with a Van Hool DAF that I got from Arriva Bus and Coach. I went on to establish Mortons as a successful brand, growing it into a 31-vehicle operation as it was in 2018. It was hugely successful.
"I built that business on high-capacity vehicles, which is why I want to spend on big vehicles here. If you're doing the job right, you don't need to advertise. But you have got to be doing it right. That's a lot about customer care; right from the initial email or phone call to the end delivery.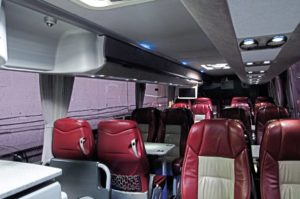 "When I started, I just envisaged operating two coaches. It grew on word of mouth and reputation. And you just didn't want to say no to work. You just had to grow, not because you wanted to but to stop competitors coming on your patch. But you have to draw the line, because the bigger you get the harder it is to maintain that quality. It's a very fine balancing act."
He continued: "It's nice from my perspective that since I sold Mortons I have been inundated with people in the industry asking me to do consultancy work for them, particularly with PSVAR and its impact on schools. If there were more hours in the day, I would do a bit more, but three days a week consultancy at this moment in time is enough, as I sought time to spend with my young family. It's nice that people in the industry recognise what I achieved in that short space of time and that they've asked me to help, even people who haven't met me in the past."
It is encouraging to see an industry professional like Adrian take the helm at Fourway Coaches. He has turned the operation around considerably in such a short space of time, reversing the fortunes of the business and its staff, saving another familiar name in the sector from disappearing into the annals of history. And it may need a well-versed hand on the wheel, because Adrian expects a tough year ahead: "I think for a family coach firm, this year is going to be make or break for many."