TrawsCymru gets new app
A new app for Transport for Wales' Traws Cymru long-distance bus network is being introduced. The app is designed to help customers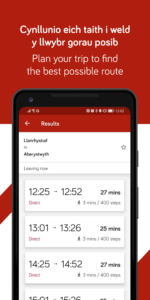 with journey planning and bus timetables, as well as provide live vehicle tracking options, so they can check where their bus is on the network. It will also offer mobile app ticketing, providing digital access to TrawsCymru services and display the carbon savings made by choosing to travel by bus.
Through providing clearer information on a more accessible digital platform, the app will support Welsh Government's aim of achieving a bus system that boosts social equity and is capable of delivering the scale of modal shift needed to combat the climate emergency.
The app is being created by Passenger and will be complemented by a new TrawsCymru website launching this autumn.
"Our purpose is to progress the Welsh government's vision of a stable, easy-to-use network of bus services that fully connects to other methods of public transport" – James Price, Chief Executive at Transport for Wales
James Price, Chief Executive at Transport for Wales, said: "Our new app and website for TrawsCymru represent a significant milestone in our plans to transform and improve public transport in Wales, as we look to create a network which appeals to a much wider demographic.
"Our purpose is to progress the Welsh government's vision of a stable, easy-to-use network of bus services that fully connects to other methods of public transport. We want to provide a reliable, affordable, flexible and low-carbon transport network that supports more people to use the bus instead of their cars – and our new TrawsCymru app and website will complement our ongoing efforts."