Travel de Courcey – hybrid and beyond
How is the Irizar i4H faring on its trial? And what other developments are on the cards for the West Midlands operator?
First in line to trial the Irizar i4H hybrid coach in not only the UK, but northern Europe, is Travel de Courcey (see B&CB 1442, 11 August 2017 for our coverage of the announcement of this vehicle).
Operating green PCVs is nothing new for CEO, Adrian de Courcey, whose fleet includes electric Optare Versas. It is an exciting time for the operator, which is not only trialling this new coach but in the process of redeveloping its Coventry site with a new workshop and offices. To talk about the trial and the other developments, Chris Peat met with Adrian, who, to add further to momentous events, recently got married.
Hybrid first
Irizar UK officially showed off the i4H hybrid at its iDrive event in Rockingham in August this year. However, Adrian and the dealer had been working on trialling the coach prior to this. Before that even the coach had been successfully used on commuter services in Madrid.
Settling down in his office on a breezy autumn day, Adrian said he has the hybrid until 20 October. "Environmental concerns are pressing", he noted and running a hybrid could prove an advantage with some customers.
"I'm not really an Irizar customer", he admits. "That's not to say I would not be. For Irizar, one thing is the company is really growing a lot. They are now producing in Spain, Mexico and South Africa. They are a good company to partner with. There was minimal work that went into organising the trial. Julie Hartley, my contact there, was fantastic, really pro-active, really helpful. The support from them has been good."
The choice of a hybrid coach was based on the nature of the route it is being used on, which serves Jaguar Land Rover (JLR) sites across the West Midlands. One of the features of it that drew Adrian was its regenerative braking. This is thought to be an advantage as the vehicles are often stuck in traffic, a recurring problem in the region. It is important it is used on the correct type of service, he claimed, "It's not the vehicle to do tours of Scotland. We talked a lot about where to put it, we thought about putting it on our NEC service originally, but we put it on the JLR routes. It suits that better."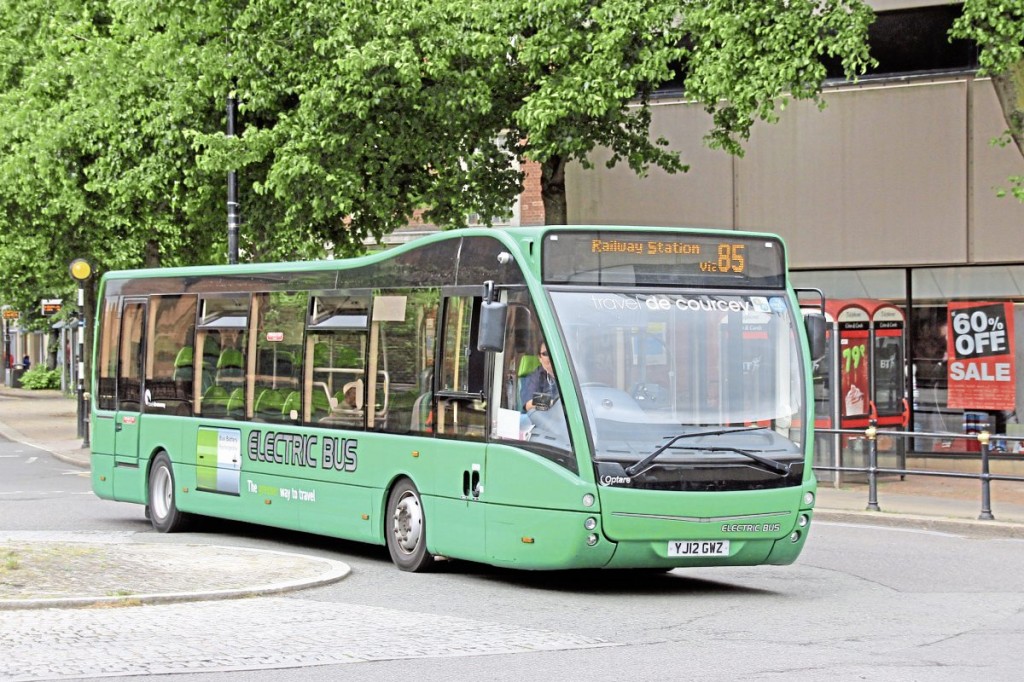 The frequency on these services, some of which do 60-mile round trips, depends on the time of day. The fact it is a 57-seater helps with rush hour traffic, according to Adrian. Jaggi Randhawa from the company said: "The routes are quite varied, with some quite short and others longer." Travel de Courcey uses Caetano Levantes on the JLR routes, as well as a mix of other vehicles. The majority of them are to luxury specification.
The i4H was due to be put on its first private hire service the week following the author's visit to the depot. This was expected to be a long-distance run, a 300-mile round trip. "I'm very confident it can do that," Adrian said. He believes it will give a good idea of how the electric motor fares.
Commenting generally on the vehicle, he said: "Irizar is in a very competitive market, so they are offering something special. They combine the passion with a lot of experience too. I'm impressed. It's a really innovative design. It's simple but in a way that works."
Passenger feedback has been positive, with the fabric being noted to breathe. "In my opinion, the i4H is a great example of what can be achieved. It's going to be inevitable that technology like this is the way forward."
It is too early to tell the long-term value of this vehicle, according to Adrian. However, summing up its performance so far, he said: "With any new technology, there are often teething issues. We've not experienced that with the i4H though. We will see what it can do."
Jaggi said of the i4H: "It seems strong on preliminary use. Cosmetically it is nice, mechanically it is strong. It ticks all boxes initially. We are very likely to roll it out onto the fleet. I think it suits the JLR network because of the distances it is travelling. It works well in that network. Like with all hybrid electrics, it is not as flexible as a conventional diesel."
Adrian said: "We are really privileged to be the first in northern Europe to operate the i4H. It is a really good vehicle."
The twins
Adrian and the rest of the management team seem to be impressed with the vehicle, but what do the drivers think? Delrick and Besley Reid, or the twins as they are affectionately known at Travel de Courcey, were selected as the drivers of the Irizar i4H. The identical pair was enthusiastic about being given the coach. "I like it!" Said Delrick. "It's sheer comfort," commented Besley.
"I had it this morning, it is brilliant, absolutely fantastic to drive," said Delrick. His brother chimed: "I took it round Warwick town centre and the performance was absolutely awesome. I reckon it could do long distance. It's reasonably fast. With the handling, there are no problems."
"It's very comfortable," said Besley. "I took it round Fosse Way, it holds round the bends better than any car. The steering just stays there, where you want it. It's not all over the place."
Passengers are positive about it too. Delrick said: "Customers look at it and go: 'We want more of them!' People are getting up earlier now so they can jump on the coach."
Besley said: "We've driven hybrids before so we know that if problems arise we know what to do with them. The controls are straight forward, Julie Hartley from Irizar went through them with us. We had an expert from Irizar in Spain come down and explain how all of the software functions. He told us how to get the best fuel consumption out of it. It's very good on fuel, I did two journeys to Gaydon and it hardly moved the needle."
Even the police are impressed, with Delrick saying: "There was a police man and he just said: 'Wow! Is this the new, state of the art coach? Wow!' It's a real privilege to drive it. I would recommend it to any driver."
Travel de Courcey has certainly put some experienced drivers behind the wheel of this vehicle, with Delrick having driven buses and coaches for the past 20 years, while Besley has been doing the job even longer. It is somewhat of a family profession, with their sister and nephew also driving PCVs. When not driving coaches, the pair can often be seen on the roads on their Vespas. Scooters are a lifelong passion for the pair. According to Adrian, they are big names in the scooter fraternity, appearing several times in scootering publications. Delrick enthusiastically described the difference between the different tribes within the mods sub-culture, proudly nailing his colours to the 'townie' style.
Green agenda
Adrian is clearly enthused about operating a green fleet, whether that is hybrids or electrics or any other environmentally friendly alternative to pure diesel. He has been heavily involved in meetings and think-tanks involved in making operations greener. Looking ahead, does he think hybrid technology is the future of bus and coach operations? "Electric might be the way forward. There are a lot of unanswered questions on electric and hybrid though. There is the range anxiety."
With full electrics, he brought up the issue of whether we want to be zero emissions just at the tailpipe. Electricity has to be made somewhere and in this country, it largely involves burning coal. Harmful emissions are not given off directly by electric vehicles, but they are made none the less to power them.
"There is a lot of confusion in the media about green transport. If we want to be truly green then we need power stations to provide nuclear or renewable energy. There is definitely a clear commitment for green transport, but all stakeholders need to be involved, from trains, to haulage to car users."
What is stopping further roll out of environmentally friendly vehicles in the bus sector? "It's a cost issue. Operators are reluctant to invest in these because they don't know the long term viability. Who funds this? The industry is willing, but there needs to be a joined-up debate. The key players are National Grid, government, trains, bus and coach and haulage. I've never been to a meeting where these key players are all together."
Noting that planning applications for the upcoming Hinkley Point took three decades, he questions whether the country can meet the need for more power that the further roll out of these vehicles brings about. Better harnessing of wind and wave generated energy could be the answer, he believes, with Scotland in particular being most suited to this. "We can't keep building power stations. Before legislation and plans are put in place by the government to encourage greener transport, we should know what the future mix of propulsion will be. The real future might not be battery electric, it might be hydrogen fuel cell. Diesel will come to an end at some stage soon."
Travel de Courcey is forward thinking when it comes to running a green operation. Adrian said: "As a company, we are really trying our best to be a leader in electric and hybrid technology."
In 2012, the company applied for the Clean Vehicle Technology Fund (CVTF), which aided it in buying a trio of electric powered Optare Versas. A strict policy of no engine idling has been enacted throughout the company in an effort to cut down on emissions. It is not just the vehicles it is focusing on, with the site powered by a biomass burner and its wash system harvests rain water and recycles it. "Many things like that go a long way."
Super depot
A new wash system is about to be installed at the Coventry site. The work is going to lead to what Adrian described as a "super depot" with new workshop facilities featuring eight bays. The new facility will also provide fresh offices for management and admin staff. Wireless mobile column lifts are to be fitted, which should help save space and a Premier Pits inspection pit has also been installed.
The building will also feature a new recreation room for workers. Jaggi had the idea of installing a gym here, but a poll amongst drivers is overwhelmingly in favour of a pool table. He is still hopeful though!
There will also be showers for workshop staff. The current site, which it moved into in 1981, is becoming cramped, with the development allowing it to better use the space in its yard. The work represents the company's biggest ever investment.
As the new site is rolled out, a new logo is to be introduced for the whole fleet. It has been designed to appear more 3D than its current graphic, with the road aspect of the design made more obvious. The new depot also complements the livery, with two shades of blue used and orange brick work. With the build currently underway, it is expected to be completed by the end of the year. Mike Canning, the architect involved in its design, said: "The worst-case scenario is it gets finished in March next year."
The extra space the new depot is to create is needed as the business has trebled in size in the last six years. "The growth has all been organic. Many companies in the industry tend to grow through acquisitions, but we don't do that."
How else has this growth been achieved? "It's quite simple, it's by trying to provide the best value service we can. We were growing with the city, but we have now outpaced that growth. We are not bureaucratic, we are entrepreneurial, we are keen to see opportunities. We have been good in how we have used and adopted technology too. Only now is the industry beginning to see the need for telematics, but we installed it ten years ago."
It has used three different systems in the past decade, the latest being Lytx. It uses the technology to identify its best performing drivers and provide them with financial bonuses, in some cases up to an extra £2,000 a year. "Because of that, everybody buys into it. It's really helped us. When we were growing, it meant our risk increased. We had to be careful in monitoring this risk. However, we are now self-insured and telematics helped us do that.
"It is not a magic bullet though. We have actually tried to maximise telematics' use, we learnt about it in detail and became system experts. In the initial two years, we did get a fuel saving and a maintenance saving. But you're not going to keep improving mpg, so it's about using it to make the operation safer. We do get a lot of fraudulent claims, all operators do when you get to a certain size. Telematics has helped in winning against these claims. From the passengers' point of view, they get a safer and more comfortable journey."
It is also good to identify who the better drivers in the operation are. He said: "In the past, you would never know how good or bad a driver is unless you got a complaint about them. But now you can know within days."
Not only has telematics helped, but finding its niche in the type of work it does has aided the firm too. Its work is much more contract based rather than providing holidays and day trips. For instance, in 2012 it won the contract to run the shuttle buses at the NEC. One of the reasons it was successful was because it was one of the only companies willing to work with the exhibition centre on geo-fencing the buses, seeing its telematics system used to raise alarms if the buses divert from their route. The need for this rises from the arena being classed as a potential terrorist target.
Employer of choice
Surely another reason behind the success of the business is Travel de Courcey's attitude to staff. Adrian said: "Our biggest asset is our people. Even if we had a fleet of i4Hs, they would not be as important as our drivers."
When walking through Travel de Courcey's depot, it is notable how many younger faces there are. Adrian said the average age there is 39. Perhaps one of the most youthful staff members is Sunny Guraya, an 18-year old management trainee. Despite his tender age, Adrian said he has been given weighty tasks to do already and joins other managers in meetings.
Another young member of staff is Jack Flavell, the company's IT specialist. He takes care of a lot of the technology side of the operation, saying: "I tend to do the nitty-gritty stuff. I love it! From a young age I was always interested in computers, I enjoy taking things apart. Anything that isn't right, I'm straight in there!"
He will be involved with the roll out of a new ticketing machine across the fleet as well as the introduction of 4G wifi on the operation. Jack said: "With the new building, there's talks about new gear. It's exciting! New stuff to play with! I'm going to try to have it a lot more managed."
"Age is an issue in this industry," Adrian notes. "Employing younger people, it really gives us an advantage. We really want to develop them. We can develop them into our way of thinking. We employ people from every nationality too. We're very multicultural here. We have Irish, Nigerian, Iranian, Indian and Caribbean among other nationalities."
On choosing staff, Adrian said: "It is about the basics, they have to be able to drive. The next thing is the personality, they must be able to make someone's day. Happy customers make more happy customers. The twins (see separate panel) are the gold standard in that. We put our staff through NVQ Level 2 customer care training. It's not just transport we're providing, but a service."
Adrian truly cares about his staff. This was evident when walking around the depot, he hailed employee Sarge (he is eastern European and none of them can pronounce his name, so they call the ex-military man Sarge), while walking to the new depot's building site. He asked him how his family was, who were all suffering from the flu. "It's a really small thing, but it matters. I want to make sure he's OK. It's about getting to know them and caring and understanding. It's like Jack, he's a big ice hockey fan. I've no interest in ice hockey but I follow the local ice hockey team so I can have some friendly banter with him."
The company gives out birthday cards to employees and they get a day off on their big day.
"We often have pizza Fridays and go bowling and have movie nights. Although we don't tend to do movie nights anymore, there were disputes about the film. We watched Jack Reacher with Tom Cruise in it, it was bad. We will go to the rugby and see the Wasps play. Doing this sort of thing is pretty important.
"West Midlands is at full employment and we want to employ the best people. Money is a big factor, but you have got to enjoy your job. You have to make it fun. We are as competitive as we can on pay, we fund the bowling and pizza, invest in facilities. It speaks volumes that despite there being a national driver shortage we have a driver waiting list. If people leave us, they often come back. We want to be the employer of choice."
Irizar i4H
Engine: Cummins ISBe 6.7litre 300hp diesel engine with an advanced Eaton PHP hybrid transmission incorporating an electric inverter and 346V traction motor generator
Transmission: Six-speed automated manual gearbox
Length: 13m
Seats: 57 (53 with wheelchair)
Passenger lift: Side mounted Masats wheelchair lif
Fact file – Travel de Courcey
Name: Travel de Courcey | Formed: 1972 | Depots: Birmingham (National Express fleet), NEC (shuttle buses) and Coventry (mixed buses and coaches)
Fleet size: 136 (including 13 Caetano Levante on Scania K Series, 26 Caetano Levantes on Volvo B9R, two Caetano Levante B12Bs, 11 Mercedes-Benz Citaros, six Dennis Darts, three Mercedes-Benz Tourismos, seven Mercedes-Benz Touros, Volvo B12M, Volvo B10M, Volvo NFE, two Volvo B7TLs, five MAN Marcopolo Viaggios, four Mercedes-Benz Sprinter 514CDi minibuses, 21 MAN MCV Evolution Series 1s, two Mercedes-Benz MCV Evolution Series 2s, an Optare Tempo, four Mercedes-Benz based Optare Versas, three electric Optare Versas, a Scania based Optare Olympus, 20 Dennis Tridents, a Daimler heritage vehicle and a Plaxton Panther bodied Volvo B10M)
Operations: Contracted services, local bus routes, National Express routes and private hire