The crossroads
Turning your 'hobby' into a business is a big step, and one which Matt and Kadi Crocker faced ten years ago when charity work overtook their working life. They took the plunge, and haven't looked back.
It takes some bottle to hand in your notice on a £40,000-a-year salaried job and dive into coach tours to make a living.
If we're to believe many pundits, there are thin margins and a lot of stress in running a tour programme, with or without owning coaches. That said, there are a few well-known coach tour operators with nice cars and a deserved reputation.
Matt and Kadi Crocker came to coach touring ten years ago, in an evolutionary process which took them from raising money for local charities to becoming Crossways Travel; to carving a niche for quality group travel, within the same community, on a business footing. It's fair to say it has been 'a journey.'
Neither Matt nor Kadi have come to coach tours from a traditional route. Matt was working for the railways and Kadi as an English teacher when the couple decided to set up a charitable enterprise organising community excursions for charity in the Dorset village of Crossways. To say it was a success would be an understatement.
"My only connection with the industry was that I had worked at Southern National and at Excelsior," Matt told me. "So we learned as we went along and eventually got to a situation in which we had a pot of money, and were making loads of donations to local causes. It just got busier and busier, and broadened, but we were still both working.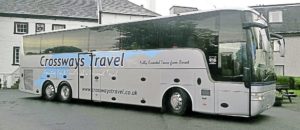 "It was a huge amount of work so we reached a point where one of us would have to give up our job or we'd have to pack it in. So we set up as a sole trader, and Kadi gave up her teaching job."
All went well for two or three years, the tour programme building until, once again, Matt and Kadi reached another tipping point: "That was a big step, to give up a £40,000 job. At that point, we weren't making enough money to support ourselves," said Matt. However, while redoubling their efforts, they secured the services of a local woman with travel experience, Gill Davies, and the sound advice of her husband, who has an interest in the PSV business.
"It was one of the best things we ever did, getting Gill in – a third pair of hands," said Matt. Gill left the business in 2018 but has recently chipped in some of her retirement time, tour planning alongside Matt and Kadi. Tour planning, it turns out, is among the most important jobs in the Crossways calendar.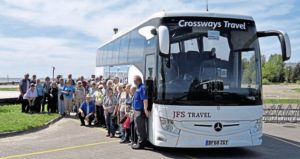 From the start, it was the Crockers' intention to avoid trying to compete on price, particularly with national operators. Locally, they have some stiff competition from Bluebird of Weymouth: "They're good competition to have, really," said Matt. "They have a premium product so they keep us on our toes. In this area, there are more than enough retired folk for us to share."
The planning process is painstaking, with Matt and Kadi checking out hotels themselves and getting timings, ferries and attractions nailed down before adding a tour to the brochure. It's not as if they can distance themselves from the outcome, as every tour has a tour manager aboard… usually Matt or Kadi. Local woman Sonia Abiss is Office Manager, and handles the phones when Kadi is away or under pressure.
Kadi, indeed, is a woman of many parts, designing the brochure and flyers as well as attending to admin and, last year, memorably setting up a tenth-year anniversary tour of her native Estonia and neighbouring Baltic States: "It was a lot of pressure," she said. "I felt I was representing my country." The £1,599, 14-day tour was a huge success, filling the coach and returning with a lot of smiling faces.

To reduce the time spent on the coach, Crossways booked a Stena Line Germany-Lithuania ferry from Kiel: "I don't think the ferry staff had ever seen a coach before," said Kadi. "When we got aboard, we discovered the ferry only had one small bar.
"As any coach tour operator will tell you, most people only get to know the people sitting immediately around them. It was a happy accident because our group all gathered there and got to know each other. Before we got to Estonia, everyone had met and it definitely helped with the mood on the tour. The ferry crew even remembered us on the way back."
Tours and excursions
Each year, Crossways runs 30-plus tours and a small programme of day trips, the latter set up with only thin margins.  "The day trips give us an opportunity to market our tours," said Matt.
"In fact, on the tours themselves I'd expect to get six to 12 more tour bookings by the time we get back.
We have a lot of repeat business – one lady has booked 24 holidays in one year…"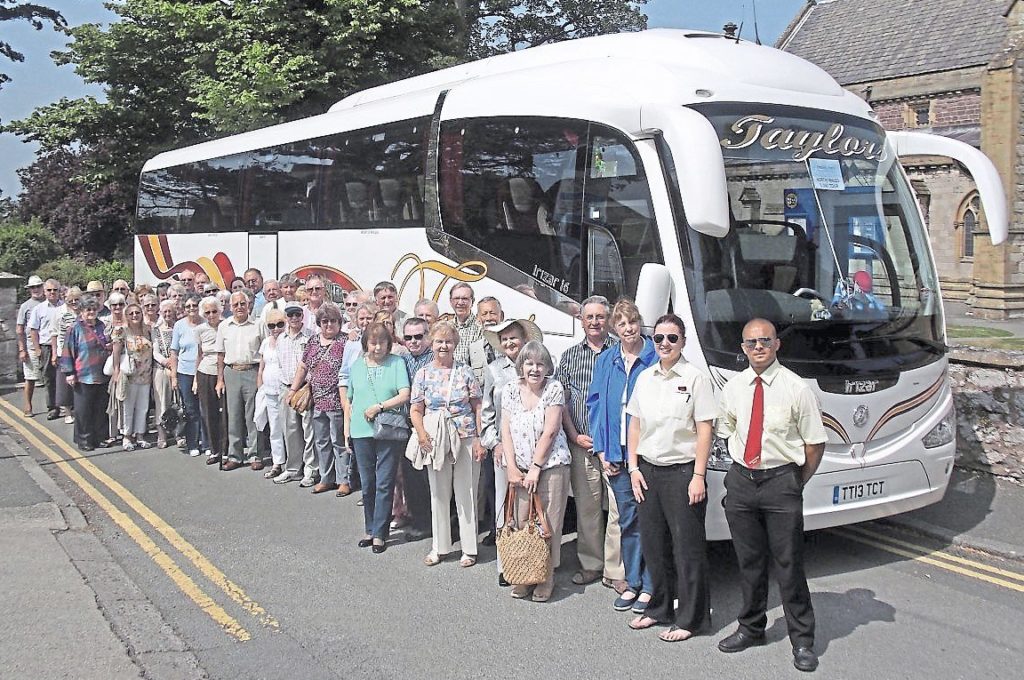 The tours are brochure once a year, and day trips three times a year, going out to a pick-up area which is big – stretching from Wareham in the east to Axminster in the west, and north to Blandford. Even so, Matt aims to ensure the pickups take no more than a couple of hours. Door-to-tour feeders to the coach are provided by a local taxi company for a £20 supplement, with the rest collected from local stops.
Marketing to such a large area requires some skill. At their nearest town, Dorchester, they have an ally in the local Tesco, which has been engaged with its community for a long time. Set slightly out of town near a major road, the superstore not only stocks Crossways' brochure but is a tour stop. Crossways reciprocates with coach travel for Tesco's local retirement association.
Crossways has also built up a good relationship with Tourist Information Centres, such as Lyme Regis TIC, which stock brochures and, as agents, give a trickle of bookings. Other first-timers are attracted through advertising with the many, small local magazines which seem to have overtaken traditional regional newspapers for reach into communities. Indeed, one Axminster magazine promotes Crossways' tours as 'Reader Offers' and gets a commission for sales.
Crossways' website is another conduit for bookings. Designed by a local man using WordPress, it's very smart, easy to navigate and details each tour. Cleverly, Crossways gives plenty of space to the many testimonials it gets from passengers – many the result of the survey forms it hands out after every tour. Matt shows me a random sample, which is basically a string of **** and ***** out of five.
The website details the essentials, of course, including a recommendation for Towergate travel insurance, and the escrow account method Crossways uses to meet the package travel regulation. To manage the bookings, Crossways uses Roeville's T3 tour booking system but has decided not to take bookings on-line: "We don't want to lose that personal service we provide," says Matt. "It's about giving our company personality."
Crossways Travel has worked out one simple home truth about sales; it's cheaper to retain customers than find new ones, and the ethos runs through the fabric of the tours it runs. The care package aboard includes the tour manager, and a card rack aboard the coach gives his or her mobile phone number, and the reassurance that they are available 24 hours a day.
Coach journey
In the early days of the charity coach trips, Matt and Kadi hired budget vehicles from South West Coaches, to maximise the cash raised.
But as their experience grew, they began to specify more luxurious vehicles and serve hot drinks, finding that Taylors Coach Travel of Yeovil had the kind of vehicles they needed for the small but burgeoning client base they had built.

Ever searching for perfection, they began using Blakes of Tiverton, and although they had no complaints about the vehicles, the distance from base began to create its own problems. Then they contacted JFS Travel in Blandford, run by Jeff and Chris Holmes, and haven't looked back.
"Jeff and his son Chris really are top notch, and service our work with a new Tourismo with our livery which really is superb," said Matt. "It was a stock vehicle from EvoBus so, in truth, we might have spec-ced it differently but it's a beautiful and reliable machine – kept pristine and driven by their team, who don our uniform for the tours. I can't speak highly enough of them."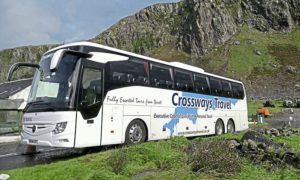 The livery (designed by their website designer) is much more than just flag-waving, says Matt: "Bearing in mind the age of many of our customers, it is a great prompt for them when they see it, and remember to look at the brochure," Matt said, with a wry smile. "It is true that we get a massive surge in bookings for the first couple of weeks after the brochure lands, then it tails off. Oddly, I have also noticed that we also have a flurry of bookings when our competitors launch their brochure – I'm sure that's true of them, too!"
It's a 55-seater but Crossways sells only 52 seats: "Nobody wants the middle seat at the back, and I also rule out two seats near the kerbside back row. They're very useful if someone needs to lie down."
Costing the tours is, as usual, a question of setting a break-even figure for seats sold. Crossways aims for 25 seats on European holidays and 30 to 32 on UK work, though on tours it knows always sell well, it sometimes takes a more optimistic view.
Touring with taste
The breadth of tours offered by Crossways Travel is probably similar to many coach tour operators but as with much of life, the devil is in the detail.
Firstly, Crossways Travel books some pretty classy hotels. I always think coach tour customers should be encouraged to check prices (now so much easier on-line) against the brochure price for the holiday. It's then they discover the advantages of travelling together. For example, we costed the individual, 'rack rates' for an eight-day, seven-night holiday with Crossways and got a room-only figure of almost £700. So for £300, each holidaymaker gets seven breakfasts and dinners, guides, attractions, plus all the transport to Switzerland and back.
Leafing through the 2020 brochure, there's a five-day tour to Dublin for St Patrick's Day at £499; a gardens and railways of Cornwall and Devon for five days at £459; and a mammoth 13-day Norway fjordland tour for £1,699. You wouldn't have to search too hard to find similar holidays for less, but Crossways has made it a credo to keep standards high and, if you never disappoint, the price fades into the distance.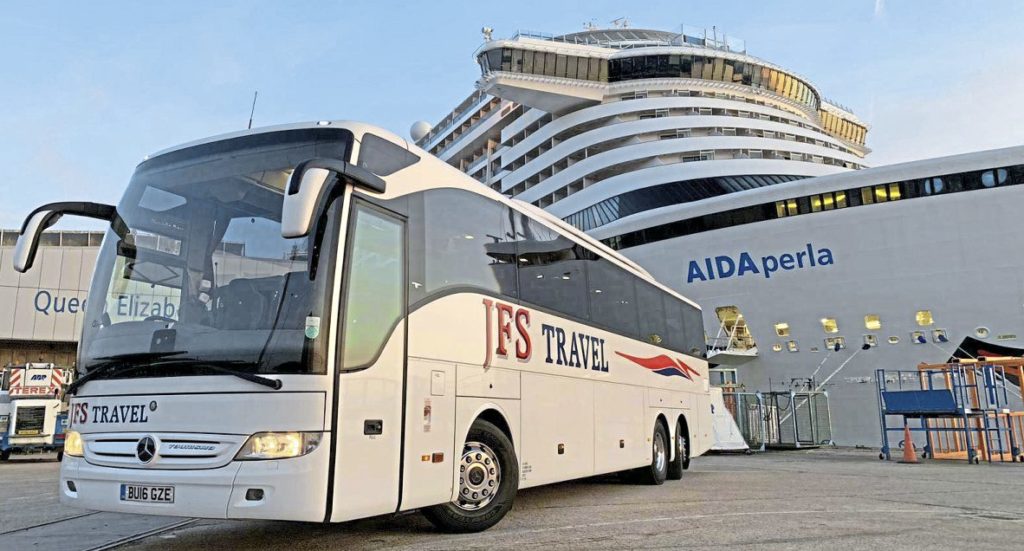 Crossways' customers must be a pretty adventurous lot. Among the clutch of departures this autumn is a nine-day Shetland trip with overnight ferry, staying at three hotels and jam-packed with activities. The brochure is not without quirky but clever ideas, such as Deliciously Delightful Desserts – a four-day mystery tour which encompasses town and museum visits but, of course, is all about packing in a few puddings each day.
To encourage repeat bookings, and reward regulars, the customers get a loyalty card which they get stamped, once for a day trip, twice for a tour, and when they've clocked up ten stamps, they get £30 off a tour.
The most recent day trips leaflet details more than 30 in six months, so JFS' coaches are kept busy between tours. The list includes shows, shopping, museums, markets and lunches (anyone for a Wetherspoons Mystery Lunch?) but as Matt says, they are a major marketing tool for the tours and, in fact, a few are detailed on the day trips leaflet. It's one of three day trips leaflets issued each year. Tour brochures go out twice a year.
Crossways Travel has been a success for Matt and Kadi principally because they pour their hearts and hard work into it, and the signs this year are that they are set for another bumper season, with bookings up 20%. Attention to detail is everything, and Matt says he's shocked at the level of customer service offered by some of the hotels and attractions they visit – one small attraction memorably forgetting about a booking until the day of travel, and had the tour not been running a little late necessitating a call from Matt en route, the attraction wouldn't have had a clue they were coming.
It remains a modest operation, run chiefly from the couple's home. Matt has considered renting a travel shop or a small office but feels that they are a Crossways business, and wouldn't really want to leave the village.
The huge admiration they get in testimonials suggests they are getting everything right. In particular, the Baltic trip to celebrate the first ten years garnered some impressive praise. Will they be running another?: "I'm not sure," Kadi told me, blanching at the thought of the work she had to put in first time around. I pointed out to her that it would be much easier second time around: "Maybe…"