Thamesdown Transport
This local operator celebrates its achievements and heritage as part of Swindon 175, the town's celebration of its transport culture and successes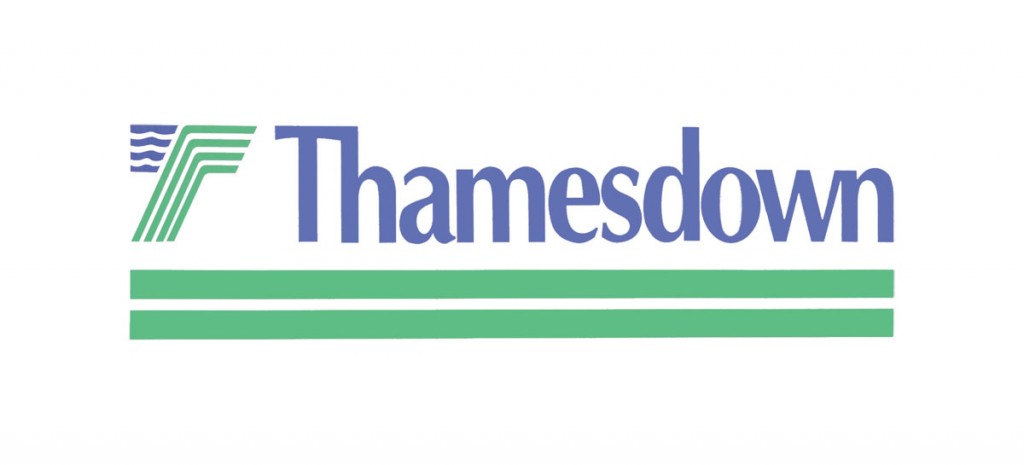 Thamesdown Transport is a municipal bus company, wholly owned by Swindon Borough Council (SBC). With an annual turnover of £11m, it operates 85 buses, mostly in the urban area of Swindon. I met up with MD, Paul Jenkins, and some of his team, to find out more about their operation.
History
Thamesdown Transport is 112 years old this year and started life when Swindon Corporation began running a tramway system in the town. Next year they will celebrate 90 years since buses were introduced to cover the areas not served by the trams. Following a major reorganisation of local government in 1974, Swindon Corporation became Thamesdown Transport. The company, as it is today, was established in October 1986 as an 'arms-length' company owned by SBC to meet the requirements of the Transport Act 1985.
Business Profile
Thamesdown's operations are predominantly high frequency bus services, covering the urban areas of the town although of the 29 routes that they operate, eleven enter rural locations. The main competition in the area comes from Stagecoach West, who have about 25% share of the urban market. In addition to the bus service network, which covers commuter routes, the local hospital, colleges, shopping outlets and park and ride facilities, Thamesdown also operate SBC school contracts, a free shopper service for Tesco Cirencester and a number of private staff buses for local businesses including Nationwide Building Society.
The business is wholly focussed on local bus, having ceased their coaching operation in 2002. 93% of the network is commercial and as Paul explained 'We operate commercial routes and run as a proper limited company 'at arms length' to the Borough Council.' In an average year, they cover three million miles and carry over eight million passengers.
Swindon
With an urban population in excess of 185,000, Swindon used to be considered a blue collar town, which is great for the operator as public transport usage is still higher than average and there is said to be a great community spirit. However, the town now has a more broad based economy with high prosperity levels and therefore an increase in the number of car owners.
Bus travel has been encouraged by the introduction of bus lanes and bus gates, which have been fitted with cameras since 2014. These have proved to have been highly successful and act as a good deterrent to car drivers 'trying their luck'and, as a direct result, has helped the company achieve high punctuality rates.
However, the town experiences congestion problems and, most recently,seemingly endless road works. There has recently been enormous disruption to the network, with many diversions and now that most of this is completed, Thamesdown are working hard, using a number of marketing techniques, to regain customers.
As is the case across many towns throughout Britain, out of town shopping centres are competing with established retailers in the heart of the town. One such development in Swindon is the Orbital Shopping Park and Thamesdown are working together with them to create links between home, shopping and leisure.
Housing growth is continuing to the north and south of the town, and to the east, a huge urban extension is being planned, Some of the developers, as part of section 106 of the Town and Country Planning Act 1990, are purchasing season tickets from the company as part of a five year developer funded programme for route extensions. This gives Thamesdown sufficient time to make the routes viable. In addition, further developments will see a BRT service linking the new eastern villages with the town centre.
The Site
We recently reviewed the new Stagecoach West Depot in Swindon (B&CB 1368, 4 March 2016) and I wanted to see how the now ten year old Thamesdown site has faired comparatively. Thamesdown moved to their state of the art premises from a town centre depot on Corporation Street, which had been their home for over 100 years in 2005. John Owen was the Managing Director at the time and looked at best practices throughout the bus sector to create a depot that was ahead of its time.
One of the key objectives was to have a site where vehicles could be driven on and off for washing and refuelling without having to reverse them out or shuffle them about. The current location is designed to hold 150 buses in large bays and there is room for expansion should they require it. A local coach company rents parking spaces and the extra space is sometimes used by a local HGV driving school. They offer a vehicle recovery service and although they wouldn't generally undertake the repair work themselves, the vehicle can be stored on site.
The highly specified depot has been continually updated and improved. In 2011 solar panels were fitted to the roof and they provide all their daytime electricity needs. Rainwater is harvested from the roof, stored in underground tanks on site and used primarily for vehicle washing. It isn't unusual for other commercial vehicle operators to use Thamesdown's washing facilities. Other recent ecological improvements include lighting and heating upgrades. As Paul explained, 'This is an expensive property to run and we are always looking at ways to make it more efficient. We pride ourselves on the investments we have made to our business and we have been well known for our innovation.'
All early shift drivers start from the depot with the last service back at the depot at just after midnight. During the day, operations are run from a control office in the town centre.
Fleet 
There are currently 85 vehicles in the fleet, with four ADL Euro5, 38 seat, Enviro200s having just been commissioned. These have joined three similar vehicles already in service and have become part of the 58 buses fitted with Wi-Fi and the 47 fitted with bus stop announcement equipment. Adding to the passenger comfort, they have opted for the Isringhausen Civic V3 seats, which have integrated head rests and are trimmed in E leather, in a new colour scheme for the company. They also have a large area for housing pushchairs. Eight more are planned for this year which will continue the replacement of the remaining Dennis Dart MPDs and SPDs, all of which should be gone by 2018. Frank McGhee, Key Account Manager of Alexander Dennis said 'We are delighted to provide Thamesdown with these new buses and are looking forward to receiving further orders later in the year.'
The four new single deckers were recently unveiled at STEAM, The Museum of the Great Western Railway, located on the site of the old railway works, as part of the Swindon 175 celebrations which mark the founding of the works. A replica of the hooter, which was used as the town's alarm clock to call workers to the factory, was sounded to commemorate the unveiling of the vehicles.
All the vehicles within the Thamesdown fleet have names associated with Swindon and in particular, the railway works. With the exception of four named after towns twinned with Swindon or Highworth, they are all named after locomotives built there. Two of the four new ADL E200s, have been given names to commemorate the men who helped put the town on the railway map, Sir Daniel Gooch and Isambard Kingdom Brunel, both names were also carried on GWR Castle Class locos.
The new Enviro 200s were officially launched by the Mayor of Swindon, Councillor Andrew Bennett; Paul Jenkins, of Thamesdown; Frank McGhee of Alexander Dennis and Stan Scott. Stan joined the company 30 years ago directly from the Swindon Railway Works where he was a coach trimmer and uses the skills he learnt there today as the upholsterer for the bus company.
Peter Oliver, Commercial Director for Thamesdown, said, 'Swindon has a history steeped in the excellent provision of public transport, and the legacy of skills that the railway left us is strong at Thamesdown. We are proud to associate the naming of our new buses with the Swindon 175 celebrations. We hope that this investment makes bus travel more comfortable and a great option for getting around Swindon.'
Chairman of Thamesdown's Board of Directors, Mike Bawden, said, 'This investment is very welcome and marks the start of a fleet renewal programme.'
The most numerous type in the fleet, 37 vehicles, are of the Scania marque. Nine are N94UD double deckers, with the rest low floor, high capacity single deckers with buggy space. The company introduced low floor buses in 1996 and the single deck fleet was fully DDA compliant by 2013. I'm told that having a Scania dealership close by wasn't a deciding purchasing factor, although 'it helps.' Paul added, 'Scanias are very reliable and great workhorses. We believe them to have a fifteen year life cycle, although fuel consumption can be a bit of an issue. When purchasing a vehicle, we consider the possible engineering costs which relates to downtime as well as the passenger experience.'
A unique consideration when choosing the right vehicle for the job is a ten foot high bridge in the town centre, which means driver air-conditioning units can't be added to the roof and so recent purchases have had the equipment placed in the dashboard, or in the case of the Streetlites, in the cove panels. Swindon is also famed for its high number of roundabouts and in particular the 'magic roundabout'. As Paul explained, 'lightweight vehicles give us a better MPG but we need a bit of welly to get us out at the roundabouts or we'd never get anywhere.' Thamesdown have their own specification and the fleet is wholly Euro3, 4 or 5.
Within their fleet are eight Optare Versa V1110s. Most are currently fitted with MAN engines, but these are being replaced with Cummins engines. The first conversion was carried out by Smiles Engineering based in Newcastle-upon-Tyne, but the remaining seven are being converted by Paul Clark Services, locally at Royal Wootton Bassett. The conversion includes the Grayson E fan system and is expected to provide much better reliability and fuel consumption. Paul explained, 'we've been very disappointed with the MAN engine and the significant MPG improvement makes it worth doing.'
Thamesdown does not accept third party advertising inside its vehicles, preferring to promote its own products to passengers. However, it does have exterior advert frames on many of its vehicles and gains useful income from paid for adverts. They use Exterion Media for this, a specialist agency that is the largest provider of transport advertising in the UK. The ad campaign is installed in house to reduce the down time of the bus being out of service and to ensure it's removed promptly at the end of the contract.
Technology
Thamesdown are often acknowledged as being early adopters of new technology and Paul explained that they were one of the pioneers of on-bus audio-visual announcements. Over three quarters of passengers travel on routes with the announcements and the company enlisted the services of a local radio personality to record the destinations. Lewes based Hanover Displays have been the supplier for this equipment.
Wi-Fi was introduced two years ago across key routes, including those serving the two main colleges and high frequency routes. This was possible with the help of a LSTF Grant in partnership with Swindon Travel Choices, a project to support the regeneration of Swindon Town Centre by promoting different travel choices. Passenger surveys undertaken have demonstrated that people are more likely to take a bus that has the provision of free Wi-Fi. USB charging points are being explored but Thamesdown is unsure of the value of these on services with a journey time of less than half an hour.
The concentration of technological developments are customer focused and because of that they have yet to install telematics across the fleet although this is something that Paul is looking into. A Synectics CCTV system with G force monitors is fitted to all the vehicles for the benefit of both passengers and drivers.
Their Real Time Information (RTI) system, provided by Vix, was initially paid for by the council and is now partner funded. This information can also be found on the company's website as well as being available at a number of bus stops. There are no plans to develop app software for this information as the website is suitable for portable media devices.
Paul commented that an integrated system that can provide a number of different functions would be highly advantageous as at present, the vehicles have five separate GPS aerials on them! Currently, communication to drivers is through a radio system.
SBC have contracted Thamesdown to manage Traveline input for the area. Omnibus software is used for this purpose and the company produces the bus stop timetabling information for the whole of the borough. Thamesdown use a suite of Omnibus products to assist them with their own scheduling and timetabling requirements.
Ticketing
Something that Thamesdown was quick to adopt was the smartcard. What is now branded as the 'Thamesdown TravelCard' was introduced in 2006 as a stored value card, which could be loaded with £5, £10, £15 or £20 credit. By 2011, the popular TravelPass area season ticket, which is also valid on Stagecoach services in Swindon, had been added. Last December, the smartcard was upgraded to ITSO and adopted its new name.
Smartcards were first introduced after Thamesdown decided to implement exact fares. This doesn't mean that they operate a cashless system, to the contrary, what it does mean is that drivers don't carry change and so by not having the correct fare, the customer could potentially overpay. The obvious benefit of the exact fare system to the customer is that it speeds up boarding time. Paul was quick to reassure me that passengers are used to this now as it is well established and it causes very few problems. The TravelCard enables passengers to avoid the need for the right change as it can be used to buy singles and Dayriders as well as carry saver tickets such as TravelPass and Multi-Dayrider, which offers six individual days' travel for the price of five.
Last December, they joined forces with Stagecoach to introduce the TravelPass, a one week, four week or thirteen week pass for unlimited travel within the inner and outer zones of Swindon, which covers the majority of the Thamesdown services. An under 20s Young Persons' TravelPass is also available, offering four week's unlimited travel for a fixed fee.
The move to ITSO resulted from Thamesdown and Stagecoach having different ticketing systems, which mean that the original smart cards could not be read on Stagecoach services. This changeover was carried out with support from SWSAL (South West Smart Applications Ltd) a not for profit organisation set up by the local authorities and main bus companies in the south west to provide smart enabled vehicles across the region.
Recruitment and Staff
With companies such as Honda, Nationwide Building Society, Intel Europe and nPower all having large offices in the town, employing thousands of people between them, you would suppose that employing drivers might be a problem for the company, but Paul said that this was not so and believed that this was due to them paying a competitive wage.
Recruitment of skilled engineering staff in the area is more problematic due to competition from vehicle dealerships. Traditionally, there has been a high population of skilled workers in Swindon, going back to when the railway works were the main employer of the town. This year marks 175 years since the works were established and in fact, it is also 30 years since they closed.
Thamesdown were lucky to take on five former British Rail Engineering workers in 1986, all of whom are still employed by the company today, offering specialist skills that are now becoming scarce within the industry.
The company works with a college at Bristol, to deliver apprenticeships. They have one employee, a mechanical engineer, currently going through the programme and hope to acquire at least one other in September, ideally a coach builder and an auto electrician. Paul commented, 'we would like to think that we are doing something to improve the skills within our sector as well as helping to resolve our future skilled staff recruitment needs.' Although there is a natural concern that there are not enough young skilled people coming through, Paul is also aware of the changing role of engineering and although there will always be a need for hands-on 'spanner mechanics', technological advances in vehicle manufacture are leading to more computer based technology which he thinks is more suited to the younger generation and is more difficult for older employees to grasp.
Like a lot of employers in the industry, they 'suffer' from a high average employee age. Paul estimates that it probably sits at around fifty. The longevity of service however, is something that Thamesdown are particularly proud of and they have recently improved their long service awards. 45% of the staff have ten year's service, with nearly 10% over twenty-five years. Paul attributed this in part to the 'family like atmosphere' that prevails at the company.
With regards to drivers, the company are happy to employ both existing bus drivers as well as training people from scratch. They have their own training school and training bus, a 1998 Dennis Dart Plaxton Pointer SLF. Those from a retail background fit particularly well as they have customer facing experience, but ultimately, it's all about their personality, as Paul explained, 'We can teach them how to drive.'
They are proud of the expertise of their drivers and they have a broad cross sector with a strong Nepalese community within the town and 22 female drivers in employment. In November 2011 they won the 'Top Shire Operator' and 'UK Bus Operator of the Year' titles at the UK Bus Awards.
Quite unique to the company are the rotating shift patterns that allow drivers to plan well in advance with regards to their days off. Drivers are told, however, that these are subject to change. As Paul explained, 'We like to make the driver's lot as easy as we can as it helps to retain staff.' They tend to have smaller rotas on the country operations, mainly for route learning reasons.
Workshop
Within the workshop area there are two pits, with the remaining space used for vehicle lifts, the majority of which are from Totalkare. There is a dedicated ATF lane (I was amused to see a Stagecoach vehicle in for testing during my visit, I can only assume theirs was yet to be DVSA approved) and rolling road brake testing facilities are also available. Pre-checks on brake testing can take place in the 'summer workshop' an open fronted area, which is in addition to the main works.
Alongside this is the Wheelright tyre pressure testing facility, a drive on monitoring system which looks at both the tyre pressure and, in development, tread depths. This was seen as another innovation for Thamesdown and on average, each vehicle is checked 3-4 times a week. Chris Peat covered this in detail (B&CB 1266, 7 March 2014).
Presentation of the vehicle is a priority and they have a Smith Bros Webb, six-minute cycle bus wash. They have a specialist night team that are responsible for cleaning and refuelling the vehicles so that the drivers don't have that added responsibility at the end of a shift. Fuel is on contract to Esso and the company hasn't hedged prices. Paul feels that even so, it has budgeted effectively and has benefited directly from the recent fall in prices.
There is also a dedicated paint shop where much of the work is still done by hand, a skill brought across from the rail works.
The workshop has eight bays in total, with enough staff to cover the maintenance, electrical and bodywork repairs in house, including engine rebuilds and changes. David Spencer is Head of Engineering at Thamesdown and has been with the company for 34 years. He explained that, on average, they could expect to complete between three and four safety services a day. Although he has a team of skilled, hands–on engineers, he commented that more and more vehicles are diagnostics led and they have to interpret manufacturers' fault codes, which are often not easily obtainable. As part of the company's commitment to investment, they are investigating additional software to combat this problem.
To support its scheduled maintenance, Thamesdown employs Lloyd Morgan for engineering auditing and the Training School carry out random gate checks. This is to ensure that not only are drivers performing their walk around checks, but they are recording them properly and what has been written down matches the actual fault.
The stores area is particularly impressive and rather than encroaching on valuable ground space, they have installed a Haenel vertical Lean Lift which runs the full height of the workshop. Whilst John Owen was out looking for ideas for their new depot, he stumbled across this at a local luxury car dealership and decided that it was a must have. Fully programmable, a part or tray number is entered into the computer and the tray is then selected with the items on. Whilst explaining this to a colleague, she likened it to a giant vending machine, a good analogy! The beauty of this system is that the paperwork can be assigned to the particular job whilst the part is being searched for and, of course, it is a great example of effective space utilisation.
Marketing and Website
The company is placing a big focus on its marketing activities and Peter Oliver joined the company last year to drive these forward, as well as launching the new ITSO TravelCard and rolling out a new website, which became operational around Christmas.
The website is much more interactive, with more improvements planned. Paul described the process as a 'soft launch' whilst they continued to develop and improve the site.
New features include live bus times, with the ability to bookmark your regular stop for easier future reference. A convenient map of the area with flags of the bus stops makes selection simple. Clicking on it tells you the position of the stop, the services that access it and the live running times of these. Further service update information is available on the Twitter feed panel that shows the latest tweets without having to leave the Thamesdown site. For detailed route information, a number of downloadable maps and timetables are accessible giving a visual guide to stops as well as a more traditional timetable format. Future developments will include a subscriber travel update service through which passengers can elect to receive latest travel information via email. A fare calculator is also in the developmental stages, which will allow passengers to enter the start and end points of their journey and calculate the cost.
For those using small hand held devices where the text may be more difficult to read, or for users with visual impairment, there is a speak option which will read out the section of the website that has been selected. This can also translate text into foreign languages.
News is regularly updated to inform passengers of new developments within the company and their 'What's On' section links to the town centre events guide and the list of Swindon 175 events.
In addition to the launch of their new website and integrated ticketing, Peter has also been actively marketing the company with a local radio campaign, ensuring that Thamesdown is at the forefront of everyone's mind when considering bus travel in Swindon.
Paul Jenkins summed up Thamesdown by saying it was one of the features of Swindon that made the town distinctive. He said the business has been through some challenging trading conditions since the recession, but as a locally owned, locally managed company, with close links to the community it serves, its eyes were firmly set on the future. He commented, 'Our participation in Swindon 175  events reminds us that Thamesdown has been around almost as long as the amalgamated town that grew from the arrival of the railway; we celebrate that heritage, but we also aim to meet the needs of today's customers by providing a reliable and punctual service backed up with modern technology.'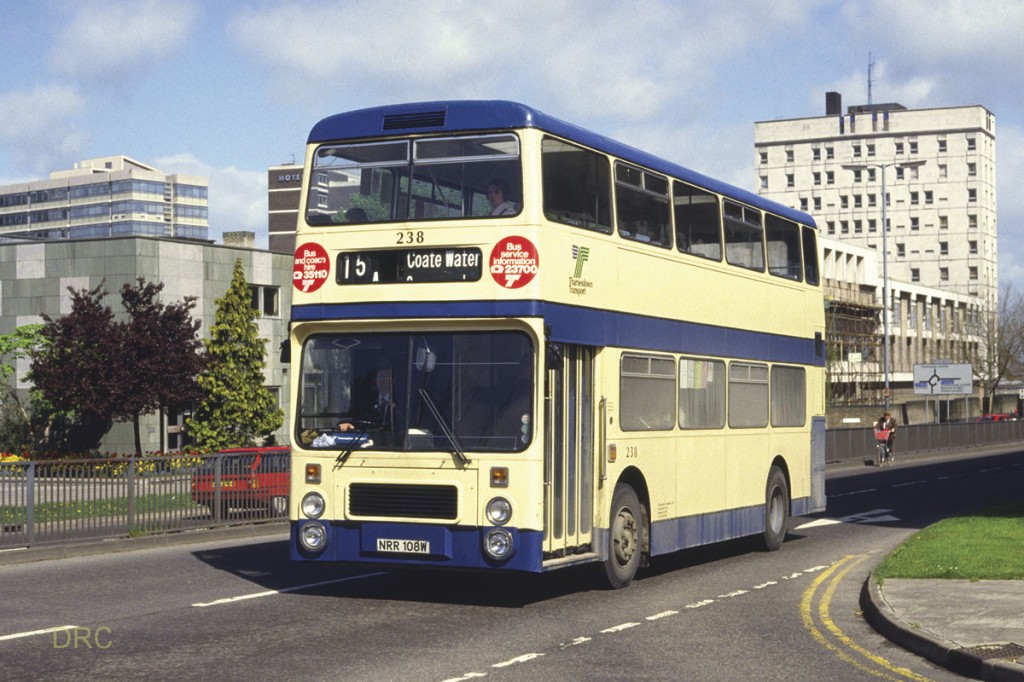 Thamesdown Transport Ltd was established in October 1986 as an 'arms-length' company owned by Swindon Borough Council to meet the requirements of the Transport Act 1985. The fleet at that time was predominantly double deck, a mixture of Daimler Fleetlines and Dennis Dominators. This Northern Counties bodied Dominator which originated in the Derby fleet is seen in the town centre in early 1987.