TfL invites opinions on Superloop section
TfL is inviting people to have their say on proposals for a new limited stop express bus service between North Finchley and Walthamstow.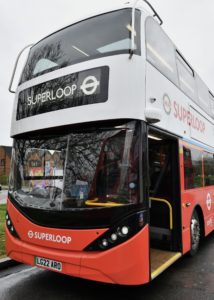 The new service, currently called the X34, would be a significant addition to the bus network, according to TfL, providing additional bus capacity in busy locations and travel options across northeast London as well as encouraging people to make cleaner, cost-effective, sustainable journeys.
The proposed route is designed to enable quicker journeys and more transport options for moving between transport hubs and town centre locations in Finchley, New Southgate and Walthamstow, as well as serving sections of the North Circular Road (A406). The new route would be part of the Superloop, a major expansion of outer London's network which, when complete, is envisioned to circle London and connect town centres, hospitals, schools and transport hubs.
Supported by funding provided by the Mayor of London, the Superloop is a key part of his commitment to improving the bus network in outer London and could add over four million additional kilometres to London's bus network. This is in order to strengthen and improve public transport options in line with the London-wide ULEZ expansion.
Last month, TfL launched a public consultation on the first new Superloop route, the X183 running between Harrow and North Finchley.
TfL has set out its long-term vision for buses in its Bus Action Plan. The plan aims to increase the number of customers choosing to travel by bus across London and make the network zero-carbon by 2030.