Steph Maher – National Express
Kirsty Flatt met this award winning young manager over a shared stuffed paratha, to find out what it's like starting out in the bus industry and the challenges of the Operations Manager's role across the West Midlands
Last November, at the prestigious UK Bus Awards ceremony at The Ballroom on London's South Bank, Stephanie Maher was crowned Young Manager of the Year. Steph, as she prefers to be called, is Operations Manager for National Express UK Bus and is mostly based at their Wolverhampton depot but has recently relocated back to their Birmingham base where she first began her career with the company.
Background
Steph studied law at Keele University in Staffordshire, where she also attained her LPC qualification. The recession hit and she realised that a career in law wasn't for her though she has no regrets as she 'learned a lot from it.'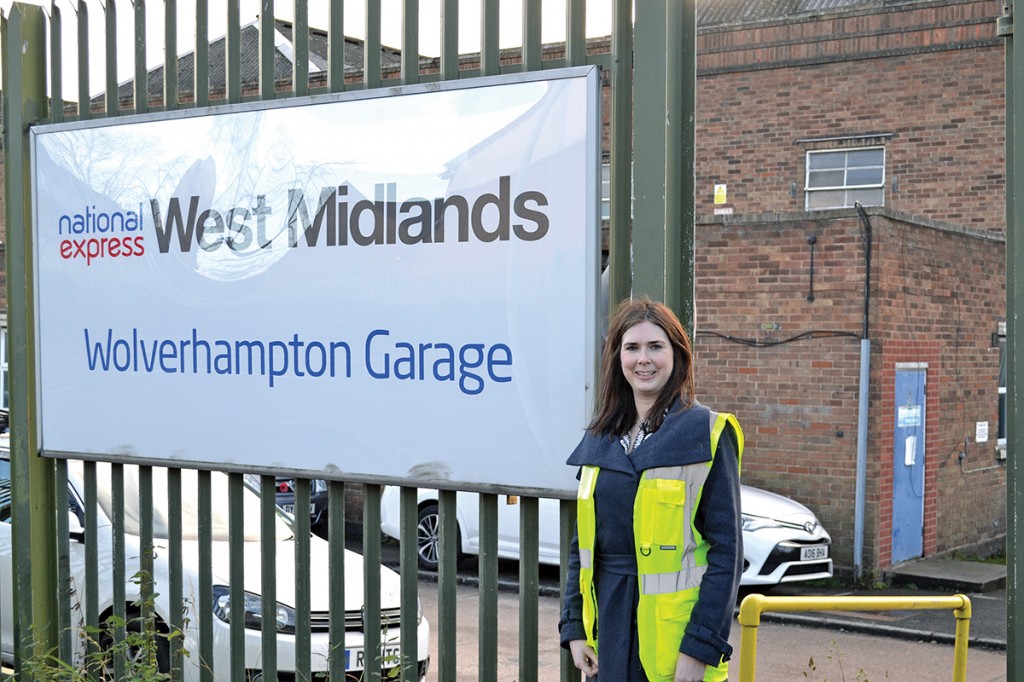 Whilst at Keele, she had worked in the duplicate planning department at the National Express Coach offices in Hagley Road, Birmingham, during the summer. The role involved working with third party operators booking duplicate coaches during the busy season. She stayed there during the summer following the completion of her LPC and then saw a job for a Revenue Analyst in coach services, managing discounted fares and revenue streams on different services.
She remained in this position for two years when she noticed a graduate scheme advertised for the bus division, which appealed to her. During this time, she had introduced an 'I spy' game to entertain children on the long coach journeys, with profits going to the charity which takes live hair to make wigs for children with cancer. She had to present her idea to the coach directors before it could be implemented and found the project rewarding because she was able to make new contacts and learn more about the business.
Steph believes this experience helped to prepare her for her graduate assessment day. Following successful interviews, she joined the first bus only graduate scheme in September 2011, becoming the only female of the three successful graduates.
During the eighteen month graduate scheme, Steph was based at several Birmingham depots, Birmingham Central, Perry Barr and Bordesley Green, although she also spent a few weeks in Dundee. She describes it as a 'warts and all' experience where she did everything from cleaning the buses to painting panels as well as working alongside operations managers and looking at the other roles, such as finance, working in the travel office, health and safety and marketing, where she undertook the role of updating their social media sites. She was expected to work shifts which meant early starts, late finishes and weekends and she passed her car driving test so that she could take her PSV test.
Steph told me, 'I was surprised to see how much behind the scenes work goes on at the garages to keep the buses and drivers on the road, this was something I took for granted as a frequent passenger.'
A year into the graduate scheme, she was offered the position of Acting Assistant Operations Manager based at Birmingham Central garage, the biggest in the National Express network, with over 550 drivers and over 220 buses. She found this hugely challenging, having to think on her feet and build a team, but she explained that she had spent a lot of time shadowing roles at the site and with support from her HR Director and the rest of the team, she felt suitably prepared for the challenge.
On completion of the scheme she was promoted to Assistant Operations Manager, where she remained at Birmingham Central for a further year before relocating to Walsall. With Birmingham Central being on fast moving, high volume corridors, she felt that it was important to gain knowledge of a different type of operation.
In December 2014 she was promoted to Operations Manager at Wolverhampton garage, the second biggest depot in the bus business, where she is currently based, having responsibility for 210 buses and 420 drivers.
As part of Steph's continuous development, the company has supported her MBA at Aston University which she began in January 2016 and is due to complete in July 2018. She has to complete two modules a term and these are webinar based.
Graduate Schemes
Since Steph joined National Express in 2011, they have taken on graduates each year across the business, in 2015 they specifically focussed on engineering graduates. The scheme is rolled out across the entire network and graduates are encouraged to work across all aspects of the business to find out which area they would be best suited to. Steph found having worked for both coach and bus gave her a good overall understanding of the company and speaks very highly of her experience of being part of the scheme and the career path it offered her within National Express.
She explained how you are allowed to develop within your role, having certain projects to complete. These can be set by your mentors or ideas that you have come up with yourself. Mentoring is a key part of the scheme and each month, the graduate will meet with HR to discuss their progress and their strengths and weaknesses to hopefully steer them towards the right career path for them, as well as the business. Steph now mentors for other graduates and has also been involved in their recruitment since she graduated herself.
This year, graduates can apply for bus, coach or both and with Steph's knowledge of both sectors, she will be able to offer her experience and support.
All aspects of the business join together as part of the National Express network, as well as Alsa, the Spanish arm of the company and their North American business.
In April, Steph will be on secondment for a year in North America as a Continuous Improvement Specialist. Sharing best practices, the assignment will be working with the school buses as part of an improvement scheme where she will be acting as a trouble shooter, drilling down into the operation to find the best ways to improve the business. Half of her time will be spent at head office in Warrenville, near Chicago and the rest of the time will be on the road. Naturally, Steph is delighted by this opportunity, but it will mean leaving her husband behind although, because her MBA is webinar based, she will be able to continue with her studies.
Young Bus Manager's Network
Steph first joined the YBMN as a graduate and has continued to support the organisation ever since, joining the committee in October 2014. The committee is formed of six members who exchange ideas regularly and meet up in person once a year to discuss, along with Roger French, James Freeman, Jamie Cash and Chris Cheek, who the guest speakers are going to be for the conference, the schedule and the venue.
As well as speakers directly from the industry, this year they are also looking at transport as a whole and how best practices in other roles can be useful to managers. They are also looking at speakers that aren't necessarily managers but are influential within their specific roles and can help offer a greater understanding of the business.
National Express are very supportive of the scheme and the network is mainly supported by the major bus companies, although there is representation from some of the smaller, municipal companies and Steph suggested that they may possibly look to integrate more somehow with ALBUM.
Steph also attends meetings held by the Black Country Chamber of Commerce, which helps her to understand, share and tackle problems which are present at most businesses in the area. National Express is part of the Platinum group, one of the top 30 businesses in the Black Country and as the National Express Representative, she sits on the transport committee.
The group are mostly from a manufacturing and logistics background and the sessions are often led by business consultants, who provide insights into good working practices as well as those to avoid.
Steph actively encourages the use of public transport and helps to educate people on how easy it is to use and the advantages of their own Platinum service for commuters with its Wi-Fi, charging points and leather seating. She does not own a car herself and uses the bus and rail network to commute each day.
What are you passionate about?
'Employee engagement is the best part of my job, the people, the drivers, the customers, all the different characters you meet. I'm a people's person and I love being able to make a difference and change things, for example, when drivers feed back to me route problems and I'm able to improve them.'
This is very evident in the way her team interacts with her and her naturally bubbly personality shone through during the interview and tour of the premises.
Something that stood out to me whilst talking to Steph was her utmost respect for her drivers. Looking from an operational perspective, she realises the importance of many of the services they provide, whether that be taking children to school, employees to work or people to the hospitals. She said that it was important that drivers realised that they were skilled professionals and that they should never underestimate their value, they are really important to the business and to people's lives, adding, 'The driving skills of some of the car drivers in the West Midlands are appalling.' Steph doesn't just think this, she communicated it to her drivers in a recent email!
There doesn't seem to be a problem recruiting and maintaining drivers at Wolverhampton, quite the opposite in fact and part of this she attributes to understanding their need of family time and therefore trying to be flexible with scheduling and only putting drivers on to a set route that wants them. If anything, she has more drivers than required at the garage and they are affectionately referred to as her 'Flying Squad' as they are often seconded to other depots in the area.
To help protect the drivers, Centro, which has now been replaced with Transport for West Midlands, introduced a scheme called 'See Something, Say Something', where passengers can report disturbances on journeys via a text number and thereby avoiding confrontation. Police will then look at CCTV footage and as a result of this scheme there have been a number of prosecutions and the drivers and passengers have felt safer. Steph used the service herself when she witnessed people smoking on a bus.
Another test for drivers and a nationwide problem is congestion and Birmingham was recently cited as being the fourth most congested city in the UK. This is something that is of great interest to Steph and David Begg's congestion report, 'The Impact of Congestion on Bus Passengers' was part of her submission for her presentation for Young Manager of the Year.
The Award
Steph was aware that she had been nominated and was invited to London to present in front of a panel of judges. Using the congestion report as a basis, she showed how National Express, herself and her depot at Wolverhampton were tackling the problem. This particularly impressed the judges and it was also very timely, as the report was a very hot topic within the industry. It was reported back that it was refreshing that a manager spoke of their real operational issues, rather than just talking about themselves and how they had achieved their KPIs.
She said of the accolade, 'It was such a lovely feeling to win and get the recognition for what I have achieved. I was also dead proud that I was a woman that had won.'
Women in Industry
Steph has had very few negative responses to being a young female in a very male dominated industry. She expected to hear more 'You're only young, what do you know?' but has generally found people to be very respectful. She has admitted that she has probably had to give more consideration to her clothing for work and that in the Black Country, 'Duck' and 'Bab' are terms of endearment and not derogatory, but there is a fine line between overfamiliarity and respecting your manager.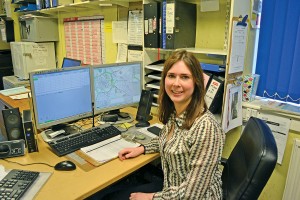 She is aware that she has to remain professional at all times, but will still be found downstairs chatting to the drivers about football (she's a season ticket holder for Aston Villa!) although she tends to leave the banter downstairs saying, 'I don't want to see them upstairs in my office with the door closed.'
She has noted that male drivers tend to react better to a female manager as they tend to defuse situations that may otherwise get heated, when male testosterone can come into play. Having a good number of male friends outside of work, she has always been able to converse easily with men and has never felt intimidated by them in a working environment.
Steph commented, 'The industry is changing and there are far more opportunities for women now. Female representation is definitely growing and there are quite a few women coming through now and holding top positions.' There are currently five female Operations Managers in the network, out of ten depots and one female General Manager.
With more female employees within the business, as part of a health bus scheme which moves from site to site, they have had a recent focus on women's health, providing leaflets on a number of related issues and offering free health checks to female employees. A male dedicated service will be doing the rounds later in the year.
This year she recruited three female graduates and alongside her role, she chairs a group called Opportunity Now, which was formed five years ago to look at female representation and development within the business. She took over the role in April and has noted that female employment and retention at her Wolverhampton depot has shown a steady increase.
What advice would you give to someone who was thinking of joining the industry?
'I love working in the bus industry, it is very
real and you are at the coalface, it's certainly character building and you learn a lot about yourself. Every day is different, you could be looking at operations, commercial, marketing, engineering. It can be so variable and fun managing such a large number of staff and working with the general public.
You need good people skills; employee engagement is always at the forefront of everything I do in my job, ensuring my staff are kept up to date with developments across the business. You also need to be good at analysis.'
Steph continued by saying that although there are some great schemes out there in the industry, she doesn't feel that they are perhaps advertised well enough outside of the business and that, as a whole, the industry probably isn't very well known. She feels that more could be done to promote it to schools and colleges as currently, buses aren't really deemed to be seen as sexy enough.
Leisure Time
Steph has been going to see her team, Aston Villa, since the age of nine and being a season ticket holder, she tries to go to as many games as possible.
She has two cats, Jess and Lola, which she refers to as her girls. They rule the roost and is one of the reasons her husband will not be joining her in America! They had been found as kittens by a driver, in his garden shed and she gave them a home. She is also a dog lover but her job isn't conducive to having one as she is away too much.
Live music is another passion and as a self confessed indie rock chick, she can be found at gigs across the world. In November, ten of them attended a festival in Reykjavik which Bjork headlined.
This also supports her love of travel and this was her second time in Iceland. She loved Japan, went to Oktoberfest in Munich for her honeymoon (where family joined them!) and really wants to go to Cuba. Her favourite place is Berlin and she commented that it has a great transport system!
The Future
The future certainly looks bright for Steph and with her fantastic opportunity in America imminent, who knows where it might lead. 'I love ops and would like to stay in operations, but I would never say no to anything. You have to keep open minded and embrace change. Don't limit your opportunities.'
Somehow, I don't think the powers that be will sanction my trip to the US to follow up on Steph's story, a year from now, but I will watch with interest from afar and suspect that she will become a stalwart of the industry in the future.