Spring Budget: industry reacts
Today's Spring Budget contained news that the government will spend over £5 billion maintaining fuel duty at current levels for the next 12 months. This includes keeping the 5p cut in place.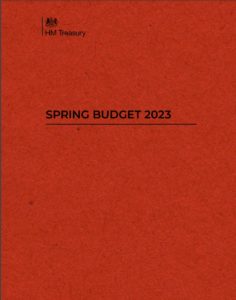 Responding to the Spring Budget, Graham Vidler, CEO of the Confederation of Passenger Transport, said: "The freeze on fuel duty will provide welcome short-term relief to bus and coach operators grappling with rising costs.
"For the longer term, it is vital that bus and coach win their fair share of funding from the new devolved settlements to ensure we can continue to lead the shift to more sustainable transport.
"In the meantime, we are working with the government to deliver for passengers, not just those in areas who have won funding. The sector needs a stable, long-term funding settlement to encourage more people to choose bus and coach over car. This is crucial for the UK's wealth and health."
Declan Pang, RHA's Director of Public Affairs and Policy England, said on Twitter: "We are pleased the government has listened to the RHA and the industry by freezing the fuel duty and maintaining the 5p per litre cut in duty. This is vital to controlling inflation, reducing the cost of the supply chain and keeping prices down."
David Bushnell, Director of Consultancy and Strategy, Fleet Operations, said: "For fleets, the decision to freeze fuel duty and retain the 5p reduction for a further year comes as welcome news for operators struggling with a burgeoning cost crisis. Pump prices may have fallen back from their 2022 summer peak, but they remain markedly higher than in recent years. Margins, consequently, continue to be hit hard.
"The move, however, will not be well received by those looking to accelerate transport electrification. Environmentalists will be buoyed by a pledge of up to £20 billion to support carbon capture, but the lack of any significant new measures to further incentivise electric vehicle (EV) adoption and infrastructure roll out signals a missed opportunity.
"EV adoption remains in its infancy and with high energy costs continuing to impact drivers reliant on public charging networks, more must be done to achieve a timely transition to net zero transport. Cutting the public charging VAT rate, to match the rate for domestic electricity, would have been a good place to start."
Outside of fuel duty, the Budget announced £8.8billion for a second round of the City Region Sustainable Transport Settlements scheme, which increases the devolved powers of MCAs and aims to improve sustainability. The additional investment covers 2027-28 to 2031-32, with funding for Greater Manchester and the West Midlands to be included in their Single Settlements.
£58 million will be invested in three levelling up capital projects in the north west of England, including transport connectivity improvements in Rossendale.
The government is to invest a further £200 million in 2023-24 to maintain and improve local roads. This increase is intended to enable local authorities in England to fix more potholes, complete resurfacing, and invest in major repairs and renewals, such as keeping bridges and major structures open. The increase is expected to fix the equivalent of up to 4 million additional potholes across the country.
Transport 'black hole'
Transport and travel union TSSA has slammed the government for a Budget which it says 'leaves a gaping black hole' on transport policy.
TSSA Interim President, Marios Alexandrou, said: "This was a Tory Budget which leaves a gaping black hole where transport policy should be.
"Instead of commitments to make our railways and buses front and centre of the recovery from the pandemic and the economic catastrophe of the Liz Truss era, we had a Chancellor unable to offer a single word about the future of public transport.
"This should come as no surprise because in recent days we've seen the absence of leadership on HS2 with Tory delays to this vital project – a mark of outright failure to level up the North.
"What's needed is a government that realises that there can be no long-term sustainable growth for our regional and national economies without proper investment in HS2 and our railways more widely as the greenest means of mass transport."
'Lack of new support' for small businesses
The Federation of Small Businesses lamented what it described as a 'lack of new support' for the SMEs it represents.
FSB National Chair, Martin McTague, said: "The Chancellor has set high expectations for supporting small firms during these challenging times, but today's Budget will leave many feeling short-changed. The distinct lack of new support in core areas proves that small firms are overlooked and undervalued. Budgets are about tough choices, and with today's £billions being allocated to big businesses and households, 5.5million small businesses and the 16 million people who work for them will be wondering why the choice has been made to overlook them.
"We've got a Budget that on energy helps households but not small firms. On business taxes, it spends £27bn extra on big businesses, arguing that small businesses are already catered for. This will leave to a feeling of being left behind instead of being considered equal partners in economic recovery – trickledown economics here simply does not work.
"The fuel duty freeze is a result of FSB's campaigning and the springboard small firms need to help navigate the difficult roads ahead. This will save them money and provide some breathing space, allowing them to focus on growth."