Why Southampton matters
Former Confederation of Passenger Transport President and coach operator Ian Luckett speaks out about Southampton's Clean Air Zone plans, which he says may destroy businesses and fail in their objectives.
Coach operators are finally waking up to the problems Clean Air Zones will cause them, says Ian Luckett.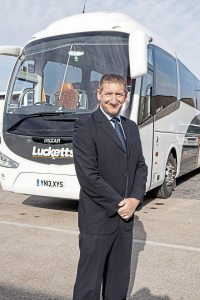 "I think it's dawning on them that this isn't just a problem in London. So far, five towns and cities are named but it's clear it could be as many as 45," he tells Bus & Coach Buyer. "Southampton has just woken a few operators up to the challenge of this around the UK."
The school of thought that the CAZs will affect only operators local to them, or those who have regular work within a CAZ, is deeply flawed, says Ian: "Let's say your driver has a job near a CAZ, but the customer decides they want to be dropped off within it. Do we refuse a request to do another couple of miles, to incur a fine of around £100?"
Ian is palpably frustrated with the Southampton proposal, which he says foists costs unjustly on the coach industry: "We're the bottom of the food chain," he says, ruefully. "If Southampton introduces a charge for coaches in the CAZ, we will all have to go to Euro VI but for no additional money. As always in this industry, costs will go up but revenue will be static.
"At Lucketts, we're happy to get to Euro VI with new coaches and conversions of Euro V. If this process continues, let's face it, in a short space of time, Euro V coaches will be almost worthless. Anyone who bought a Euro V with 'normal' write-down will find at five years they now have much less asset value than they thought, or even now realise. Retrofit exhaust treatment may make sense but we'll struggle to get rates up – customers will just expect us to confirm. So, it's really tough out there."
Ian says the current predictive model which projects assumed air quality standards are flawed: "I do not, at the moment, believe the standards will be breached; they're theoretical values and none are reconciled back to real life monitoring.
"At one of Southampton's monitoring sites, the 40mg/m3 limit for NOx is modelled to exceed the limit soon. If the CAZ hits trucks, vans and PSVs, it will doubtless stay just below the limit but if the CAZ hit private cars, it might drop to 20mg/m3. I'm afraid it looks as though Southampton is going for the easiest target; they don't care what you think about that."
Ian says he's right behind improving air quality to prevent so many early deaths, but says the £100 fee for sub-Euro VI coaches doesn't sit well with this principle: "Southampton is saying 'Southampton citizens are dying because of vehicle air pollution' but apparently if you pay them some money, that's OK.
"If the city is so concerned with this, it should simply stop the vehicles which cause the problem entering the problem areas; air pollution issues are just caused by PCV and HGV's, cars are the major contributor. Other European cities do this; Paris started its 'odd numbers, even numbers' traffic control years ago. Maybe we need to be more authoritarian."
Standing in the way of local politicians is one issue, says Ian; votes: "They admit as much. They won't hit car use because they would lose votes. Most coach operators don't have a vote in Southampton, so their views are largely sidelined. Look at Leeds; it said it wouldn't include the older, dirtier private cars in their CAZ plan because those cars belong to the poorest people who would struggle to purchase a newer, cleaner vehicle. My response is 'Who do you think uses buses? The rich people?'"
Ian believes local and national governments are now completely out of touch with the coach industry: "When the current buses minister, Nusrat Ghani, was asked how coach operators would pay for Euro VI retrofit, she immediately pointed to the £240 million Clean Buses Fund, and said it's available to coach operators. In theory it may be, but in reality it's not.
"I said 'As that funding has to be applied for by a local authority, it can only really be obtained by a bus company operating solely in the confines of the local authority bidding for the funds, and able to prepare a reasoned case which proves it can improve your air quality. My vehicles come into Port of Southampton for cruise passengers. So do Eavesway's, and many others' from outside the confines of Southampton; it's a transport hub, with trucks and coaches coming in from all over the country. If we all got a share of the fund, it would be so diluted, for my £18,000 Euro VI conversion I'd get next to nothing by way of subsidy towards investing in cleaner vehicles."
The sledgehammer of the scheme is one aspect that may well see it fail in its objectives, says Ian. He says conversations with the port authority in Southampton suggest that the council didn't even see the Port as a stakeholder, and failed to consult it about the CAZ: "The port has done and is doing a tremendous amount of work itself to reduce emissions from port vehicles and vessels," said Ian.
"The shipping fleet is also addressing pollution, and I'm led to believe an increasing amount of ships visiting Southampton are now powered by LNG (gas). Many are also capable of making use of shoreside power hook-ups to avoid engine idling in port, but the power infrastructure in Southampton can only cope with one vessel at a time! The City's proposal has the potential to severely damage competitiveness of the port, and send freight and cruise ships elsewhere, together with many thousands of jobs which depend on the industry. At a time when there is already tension surrounding trade issues before and after Brexit, this is creating even more reasons for businesses to move out of the UK."
In Ian's view, many of the CAZ's goals in terms of speeding vehicle investment are unachievable: "Unrealistic demands will be avoided by operators; if they'd made the targets achievable, they could carry the industry with them. Is there really any point in allowing someone to 'pay to pollute', yet operators who come to the city infrequently will do just that – adding cost to the whole process, but not addressing the issue as they will still pollute!"
The effect of the proposal is already being felt by local operators. Ian says a school in Southampton which moves 700 children by coach mornings and afternoons has now suspended tendering for new contracts because it doesn't know which direction the council will take in 2019.
At Lucketts, the vehicle replacement programme continues to grow the Euro VI fleet, and work is on-going with retrofit exhaust treatment suppliers to convert a number of ex-NatEx Levantes to Euro VI standard – in the hope that the certification scheme, when complete, will accept them.
The council's own figures clearly show that at least 50% of NOx pollution at key locations comes from private cars. Less than 5% comes from buses and coaches combined. There is no analysis of the number of people travelling by each mode in the entire business case report which – as people are the principal drivers of economic activity – seems irrational. This is what angers many.
"We have to be really careful about saying we're not part of the problem," says Ian. "We are, but we are also a much greater part of the solution".
"So much could be done with roads infrastructure which would be more effective, but eventually it has to be carrot and stick, and involve private cars."
"But let's hope that the city follows the example set by Nottingham and understands that by making other realistic, practical changes to road networks and traffic priority, pollution can be reduced without this 'one size fits all' approach"