Soroco steps up
Ferqui's coachbuilt Soroco is already a favourite with many operators. The latest version, built on the new Sprinter, takes the model 'family' up a notch or two, and creates a stunning tourer with real luggage capacity.
A growing number of operators whose businesses are built on full-sized coaches are buying minicoaches for their fleet, evidenced by new sales in this sector growing while coach sales are shrinking.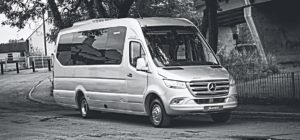 The king of the road for minicoaches has, for some time, been Mercedes-Benz' nimble Sprinter, mostly as van conversions, to create upwards of 16 seats. But some conversions have significant limitations.
For transfers and corporate groups, the staple of many operations, the attraction of the minicoach is low running cost, with fuel consumption better than halved compared to rear-engined coaches, and comparatively lower servicing and repair costs. The downside is often luggage space.
The Connaught PSV imported Ferqui Soroco S4 on test – the latest incarnation of the coachbuilt series – is genuinely a load carrier, with huge boot space suitable even for small touring groups. As a coachbuilt, it offers better aisle width than conversions and the 'feel' of a real coach. It's built on the latest incarnation of Mercedes' workhorse platform, with all the safety systems of any full-sized coach, and achieved with a chassis extension and some fine craftsmanship.
Steve Peach is particularly proud of this new Soroco, not least because some cunning forward planning with chassis orders meant that Ferqui designed this vehicle in right-hand drive for the first time ever, and involved Connaught PSV in the design process. It is 'tuned' to the UK market.
I hopped aboard one of two unregistered demonstrators at Thorne, near Doncaster, with Steve behind the wheel to find out what has been achieved with this design.
Exterior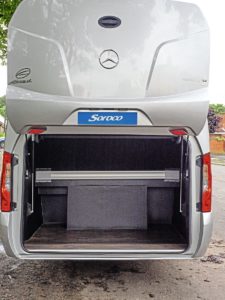 The muted, clean lines of the exterior of the new Soroco S4 might have been very different. Spanish designers have a welcome reputation for pushing the boundaries of aesthetics, and the new Soroco could have been a real challenge to UK tastes.
Steve said: "I was invited to the factory last September to see the first concept designs. They were over-styled, and I said so. Thankfully, they were pegged back to a more traditional look…"
The design actually retains very little of the Sprinter, with Ferqui determined not to make it look like a body bolted on to a van front. The factory's superb-quality GRP mouldings which form everything from the bonnet back, coupled with the full-depth windscreen, have actually achieved something special; a minicoach that has the Sprinter design cues and, in doing so, is unlikely to age quickly, as some more extreme designs do.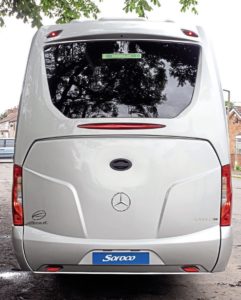 The Soroco is framed in galvanised steel, so corrosion won't be an issue. The additional roof height is obvious, as is the rear extension which delivers the boot space on this variant. The high side windows which, on this example, have a deep privacy tint, add a bit of drama on the outside.
The S4 has useful-sized side lockers on gas struts both sides, but the real eye-opener is the boot, which in this version is a whopping near-4m3 – enough for touring luggage for all passengers. It's well-accomplished and has even retained the upper 'hatch' into the rear of the vehicle, which operators had told Steve has use, when opened, to accommodate sports equipment and other long luggage.
Ferqui has retained the original driver door on the offside, but added a powered plug door on the nearside. In operation, this plug door was really impressive – almost completely silent and closing very solidly.
Interior
The three-step entrance to driver and aisle level has a hand rail to the left and a tip-up courier seat to the right, the latter very nicely stowed to present no obstruction.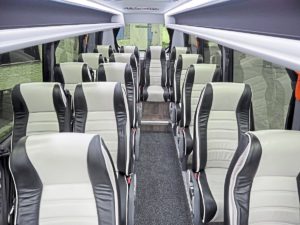 The driver controls and dash are retained from Sprinter, with the tachograph and controls for air conditioning on a central, supplementary panel. The passenger door control is installed, with the mirror controls, in the driver door. The driver has a microphone, and there's another mic socket just behind the courier seat position.
The vehicle has two manual sunscreens, essential with this super-high windscreen. The Sprinter's MBUX seven-inch multi-media touchscreen sited centrally offers a huge number of additional functions, including Bluetooth connectivity and a DAB radio. Many of the controls are duplicated on the steering wheel, which also carries the speed limiter and cruise controls. Connaught PSV is working with Ferqui to add the option of a drop-down monitor.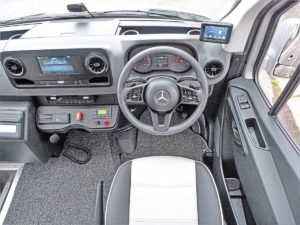 Overhead, there's a small console for the driver which has, usefully, a drop-down pocket for sunglasses. There's ample stowage for documents in the door pocket. While in this part of the minicoach, there's a good-sized fridge mounted just inside the door. Though it doesn't significantly intrude into the stairwell, Steve is working with Ferqui to reposition it just behind the courier seat.
Turn around, and you see a very impressive passenger saloon, with drop aisle and plenty of headroom which removes the claustrophobic feel of some conversions. I have to say I wasn't a fan of the deep tint of the privacy glass on this example – a little too much for my tastes especially on the dull day we tested the minicoach, but lighter tints are, of course, available.
This example has 16 hide leather Vogel seats with recline. Recline is pointless on some minicoaches because they simply don't have enough seat pitch, but the Soroco has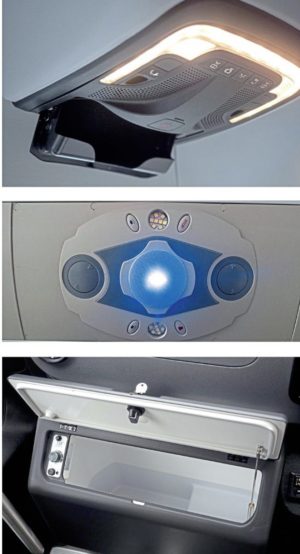 impressive legroom in this spec. The Vogel seats have deep, comfortable squabs and are extremely comfortable. The standard seat is the Kiel Avance 2050 with fabric upholstery and leather-like headrests and Sege seats are also an option. Connaught PSV can offer a vast range of fabrics and colours in all seat options.
Lack of aisle width is a common complaint about minicoaches but the Soroco allays those concerns with an aisle – a one-piece GRP centrewell – which won't have passengers walking crab-like to their seats. The seat positions have also been thought through, with only four seats having a slightly compromised view to accommodate body framing.
The aluminium-edged overhead racking carries the passenger service units, which Steve says may change to a new version in later deliveries. The abbreviated shelf itself is of limited practical use, having no 'well' – many things stowed on it would just roll off. Its primary function is to carry the service units, which each have ventilation, reading lights and service call.
Soroco will be delivered with USB sockets in the wall for every seat position; Steve says this is now a passenger expectation.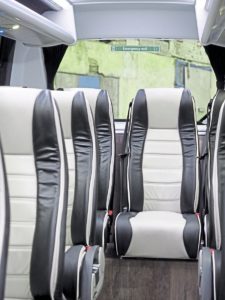 In addition to the cab air-con, a Diavia unit is fitted to the rear of the roof. Heating is via full-length radiators along the floor edges. The flooring throughout is wood-effect vinyl, and Soroco comes with aisle carpets. In all, it's a lovely travelling environment.
Behind the rear seats is a substantial 'shelf' which covers the boot, and has within it the hatch which lets into the boot – as said, useful, when removed, to accommodate long luggage items. It is a shame this space, though, couldn't be put to more permanent use.
The overall fit and finish of the interior is very good, with mouldings for all frame elements and a feeling of quality. I might take issue with some very minor points, such as the use of grey cover the edge of the bulkhead behind the courier seat, which I felt might have used plastic mouldings like the rest of the interior.
On the road
It's hard to add to what has already been written about this incarnation of the Sprinter base vehicle. It has bags of performance, a silky gearbox (auto only) and an almost complete absence of transmission noise.
Some coachbuilts suffer from road noise but the Soroco doesn't. Nor was there any evidence of wind noise at all, and as has been said about the Sprinter many times, the engine is extremely quiet, unlike some light-truck based front-engined chassis.
One of the compromises of road tests is that, especially with unregistered vehicles, it's impossible to load them and judge handling characteristics fully. Unladen, the Soroco behaves very nicely, with the M-B leaf springs at the rear delivering a surprisingly smooth ride.
The rear overhang, which in use may be loaded with luggage and passengers, would be the only concern but Ferqui's long experience of building on this base vehicle will have tested and checked this. The stability of the unladen vehicle suggests there is more than enough margin to prevent tail-wagging, on top of which Mercedes-Benz stability electronics, such as Crosswind Assist and Adaptive ESP, will ensure there are unlikely to be any handling issues.
Verdict
The new Soroco S4 is not just a single minicoach, but an entire range, which includes a version upseated to 22 seats and, at 5.5 tonnes, has no weight issues.
Even at that capacity, it has 3m3 of boot and a seat pitch of 660mm. In the 16-seat specification tested, passengers have a 775mm seat pitch and more than 4m3 boot space. Sitting between these is a 19-seater with a roomy 680mm seat pitch 3.65m3 of boot space.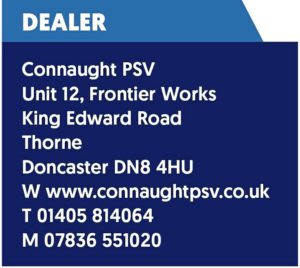 Connaught PSV is confident that the new Soroco will deliver what its existing customers want: "About 95% of buyers I have are repeat buyers," says Steve. "And I have already sold the next six to come in. New builds will be on roughly a six- to eight-week lead time. I'm aiming to sell between 20 and 30 of these in the next 12 months."
Connaught PSV's guaranteed buy-back is certainly part of the customer loyalty equation, with Steve offering 60% after three years as a downpayment on the next new, and 50% for vehicles less than five years old. The used stock list seems to suggest that Connaught PSV has no problem placing used Sorocos with operators.
The first examples of the Soroco for sale will be landing in September, but Connaught PSV is inviting operators to visit and see the demonstrators at Thorne. I'd certainly recommend you do, particularly if you're among the many operators tempted by 25mpg and Sprinter dependability.
You'll find a minicoach not built down to a price, but up to a quality and practicality which simply must make it figure on your shopping list.