Seven Enviro400s for rebranded Green Line
Alexander Dennis has supplied seven Enviro400s to Reading Buses and Thames Valley Buses.
The new double-deck buses introduce new identities for the companies' Windsor Express routes, formerly known as Green Line. The 702 between Legoland and the capital becomes the London Line, while sister route 703 from Bracknell to Heathrow Airport is now the Flight Line. Both run directly past the royal residence at Windsor Castle.
The new buses feature the manufacturer's 'City'-style body, which includes a glazed staircase and skylights.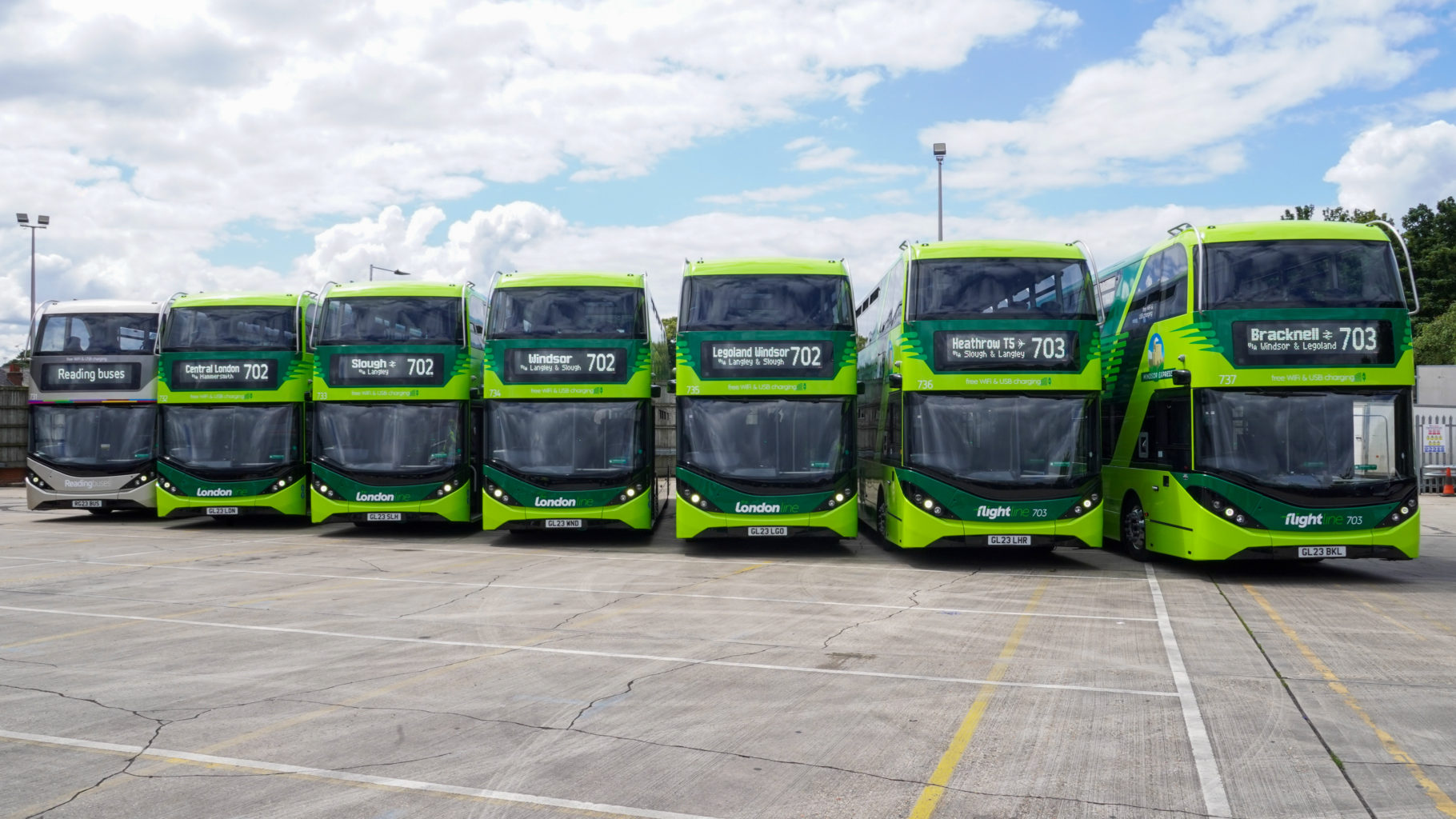 Inside, they are fitted with an air-chill system on the upper deck, high-backed seats, tables on both decks, USB and wireless charging, wifi, next stop announcements, and an additional luggage rack on the buses for Flight Line. Coffee shop-style flooring completes the specification.
The Enviro400 have been the municipal operator's first new buses since the start of the pandemic. Investment continues with follow-up orders now confirmed for another 12 Alexander Dennis Enviro400s, four Enviro200s and four Plaxton Panthers.
"We are really excited to see how holiday makers use the Flight Line buses which have spacious luggage racks on the lower deck so customers can travel with their cases without worrying about them!" – Reading Buses Chief Executive Officer, Robert Williams
Reading Buses Chief Executive Officer, Robert Williams, said: "The new buses are the next-level offering from Reading Buses. We have ensured that they are equipped with all the latest mod-cons to help our customers have the highest level of luxury and to ensure they can make the most of their journeys – whether through charging their phones, checking their emails or simply having room to relax. We are really excited to see how holiday makers use the Flight Line buses which have spacious luggage racks on the lower deck so customers can travel with their cases without worrying about them!"
"I look forward to continuing this partnership for the next 20 vehicles due for delivery later this year" – Alexander Dennis Regional Sales Manager, Mark Taylor
Alexander Dennis Regional Sales Manager, Mark Taylor, said: "These new Enviro400 double-deckers for the London Line and Flight Line are another brilliant example of our unique ability at Alexander Dennis to build buses that deliver an amazing journey experience. This is only possible thanks to the forward-thinking approach taken by companies like Reading Buses. I look forward to continuing this partnership for the next 20 vehicles due for delivery later this year, which will again be tailored to the specific needs of passengers on their routes."